Ducati confirm competition off-road models – enduro and rally bikes in 2025?
Former MXGP world champion Antonio Cairoli joins Ducati as the Italian manufacturer confirms new competition off-road programme for motocross in 2024, enduro potentially as early as 2025 and what about rally?
We are living in very interesting times for off-road motorcycles. With seemingly large sections of the off-road world pointing at the future being electric for dirt bikes, major street bike manufacturers are taking no notice and expanding into new territory (for them at least).
Ducati is the latest major manufacturer to officially confirm they will enter the fray with bike reveals expected at the International Motorcycle shows in Europe this November. The announcement this week of nine-times MXGP world champion Tony Cairoli taking up a testing role for the Bologna factory and an MX race team assigned for 2024 shows they are coming in strong here.
They're not the first with Triumph Motorcycles also well along the path of production and off-road race bike development and a whole heap of speculation in the MX and Supercross worlds surrounding rider signings for the 2024 season.
Two years in development already
Ducati say they have been working on their prototypes for two years and that a first machine will make its racing debut next season in the Italian Motocross Championship with Alessandro Lupino.
Unlike some other manufacturers, despite keeping things fairly secret during development, Ducati is heading straight for racing paddocks without too much hype and teasing – although the only images and the video below do not reveal anything.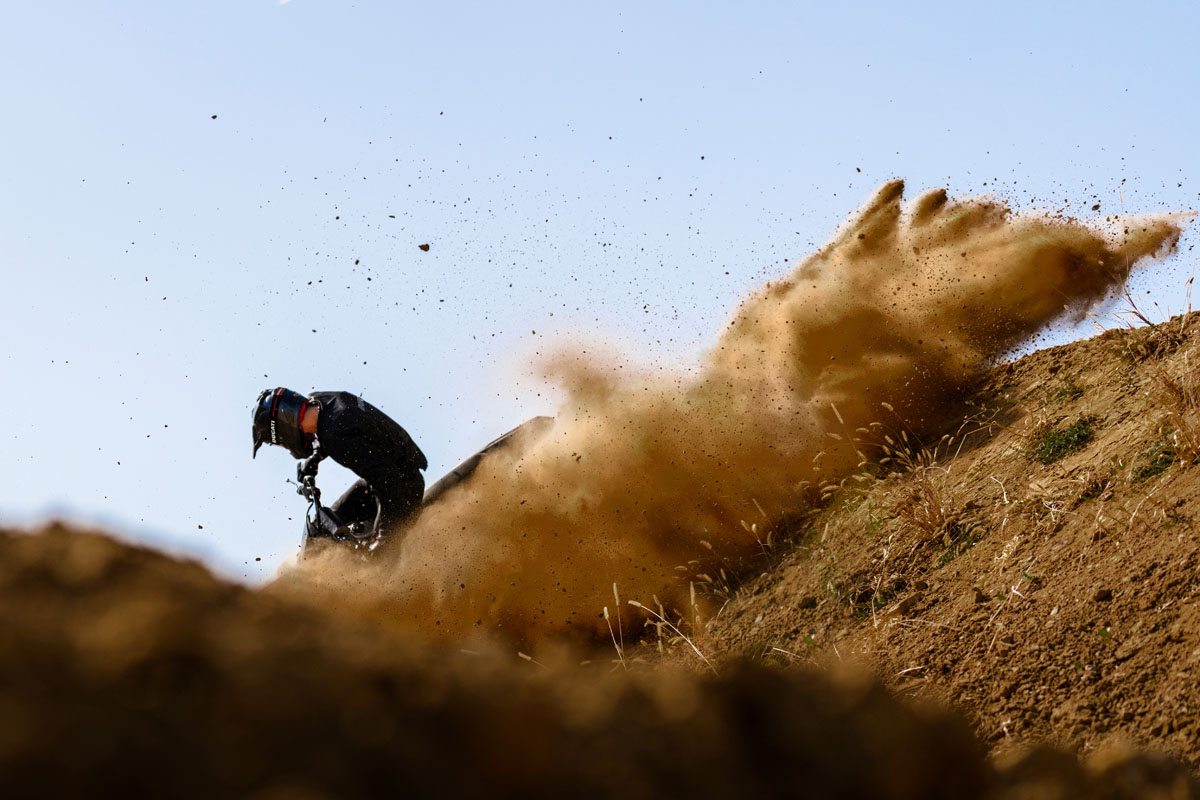 "Complete" off-road range of engines
What is good to hear is that Ducati labels this a "multi-year project that will see the creation of a complete range of off-road engines and motorcycles". The models will gradually become part of the Ducati family, starting with motocross they say.
To that end it confirms what Enduro21 already heard wind of within enduro circles. Namely that Ducati will enter the world of enduro as well with various rumours connecting riders with a high-profile entry into the EnduroGP World Championship as early as 2025.
Multiple World Enduro Champion Antoine Meo is already on the Ducati books, helping develop the DesertX Adventure bikes but also undoubtedly as development rider for this off-road project.
It also naturally leads us to speculate that Ducati could well be eyeing-up rally-raid with the 450cc, single cylinder motor being standard issue and the series standing as a global marketing tool.
Ducati announced Tony Cairoli this week as performance test rider for the new project who obviously brings a wealth of experience, racing and developing, KTM models.
First look: Ducati DesertX Rally edition – Antoine's baby breaks cover
Light and powerful
Ducati say lightness in the bike, "top-of-the-line components" and engines characterised by a very broad power delivery curve have been key development areas.
The iconic Desmodromic valve system as used in MotoGP and Superbike will also feature they say which will be fascinating from a technology and engineering point of view if not from a power character it produces in dirt.
Check the teaser video of the new off-road bike (spoiler alert, you can't see any details):
Claudio Domenicali, CEO of Ducati Motor Holding, commented: "I am proud to announce Ducati's entry into motocross. A totally new world for Ducati in which we want to bring our talent in designing lightweight motorcycles, with excellent components and high performance and - above all - which can excite more and more motorcyclists.
"Just as we believe that the track is the best laboratory to develop and test the bikes that will then be available to customers and enthusiasts. This is why we have decided to cooperate with an undisputed champion like Tony Cairoli who, together with the passion and dedication of many of us here in Borgo Panigale, will contribute to making Ducati in off-road as capable in offering very high-performance products to its passionate customers as we have proven on the asphalt. The project is possible thanks to the company's excellent results in recent years and confirms our desire to extend our presence into new worlds, speak to new motorcyclists and therefore grow the Ducati Community."
Antonio Cairoli adds: "I am extremely happy to become part of the universe of Ducati, which has always been a symbol of Italian spirit throughout the world, and to begin this exciting new adventure, in an all-Italian project.
"Being able to make my contribution to the development of the Borgo Panigale motocross bike is a dream come true and a source of great pride for me."
Ducati has also signed a multi-year agreement with Maddii Racing team for the MX racing activities and will take part in the 2024 Italian Motocross Championship with Alessandro Lupino, eight-time Italian Champion and 2021 MXoN winner, also contracted to Ducati as racing and test rider.