Pro Bike: How Taddy Blazusiak sets-up his rocketship GASGAS EC350F for EnduroCross and SuperEnduro
"It's a mix of SuperCross and EnduroGP" Taddy Blazusiak talks Enduro21 through his 2024 GASGAS EC350F primed and ready to rock in the AMA EnduroCross and FIM SuperEnduro World Championships.
Enduro21 is no stranger to close look of a Pro rider's race bike (check through stacks of them in the 'Pro Bikes' section of the website). Usually, it's a photo session and half an hour or so walking around and talking to the mechanic or team boss, who gives us as many facts as they can (there are always some secrets going on) and a run through the parts fitted.
Not this time, this is a Pro Bike with a difference. We've gone straight to the main man himself, Pan Blazusiak, to get a real rider's eye-view of his GASGAS Factory Racing E 350 F race bike, how he sets it up and with his personal perspective of the details behind what has to be one of the best-looking bikes on the planet.
This is a long(ish) read but if you're into this kind of thing as much as we are, we reckon you'll love Taddy's personal take on his own bike.
Taddy comment highlights include:
"How we actually hit the obstacles it's absolutely insane"
Five or six-speed gearbox? "Six or five, maybe it's five but I don't really know!"
"It's a blend of motocross and supercross bike because it's got to have this massive launch ability"
"If a trials bike was the best bike for the track, I would ride a trials bike"
"People ask about the 52mm forks or 48mm, I don't care, I'll ride 18mm forks if it would go faster"
Setting the beast up and getting his body prepared has taken the Polish legend around the world including the new KTM Group North American base in Murietta with its workshops and full-on EX training track.
Taddy's proud of the bike which he says took a bit of dialling in since they moved from '23 to '24 GASGAS models – "like moving between brands" he says.
Enduro21 caught up with Taddy in Northern Spain, close to his base where we ran an interview (check that out on our YouTube channel) and got the lowdown on his wicked 350F.
Check the interview: Taddy Blazusiak Interview – "Do I still want to be the first guy at the first turn? Absolutley, 100%"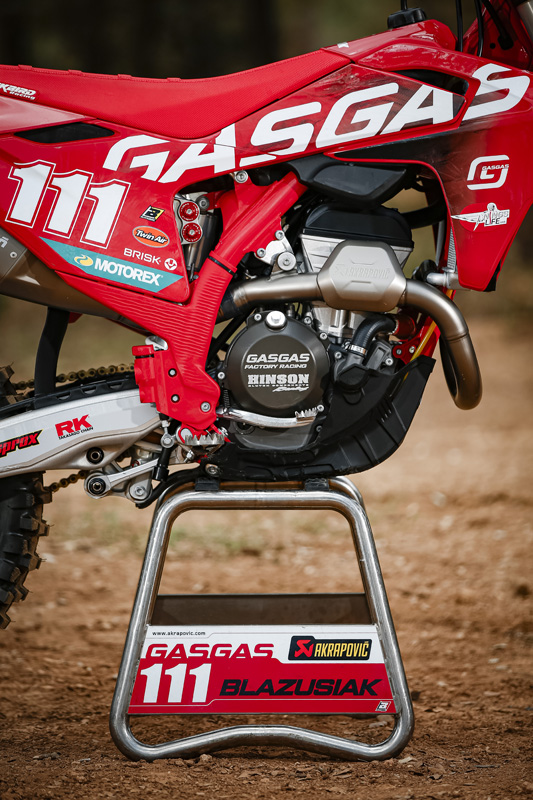 So, Taddy take it away, tell us about your 2024 GASGAS EC350F
Taddy Blazusiak: "Basically the SuperEnduro bike is a hybrid between Supercross and EnduroGP and nothing like the Hard Enduro bike. At least for me I like the bike to be pretty snappy and fast because it helps me, I'm an aggressive rider so I need the bike to react whenever I need it to react immediately.
"I need that motor to be ready to go whenever I need it, suspension set-up has to handle the hits because if you look how we actually hit the obstacles it's absolutely insane. When you see the Pro riders doing what they do sometimes it shouldn't be done so the bike has to handle it."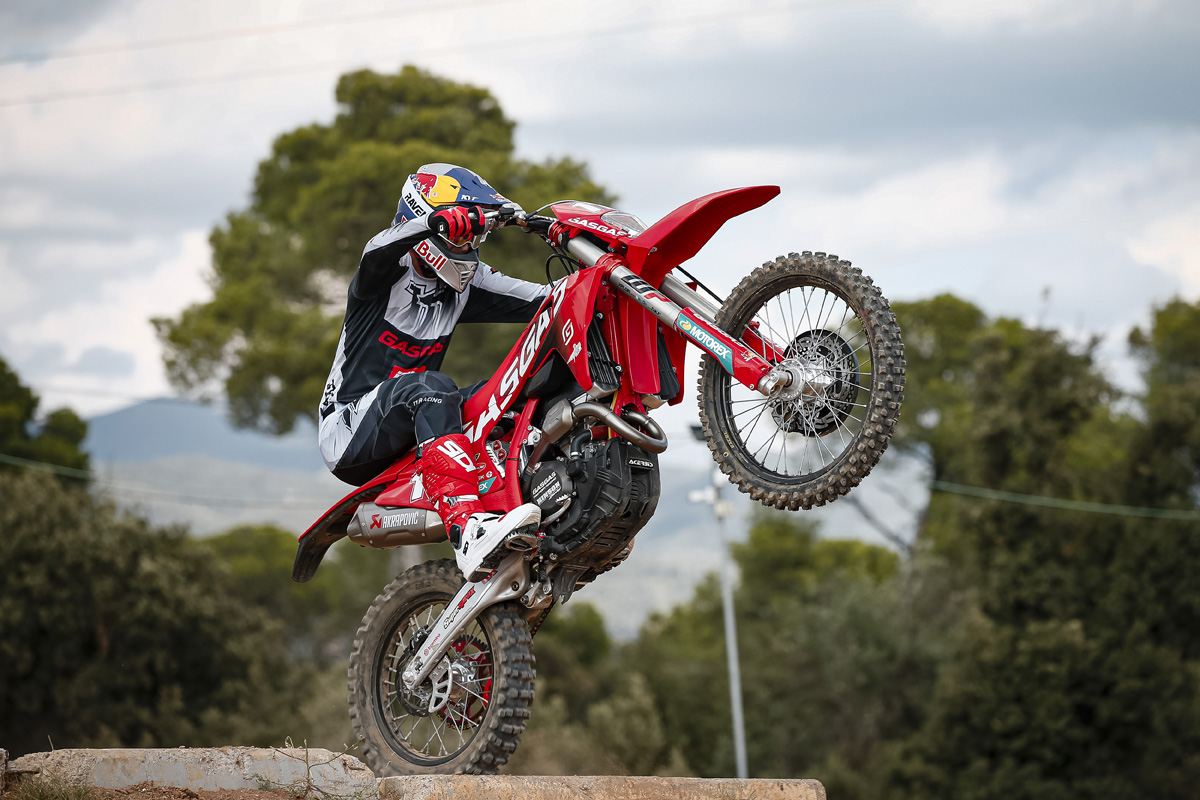 "You also need a bike that still grips. Sometimes we have stop and go tracks so it's a compromise between having the traction and taking all the big hits.
"What that means is being stiffer up front and more traction in the shock. To most people riding it, it would be a bike which is out of balance, it sits towards the back, but it's just to have a little bit more of a secure feel when you ride these kinds of obstacles in the way that we do. It's preference between riders but if you do look in general you'll see that the bikes are higher at the front but low at the back."
So the bike is difficult to ride, it wouldn't work on a trail ride, say?
"At the end of day we want to make time everywhere and anywhere on the track. It's not about getting through obstacles like hard enduro, the obstacles indoors are not really difficult, they are technical but not difficult.
"So you think in terms of speed through the obstacles. So things like the handlebars have got to be where they've got to be, not really where it's comfortable but where it's right to hit the corners fast and just to be in the right position for the track.
"It might seem wrong but if you get out of shape, you know having that set-up helps because you still have control of the motorcycle because you're standing on the back wheel. At least for me it's a preference thing but I'm definitely my bike is way closer to a motocross or supercross bike."
You always use the same bar bend, even on this new, 2024 model?
"The new frame [2024 GASGAS] is taller at the headstock but we're running lower spacers on the clamps so it hasn't changed.
"I stick with the same bars and I've used Renthal 996 bend forever. I like them the best because I believe that my shoulders are shaped for this handlebar. If I change the bars I sometimes do get tendonitis, seriously, no joke. So I think it's just natural for my body to be holding onto the 996."
The footrest position is part of that too, right?
"The pegs are 5mm offset and 10mm back. I want that rear wheel feel and sometimes when it's a stop and go track you have to really put your weight on the rear tyre, with a super-short space between the jumps, you wanna make sure that you can just push that extra bit through your feet and the pegs into the ground and get all the traction you can."
To basically stand hard on the pegs more – what's the technique?
"It's the same as in the corners, you need that feeling of security. It gives you a little bit more core strength on the bike I guess so that can you put weight and drive in your favour through your legs.
It's actually a more direct feel and though in some places it could feel worse, overall it's better and it definitely shines in the kind of situations where it is tight and short between obstacles or rocks and stuff like that, it definitely helps."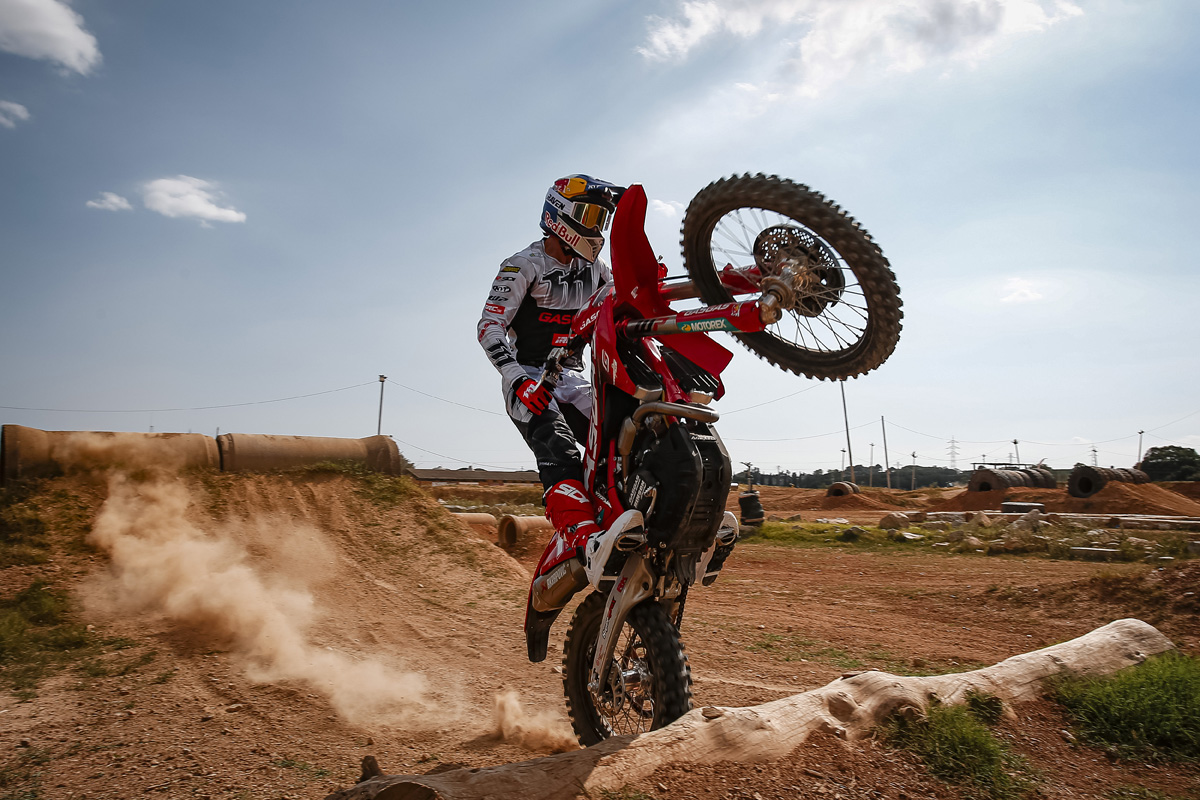 So are some parts motocross and some enduro or what's the mix?
"They share things more now as standard so it's not like in the past where we would take parts from the motocross bike, suspension, engine or chassis to make the indoor bike. They're all closer nowadays but we are definitely closer in set-up to motocross than enduro because of what the sport needs. There's a mixture of motocross parts in the engine but the chassis is the chassis."
And you prefer it that way?
"I wouldn't say I want it to be a motocross bike but even if a trials bike was the best bike for the track, I would ride a trials bike. You know? I don't care what it's like.
"People ask about the 52mm forks or 48mm, I don't care, I'll ride 18mm forks if it would go faster. I just want a motorcycle that will be faster. I don't care if it's a Supercross bike or a trials bike or a bicycle, if it's faster I'm OK with it."
Can you tell us a little bit about the reason behind wanting the snappy, supercross-style engine?
"You want it to have power there when you need it basically. It doesn't need to rev forever, but it needs to respond straight away.
"So what we need is the mid and high power still but the biggest thing is how it reacts off the bottom. That's why it's that kind of blend of motocross and supercross bike because it's got to have this massive launch ability.
"It's aggressive but powerful aggressive. It's not unrideable but just there where you need it."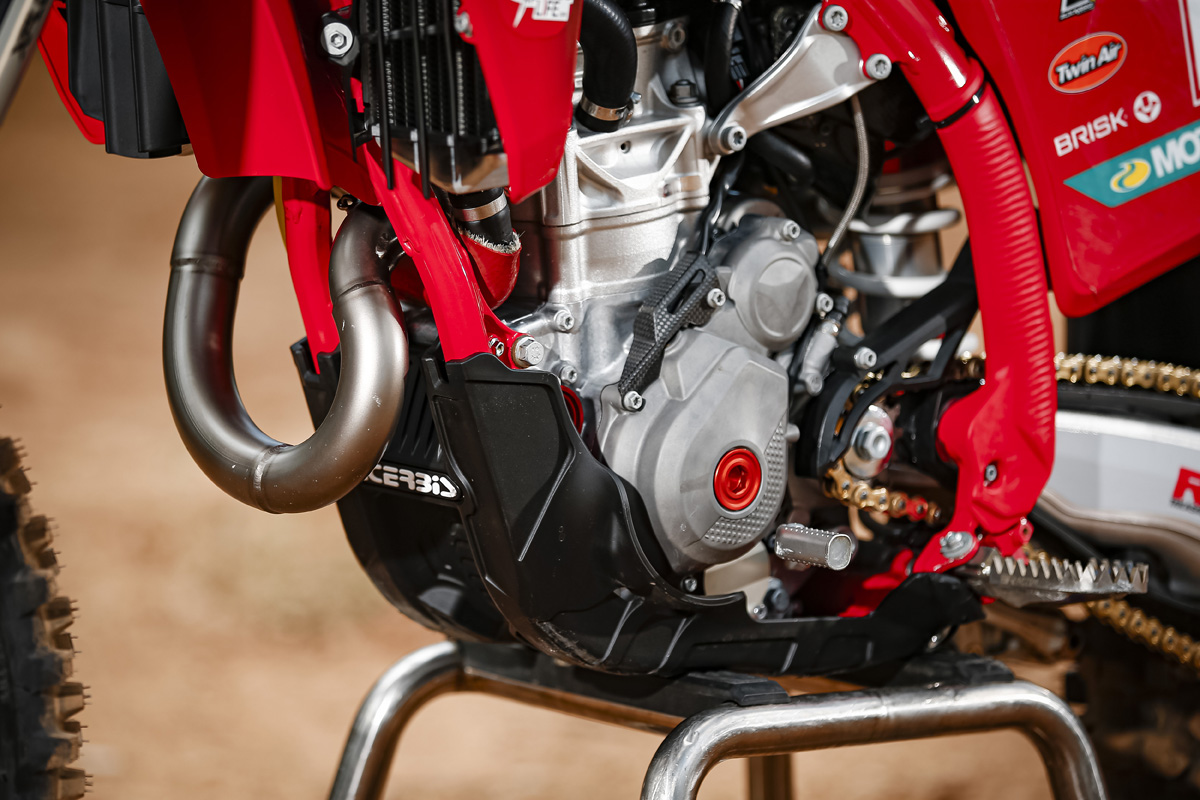 "I have my motor set up, my mapping done pre-season and then I do all year with the same motor. I don't really mess about with it 'cause once we have it dialled pre-season, it's a good motorcycle and I don't really need to."
We have maybe 5-to-800 RPM lower power band and it's like you don't have to clutch it. You can ride the obstacles with the throttle and that helps you save a little energy
And what about the exhaust system, it doesn't look standard?
"Basically we're running a longer header which is an outdoor motocross and EnduroGP set-up I think and we run a little bit shorter silencer on the back just for the just for the power. I like the power delivery and I think it's closer to motocross maybe.
"I think Josep [Garcia] is on very similar set-up with his EnduroGP bike and Verona also but I think Andrea has a longer silencer. I'm not a 100 per cent sure but my stuff is a hybrid again of the factory motocross and enduro models."
Does the bike change much between EnduroCross and SuperEnduro?
"I know what you mean because the tracks are different, and the bike is a little different but not a huge amount.
"We do little changes depending on the tracks but really we have a base setting and even in SuperEnduro sometimes different tracks mean setting up the bike to react a little bit different so we make changes depending on the track not the series.
"It's more about how much space there is between obstacles, you know? So not the different series but the different track build.
"EnduroCross has the same guy building tracks all season but in Europe it is the organisers of each event. Maybe that's something which we need to look at in SuperEnduro."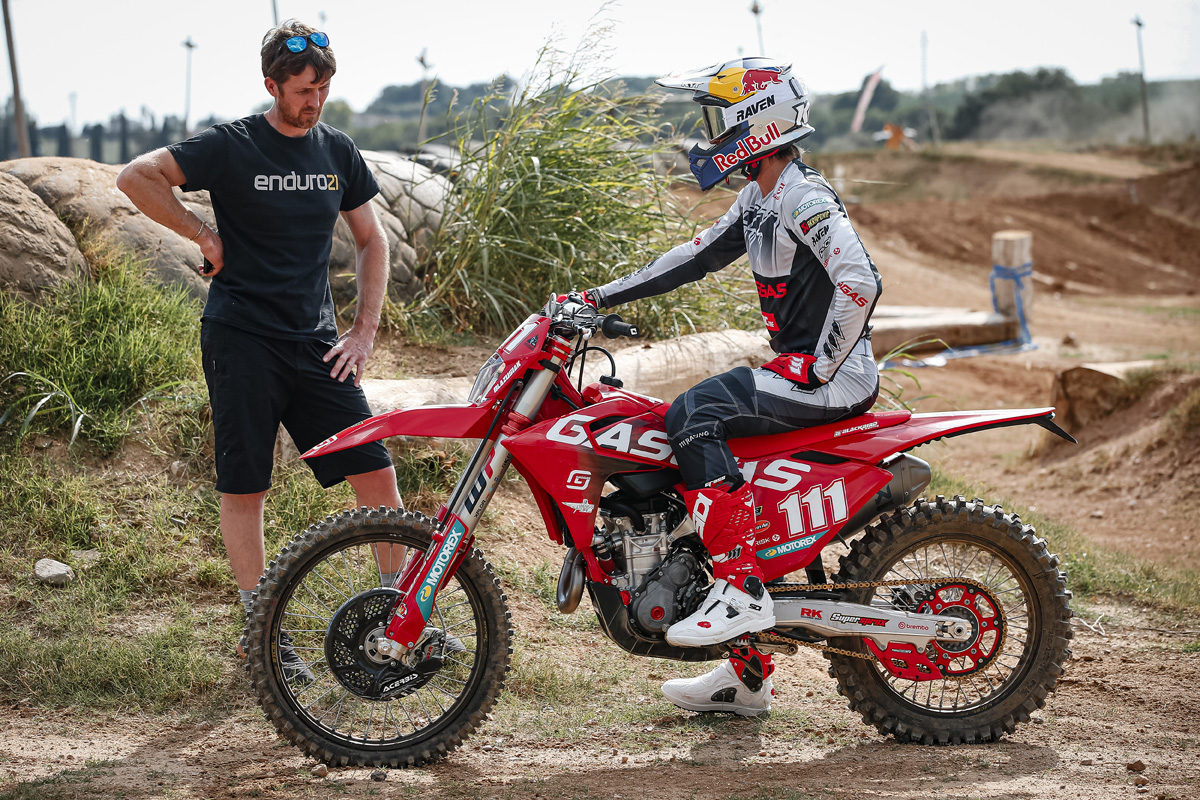 The way you're hitting obstacles, you must be making at least suspension set-up changes?
"Suspension, yes. I'm playing a little bit with the balance depending on the track. With the forks basically, the shock not as much because when I get the shock how I like it I'm sticking to it.
"I'm basically just working with the balance of the motorcycle. Like I said it depends on the space between the obstacles, so adjusting your bike because you're coming in faster. If you have more or less speed coming in, that's where we have to adjust the motorcycle."
Gearing as well?
"Yeah, that's massive. I do have my base but basically every, single race we always end up going through changes to suit the track. It's not crazy, just a tooth or two lower at the back. Standard is a 12 in the front always and we run between 49 and 51 at the back. You want to make it so you can carry basically one gear all lap."
Is it the motocross five-speed gearbox or the enduro six-speed one in your bike?
"I know they were trying to come up with a gearbox that works in both motocross and enduro models but don't take my word for it. Six or five, maybe it's five but I don't really know [laughs]! I only use three at most!
"It's not like when you're on a trail and you run out of gears and then you know it's five. I have really no idea. It never comes into it. Actually, I don't even know which gear it actually is most of the time, I mean I don't count it's just happening."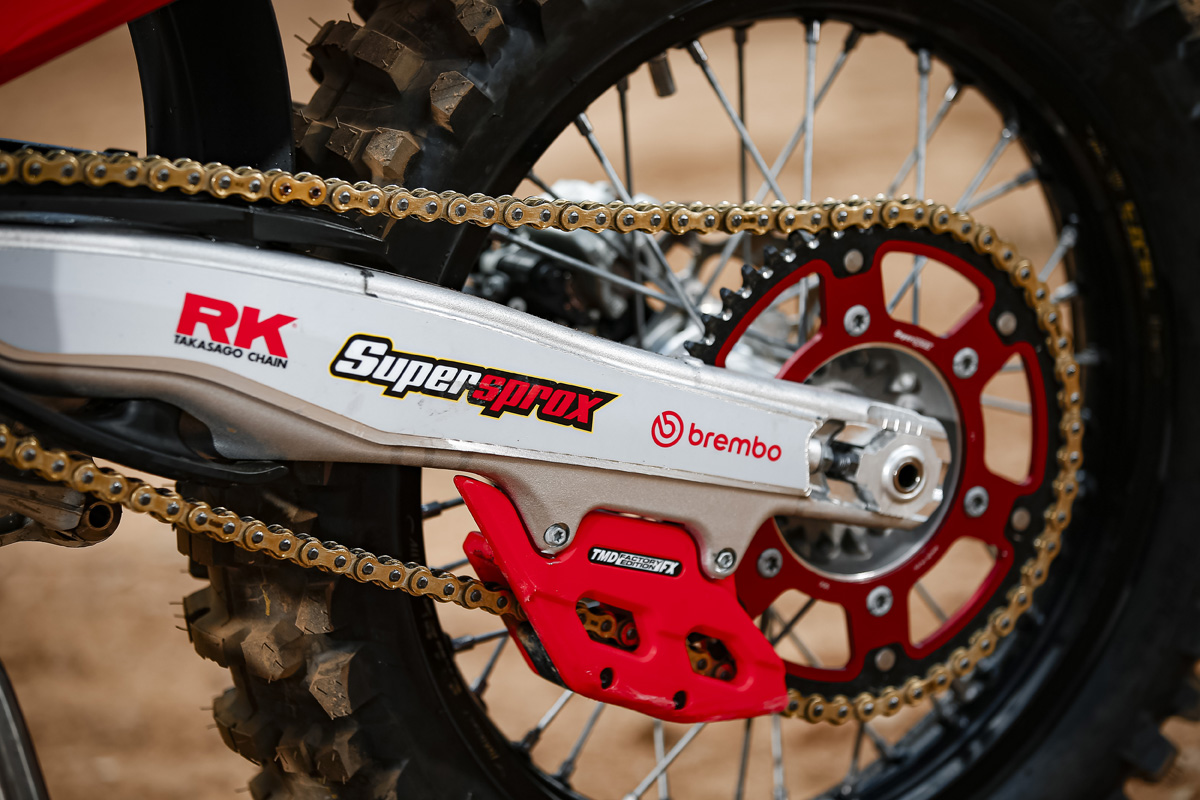 So you're not actually changing gears in a race?
"In the race I use one gear normally, you're set up with the gearing so that you use one gear all lap. Second. Sometimes the track requires a shift to third for a start straight and a sweeper turn or something but it's just for a second and your back to second.
"Basically it's like Supercross again where you set up for second gear most of the track and then you do have this option of going higher. First gear is a no-go because it just doesn't work."
I think in the past when we've looked at your bikes, your mechanic has talked about how you like the controls just perfectly pin-sharp, precise like they work immediately with no adjustment or slack…
"Yeah, it's gotta be working straight away. I set up my bike for the last two or three laps. When you're pumped up and it's crazy, you want it to work there 'cause that's when it matters.
"The brake for example, I have a super-close lever to my fingers because when I'm pumped up it's there for me to work.
In the last two laps this can be the difference when the race is won or lost so these are the little things that you learn when you race for a while…and I've raced a while now."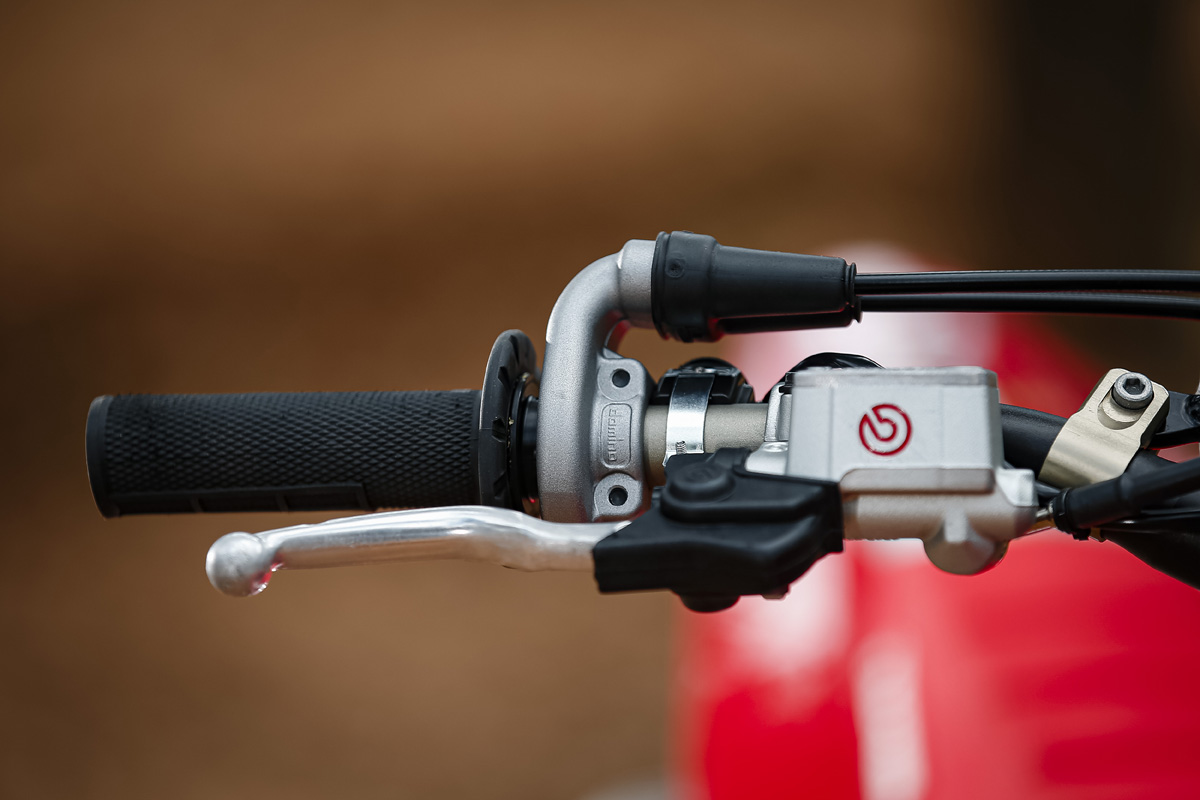 What has switching to the 2024 GASGAS bike been like?
"The frame for this 2024 motorcycle is shared across all the different models in theory, enduro and motocross, so it's basically a stock chassis and we have a few options with engine mounts, this kind of thing.
"But it's a brand new motorcycle this year and when you get on this bike, the first couple weeks it was like basically changing brands. Seriously.
"It's a new platform that you have to figure out and get to know and learn how to make it the way you as a rider want it. It looks kind of still the same but it's a brand new motorcycle so we were starting from scratch really."
You just have to find the feeling on the new bike and adjust
"Everything is different to be honest, the way it works on the obstacles, the way it jumps, the stiffness of the chassis is a lot different. You have to find different settings especially in the shock where the old setting that you're used to doesn't work.
"It's definitely a changed motorcycle and it took me a while to get everything dialled. When I first got the bike I was just riding, riding, riding to get used to it.
"I told them to just give me the bike and we put some hours on it to get used to it and then started to work on it.
"It's not like we redesigned the motorcycle then even, we just had to make a few tweaks here and there and we killed it with tests and with this approach.
"It meant I had it for a month and a half before we started testing here in Europe, then I went to the US for a week to fine tune whatever we had left on the table.
"After all that I'm feeling good on the bike and I think we have a really good motorcycle but like I said when it is new like that and so much different you have to wrap your head around it. It's a brand new motorcycles like changing a brand. You're not gonna look for the feeling of the old bike, you just have to find the feeling on the new bike and adjust."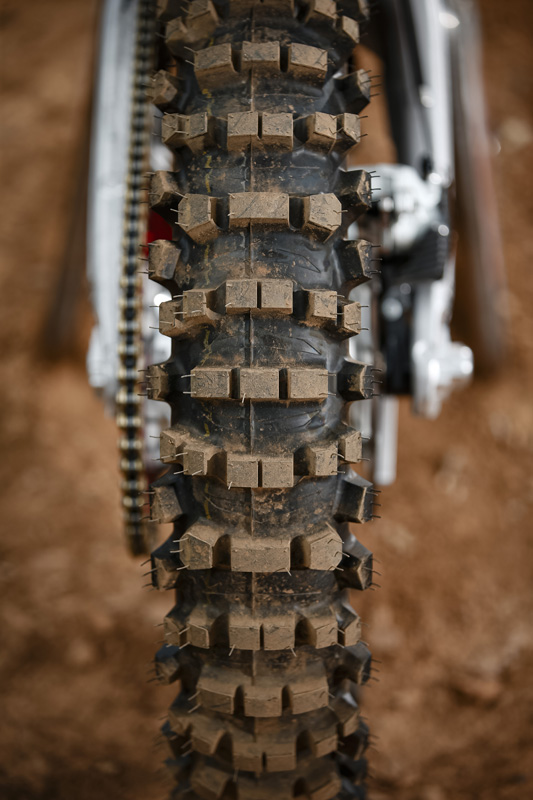 Tell us about the IRC tyre set-up too…
"We run basically the new GX20 which will soon be a standard production tyre and at the back we have a JX8 Gekkkota which is a production tyre which is a great for EnduroCross and SuperEnduro.
"It's a motocross type tyre with pretty stiff sidewalls so it doesn't fall when you ride hard and hit stuff but still delivers plenty of traction. It doesn't fall in which is a big thing in SuperEnduro.
"As for sizes I use a 110/100 at the back and a 90/90 at the front. I'm a big 90/90 front guy. I'm not a huge front tyre guy, some of the guys run 90/100 front but for me it's too much.
For my riding style I change lines quite a bit and I need that front to be light and steer quicker.
"Mousses are pretty much standard enduro set-up you know, like a medium BIB. It's definitely harder than softer overall set-up, some people think you need a gummy tyre but it's pretty standard."
Photo Credit: Future7Media | Nicki Martinez