First look: Mani Lettenbichler's (2024) Red Bull KTM 300 EXC
Take a good look at the 2024 Red Bull KTM Factory Racing 300 EXC Mani Lettenbichler will race in the FIM Hard Enduro World Championship.
As we mentioned for KTM and Mani Lettenbichler's video preview for the Hard Enduro World Championship, you wait all year for a glimpse of the new two-strokes coming out of Austria and then two come along at once.
(Take a look at Billy Bolt's bike here when you've finished looking at Mani's...)
It's a tantalising glimpse of the 2024 300 EXC which is due to be released in a few weeks' time – although it must be added the factory race bikes do bear differences to the production models.
We've already previewed a look at the 2024 range with factory race bikes in the EnduroGP paddock with Josep Garcia stepping onto to the '24 four-stroke KTM 250 EXC-F and Andrea Verona the GASGAS EC 350 F.
Now it's the turn of the two-strokes for Hard Enduro with Mani Lettenbichler and Trystan Hart both set for the full, seven-round HEWC series this year.
No more TPI, hello TBI engine then and on the factory bikes we can see they are not running oil injection system (so premix fuel with no separate header tank for the oil). BUT, it's quite possible that is a choice of the factory riders, including Bolt on his Husqvarna, and won't be the case on the production models.
New bodywork and plastics, including the curved-in radiator guards and large handguards, all familiar from the 2023 SX range in actual fact. As is the frame which to our knowledge is expected to become a common product across all models – although, again, there are likely differences here between the factory race bikes and production bikes.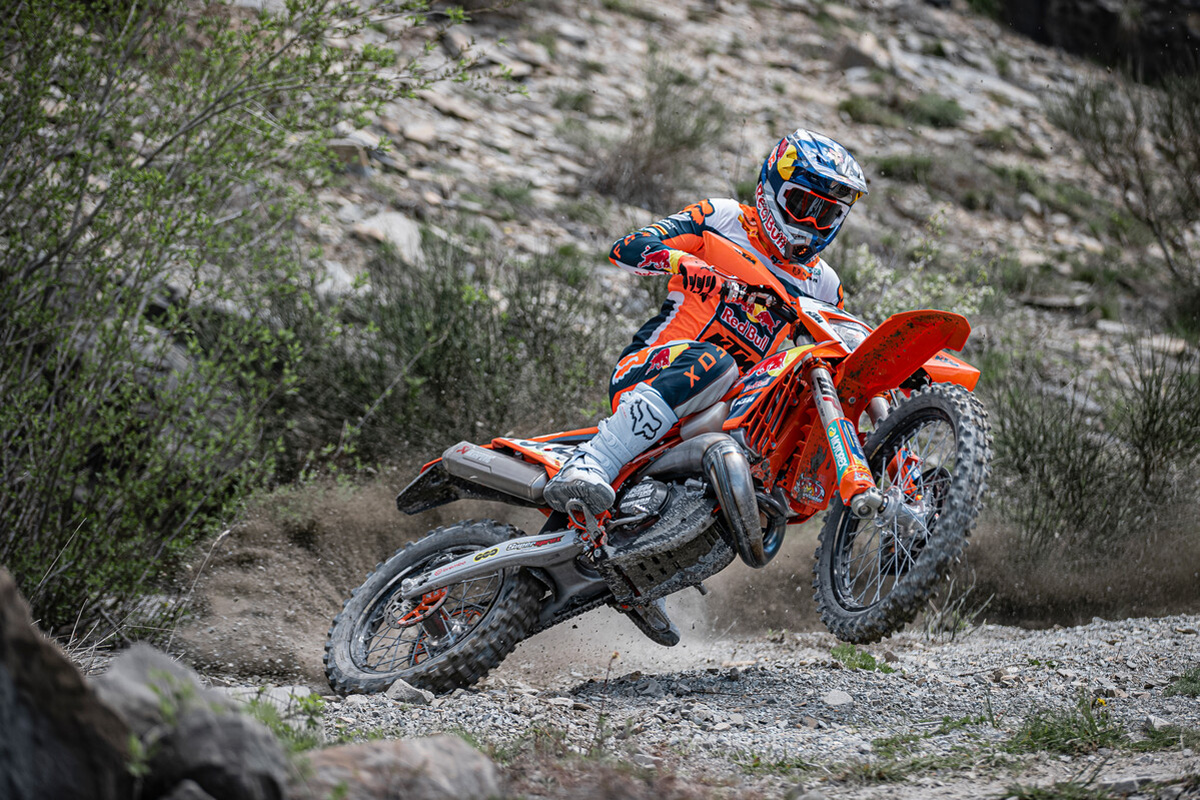 No more ribbed exhaust header pipe is one thing two-stroke enduro fans might look for in the new production bikes (especially anyone who's tried to blow out dents from one…).
Photo Credit: Future7Media | Andrea Belluschi