5 minutes: WESS World Champion Mani Lettenbichler
"All-round good guy" Manuel Lettenbichler talks exclusively to Enduro21 about missing WESS, shredding MTB backflips, thumbs injuries and the possibility of trying out the Italian Enduro Championship.
WESS Enduro World Champion Mani Lettenbichler rightly should have enjoyed a bumper year in 2020. With a world title to his name and new contract with the Red Bull KTM Factory Racing Team, Lettenbichler was scheduled for a full season of WESS plus the AMA Extreme Enduro series in America. But not long after placing third in the AMA West Extreme round one, King of Motos in February, the Coronavirus pandemic arrived and the 2020 season as we knew it hit the stoppers.
Now with restrictions easing and a shortened WESS championship on the horizon, beginning at Hawkstone Park in September, we caught up with the young German rider who has been spending lockdown honing his MTB skills, making videos and currently has a touch of thumb trouble…
Hi Mani, how are things? It's been a looooong time also since you won the WESS title in Germany last year. Is it a distant memory now?
Manuel Lettenbichler: "Hi, I'm ok but injured at the moment, which sucks a little bit… anyway I can't change it, it's part of the game. It's moto life and I'm quite excited that the season is about to start so I'm trying to be ready. At the moment I'm off the bike but I'm trying to be prepared so I can beat the other guys to fight for another win and another championship.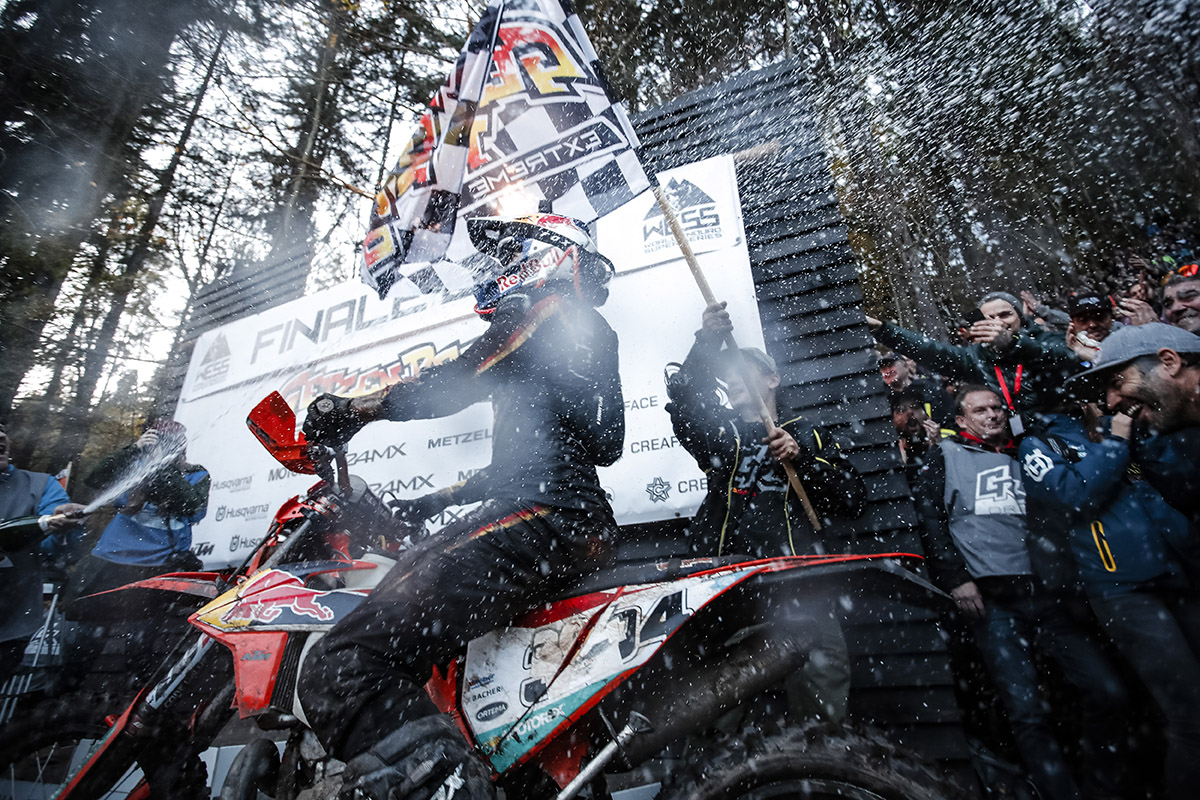 "GetzenRodeo feels like such a long time ago, almost a year now, and time is running, especially now because there aren't any races so it's a bit of a bummer, but I hope that we are back racing soon."
You stepped up to the official KTM factory enduro team this season but haven't yet had much chance to race – have you been itching to get under the official awning?
"It's definitely cool to be a member of the Red Bull KTM Factory Racing Team, we were working close last year but I didn't have the chance to join the full KTM program and show what I'm capable off. I'm super excited to go back to the WESS races and be racing against the other pro riders. It has been such a long time since I was the other guys, so it'll be cool to hang out and ride together."
You've been doing some racing since lockdown has eased – where did you ride and was it good to get back between the tapes?
"Yes, I actually did one race after the lockdown in Austria (Oesterreichischer Enduro Cup, Mani won it). It was just a classic enduro and the event was so cool. They made such a great event and it felt so good to be back racing against the clock and getting the racing feel back. I think everyone is waiting to have this feeling back so it was such a cool time."
https://www.instagram.com/p/CDbD9EohlP8/
Overall, how easy or hard has it been to train on the enduro bike this year since Coronavirus struck? Germany has been very restricted hasn't it?
"In full Coronavirus time for me it was so difficult to go out on the enduro bike because my area has literally no place to ride. I travel quite a lot to Italy and they were really strict also, so I didn't have the chance to ride a lot of enduro. Anyway, I tried to make the best out of it, going to the mountains and riding some cool MTB stuff."
You've been putting in some serious hours on the pedals including making a film with Dominique Thury. How was it getting to ride with him?
"To film this project with Yeti was super cool. Thury is also a good friend of mine and it was super rad to shred some home trails in my area and to show the guys how cool the e-bike scene already is.
"I enjoy it a lot, it's kind of like a riding a motorbike but everything is easier. Still it's a mountain bike but it's easy to climb up some steep uphills. You can challenge yourself on them and also shred the downhills. The edit came out so cool and it was great to hang out with buddies trying to create content while riding sick trails."
Check the video
Seems you've got some serious skills on the MTB, would you ever do some events in that sport?
"I would actually like to do some events just for fun because I really enjoy it, especially downhill or EWS (Enduro World Series) race would be rad to do it for training. You never know what the future can bring but if I have the opportunity I might do it."
https://www.instagram.com/p/CDGoxnThBW-/
It's pretty clear also you had to have an operation on your thumb. What happened?
"I had the operation now one and a half weeks ago on Monday after I crashed nearly two weeks ago in Italy on a motocross track. I lost the front, couldn't hold it and tucked into the dirt straight on my hands.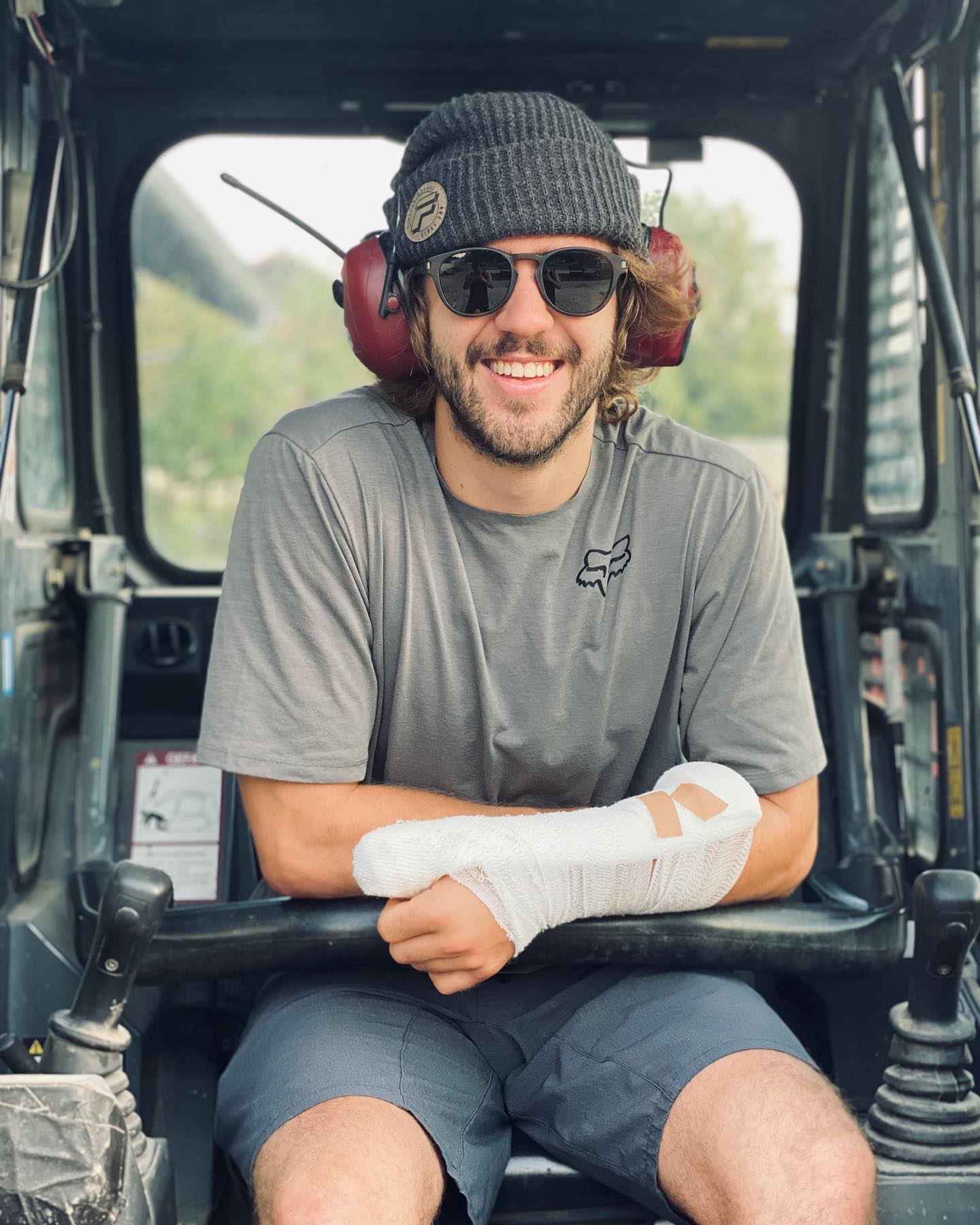 "At the beginning I was quite positive that nothing serious happened but when I saw the doctor he told me the inside ligament in my thumb was torn and another ligament as well so my thumb is a bit messed up. Anyway, I went to the doctor just today and everything looks good and he's quite positive that we're going to be ready for Hawkstone.
"It'll take a bit longer to get back on the bike, but we have a good training program off the bike and I'll do a three-week boot camp with Red Bull which I'm super excited about."
With your thumb injury and also possible Covid travel restrictions, realistically, how likely is it that we will see you at Hawkstone Park?
"I definitely want to race Hawkstone, that's definitely the goal. I'm trying to be ready for it and you never know how things are going to change but at the moment it looks alright with travels restrictions and my thumb injury. It is part of the game but it should be alright for Hawkstone."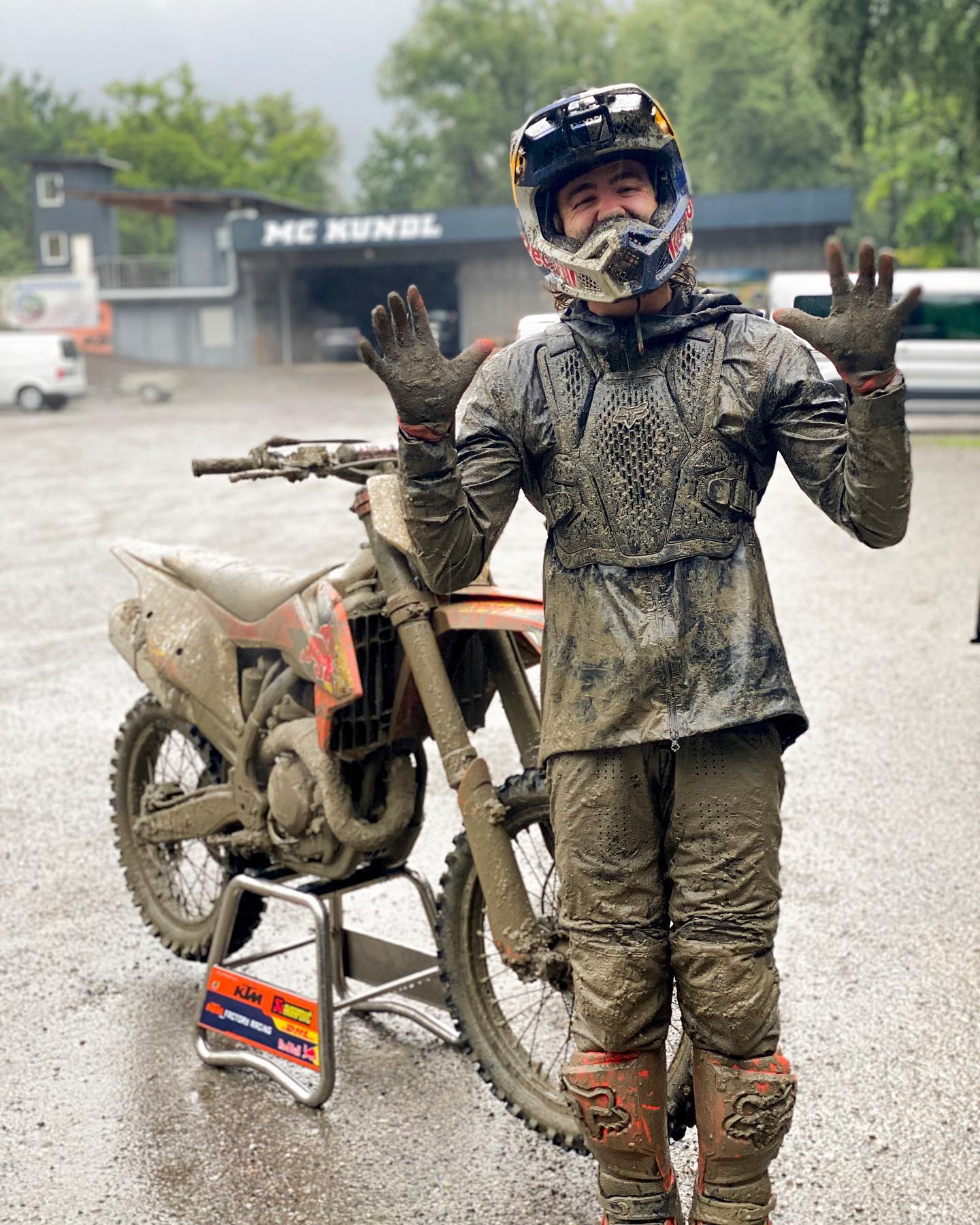 As the reigning Romaniacs champ are you looking forward to it with no prologue and potentially different weather conditions October?
"Romaniacs looks like it's going to happen, some other events are not so certain at the moment but I am excited about going to Romania. For sure it is in October and the weather could be different but it is the same for everybody. Maybe we just need to take another rain jacket! Everybody is just looking forward to getting back riding I don't think the October date will matter."
Will you try to compete any other major events outside of WESS this year?
"Normally I would be racing a lot but now with Covid it is impossible. Definitely I want to ride other events like maybe an Italian Enduro Championship or another round of the Austrian Enduro Championship.
"I heard that Machete is going to be in December, I want to race more and show my skills because it is part of my life. Hopefully I can make other events apart from WESS this year."
The plan was to contest the major American Extreme races – do you think you'll get across the Atlantic for any events?
"It's a little bit tricky. I check every two weeks with my travel agency and it's getting a bit easier to travel but Europeans are still not allowed to go there which is such a bummer, especially now with TKO already happening last weekend. I won TKO last year and it's an AMA national event so you can win a title there.
We need your support
If you've enjoyed this article, if you've found it informative, interesting, entertaining even, please support us.
We want to continue doing what we do, to the best of our ability, serving the enduro and off-road community.
Please consider a donation, every little helps…
Thank you.
"Anyway, I am injured of course and it was great to see Trystan [Hart] take the win on his KTM this year. It was sick to see that Cody has some closer competition with Trystan now. I'll definitely go there when I can."
With some of the 2020 events cancelled, and doubts about others, are you looking forward to wiping the slate clean and heading to 2021?
"Yes, obviously I'm excited about 2021. This year has been super crazy and still strange so I'm excited to go for 2021, have a normal schedule, enjoy the time and race with the other guys."
You are the WESS Champion of course but every racer wants to improve – what aspect of your riding are you working to improve moving forward?
"Definitely I'm still trying to get my speed up and trying to be even better on the motocross track and trying to minimize mistakes. I'm working on that quite a lot and I think I have improved my speed this year again. I'm feeling quite good on the fast stuff, so just trying to improve and trying to get better. In extremes I think I'm doing a good job. I definitely want to stick to this program because the mix of everything is sick. It's cool to be an all-around good guy."
Good luck Mani and here's hoping a speedy recovery for your thumb.
Photo Credit: Enduro21/Andrea Belluschi/Robert Lynn + Mani Lettenbichler