Spotted: Mani Lettenbichler's KTM EXC 300 Hard Enduro set-up
Pro bike set-up tips spotted at the Abestone round of the Hard Enduro World Championship – Enduro21 snoops around Mani Lettenbichler's parked up KTM Factory Racing 300 EXC two-stroke to spot some of his set-up choices including sawn-off levers and double-up cooling hoses.
Manuel Lettenbichler's Red Bull KTM Factory Racing 300 EXC surely is as fit for purpose bike as you will ever find. Winner of three rounds this season (he's only raced five of them), Mani's 300 EXC is these days the sole factory spec orange bike in the HEWC paddock – although it bears a passing resemblance to Billy Bolt's Husqvarna, plus Michael Walkner and Taddy Blazusiak's Gassers.
Aside from any full-factory mods, there's always room for some personal set-up choices specific to how the rider prefers the bike and this is where Mani's bike stands apart from the other guys.
In the case of foot and hand controls it can be about comfort but also practicality. In this sport, the bike has got to feel right but it's also gotta put up with a beating. None more so than the Abestone HEWC round in Italy's giant scree fields cascading down from the mountains. Bikes have to cope with this nonsense all day long.
We nosed around Lettenbichler's 300 EXC in the paddock while he wasn't looking to see some of his personal set-up…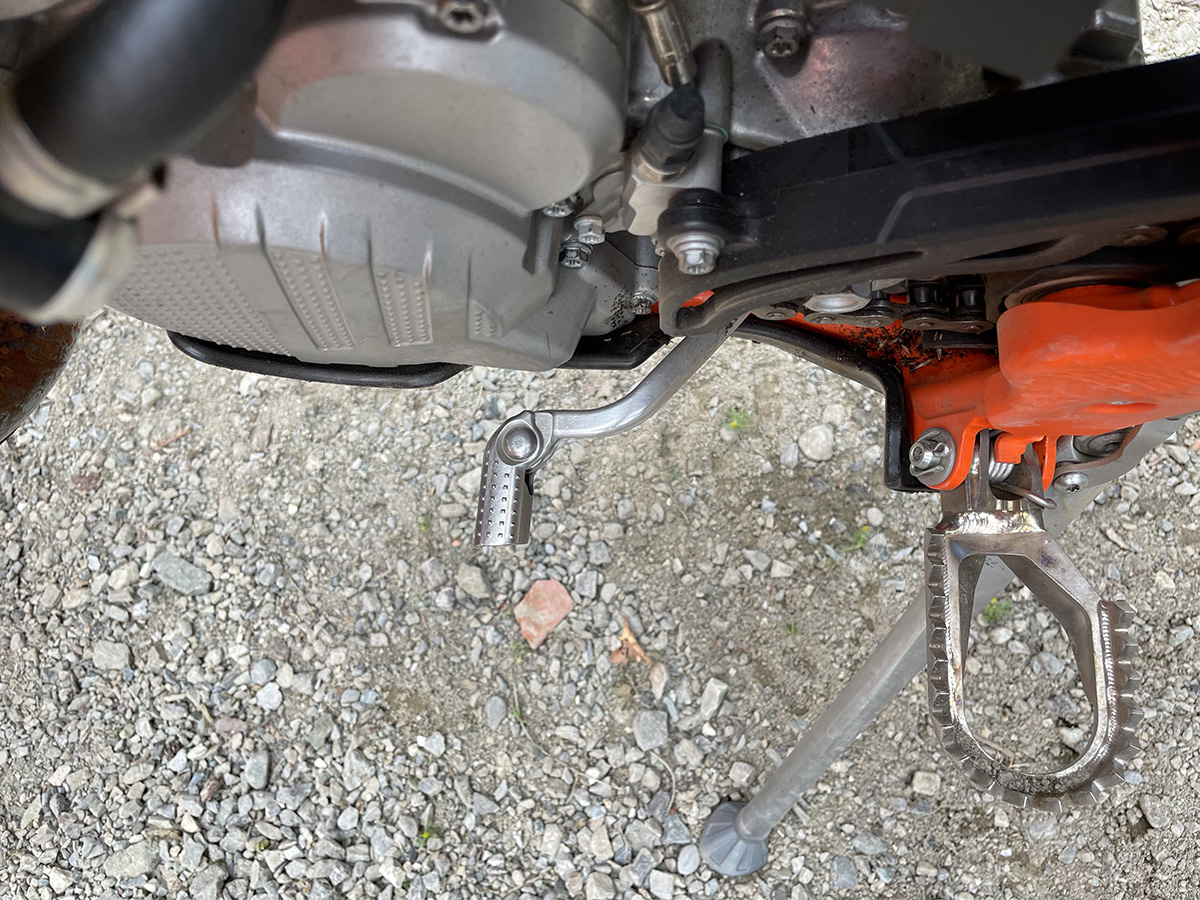 Trimmed gear shift lever
We're used to seeing Pro bikes with a squidge of silicone filling up inside the gear lever end to keep dirt out. Lettenbichler has also trimmed the overall length of the lever tip, approximately 5mm shorter, for that little extra clearance from rocks.
They've taken enough away to aid clearance without losing the usefulness of the lever and obviously the ability to change gears. You'll also spot a slight angle to that cut-off, just to add that little extra clearance without making it too short to be useable.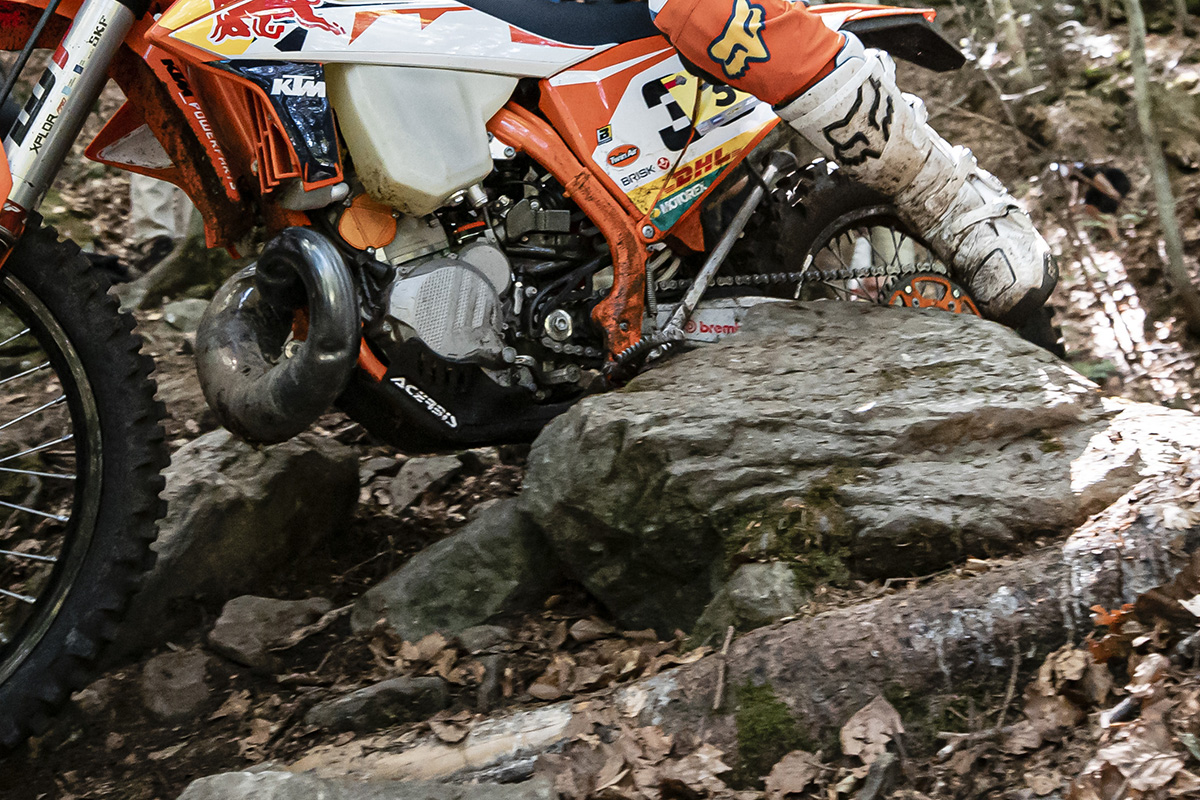 Check also the Raptor Titanium Edge footrests. The tough, titanium pegs have been around a little while but the "Edge" design gives a nice, wide platform for your boot but also ditches any framework across the centre of the peg, making any clogging of dirt pretty much impossible.
Angled rear brake pedal tip
Hop around the other side of Mani's bike and you'll see the rear brake pedal also has a modification over standard. The lever tip is upturned at a steeper angle compared to the standard design.
The idea being the same as with the gear lever, to position it out the way just a little more and make it less vulnerable to hits from rocks and the like. The higher angle means you'd have to adjust the biting point of the rear brake pedal but many people do that already, depending on their foot and/or boot size or even shape. (You don't adjust your brake lever to suit your boot shape? Try it).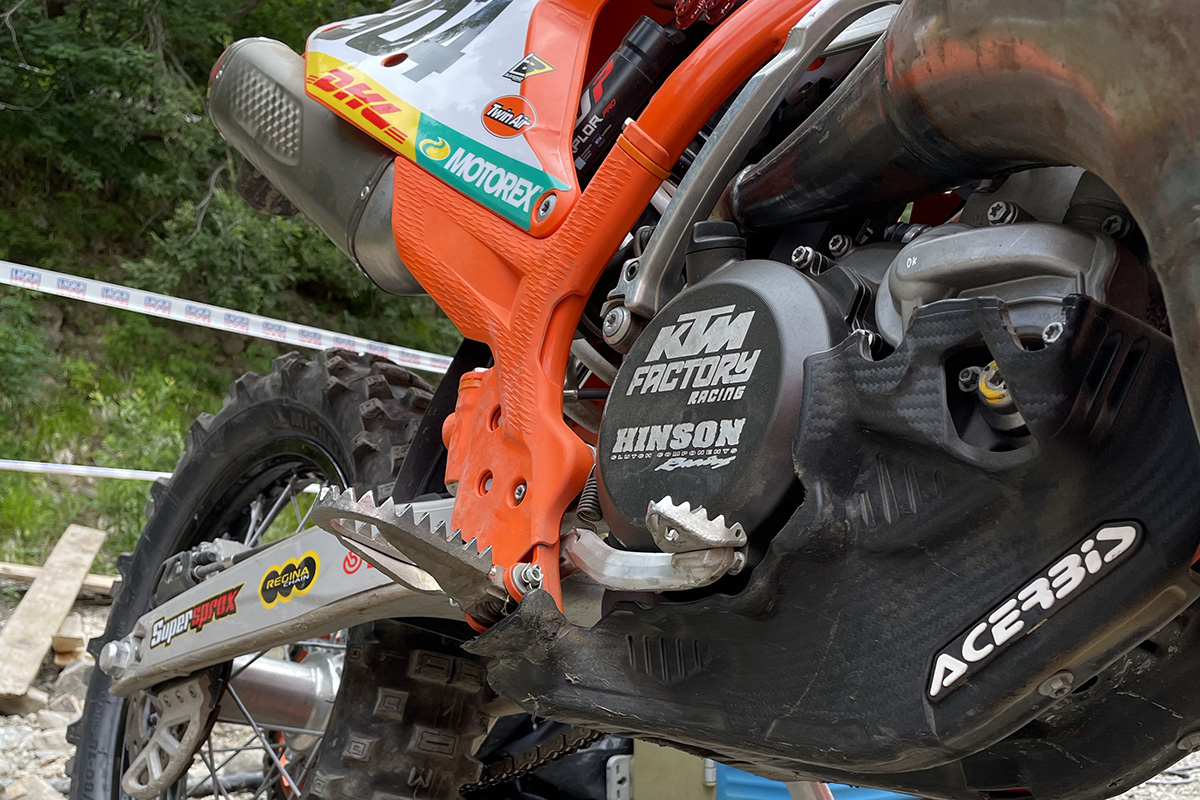 We notice from looking through our photo archives that Lettenbichler doesn't always use this upturned tip – next time we see him we'll ask why that is. In the meantime, it's a good tip (ahem) and could be worth trying.
You can get different aftermarket options for brake lever tips and this one looks a lot like the titanium Enduro Engineering range. If you want to play with both the size and shape of the tip, Enduro Engineering do a range of titanium ones which we've used quite a bit on our test bikes.
They're good because one of them will suit your preference and foot size plus they're designed to bend and give a little rather than snapping off. The theory being a bent brake lever tip is better than no brake lever…
Doubled-up cooling hoses?
Also spotted in this snooping session in Italy are the stronger, reinforced hoses over the top of the OEM KTM coolant hoses.
It's not something we've spotted before on other bikes or race team machines – happily we'll stand corrected when and if a tonne of E21 readers say, "we've been doing that for years"…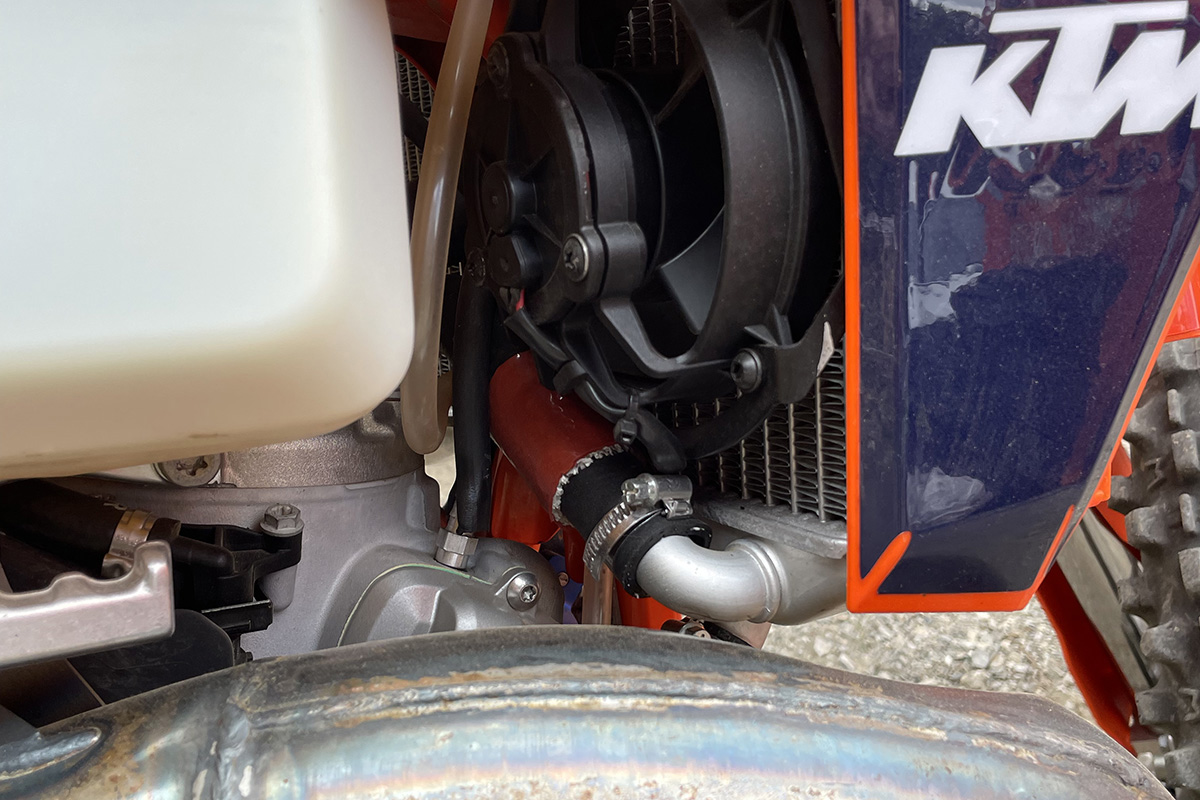 Usually replacing the stock hoses with stronger aftermarket pipes is the solution for a more bulletproof (and heat proof) cooling system on your bike. But the factory team have opted to put a hose on top of a hose for extra strength and protection.
Hard Enduro obviously puts a lot of strain on and engine's cooling system and any expansion in the hoses changes coolant levels and risks bursting. More than that, the extra cover they provide reduces risk of busting or punctures from radiators getting whacked and pushed against the stock pipes.
Update: Some keen-eyed E21 readers pointed out the exit angle of the bottom radiator pipe is different to stock also. It is a mod we knew about (but failed to mention until now) which makes the alloy pipe less vulnerable on both sides and keeps the hoses out the way if you hit soemthign and push the rads backwards. It's also something you can do with an aftermarket hose kit and remove the bulky standard thermostat in the process (we didn't check if that mod had been done on Letti's bike).
We wrote about a really nicely prepared 250 TPI with this mod (and many more) here: Build your best bike – enduro set-up lessons from an ISDE medalist
Manual fan switch
Manuel's manual fan override switch located behind the number board is nothing new on enduro bikes but always worth pointing out. The switch type is easy for the rider to grab and turn on as and when he thinks he needs the extra cooling.
The hot conditions at Romaniacs this year (for example) saw quite a few people using these, basically it means you can run the fan for longer periods to keep it constantly pulling the air through the radiators in a bid to keep the engine running temperature lower.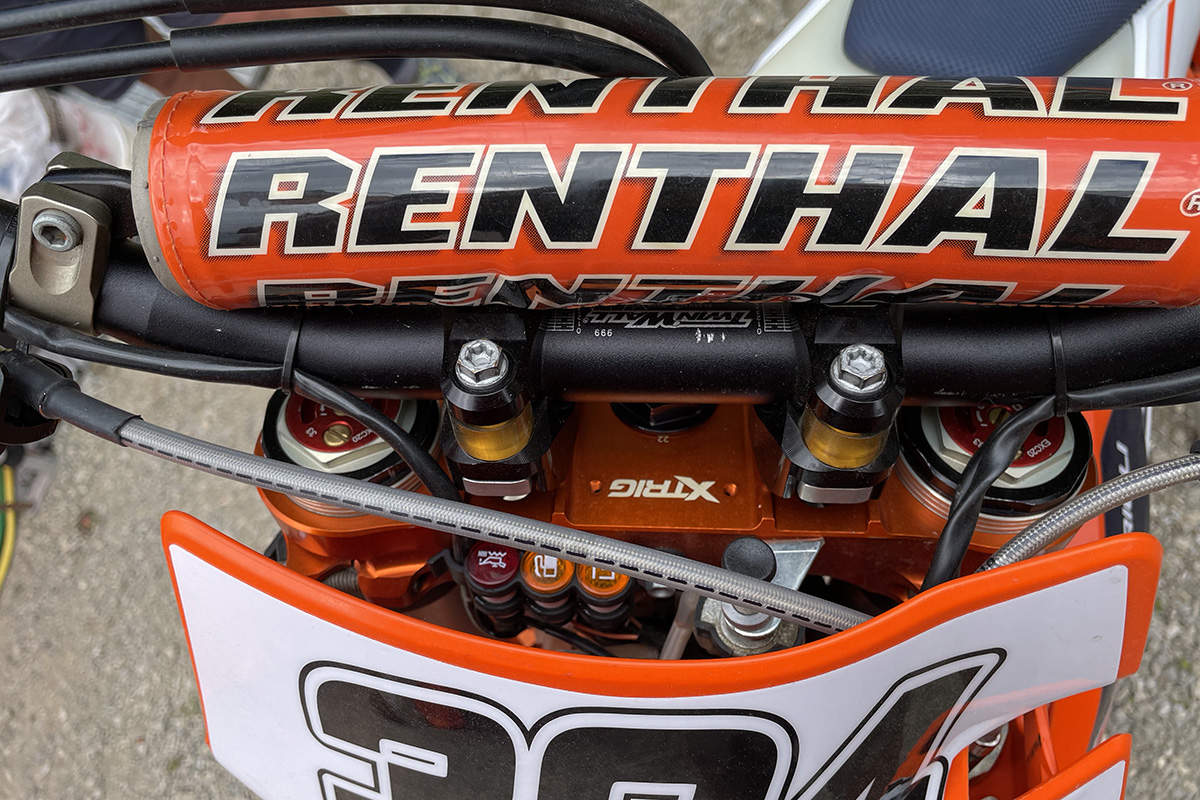 Check the flexi inserts Mani's 999 bend Renthal handlebars mount onto. These are the XTrig PHDS (Progressive Handlebar Dampening System) designed to absorb engine and chassis vibrations. They're good for less stress on the hands and wrists plus XTrig say they help with steering precision by absorbing horizontal and vertical movement.
Photo Credit: Enduro21 + Future7Media