Tested: 2020 Honda XR 450 – RedMoto's under the radar dual-sport gem
Redmoto Honda's new CRF450XR is a blast from the past revisited, Honda's dual-sport CRF450L with life breathed into it – we took it for a test ride to find out just how good it really is.
When Honda Enduro kingpins, RedMoto revealed details of their revival of the classic XR model, we were immediately sitting up and taking notice.
The Italian company's design brief was simple: take Honda's CRF450L and make it better. Better? Yes, accept Honda's dual-sport idea or what it is – a solid-built, soft-CRF off-roader – and give it some performance back.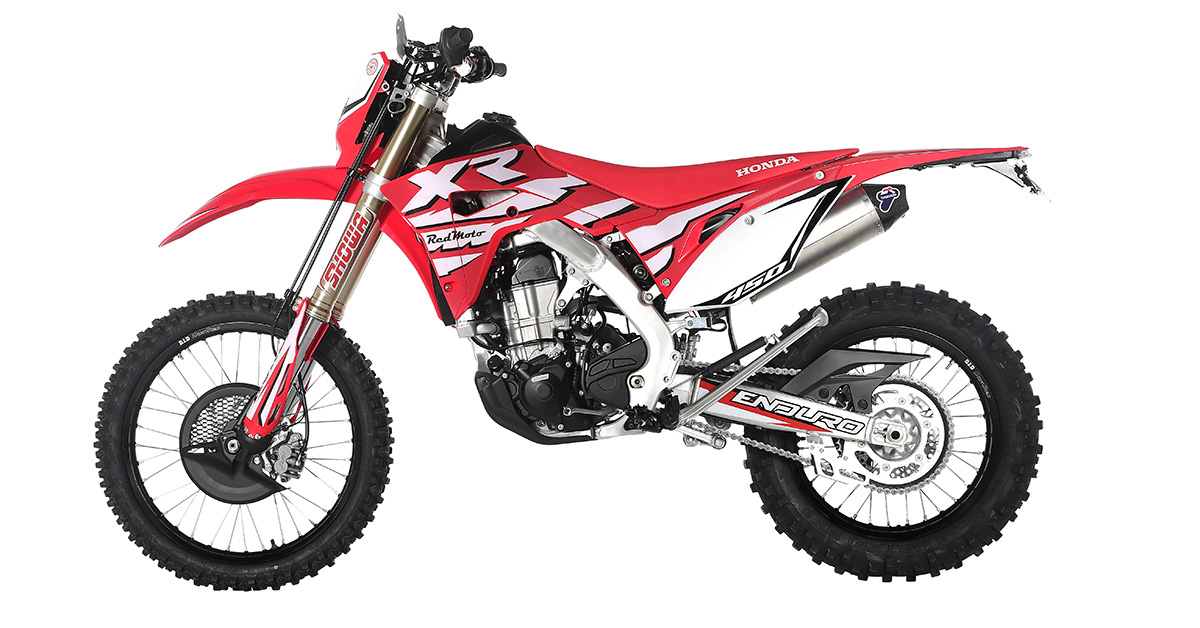 When it was launched in 2018, the CRF450L took praise and criticism in equal measure. Praise for its softened CRF nature (there's still a CRF in there), the dual-sport capabilities, the 30k service intervals, six-speed gearbox, lower seat height and general easier outlook in life.
Criticism for its 25hp power output and hefty price tag which made people baulk even before they'd clapped eyes on one. Many said in principle it was needed in the off road bike market but for a 450 wasn't it too dumbed down? Depending where you are in the world it is also a challenging amount to spend on a new bike unless you were coming at it as an Adventure bike rider wanting something more manageable – in which case it is half the price of your other bike.
RedMoto thought it was a bit soft too and so, with their deep roots in Enduro, created the XR 450 – the anti-dote to the CRF450L.
RedMoto Honda XR 450 in a nutshell:
Born from the CRF 450RX with CRF450R DNA
43hp full power model
Termignoni exhaust system
RedMoto 7.6 litre titanium tank (lockable cap)
First main maintenance at 30,000km
EURO4 compliant
Electric starter
High inertia crankshaft
Six-speed gearbox
Full LED lighting system
Bigger radiators, with thermostat, expansion vessel and cooling fan
Unmistakable 'XR' look with Enduro rear fender option and Circuit hadnguards
Metzeler Six Days Extreme tyres with 90 front and 140 rear tyre sizes
Fully adjustable Showa suspension
Black DID Dirt Star rims
Cost: €10,090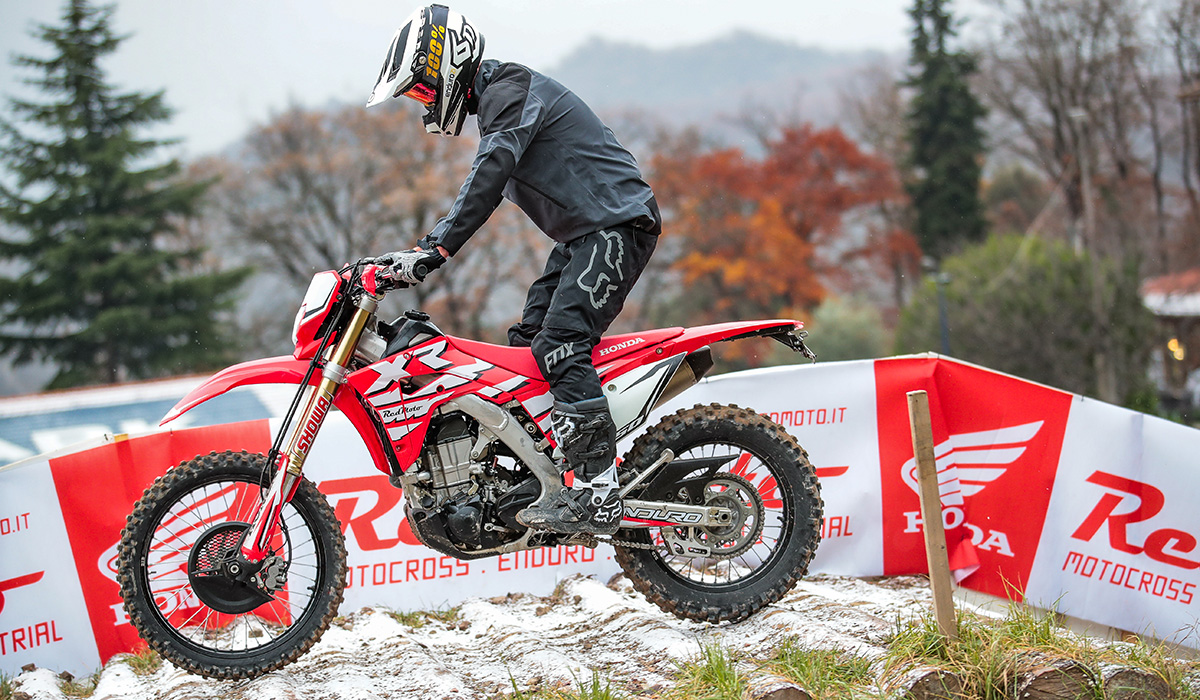 Like so many of Honda's official models, the Redmoto XR 450 is based on the latest generation motocross CRF450R. The CRF-R's aluminium, twin-spar frame is slightly modified at the swingarm pivot to accommodate the six-speed gearbox, plus a steering lock is added and to help keep road noise down for Euro4 regulations, the swingarm is injected with urethane.
Straight off the cold start line for our test at the Metzler Off Road Park in Northern Italy, the XR has that typical new generation CRF feel to it: smaller and more agile than you expect a 450 to be which means the first tight corners come easily and flow nicely on the pegs and using no more than second and third gears.
With a full tank of petrol, claimed weight is 129.8kg (surprisingly just 1kg lighter than the L model – it feels like more). Seat height is the same at 940mm though which immediately makes it more accommodating than the RedMoto RX models I had been on all morning.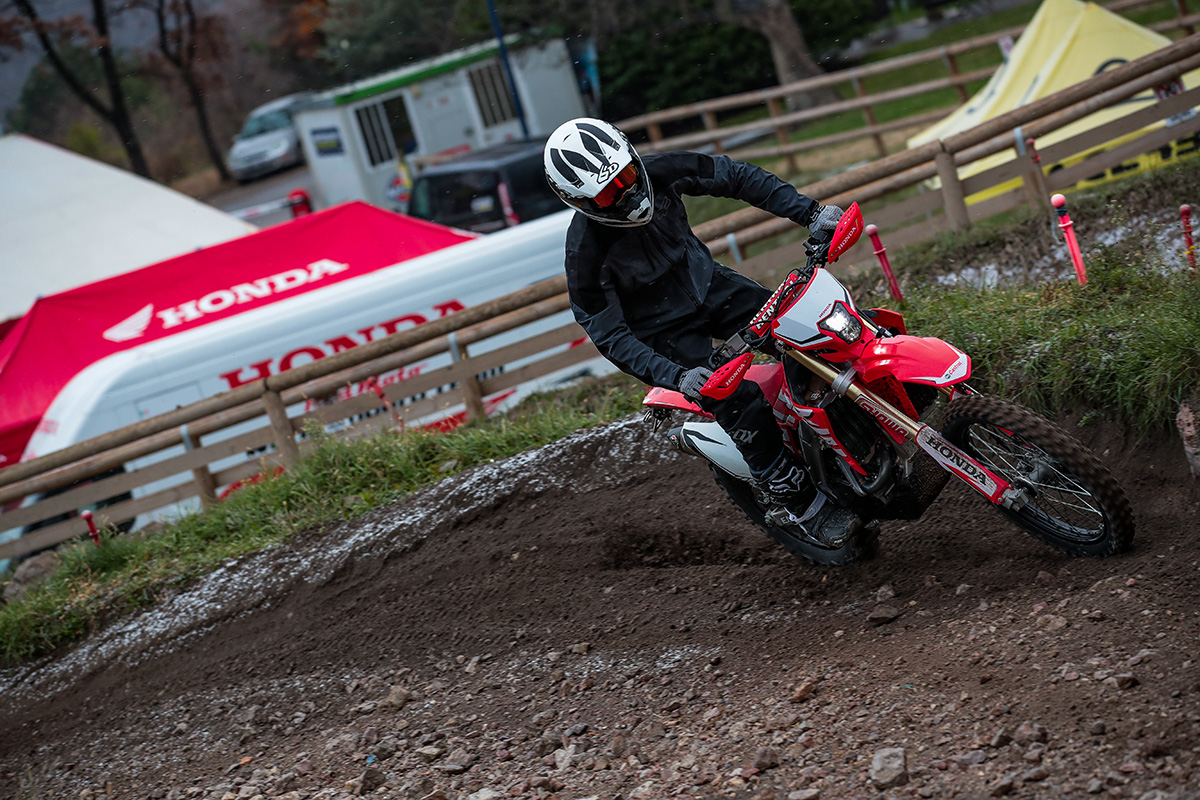 It comes as a surprise to learn the XR's Showa suspension is the same as fitted to the standard CFR450L. There's plenty of range in the adjustment RedMoto explain to me, and there really was no need to adopt the RX-spec springers because it works fine.
Don't be put off by that, the standard suspension was a positive when we tested the L at the world press launch. The 49mm upside-down Showa forks and Pro-Link rear suspension proves itself more than capable again taking on the mixed terrain at the Metzler Off Road Park for this test.
That said, we could try out the higher gears and therefore the bigger hits that come with speed just weren't possible to test out.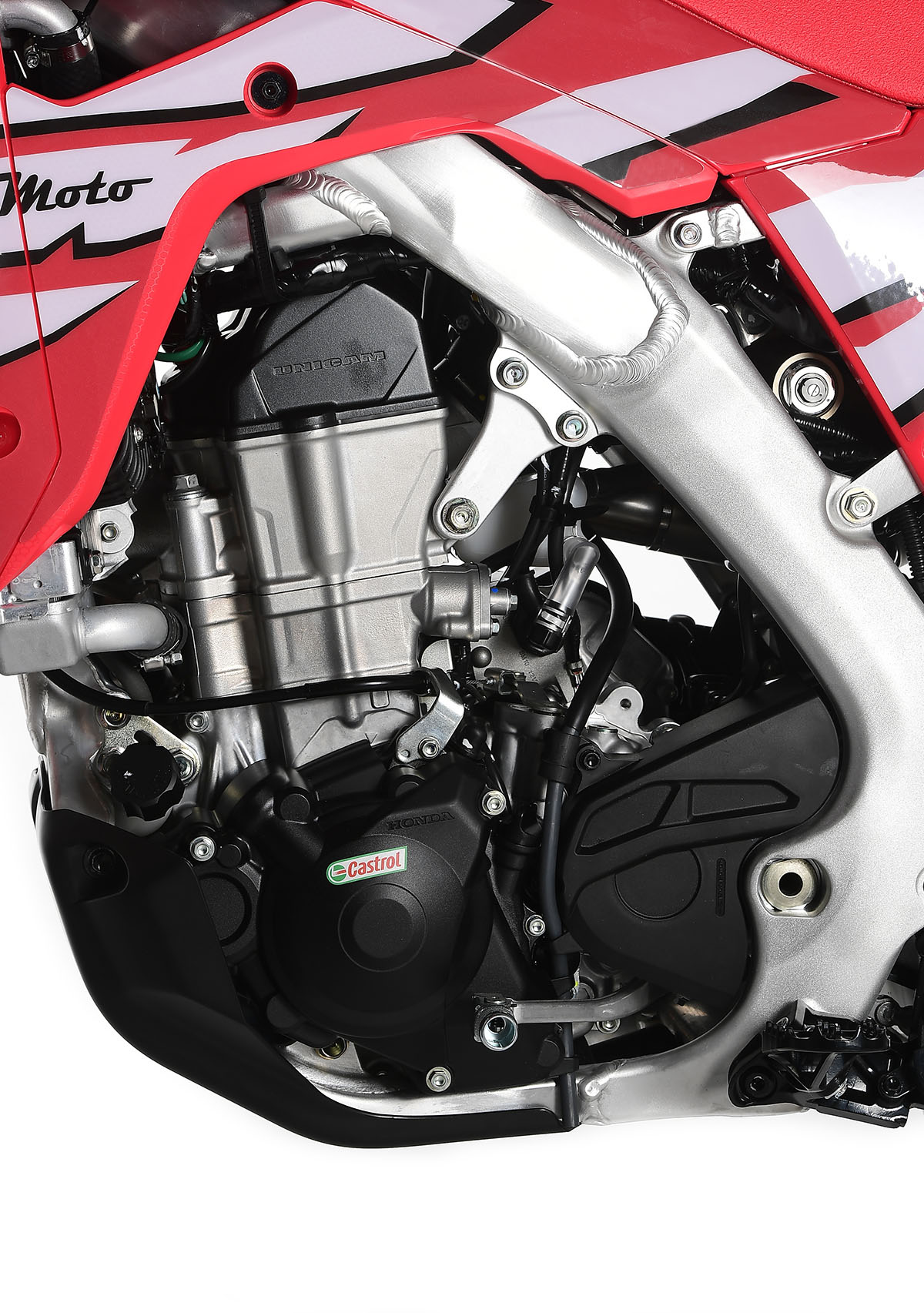 For those wanting the chassis details the steering head angle is 28.5°, trail measures 122mm, fork offset is 22mm and wheelbase is 1,500mm. Those are all the same measurements as the CRF450L but with more support, dialled in compression and rebound the bike stands very differently (less loaded sag) and feels more positive to ride.
Behind the Renthal bars on this test bike and standard Circuit handguards (making a crucial style difference over the L) the brake and clutch levers give the XR a distinct feel all to itself.
The 260mm front brake disc with two-piston caliper has the brake hose from the 450RX RedMoto Enduro model so has increased power compared to the L model's softer set-up.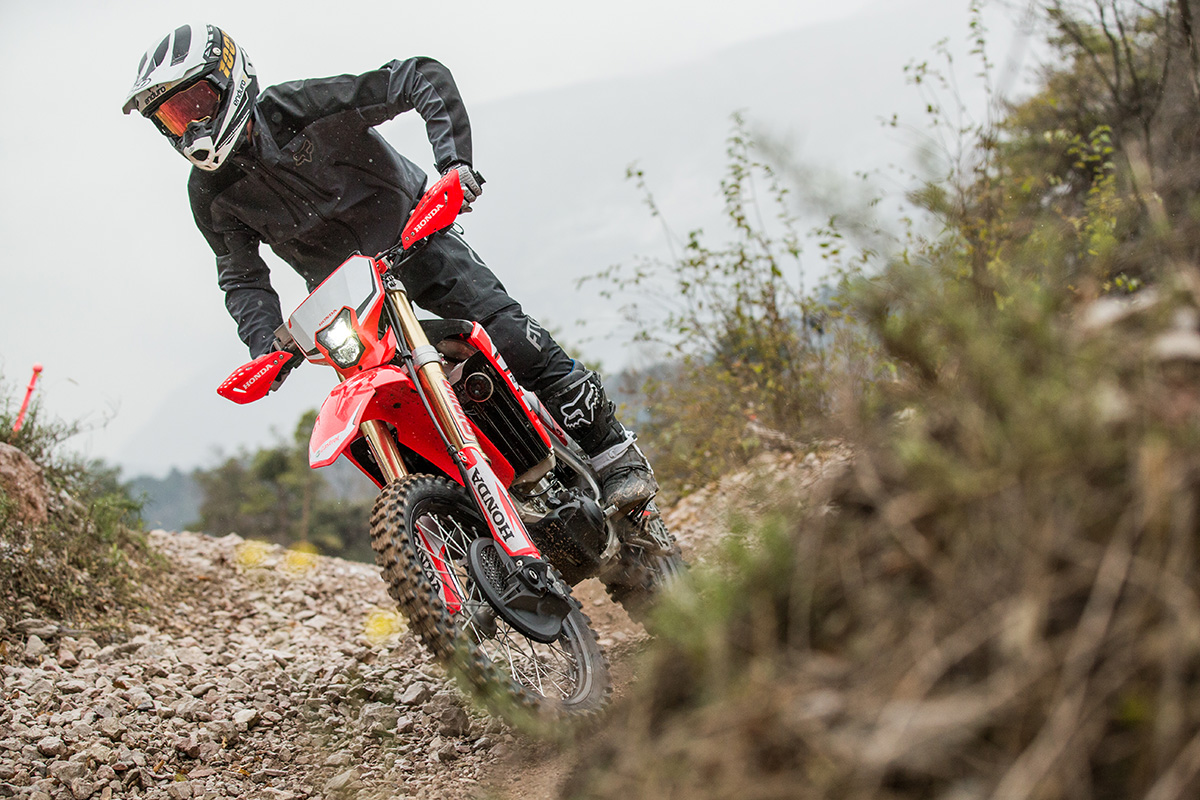 By contrast, the clutch lever is lighter than the RX and delivers plenty of feel for less forearm strain. A 2mm friction plate and different springs help the clutch deal with the increased power of the XR engine too.
Another crucial difference are the tyre sizes. The XR comes fitted with Metzeler Six Days Extreme tyres in 90/90-21 front and 140/80-18 rear sizes. It makes a significant difference to handling compared to the L model's narrower hoops.
Put simply they are normal tyres for a 450 enduro bike and they instantly improve stability, feel and grip – particularly edge grip.
Though in essence the same as that fitted to the CRF450L, the 449cc engine in the XR has undergone plenty of work from the technicians at RedMoto.
Redmoto say the remit was to take Honda's deliberately de-tuned L engine and make it more usable for different riders, in different situations, both on and off-road.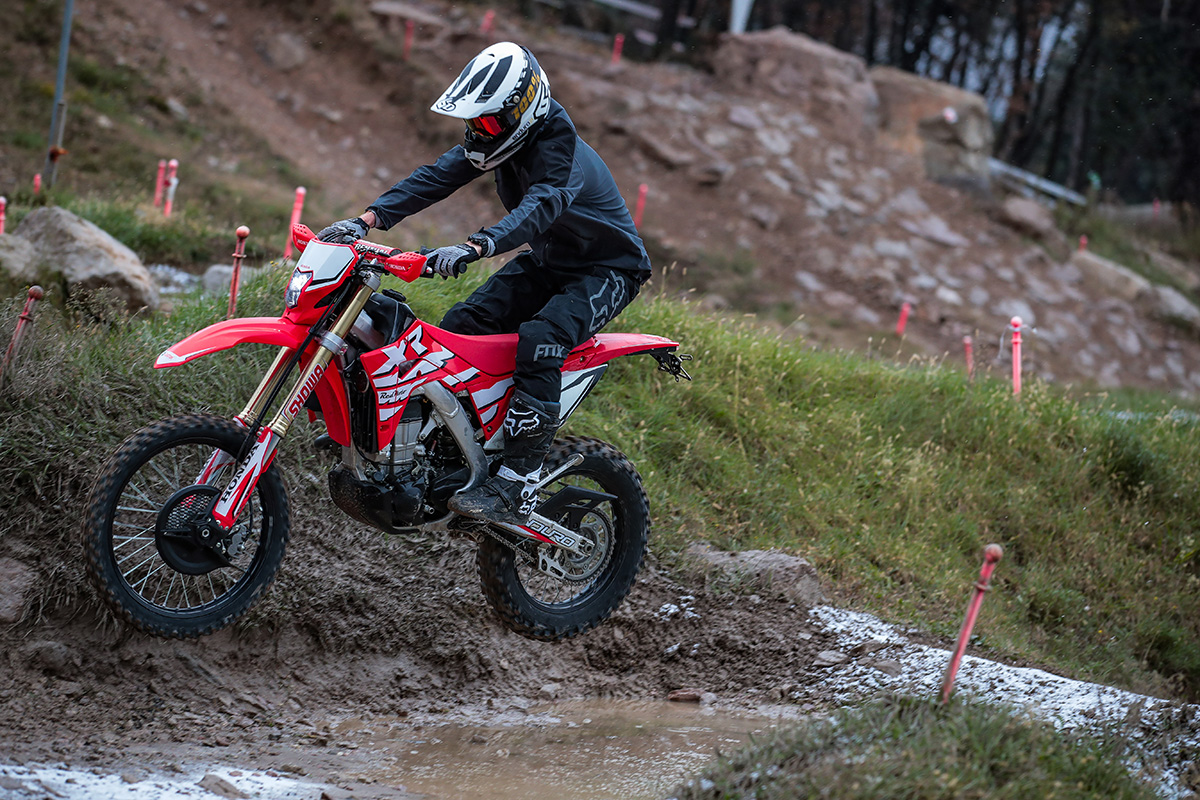 To that end the biggest difference RedMoto make is to hand back some of the horsepower stifled on the L – 43hp instead of 25bhp are the claimed figures. That 25hp was a big headline when the L was launched and it put people off because it sounds a lack-lustre amount and at the least, less than you'd hope from a 450.
Which is why RedMoto turned the tables and breathed life back into it. The L is the XR model but with smaller valves, smaller intake, smaller exhaust. By letting the engine breathe more air through the RXs air intake funnel, inject more fuel and by letting it expel more gasses out the Termignoni exhaust system the XR is like a different motor all together.
The big sell from Honda was to guarantee CRF L's reliability with 30,000km maintenance intervals but RedMoto know from their own extensive testing the XR will also happily do 30,000km between the major services – oil and filter changes every couple of thousand kilometres is recommended.
The bore and stroke are unchanged compared to the CRF450R (96 x 62.1mm) but the piston has three rings instead of one for that longer lifespan. The compression ratio is 12.0: 1 (compared to 13.5:1) for that user-friendly feel. Crankshaft mass has also been increased by "more than 13%" for improved torque and traction, plus ignition timing is revised for a wider and more uniform power delivery. A trick up RedMoto's sleeve is to be able to change the mapping on their own models to suit the exhaust and airbox characteristics.
The generator has increased capacity to provide the power required by LED lights and to maintain the battery charge (the battery itself is a high capacity unit).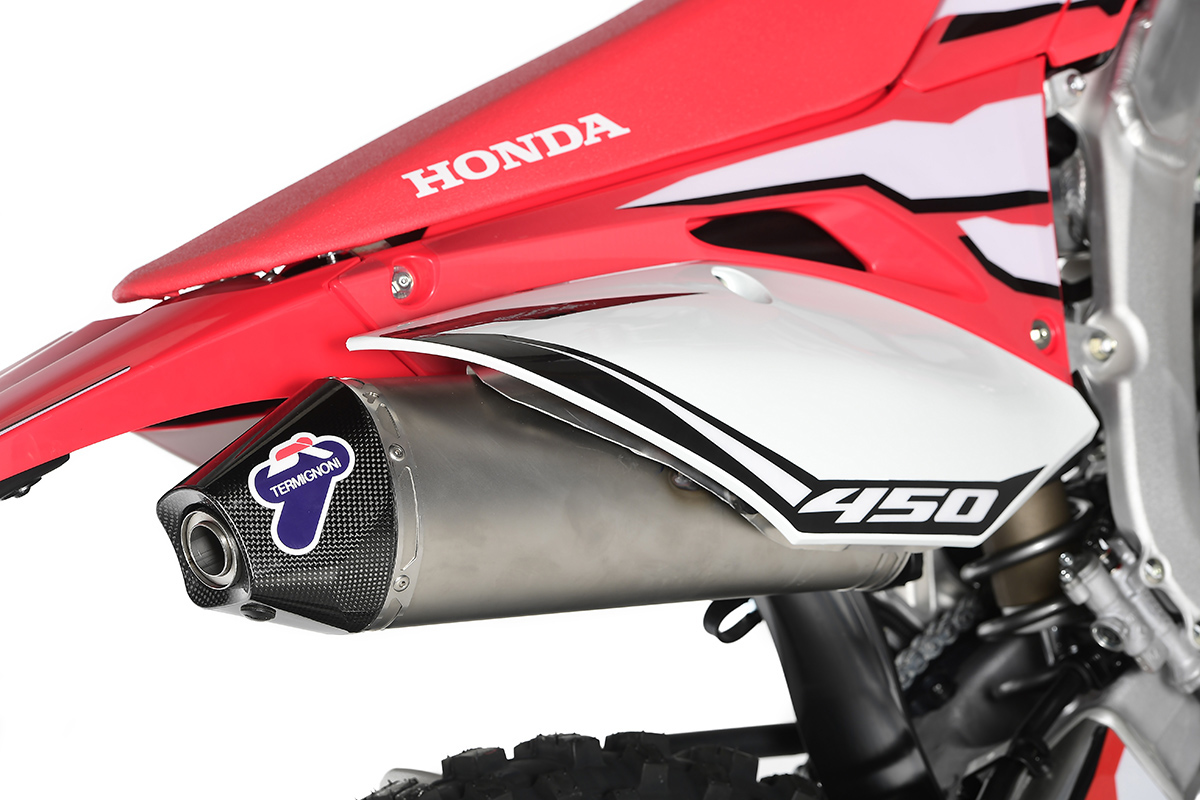 What do we think at Enduro21? The XR is a surprise in all honesty. We've ridden the CRF450R, CRF450RX and CRF450L and each has its particular place in the world.
But what the XR surprised us with were its broad skills, almost like a mixture of all those models. Admittedly it was tight and a cold ride so we definitely were not in race mode but the terrain was mixed and gave good chance to feel the XR's handy skills – plus, this is after all a dual-sport bike not a race weapon.
In essence it is not as fierce as the CRF450RX Enduro model but feels like it and crucially looks almost identical. Looks are important after all.
450s can be too much for many people, they are heavy and powerful, quick to knacker you out when the going gets tough. RedMoto Honda's XR 450 opens itself up to be a kind of doing-anything enduro bike.
If you're fancying a trail ride or club Hare and Hound race we think it would be a blast at either – so long as you're not taking the racing part too seriously. To ride it is to feel confident on a 450 and it has a good deal more capability in any situation than the 450L, not least because RedMoto breathed life back into the engine. We like it.
Check out Tested: RedMoto Honda's 2020 CRF RX Enduro range.
More information: RedMoto.it
Photo Credit: Davide Messora/Yuri Cortinovis