Tested: 2024 GASGAS Enduro Range
Enduro21 tests the 2024 GASGAS Enduro range across two days riding the EC, EX and MC off-road motorcycles. So what's new, what do they ride like and why should you buy one instead of a KTM or Husqvarna?
It feels like a long time since Enduro21 swung a leg over the 2024 KTMs back in May. The three, new enduro ranges from the Austrian manufacturer were hugely anticipated with the major overhaul of engines and chassis', new suspension and the new TBI replacing TPI fuel injected two-strokes. Since Husqvarna launched their new models we've waiting on GASGAS to find out their enduro bike shape up and where the differences lie between the three 'brands'.
GASGAS launched their new bikes with a bang in Italy bringing the entire 16-model range into one event complete with factory riders like Andrea Verona, Taddy Blazusiak, Justin Barcia and Laia Sanz, plus a live stage with music and a festival vibe. It was pretty cool, open to anyone and definitely not like your usual media launch.
Ultimately it's all about the bikes and though the KTM Group tries to keep things separate, the reality is in an enduro everyone is comparing the prices, specifications and playing a spot the difference game between red, orange and white bikes.
So, having tested the KTM and Husqvarna Enduro bikes already, the natural question is: what is the difference?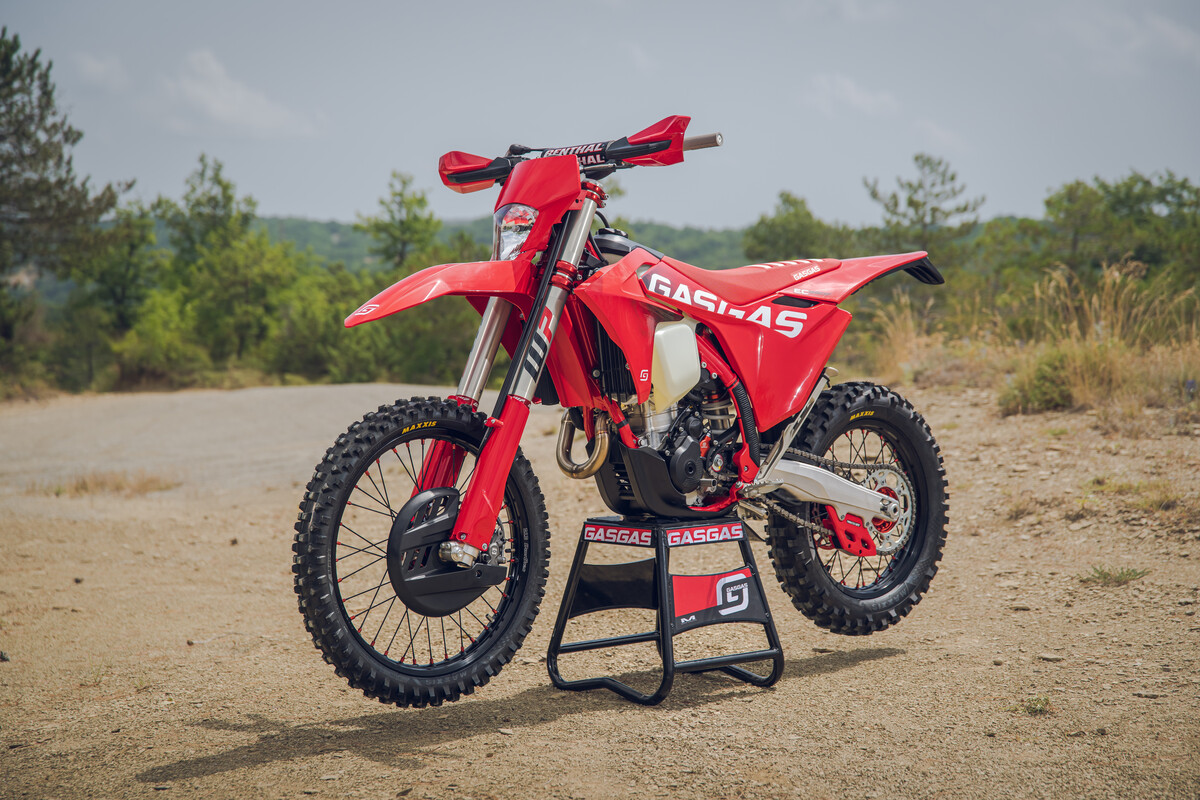 Where to start...best looking bike?
You have to start somewhere with so we'll start with the first note in the notebook: the '24 Gassers look cool in the flesh, design details look sweet. They seem redder than ever and the plastic panels are simpler by design with two each side, less plastic poppers and fixing points which makes taking them off, accessing the air filter or removing an exhaust (for example), easier.
A new seat design makes removal quicker too with just one bolt up front and there's a neat black cover over the top of the (otherwise clear) fuel tank to protect it from scuffing.
The truth is though, they look best of all with a bunch of non-standard parts fitted like the Technical Accessories black wheels, handguards, disc guards and more in the above image.
Other smart design changes to the new models are also common with the Austrian counterparts including new, more protective fork gators, slimmer side panels allowing better rider movement and a new front mudguard designed to contain dirt fly-off from the front wheel better. It was baking hot and dry in Italy so we didn't get to test this one.
A new design chain guide and rear sprocket protector is stronger and common across all MX, XC and Enduro models. Like a lot of elements of these new bikes, they are all interchangeable.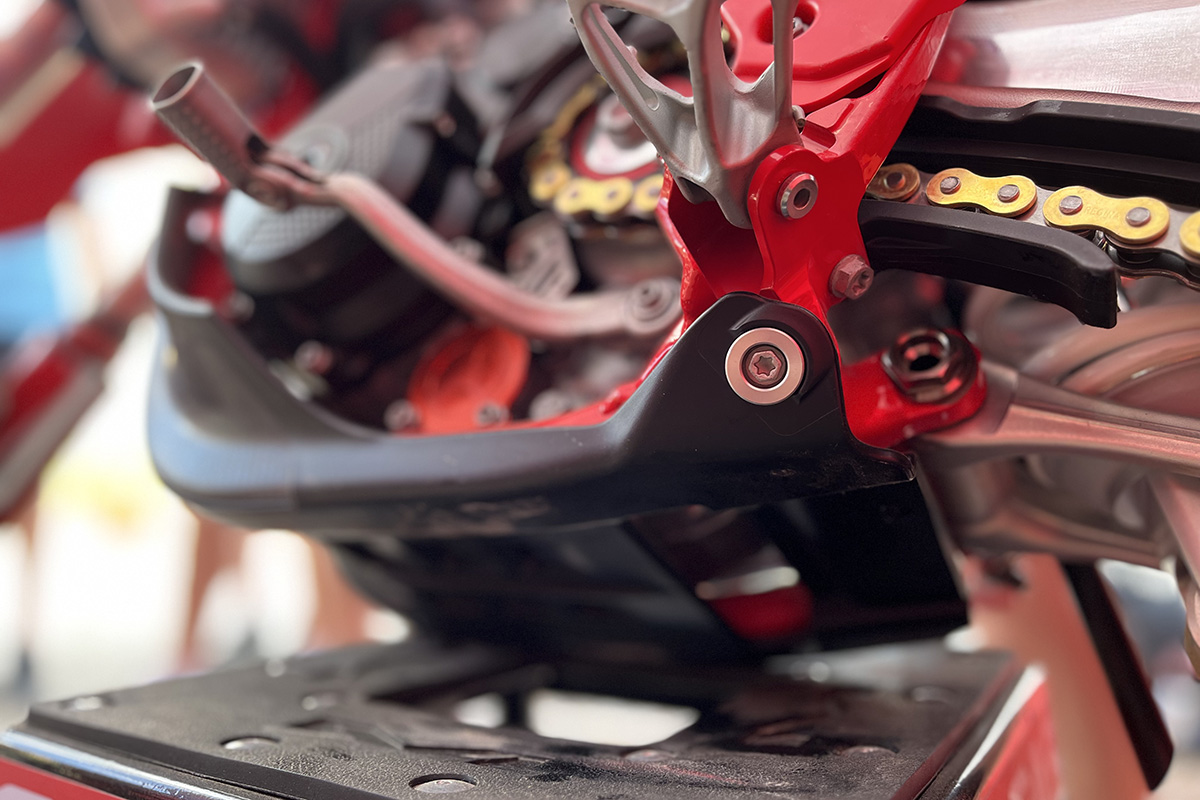 Smaller details like every engine service bolt (with a copper washer) having a little triangle on the casing next to it – so you know it should have a washer – and having two bolts to access and service the 4T top end, torque settings all marked next to bolts, easy seat removal to access the simplified electronics systems and a no-nonsense side panel design all make workshop life better.
Sump guards are still not standard but with them fitted on the test bikes we noticed the new design now bolts onto the frame around the sides, under the footrests now instead of the more vulnerable usual position underneath.
How much do handguards cost?
The sump guard not being standard adds to the other minor negative on the practical side, the lack of handguards as standard. What do they cost to manufacturer? Less than cup of sugar?
You need handguards on an enduro bike and this track through the trees with a staked-out and taped enduro test proved the point with our bleeding knuckles as evidence. Not fitting handguards feels like a cheap saving on their part to deny us a basic rite in enduro. (P.S. if you see any in the pictures they're Technical Accesories extras).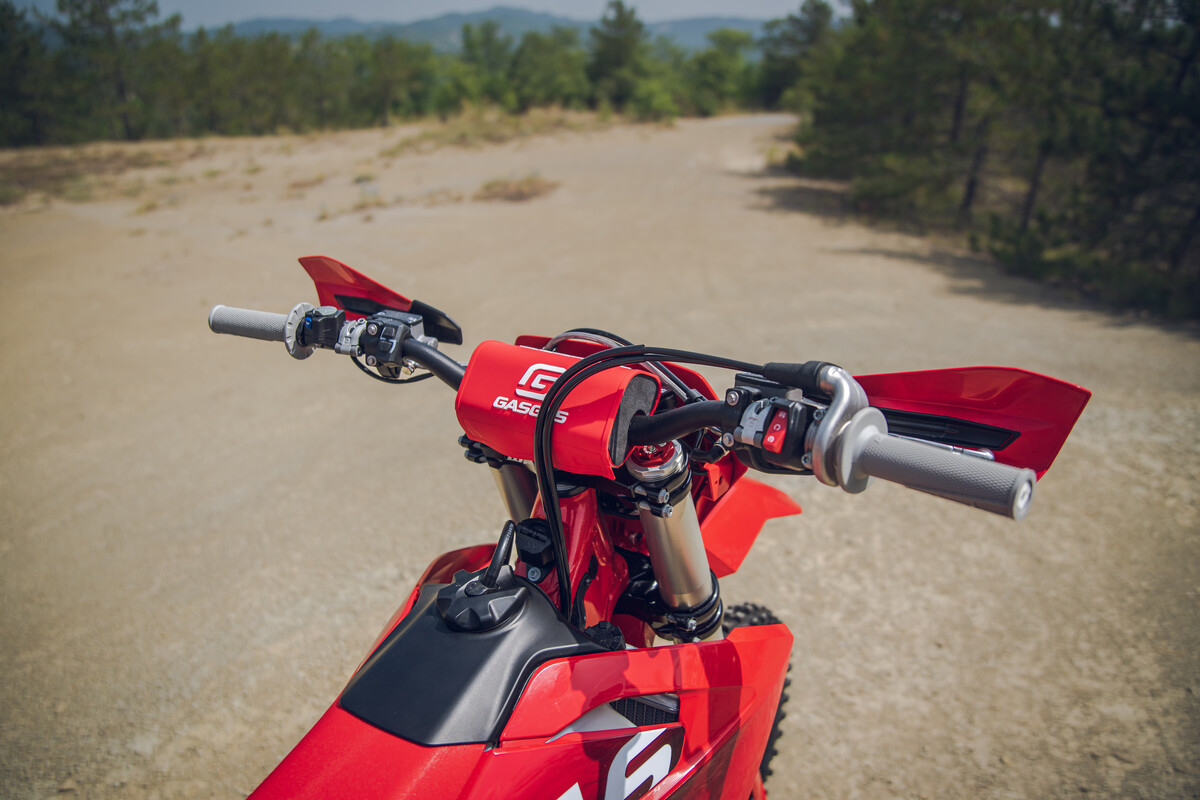 One ergonomic niggle was the starter buttons on the motocross and cross-country models. MX bikes will not bother most Enduro21 readers but the XE cross-country bikes sell in big numbers in North America and you might want to know the new starter button and kill switch design is a bit crappy.
We lost count of how many times we had to press, press and press again the starter button on the XE on start-up or after a stall. It's annoying but if you stall in a turn and are sitting in the track it can get frustrating. The enduro models (as shown above) get a much better design which is the same as the KTM and Huskies and doesn't suffer the same issues.
WP XPLOR front suspension – what's going on?
Jump on the new GASGAS enduro models and one thing is immediately clear, the front forks are softer compared to the '24 KTM and Husqvarna enduro models.
The reason is the GG EC range gets XPLOR open cartridge forks and an XACT rear shock, tuned to match the new chassis', not the upgraded XACT closed cartridge forks as on the orange and white brothers.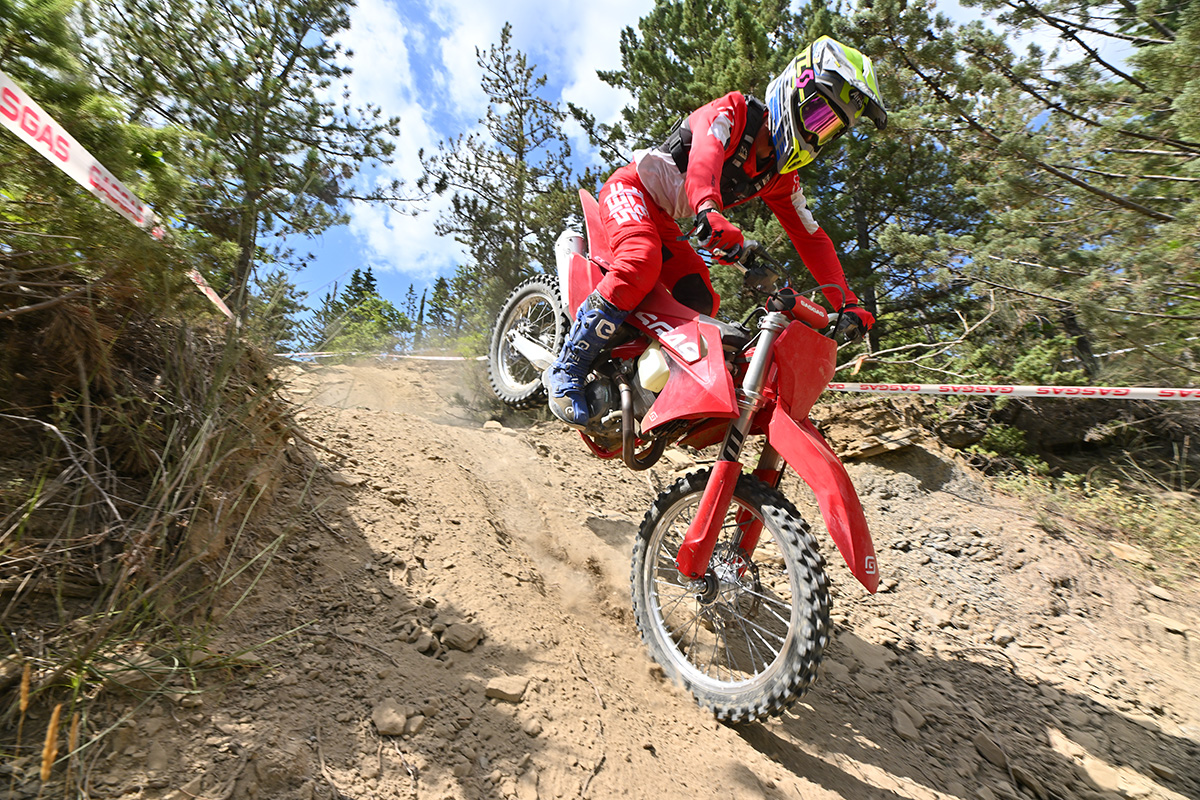 GASGAS (and WP) say this is to give customers a slightly more accessible and easy-going choice of new bike. If the KTM range is 'Ready to Race' then the GASGAS range is ready to go for a trail ride or 'ready to ride your first enduro'.
As such that puts the Gassers where the KTM models were a few years ago when they introduced the XPLOR suspension first of all. KTM got a lot of flak over the years for that, even if it was from a noisy minority who found them too soft for enduro racing.
Truth is a large proportion of off-road riders don't ever go anywhere near a racetrack or special test so it makes sense to serve up a slightly softer option. Plus, in theory, it makes them cheaper.
Better handling
There's plenty of good stuff going on with the new chassis and it all comes from the new steel backbone frame, new rear shock mount position, beefier swingarm, new triple clamps and tweaked centre of gravity (most noticeable on the 4T models).
Each is helping the other to make the new models handle the ground better and that's exactly as we found on the KTM and Husky launches. The reality is you feel like you're riding a bike which tracks the ground and hits lines better than the old model.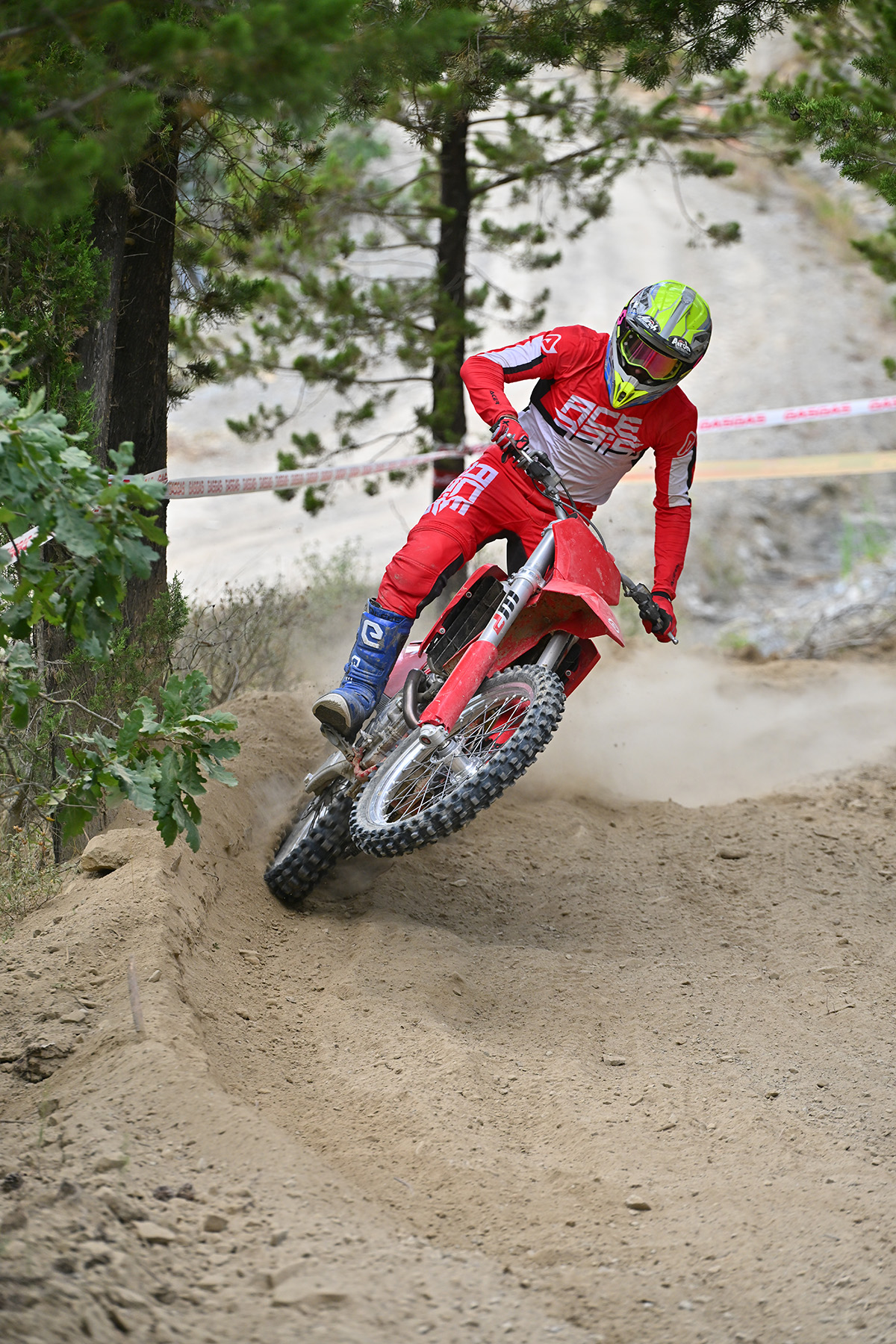 The standing riding position is improved thanks to that new chassis, lower and wider footpegs and new Neken handlebar bend – with the new bodywork shape you feel more in control of the bike, it's that simple.
The front forks do sit taller on the EC models and if you go for a stiffer setting, or ride the cross-country bike, the handlebar height feel taller than the old models.
Softer suspension = more action
But there is a downside to the softer setting in the suspension and it means the GASGAS enduro models have had some of the positives of the new chassis taken away compared to the other Austrian enduro bikes.
That improved feeling of control on this choppy, rocky and hard-baked enduro track is not as good as it would be on a 2024 KTM we reckon.
The tendency of the 2024 GG models was still to flap about a bit if you try and ride harder. The back squats still when you accelerate, making the bars shake as the front wheel goes light, they rebound too quickly up the suspension stroke off bumps or out of corners and generally doesn't absorb the track enough.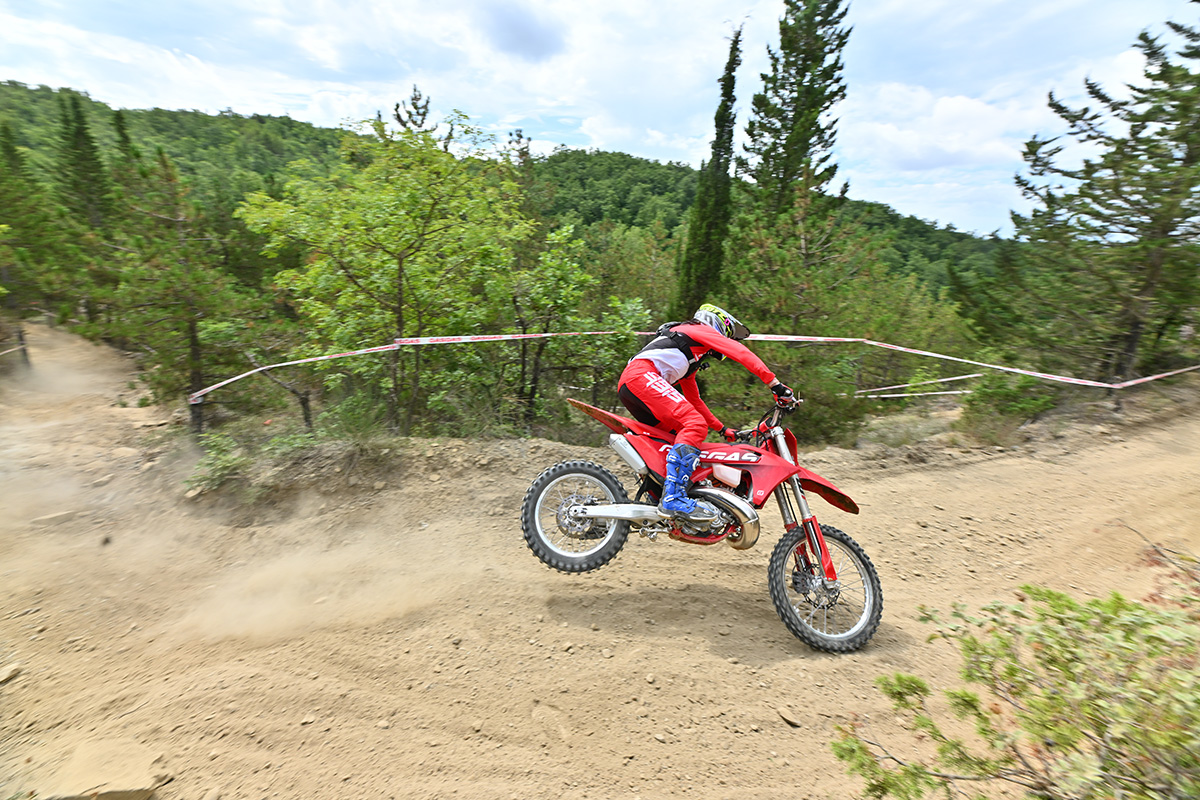 The test track had a pretty long enduro loop which snaked through trees for five or so minutes with a grass field test thrown in the middle. Inside the trees there were a couple of steep drops, one with a little whoop-out ahead of it that compressed suspension just before the drop-off.
If you didn't get weight back the rear suspension compressed and rebounded back, pinging you onto your nose downhill and heading into a turn and the trees. Even with weight further back, the landing blew through the suspension stroke. Either way, this kind of detune might be more accommodating in some riding circumstances but it made life worse in this situation.
Ticking off the bikes one by one to test the whole range we finally got some time on a Technical Accessories-kitted EC 350 and suddenly those bumps and the flapping was cured. The kitted bike had the WP Pro Components forks and shock and proved with the right set-up the new bikes can love going fast between the trees. You just have to spend the money.
Big 500 lessons – a lush dollop of mid-range power
The biggest new additions to the GASGAS model line-up are the 450 and 500 four-strokes. 'About time' some will say as the red range from Austria always seemed to be lacking a model or two. They're welcome and basically dished out a good lesson which counteracts all we've just said about the handling.
A couple of fast laps on the enduro test loop was hard work and knackering on a big four-banger. All that excessive suspension movement was amplified big time by the big power and weight of the 500.
But if you back it off a bit, roll off the throttle and treat the track like…well, like a trail, it was a different experience.
Positive vibes?
Suddenly the lush dollop of mid-range power meant you could use one gear all day long. Stand up on the pegs, roll through corners, don't worry about doing anything aggressively like you would if the clock was ticking, and it transformed the experience from hard work to a pleasure. The moral of the story is don't try so hard, chill out a bit and enjoy the ride. Just go steady on downhill jumps.
The one thing to note about the bigger four-strokes is the same one we felt on the KTM and Husqvarna model launches, the vibes. The big 4T machines are adversely affected by either the new engine changes or the new chassis (we still haven't found out which is making it happen) and have too many vibes coming off, up and through to the bars. Tingling hands 20 minutes after you get off the bike? Yep, it's a real thing.
Braktec hydraulic brakes and clutch systems
The GASGAS Enduro range might have its own unique front disc rotor but there's no getting away from talking about the braking components. Basically that's because the KTMs have Brembos.
The Braktec brake and clutch systems on the GASGASs are upgraded since the previous models and GASGAS say the inconsistencies some owners experienced are gone.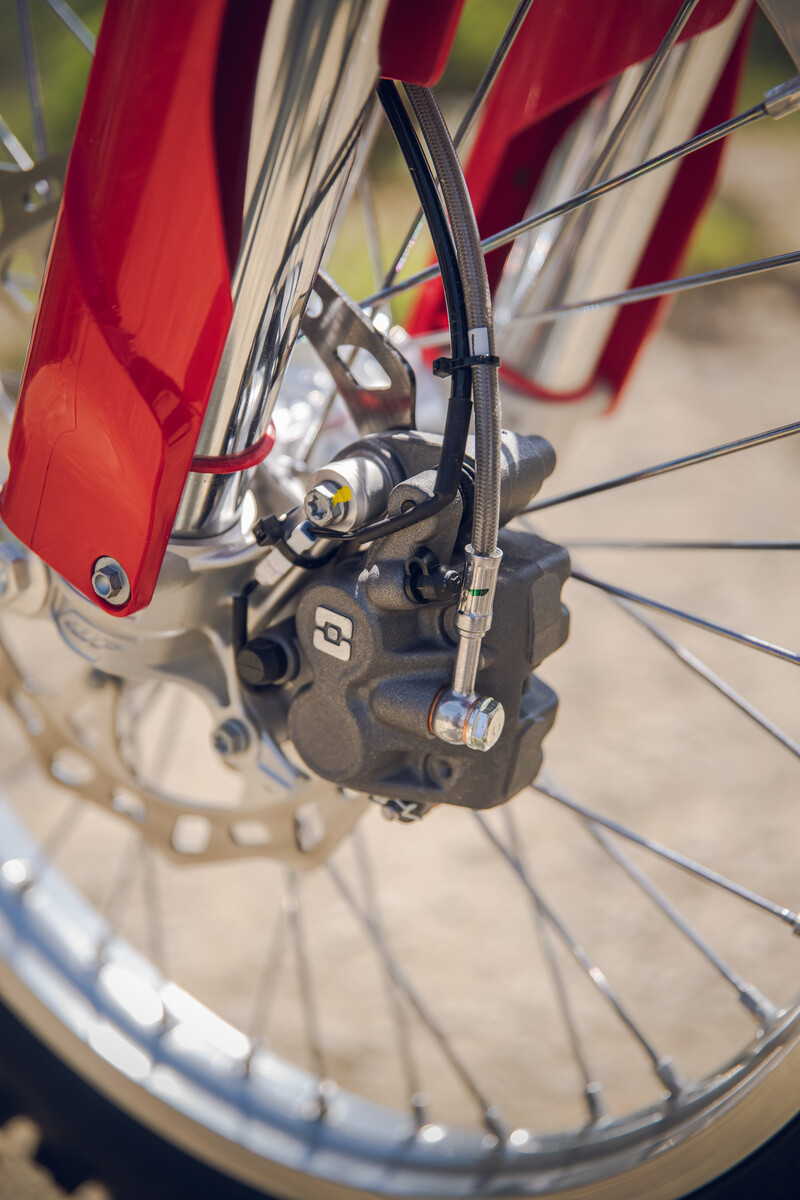 It's true, the did feel better and unlike the Husqvarna media launch last month, we did actually get to push the braking power in a looping, grass enduro test.
The best way of describing their performance is to point you back a paragraph or three. They work, they're fine and we found no real performance issues except to say their level is 'ready to ride your first enduro' rather than ready to race an enduro.
Ultimate power? Not really. Nice, moderate feel for low grip conditions without too much fierce response from the lever if you pull it hard? Yup, that's about where these Braktec brakes are at.
If racing is your thing then look at the EX not the EC GASGAS models because they come with the closed cartridge XACT forks and go for an upgraded front caliper. Or you could try the KTM of course…
Map switches, traction control…
Both four and two-strokes get a two-position map switch, 4T models get quickshifter and traction control options but they're optional and extra.
A heap of new electronics including a smarter electronic management system (EMS), new largely fuse-less design, a roll-over cut out, a gear sensor delivering different maps for each gear, and a tougher TPS sensor are all standard though.
The stronger, all aluminium rear subframe is going to please some of the crashers out there who have a habit of breaking them. It's a strong unit which houses the new, all-in-one electrical systems on a plastic tray – that too is easily removed for complete strip downs or for cleaning.

Step-change new 2T engines
We feel like we covered the new TBI engines in the KTM and Husqvarna launch test reports but they deserve mention briefly again here at least.
Read about those bikes here: 2024 KTM EXC Enduro range riding impression – "the most radical update yet" & 5 things: 2024 Husqvarna Enduro range – test ride and talking points
If you're looking for a more immediate throttle response and feel for the back wheel we can report it is there for all '24 GG models but it's particularly noticeable on the new TBI two-strokes.
A lot of work and development, some of it by factory racers in the Hard Enduro World Championship, has delivered a new generation of two and four-stroke engines. It almost gets lost in a first test like this where the chassis and detail changes seem so important but the new engines are a new generation step forward.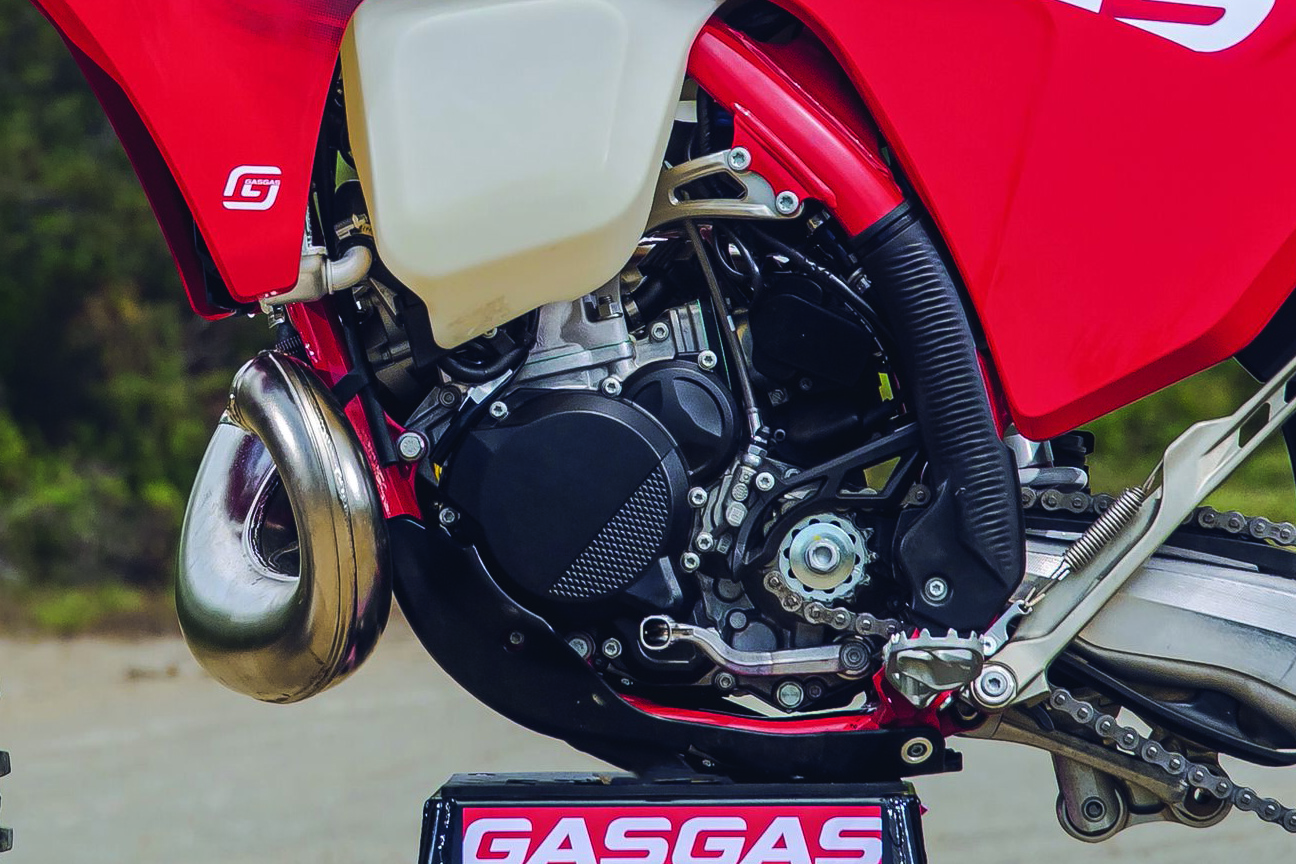 Throttle cables mounted directly to the 39mm Keihin, dual injector throttle bodies without a linkage which improves throttle response, a new idle control with one low load injector (positioned as on four-stroke models) and one "top-feed" injector plus a larger fuel air mixture operating window by comparison to TPI improves air-fuel mix. It makes a difference without doubt.
Head into corners, drop down hills, come on and off the throttle and the TBI motors are less prone to hesitations and inconsistencies. They rev more freely and feel sharper, more tuned to what you're doing with your right hand. Like a carburettor? No, just different, but better than a stock TPI every was.
Blinged-up accessory bike
Chief on our list of parts we'd change on a 2024 GASGAS are the wheels. We're not alone in thinking the stock bare metal rims look a bit cheap and had hoped they'd get rid of them this model year.
Like so much else, black rims are available in the Technical Accessories catalogue and that includes a heap of interchangeable parts between the enduro and motocross models too (things like the engine mounts which you can swap for better handling or more stiffness depending on the riding conditions).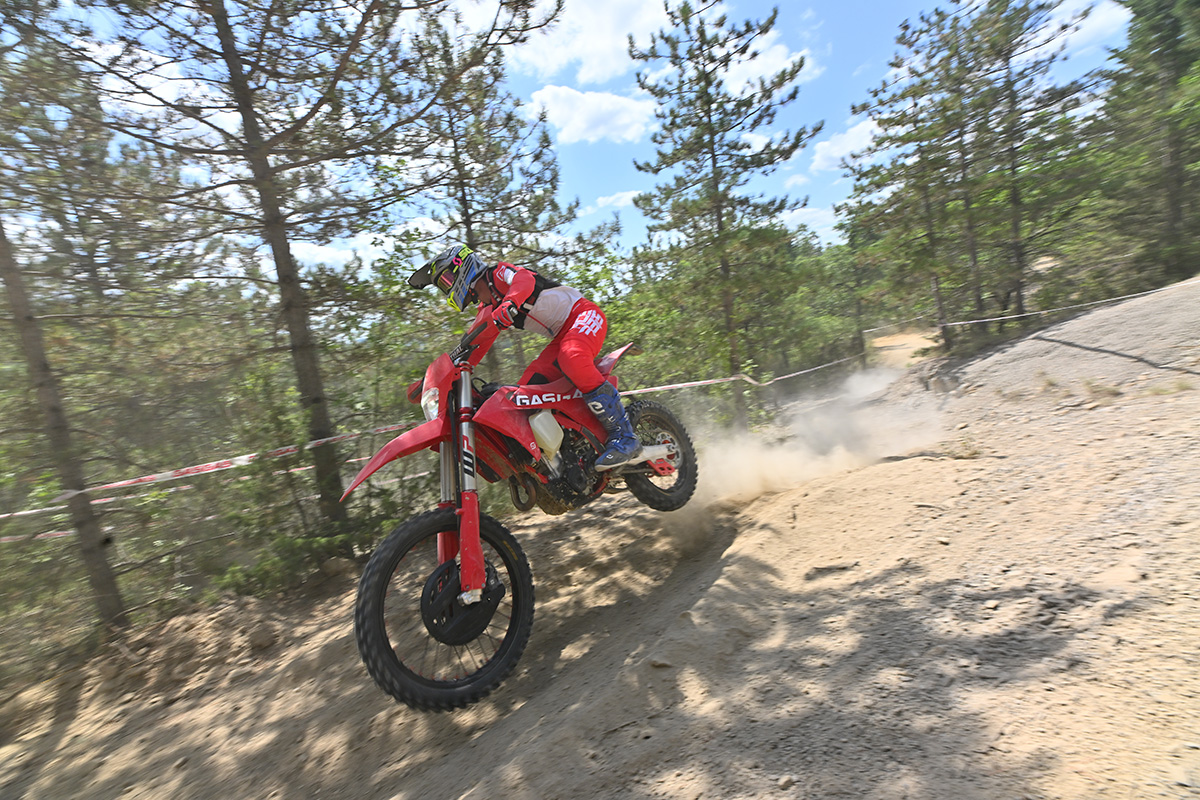 You can spend a lot of money in the Technical Accessories range by the way, and Enduro21 spent a lot of time looking at the different parts on the MX and enduro bikes to see some of the cool stuff on offer as well as riding that kitted out 350 on the enduro loop. Easily you can bust the bank though, be warned!
A heap of anodised parts can be lived without but some of the brake disc covers, grippier side frame protectors and the real expensive parts like a lighter exhaust mufflers or Pro Components suspension are meaningful upgrades if you can afford them.
Enduro21 Verdict
Though Enduro21 is based in Europe, we have a whole heap of North American and Australian readers and know too well it gets confusing between the European bikes and those available on the different sides of the earth.
Closed course, XE bikes are hugely popular in North America, EC enduro or off-road machines bigger in Europe. Then there's the ES Dual Sport and even that lone EW off-highway 500 model just for California.
This media launch included time on the motocross machines too which meant all-in, we clocked a tonne of hours on the 16-strong GASGAS range. It was a lot to take in but a blast all the same.
If you're asking, the XE 350 F felt like the best bike on this test. The US market tailored cross-country bike has no lights and is for closed-course riding but felt like the best combination of all the bikes: a sharper motor in a much-improved chassis with XACT suspension.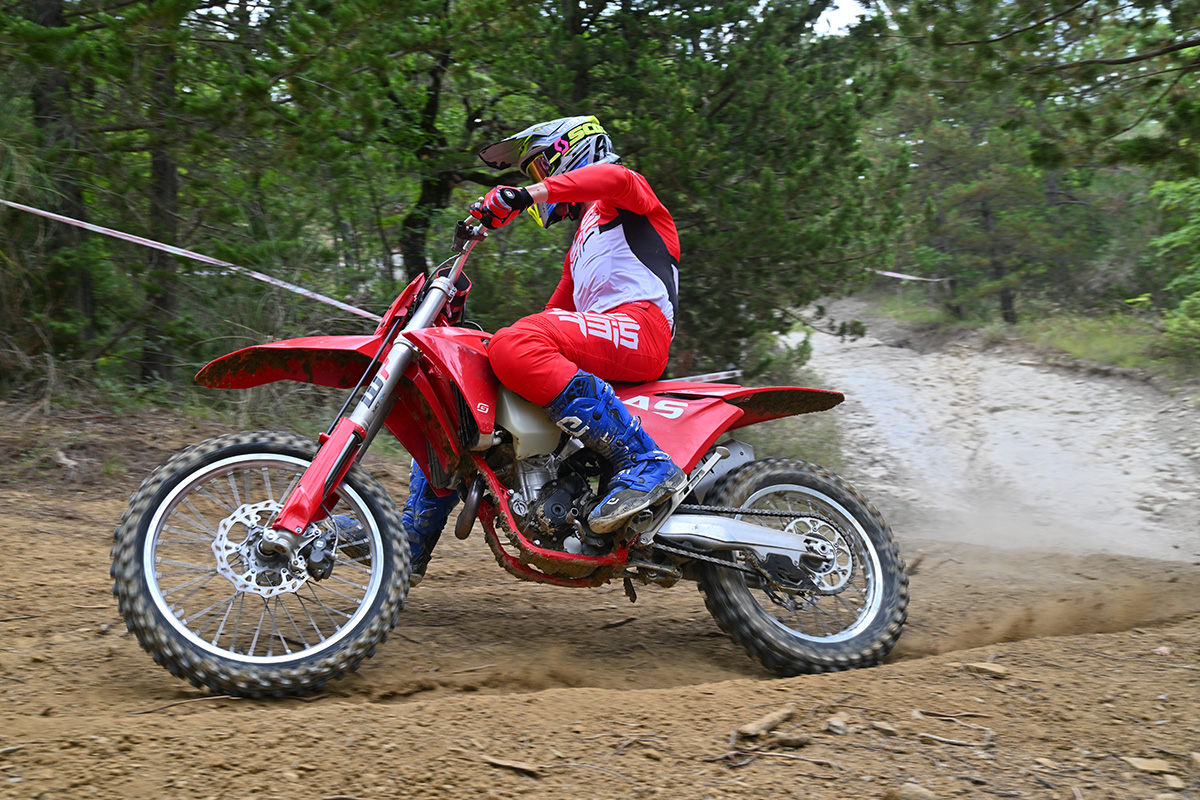 We learnt some valuable lessons here too and the new 450 and 500 models are to be thanked for that. You cannot look at the specification of the 2024 GASGAS range and jump on the band wagon of keyboard warriors bemoaning the softer suspension. No it wasn't as good in the enduro test and we detailed why above.
But we get it, not everyone wants or needs performance strong enough to go racing. In fact a majority of people need the opposite and the torquey, new 500 taught us that backing off a bit means enjoying the ride just as much (for just a bit less money than your KTM mate coughed-up).
Photo Credit: SavageDivision | Sebas Romero + Enduro21 + GASGAS