Blog: Billy Bolt - Getting ready for SuperEnduro
Billy Bolt's latest exclusive blog gets wild at Weston, wraps up WESS at Getzen and hones in on that indoor feeling ahead of SuperEnduro World Championship round one in Poland next weekend.

Billy Bolt's latest Enduro21 blog lands just one week away from the start of the 2019/2020 SuperEnduro World Championship season opener in Krakow, Poland and precisely one year since his serious leg injury.
Episode six of the blog recaps on Billy's latest dose of surgery, which provides a minor miracle, talks about jumping straight back on a bike and loving the madness of Weston Beach Race, the bigger madness of the final WESS round at GetzenRodeo and what it means getting back down to business for the SuperEnduro season…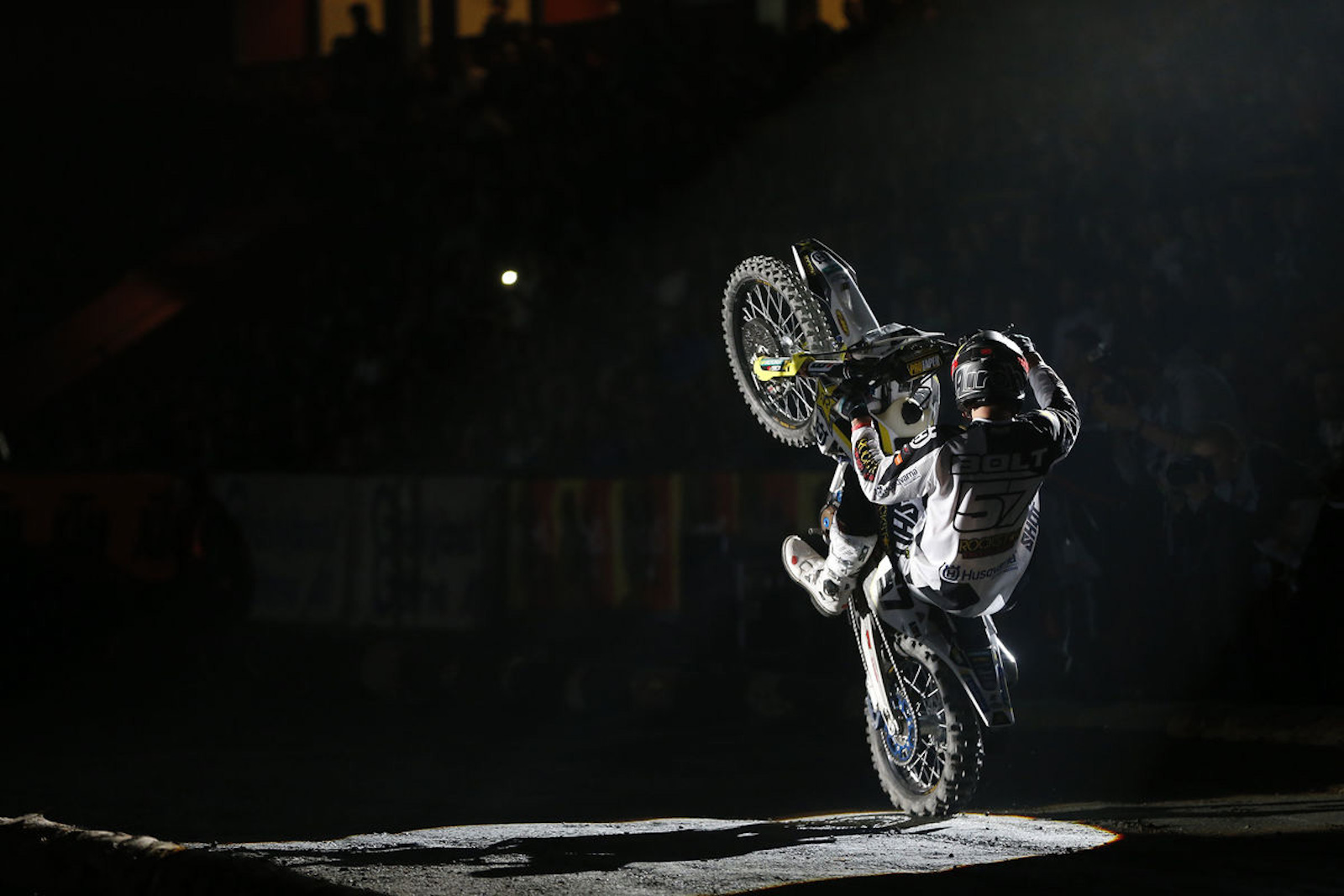 So much has happened since my last blog it's hard to know where to begin. Just to recap and back-track quite a long way, I sat out a couple of WESS rounds after Romaniacs for another operation on the nerve damage to my leg. Since then I got back on a bike basically right before the Weston Beach Race (which was a bit mad, more on that in a minute) and then we wrapped up the 2019 WESS series at GetzenRodeo in front of a crazy crowd in Germany.
Cutting a long story short and not to bore everybody by talking about my leg all the time, after Romaniacs I went to see a nerve specialist (instead of a knee specialist) and he said he wanted to go in and have a look. We didn't know what he would find but I trusted him to make a decision based on what he found.
Basically the problem I had all year was not being able to move my foot properly and that was caused by a nerve which has been stuck under scar tissue from the previous operation.
For your nerves to work they have to be able to slide inside their core and scar tissue meant it was trapped and couldn't slide inside. So they had to clean all the scar tissue to free the nerve so it can slide and move again.
The good news is it seems to have done something positive and that small change is a big thing mentally for me. There are still more options but I'm beginning to have flickers of feeling and get some movement back. I had literally no sign of any movement for 10 months so this is pretty massive for me.
"It's only when I'm on the limit somewhere looking and fighting and keeping my balance, times like when I don't make it up a hill and I have to jump off"
What did that mean on a bike? Just to explain a little what the problem was, because people have been asking, the nerve which goes down the side of your leg splits into three ways and that's what I damaged. I could put my foot down and pull it in fine but couldn't lift or turn it outwards, so gear changing or especially when you're feet are on the ground in an extreme section when you need to move by bending your legs and moving your body I couldn't make the normal movement.
I have adapted pretty well and got pretty used to it and during normal riding, with my foot on the pegs, it's not really affecting it.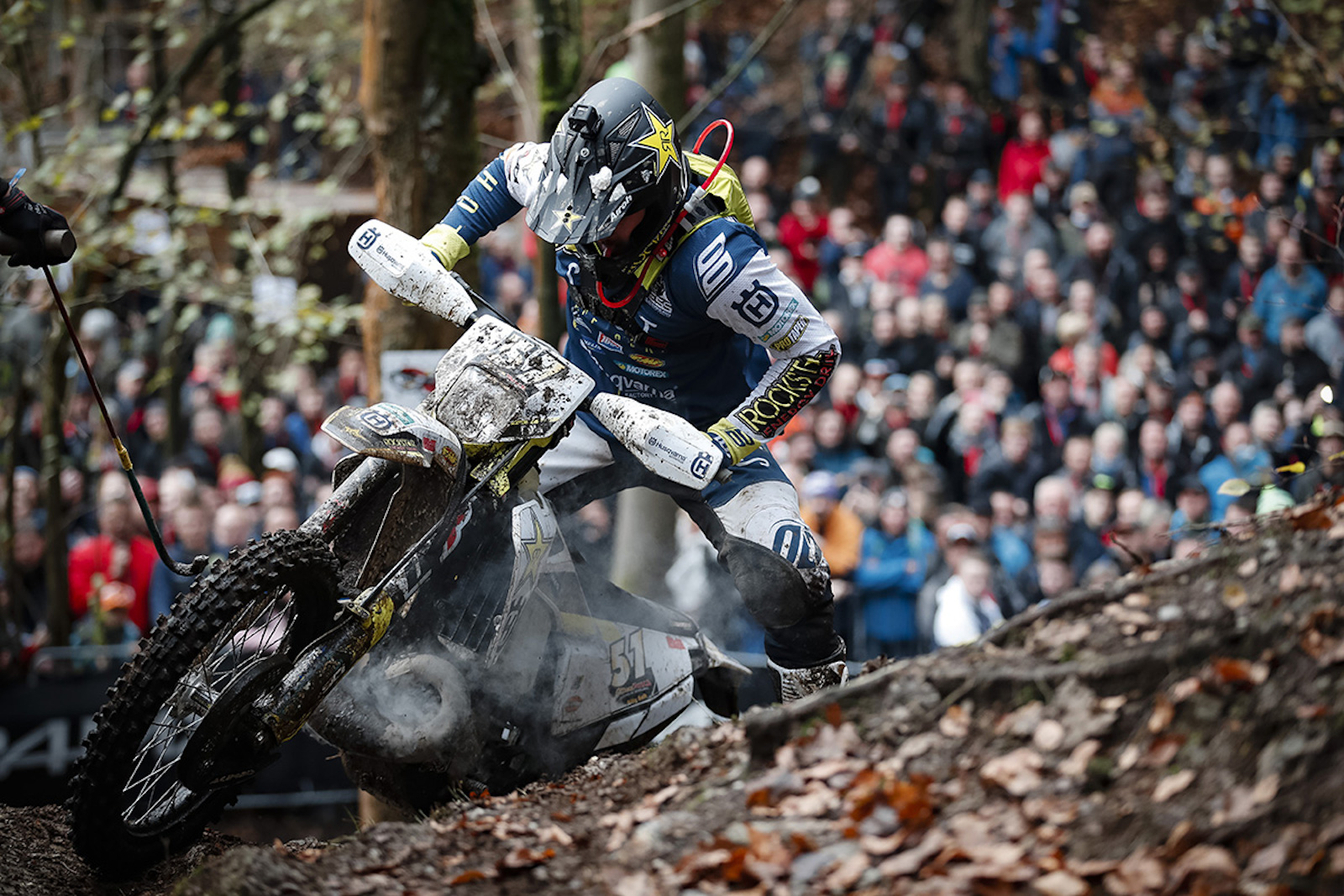 It's only when I'm on the limit somewhere, times like when I don't make it up a hill and have to jump off and keep hold of the bike. Times like that I'm trying to look where to put my feet instead of instinctively dealing with the bike and where my feet are going.
Anyway, I'm getting used to it and though there are no guarantees, it's showing good signs. At least it doesn't look like I'm going to need any more operations for a short while.
"It was a nervous time because nearly a thousand riders are behind you"
Weston Beach Race came on the week I planned to start riding again. I had one ride as soon as the fluid had drained and I could put my knee brace on and then one at the end of that week and I felt good so we headed down to one of the biggest races in the UK.
Weston is a strange race, it's hard and it's long but it's not actually that intense. It can get very rowdy and boggy, plus you have to ride avoiding people a lot, but it's not like motocross levels of intensity. I enjoy the event so much and it's a great race to have in the UK so I wanted to be a part of it and it turned out good after a tough start!
https://www.facebook.com/billyboltracing/videos/956699634668703/
For those who don't know, the start didn't go well after my bike didn't fire up. The bike was running on Friday, that same morning and at the start line and it was just a freak problem with the fuel line which has never happened before and, touch wood, it never happens again.
As I arrived to the gate I had three minutes sitting there. I gave it a few goes, and it wasn't firing. I didn't want to flatten the battery – when the flag goes you have to get outta there. It was three minutes of sitting there thinking 'what am I going to do?'
I tried to warn everybody around me so I wasn't going to get immediately hit but it was a nervous time because nearly a thousand riders are behind you.
When the flag went I had nothing and had to sit there while hundreds of riders went past. When I could I pushed the bike dodging people and got to the pits without knowing where I was even heading, luckily someone ran and we met in the middle. Basically something was not plugged in so we fix it quite fast and from that point I didn't do too much thinking and went out to have fun.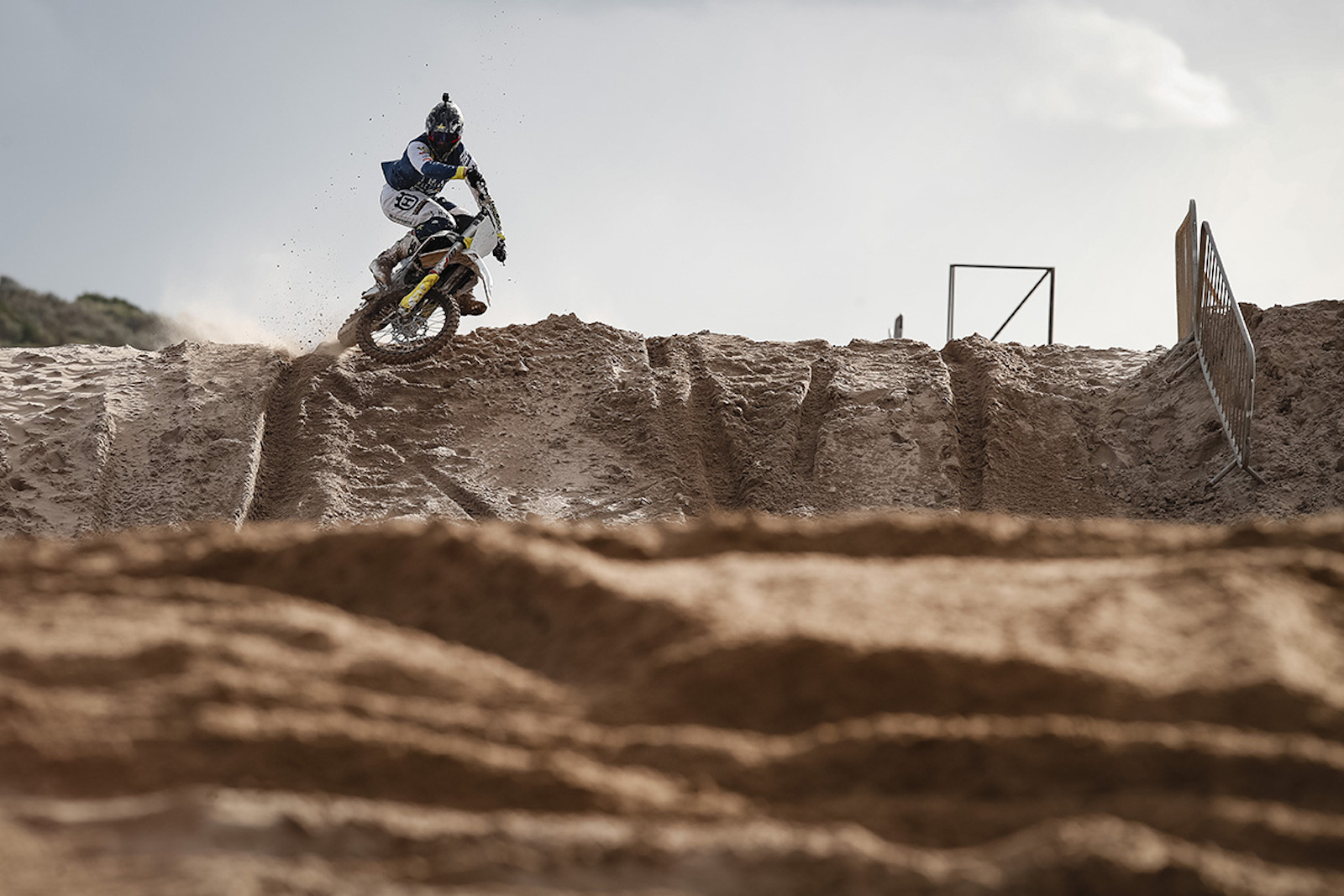 After half an hour it was impossible how much sand I swallowed but it was fun and I could tell I was riding well. After five laps I was top 30 and then after an hour and 15 I did the pit stop and they told me I was sixth, four minutes behind the leader.
So I just kept rolling, had some good lines and did some good doubles which I could tell the crowd was enjoying.
For me it's just a fun event, I wasn't taking it too seriously but I hit the wall a little bit after two hours. Then for the last two or three laps I started feeling good again and I pushed to finish 40 seconds behind third so it was good. I rode my own race and turned good.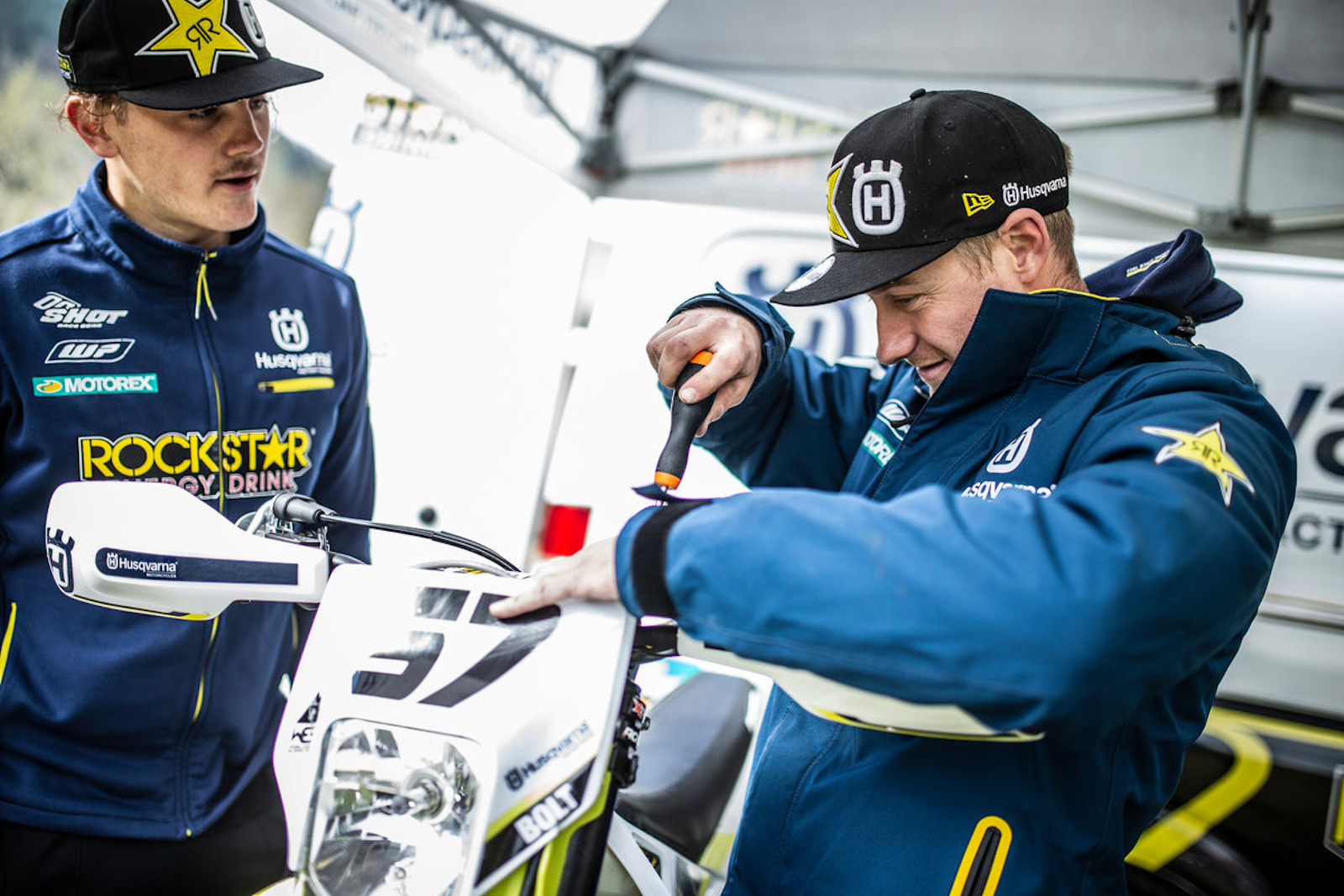 I give a lot of credit to the guys putting it together, I would say it's the best off road event in the country. With all the people there watching the race and the atmosphere it is a really great event. I had some of my friends coming down to help in the pits, it's a relaxed race also no big trucks or anything just me and a couple of mates.
"Then I had another crash head on into a tree and snapped my clutch master cylinder"
Then I went to the carnage of GetzenRodeo! I was massively impressed with that as an event too, really there's a lot of effort and time put into it.
The track was tough, tougher than I thought but because of the format of the race it can get away being that difficult. I was happy with another fourth there. I had quite a few fourths this year at Lagares, Hixpania and Weston so I'm getting used to it!
I had a good morning race until I had a stupid crash and I popped my radiator and had to go back to the pits to save my engine for the afternoon race. I was in the top 20 and had lapped people so it made sense to go for a pit stop. Then I had another crash head on into a tree and snapped my clutch master cylinder so I had to go back to the pits again but I still ended up sixth.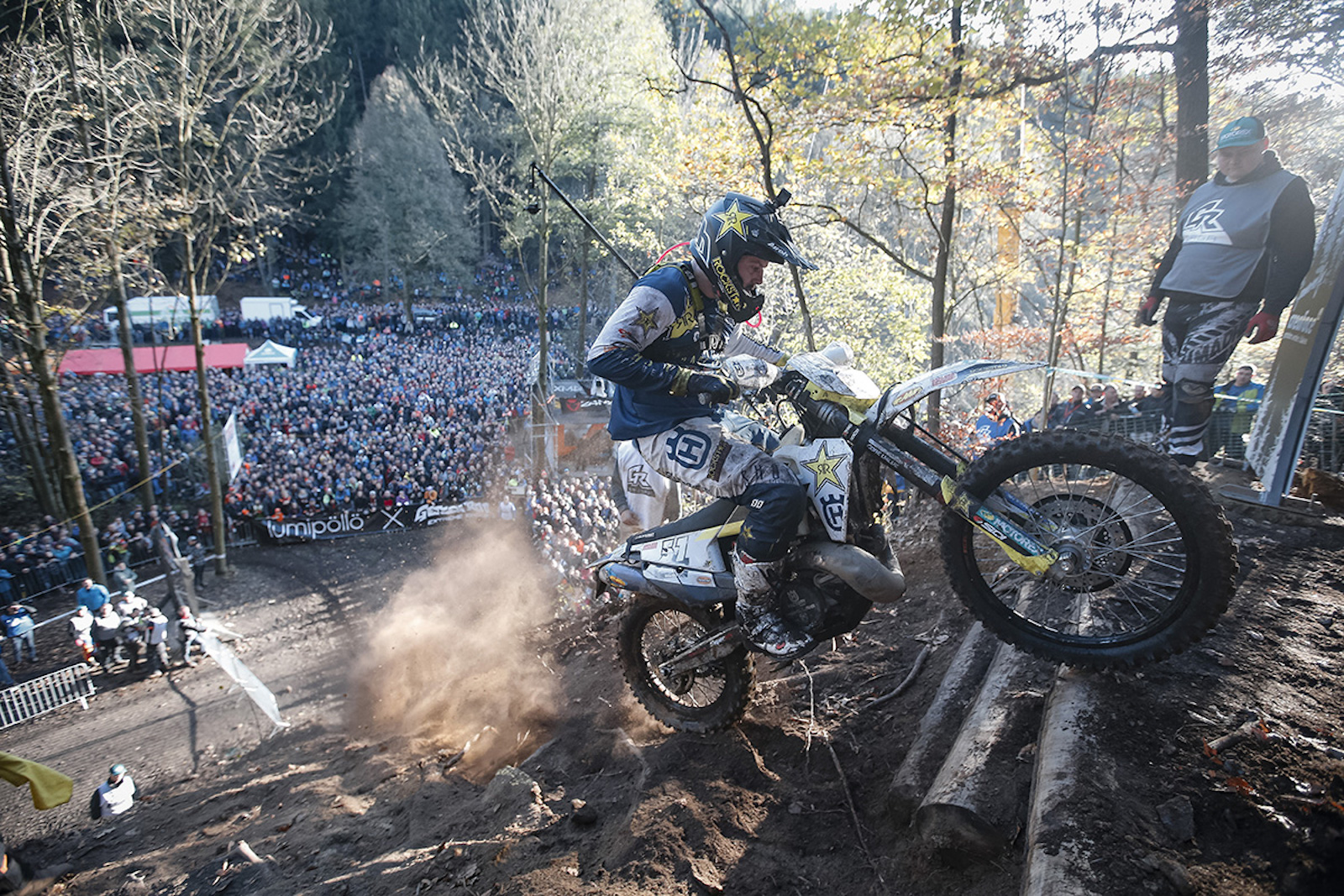 I changed the suspension settings slightly for the afternoon race and it went the wrong way. There were a couple of areas where I felt I struggled a bit and I shouldn't, I went back a few places to eighth or ninth and by the second lap I was close to losing my head because it wasn't happening. Anyway, I managed to stay calm and by the second half of the race I started finding some good lines and I pulled back to fourth.
It's quite a different event with the short and intense lap but every race is so different, it keeps it unique and fresh. I think it suits me having that freedom and flexibility. You couldn't use that track for a 200 rider race but for them it works and the crowd loves it – there wasn't a single part of the track that wasn't rammed.
"The crashes I've had and got away with were way worse compared to that, but life is like that"
It was great for me to be at the first round and the last one and mostly every other race in between, I put a fight in some of them so I'm more than happy with my year. I wasn't able to put a fight for the championship but I made the others work in a couple of races, not as much as I would like to, but I'm proud of my effort. It's more than I was expecting.
So next up is SuperEnduro and this blog hits you basically a year after my crash which wrecked last winter for me. I don't really have any expectations going into this indoor season, I felt confident last year and I knew I was riding really well, but this year I don't know anything.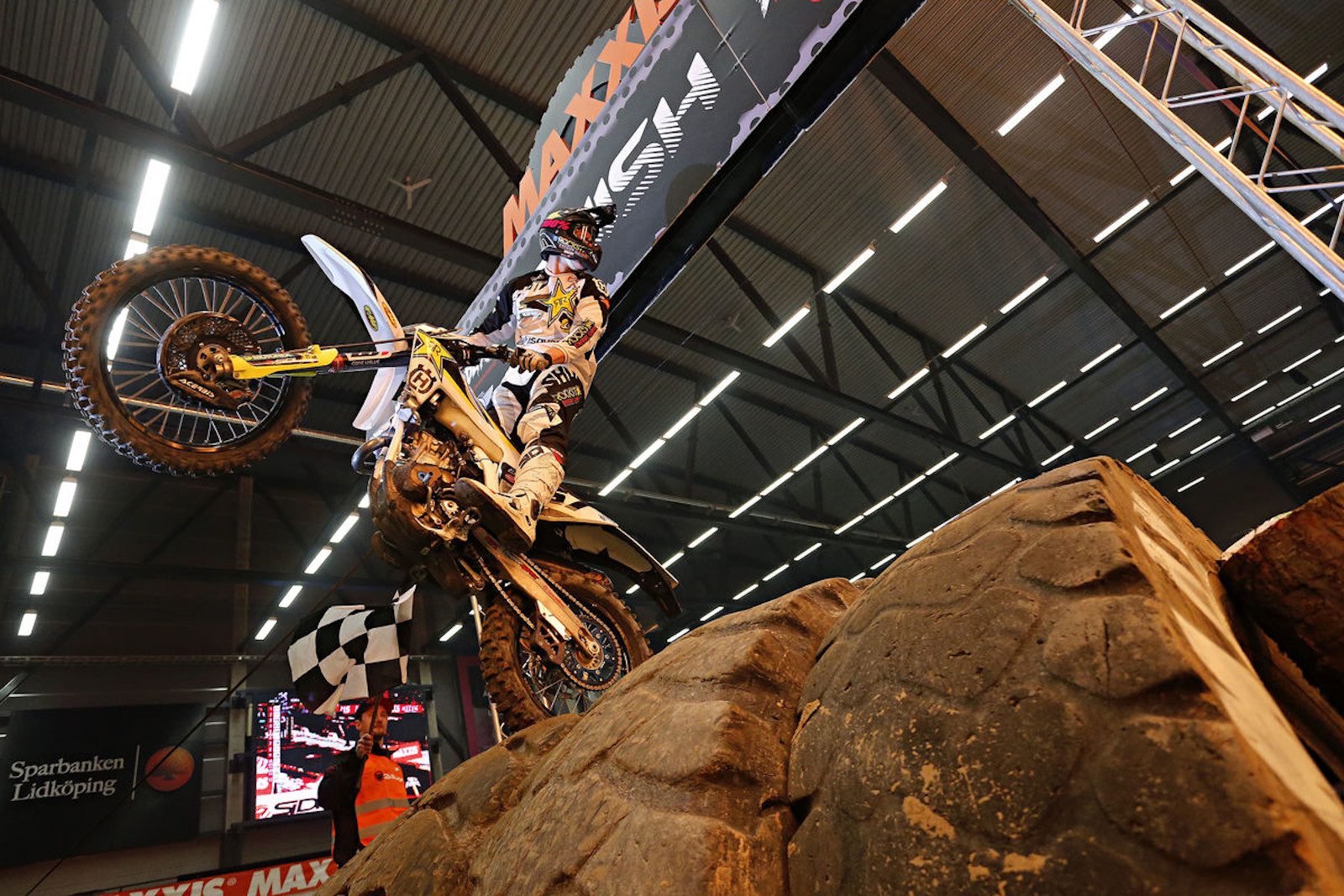 The crash was nothing strange. Everyone knows me I suppose and if there's a jump I'll go for it but this was nothing special, it happened just doing motos for training on a kind of Arenacross track, nothing mental.
If the bike hadn't bounced and landed back on top of me I would have stayed on my feet and wouldn't even have had dirt on my gloves. The crashes I've had and got away with were way worse compared to that, but life is like that.
"Since I had the latest surgery getting ready for SuperEnduro was the goal"
I didn't put any stress into getting ready for Weston or Getzen. I didn't really focus that much on riding the two-strokes either. I dropped bikes for more gym training to get ready for SuperEnduro since the surgery.
It's a new model FE 350 for 2020 so different to the one I tested on last year but a lot of the direction and feedback from last year's bike still rings true – the chassis was one of the things that got more time for me to get used to this year and that will work well on the SuperEnduro bike.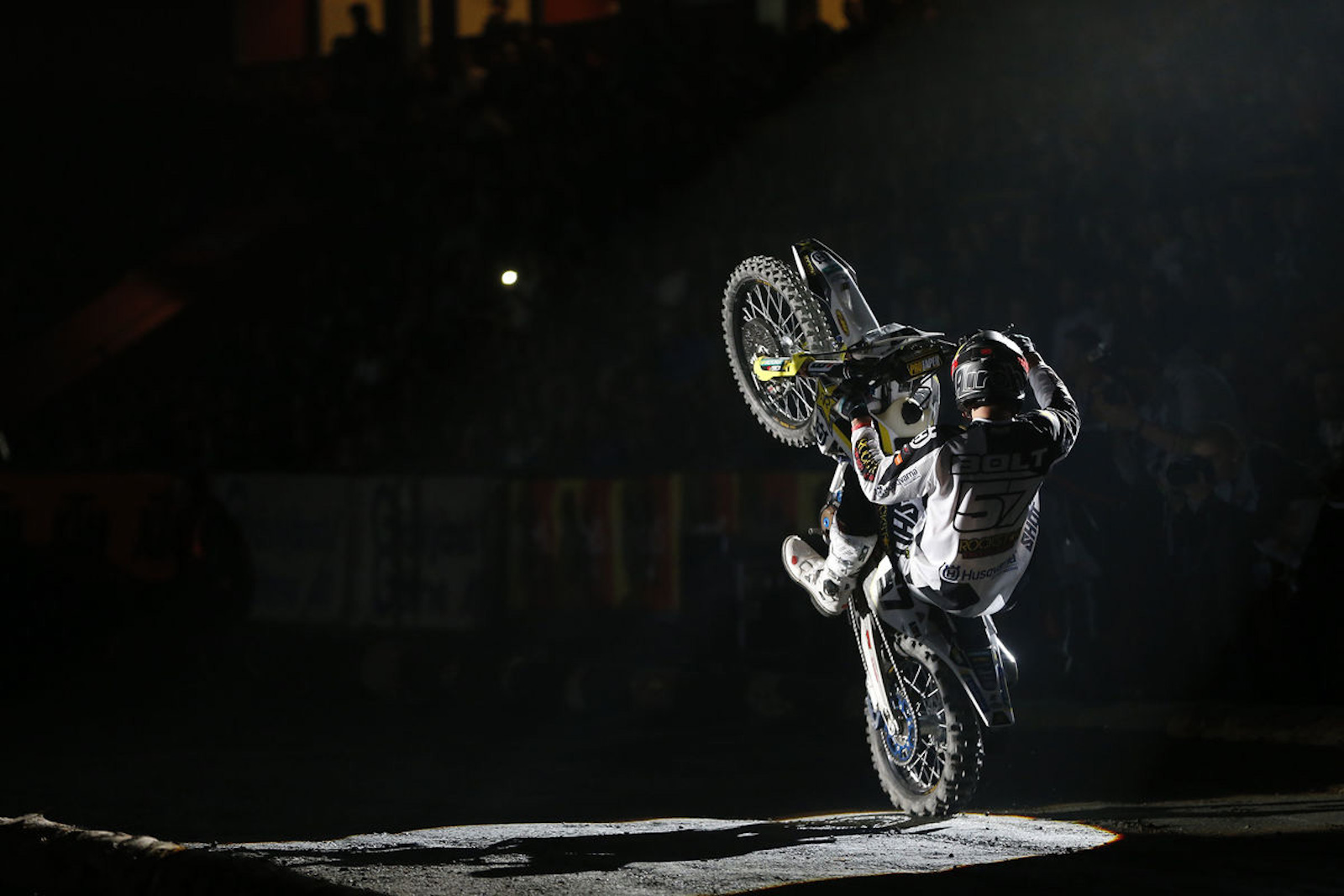 It feels a little bit weird because I have only done a season of SuperEnduro. In my rookie season I didn't have any expectations, so I took every race as it came and I was trying to have fun in every one of them. Then going into last year I was feeling confident but now I feel like I'm back almost like a rookie again.
I don't mind that since it worked good the last time. I think that once I get back to riding the track and up to speed it will come, I'm totally looking forward for it. I enjoy the whole SuperEnduro season, riding the 350, the intensity, the atmosphere at the races, the arenas, the whole show, and the crowd, I'm just excited to going back to it again.
"If you go to a Romaniacs day with a SuperEnduro mentality you're not going to last long"
The whole mind-set when you're there is different, you go from practice and you have six minutes to make a lap and learn the track and then you go to qualification and seven minutes to make a lap so you have to be aggressive from the first moment.
Obviously then the race is 100% aggression the entire time. What I noticed on my first season is that when you go back outdoors again you have to turn that off, if you go to a Romaniacs day with a SuperEnduro mentality you're not going to last long.
Who's got this? I know all the potential candidates, I don't think there is going to be anyone who's going to come in and steal the show, there are some new riders from last year that did alright and will probably challenge a little bit this year like Pol Tarres, Kevin Gallas, Blake Gutzeit can be dangerous in the reverse start races.
In the end I think it's going to be between the factory guys. Our bikes are very well built and when you see the force that you hit the obstacle with the factory bikes really stand out.
Anyway, I'm ready for the SuperEnduro season and can't wait to pick up where I left off.
Till the next time.
Billy