"I have unfinished business in Enduro" – Jamie McCanney signs with Team Jet Zanardo Husqvarna
Five years down the line and after two Dakar rallies with the Yamaha Racing Team, Jamie McCanney is moving back to the EnduroGP World Championship with Team Jet Zanardo Husqvarna on the TE300i two-stroke. Enduro21 catches up with the former Junior World Champion...
When the Yamaha Racing team withdrew from the Enduro World Championship in 2019 and concentrated riders and finances on the higher profile Rally events, they took their youngest rider Jamie McCanney with them.
At the time it felt like it was Rally's gain to have a young, talented rider on a factory bike and learning the sport with the view to future successes. To us who are more focused on enduro, it felt like a loss of a world class rider from a sport he was clearly at the top of.
Jamie ticked off a top 20 Dakar finish in 2020, his first attempt. But the following season saw virtually no racing leading to Dakar 2021 due to Covid and, to cap it off, McCanney went out of the race on stage five with a disintegrated clutch. Infamously he was just one of five riders in the Yamaha team who had a disastrous Dakar after all factory bikes suffered mechanical failures.
In a sparse season, Jamie did dip a toe into enduro "to keep his eye in" and promptly won the 2020 Aveyronnaisse French Classic Enduro ahead of Andrea Verona and Christophe Nambotin no less.
Focusing on its problems post-Dakar, Yamaha has now cut the five rider team to three which left McCanney out of contract and looking for a ride. In stepped Husqvarna and the Italian Team Jet Zanardo squad with a deal which will see the former Junior Enduro World Champ and two-time runner up in the senior classes back in EnduroGP.
Enduro21 catches up with McCanney as he makes the move back between the tapes trees at round two of the Italian Championship in Sicily…
Hi Jamie, where are you at right now and what's going on?
Jamie McCanney: "I'm in Italy actually in the new team's house-come-workshop, training and getting ready for something new. But yeah, I'm switching back to enduro and I'm going to be riding for Zanardo and Jolly Racing on a Husqvarna TE300i two-stroke alongside Joe Wootton, Andy Wilsch and Davide Soreca. Not everyone is here yet in the apartment, I can't imagine what it is going to be like when everyone gets here!"
"I'm ready though and my entry is in for the second round of the Italian Enduro Championship (March 27-28 in Sicily). It is all a bit last minute but the bikes are on the bench in the workshop and to be honest, I'd rather just be getting on with it like this. The Enduro World Championship is not going to wait for me so I will just take it on the chin and learn the ropes again."
Will getting back into enduro feel like a fresh start or strange or what?
"I think it will be just getting back between the trees that will be the difference after so much time in the desert and open spaces in Rally. I'll be getting back on a two-stroke 300 again – it's been seven years since I rode a 300 2T and everything feels new at the moment, this is also the fuel injection bike so that is a big change for me. I think we've got a bit of work to do getting used to that. But the team are very motivated, keen work together and make progress and that is very encouraging."
"I'm lucky to be here to be honest. Trying to find a ride in February and March when most of the deals are done in October and November at the latest, I'm very fortunate when I could have just been sat at home for a year."
Was it your decision to leave Yamaha and Rally or how did it unfold?
"At Dakar this year the team had problems. Not one of five bikes made the finish in one piece and obviously something had to be sorted. They needed to reduce the team down to minimal riders and focus on their problems. Three of the riders were already on two-year contracts and two of us weren't so it was as simple as that."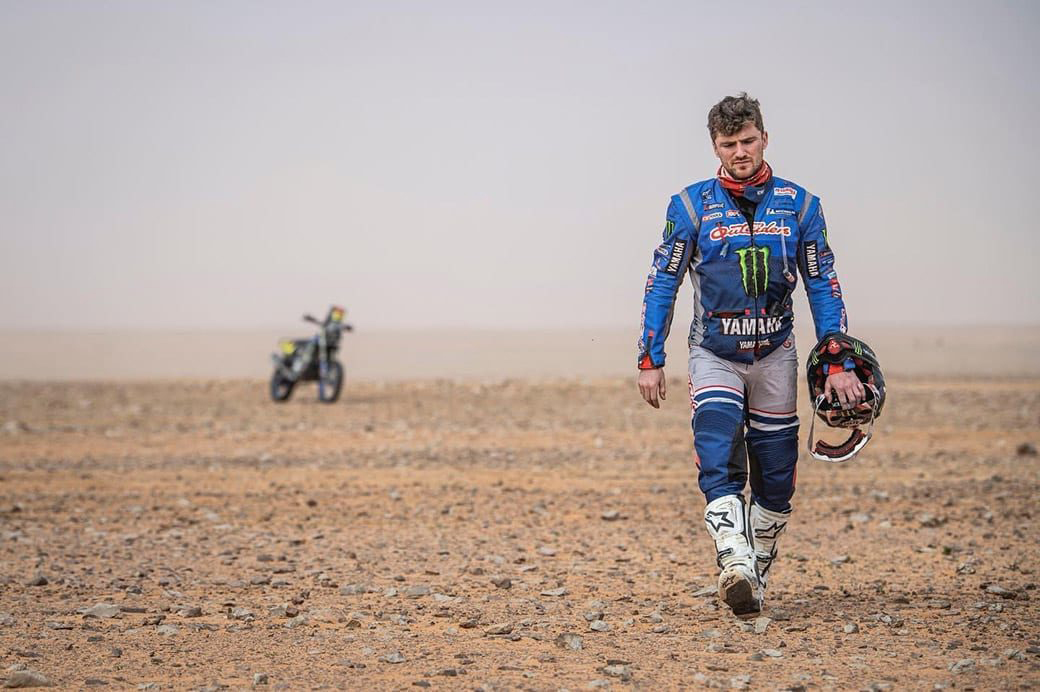 "It was a bit like, should I wait and see if things were going to change or see if there was another plan with the prototype bike? But I couldn't keep waiting like that and then finally Alex (Alexandre Kowalski - Yamaha Europe Off-Road Racing Manager) called me and said, sadly we can't continue the contract.
"I was speaking to other rally teams as well and it was hard to make a decision about staying in rally or not. But something was still in the back of my head about coming back to enduro."
So it was an easy decision to make?
"I don't know if it was to do with Covid or what but I just wasn't getting the bike time. I'd done roadbook training in Portugal and then the Dakar and that was about it in 2020.
"I just didn't want my time to run away from me. I'm 26 and I train hard, I train every day and I didn't want to be working so hard to just ride two weeks in January. I felt like I was doing too much work for what it was for."
"I want my fitness to play a part in my racing and also my technical ability on the bike but it wasn't enough. I was doing the French Classics to try and keep my toe in a little bit just in case and I obviously still enjoy it.
"Having said that when someone offers you a job in Rally like that it was too good an opportunity to turn down. I'd probably be kicking myself later in life if I turned it down. I've been there, got the t-shirt and luckily I've walked away from it without any big accident."
Honestly, did you enjoy Rally?
"It was an amazing experience. I'd never say never and of course. I knew the risks but I thought if I could work the roadbook out, and with the level we're at in world enduro, I knew I could probably be there or thereabouts.
"But the top 10, if you're not opening the piste, they are pretty much not paying huge attention to the roadbook and just chasing the line and riding as hard as they can. It's too easy to go fast. The average speeds each day were so high and, yeah, it was too easy to go fast.
"You knew if something stepped out or you hit a rock you weren't expecting and went down you were probably not going to get back up again at that speed. Sometimes you just have to weigh up if it is worth it.
"The whole experience was incredible and I did enjoy many days riding but other days you don't really see what the benefit is except who had the biggest balls. Maybe in the future I will return but I feel like I have unfinished business in Enduro and I'm going to give that 100% of my focus."
Have you had much riding time back on an enduro bike?
"Since I made the decision it has been difficult because of the restrictions around Covid so I have only been able to do what was allowed really. I'm on the back foot for this Italian round and we have no expectations but luckily the first world round is in June and that gives me a bit of time.
"Really this year will be a chance to get back into Enduro. The level's so high and the boys at the front are so fast I need time to adjust. It's not like you can go and sleep for two years and come back – as much as I'd like that to happen it will be very difficult to do that."
Whose idea was it to jump on the two-stroke?
"I always regretted not doing more on a two-stroke. I grew up riding a two-stroke and from about 17 or 18 years old I was on a 300 and rode one for about three years I think. Back then it was easy to ride and I wanted the excitement of the bike."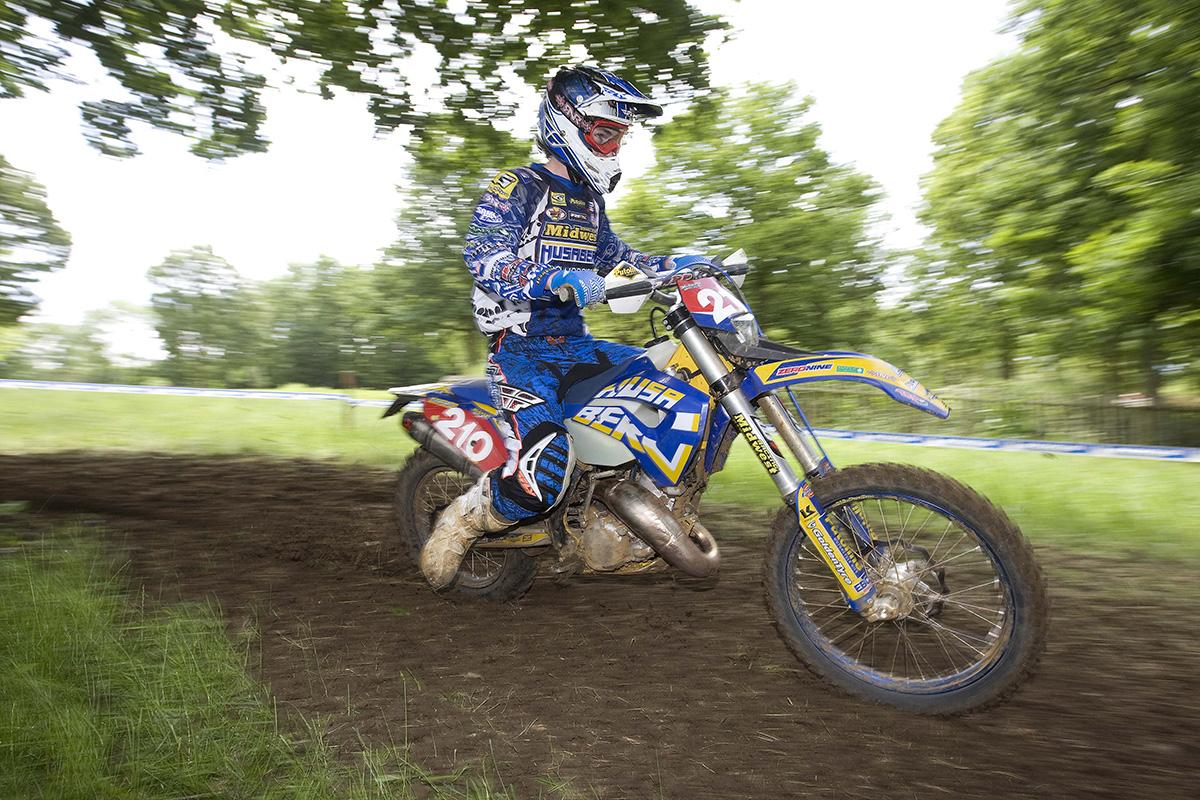 "Then I went onto a 250F and won the Junior World Championship and then signed for Yamaha and obviously their bikes were four-strokes."
"But somewhere in the back of my mind I always thought the two-stroke was a better bike for world enduro so I always had that thing if I ever came back I'd want to ride one. The only thing was no-one is really riding the fuel-injected two-strokes at world level."
"We were talking about which bike to race and obviously the team also has the Fantic side so we were looking at which different bikes I could race. Through connections with the Husqvarna factory we were weighing up the fact that Andrea Verona is on the 250 F GASGAS and Josep Garcia is on the 350 F KTM and no-one was really in E3 class so finally Husqvarna Italy were pushing for me to ride the 300 TE i."
How did you find the fuel-injected 300cc engine on the Husqvarna?
"I'm looking forward to it. It's not like a normal 300 two-stroke and I'm quite lucky I haven't come off a carburetted two-stroke to this one because it might feel so different.
"I did manage to borrow a standard one for a quick ride to just get a feel for how the engine works. I was happy enough with it to agree to ride it so long as we could get some support and not end up riding a standard bike all year. It was like, 'if I'm going there then we have to be all-in with this' and thankfully the team were the same and they seem very motivated.
"It has a very different character and although we have a little bit of work to do I'm looking forward to it."
What were the highlights of five years with Yamaha?
"Going back, maybe people don't remember but I was fighting with Garcia in 2017 for the E2 world title and just missed out, then the same in 2018 but ended up injuring myself in Estonia which led on to more problems but it was another vice-champion finish to that season. Still, they were good years.
"It never really kicked off for me in Rally. I don't know if the problems around Covid were part of it or the team strategy or what but it was always, 'don't worry, you have time, you're only young and then two years later I was out. I never really felt like I had the time.
"I will miss working with the people in the team, Marc and Pedro the chief mechanic. They end up not just being people you work with but your friends. It's not just business but when it comes down to it you have to say it is a business decision and you have to move on."
Round two of the 2021 Italian Enduro Championship will be Jamie's first outing on the Team Jet Zanardo Husqvarna on March 27-28.
Photo Credit: Enduro21 + Mastorgne