"I'll go race anywhere, race anyone. It's all good fun for me"– Billy Bolt
"I'll go anywhere, race anyone" is the refreshing view of the latest 'new' face on the EnduroGP World Championship podium, Billy Bolt. The WESS and SuperEnduro World Championship winner ticked another box last weekend and showed a breadth of talent which is increasingly rare in sport. Enduro21 catches up with Billy after his Italian GP podium performance.
If you're good on a bike, you're good on any bike. Didn't that used to be the case? In a world where sport seems to concentrate down and hone-in on a specialities, it is rare these days to find an enduro rider actually producing a world-class result in the different disciplines of our sport.
It is not like we didn't know Billy Bolt had the talent to be fast on a bike. Billy proved his skills were broad in winning the 2018 WESS Championship – remember, that year included extreme, cross-country and even classic French enduro in the calendar.
Like many riders, since the Covid pandemic affected the racing calendar, Billy has also spread his racing wings to take in motocross, sprint, cross-country and extreme enduro.
The results? He turns up at the second round of the 2021 EnduroGP World Championship and sets the fastest time in the show-opening Friday night Super Test.
That speed carried across the following 24 tests over two days in Edolo to deliver an E2 podium and fifth overall among the fastest GP riders on the planet. A derailed chain in a test (he pushed the bike out and lost half a minute) cost him a potential repeat result on Sunday. All of this at an event which was supposed to be "just some fun" ahead of the first points scoring round of the FIM Hard Enduro World Championship on July 9-11.
Enduro21 asks Billy where that Italian EnduroGP performance came from, how it felt mixing with those guys, and what he thinks about the idea of a switch to EGP…
Just remind us Billy, did you plan on beating the EnduroGP boys at their own game last weekend?
Billy Bolt: "There was no plan to be honest. The original plan was to do Italy and Portugal GPs. But we had some other stuff to do around Portugal time, including a media launch of the 2022 Husqvarna enduro models so we didn't go there and just came to Italy instead.
"The idea was to just have some fun really. I did a couple of races on the 450 already this year and was enjoying riding that and it was just for a laugh.
"You could say it was race preparation but ultimately on my side it was just for something to do. I'll go race anywhere, go race anyone. It's all good fun for me"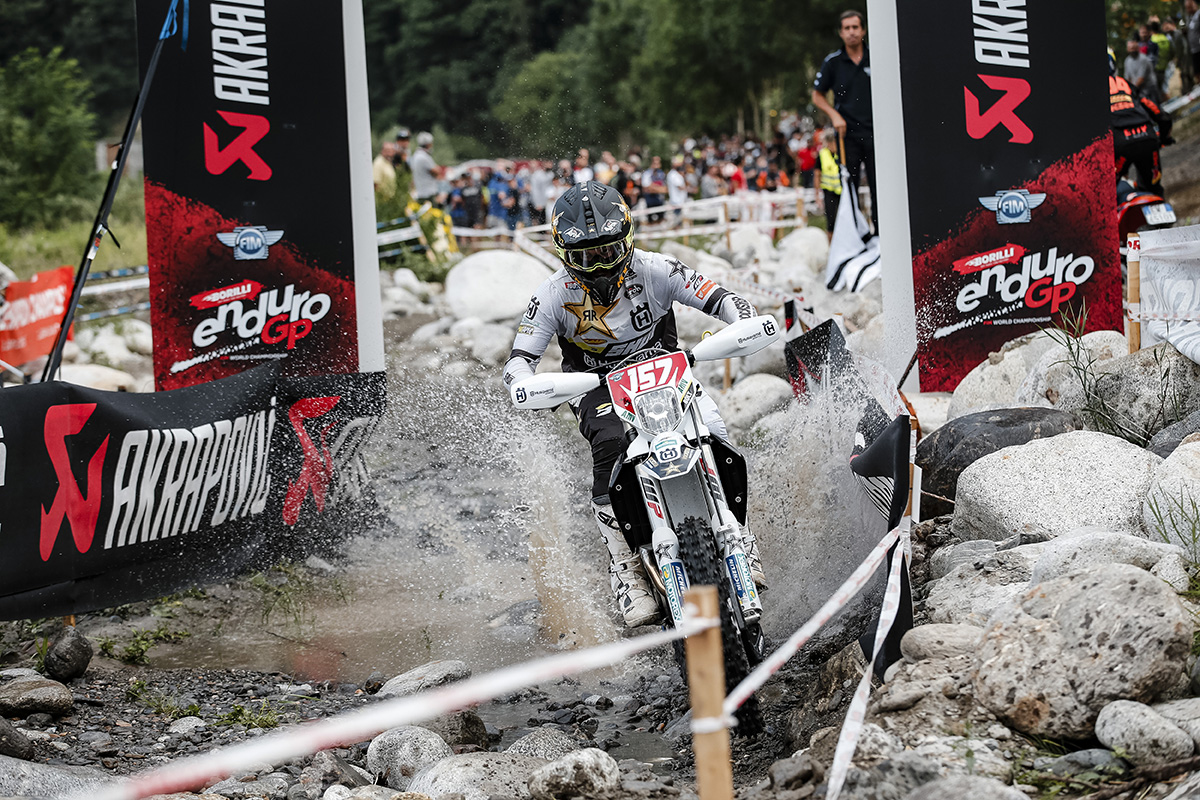 You set the fastest time in the Super Test – did you expect that?
"Nah. Once I'd seen the Super Test I definitely didn't expect to be setting the fastest time and definitely not by four seconds.
"You never know what you're going to get with a Super Test – sometimes it is man-made and like SuperEnduro and right up my street. But this wasn't like that, obviously it was pretty technical still but it was up and down a river and had a lot less SuperEnduro vibes than they usually do.
"I actually made a few mistakes but watching videos back I think you could say I was pushing fairly hard!
"Once I'd crossed the line, saw the time and knew what people had done before, I thought that was probably quite a good time.
"Afterwards, most of the guys came up to me and said, 'fair play, that was pretty impressive.'"
Did you start Saturday morning taking it more seriously because of that?
"That definitely didn't affect my outlook going into Saturday morning. I was always going into it giving my all. I'm going to give my all whether I'm paid to be there or it is just for fun. That's how I am.
"Obviously you have some thoughts about the hard Enduro World Championship starting in a few weeks [Abestone Hard Enduro, July 9-11] but at the same time if you're worried about something or worried about getting injured, then you're in the wrong job. There's as much chance injuring yourself training for a hard enduro as there is racing an EnduroGP.
"I went in just with the thought to see what I can do, see what I've got."
"I was pretty impressed with myself to be honest – with my own consistency more than anything. When I've raced events like Le Trefle Lozerien or classic enduros, it has been very hit and miss. When it goes good, it is good but when it goes bad, it goes very bad.
"I minimised the mistakes really. I had a couple of crashes but nothing big, just a few lie-downs and a stall of the bike, that kind of thing. Bits and bobs but nothing major. The mistakes were not massively time consuming which definitely helps. I can't complain with how the weekend went in the test and with results."
Do you enjoy the very different event format?
"I did enjoy it, yeah. It is very different but I think the endurance and the reserve I do have from hard enduro serves me in these events. An EnduroGP is a hard and on the second day a lot of people were starting to get tired and in the end I came on strong. Apart from the mishap with the chain on day two, towards the end of Sunday my times were strong, which was good in terms of my fitness."
Does the paddock and atmosphere feel different? Extreme enduro guys are usually more relaxed, GP guys can be more serious…
"The EnduroGP paddock has a different feel. It's much bigger for a start, which is nice to see. I was pretty surprised by how many trucks there are and that's impressive.
"In terms of atmosphere, I had Mani next door and Garcia, although he is doing GPs now, we've been in extreme races together for a few years and the mechanics are all familiar faces. So in terms of the circle around me it was pretty normal.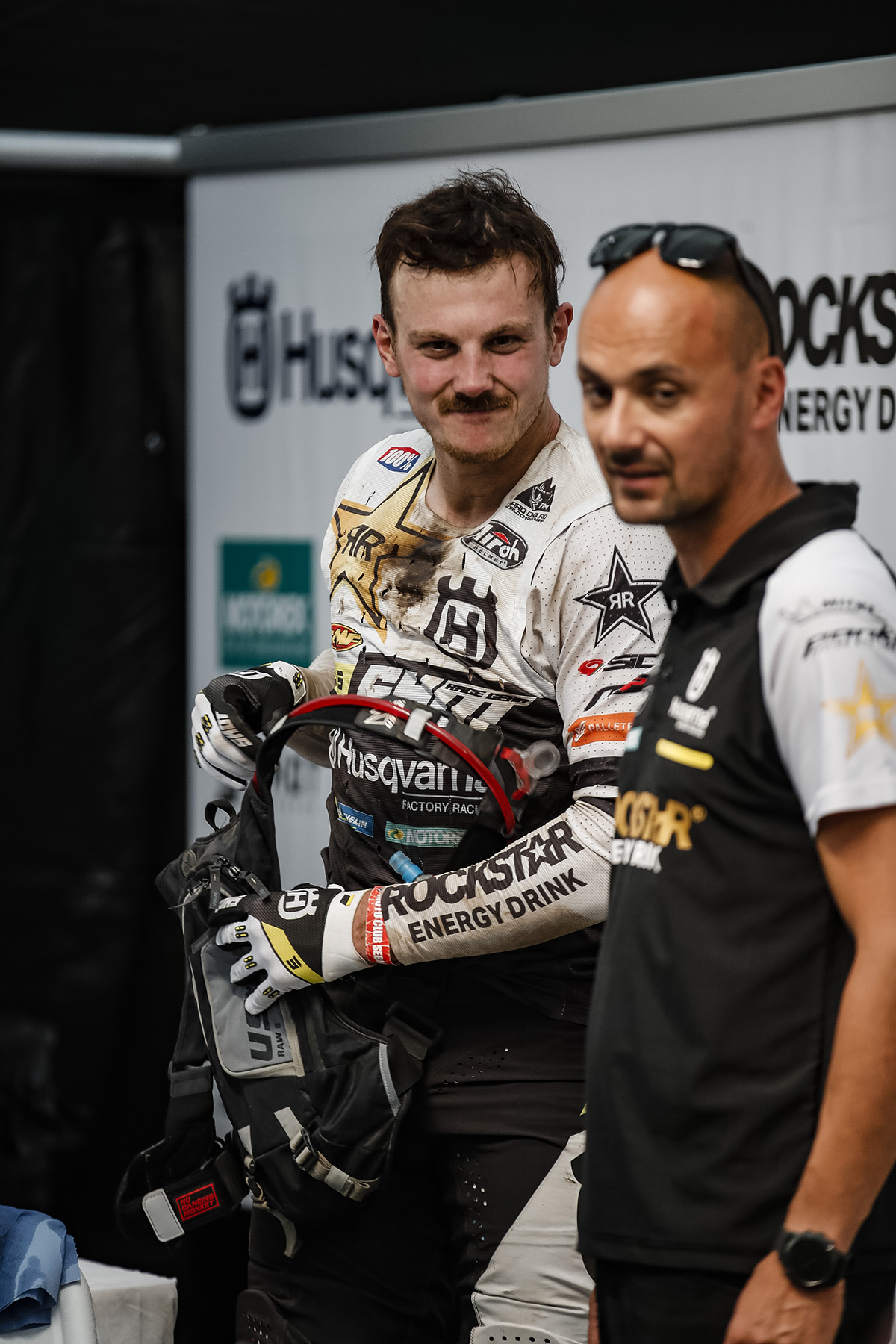 "I walked the tests with Jamie and Danny McCanney, plus some of the other British boys so from that point of view it was good banter all week.
"You do kind of pick up on some different tensions in that paddock, in the air that isn't there in an extreme paddock where there's no real beef between anyone. But I try to do a good job of keeping the circle around me pretty light-hearted."
The pandemic and cancellation of so many events, has meant you've broadened your riding scope. Do you feel like a better rider because of it?
"More than anything, because there were no races or extreme events or often anything specific to be preparing for, when things did open up in the UK it was mainly motocross tracks where I was riding. Everyone was just riding everywhere and anywhere to get back. I didn't focus on anything specifically, but I was just enjoying riding, trying to get a bit better and the motocross tracks were open a lot.
"I think where I benefitted the most was just not having the races to focus on so I could focus on improving myself. So now, with so many different races happening like extreme, sprints, classic enduros and so on, my speed has definitely improved.
"I think it comes mainly from me having that time off and being able to choose what I wanted to do and that has helped. Hopefully it can keep on evolving."
Obvious question, Husqvarna need an official team and rider in EGP (we are saying at least), what about it in 2022?
"[laughs] I actually asked myself that question since Sunday. I don't really know. No-one of authority in Husky has mentioned it. It would require a lot of thought. I'm not going to rule it out and say no at this moment in time.
"I do think that history shows you can be successful in the extreme races later on in your career and I feel I may have an opportunity if I focus on the faster stuff to get some results while I'm younger. Extreme is always going to be there in the future.
"That's kind of where I'm at in my mind but, like I say, the real conversations haven't even started so I can't give an actual answer. But I'm definitely not ruling it out."
Team Great Britain is yet to announce its ISDE squad…it's in Italy as well…
"The problem there is the timing with other events as much as anything. There's just too much on, at the moment and if all events go ahead as planned, it would make things a bit too busy.
"I haven't really thought about it too much and I haven't been asked and no one really knows ultimately what events are going ahead. So it is hard to plan anything at this moment in time. But if some time opened up I'd be more than happy to give it a rip."
Photo Credit: Enduro21 | Andrea Belluschi