Ruy Barbosa interview: GNCC versus EnduroGP – how different can it be?
Former EnduroGP Youth Champion Ruy Barbosa switched to GNCC Racing in 2021 with the Phoenix Racing Honda Team but when he got a call from Alex Salvini to race the Estonian and Swedish GPs as a fill in rider for the S2 Motorsport Team it was too good to turn down.
For an EnduroGP racer used to the short tests, the three-hour GNCC race format is a big change in training, fitness and race craft. It is a fact brought home to Barbosa as he turned attentions back to the shorter tests in Northern Europe during July.
Heading into the GNCC summer break, the Team Phoenix Racing Honda rider has improved race after race to be consistently knocking on door of podium places. With the best result of a second place at the Mason Dixon GNCC, Ruy sits sixth in the XC2 class in his rookie season. It is a season the always confident Chilean rider is treating as a learning curve and move on to beat the Americans at their own game in 2022.
Enduro21 caught up with Barbosa to find out just how different as he jumped back to GPs on Alex Salvini's big Honda CRF450RX for two rounds in Estonia and Sweden.
Enduro21: Hi Ruy, we're glad to see you at the EnduroGP paddock again, what brought you here?
Ruy Barbosa: "I was at home in Chile packing things to go to Brasil for a race at the end of July, and I got a call from Alex Salvini asking me if I wanted to come to race two EnduroGP rounds – Estonia and Sweden – as a fill in rider for him. As you can see, I said yes!"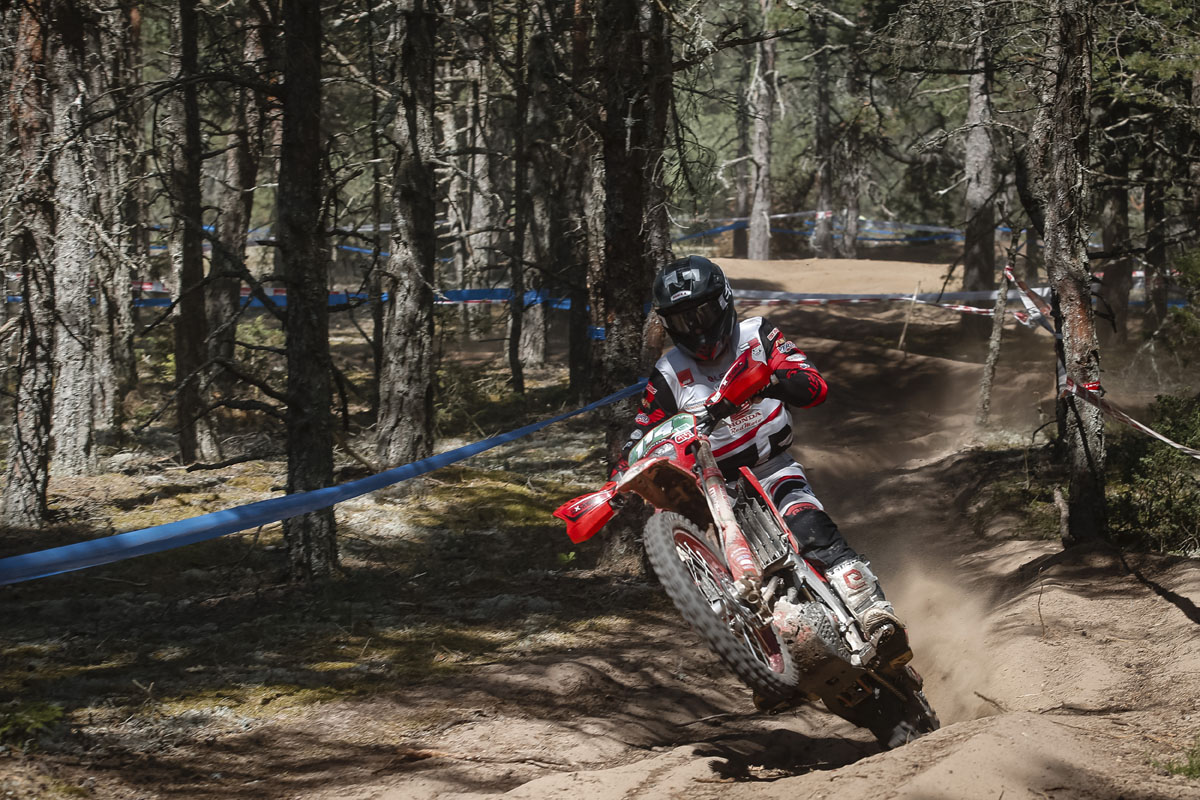 How is life and the races in the USA?
"I'm racing the GNCC this year. As you all know it's a cross-country style championship with three-hour races where you pit to refuel twice, we ride with oversize tank on the bikes. It's quite different to the EnduroGP races here in Europe.
"I accepted Salvini's offer because I wanted to be back here (EnduroGP), I raced the series for over five years, it has been my school and the series that has seen me grow as a rider. I'm always happy to be back!
"I came to Europe and raced in Estonia, it was tough as I barely had time to test the bike and prep it. Then in Sweden I didn't go as fast as I would like to but I was able to post even the second fastest time in some special test and I finished third in Junior 2 on Sunday. I was really happy to be back and meet everyone again and I want to thank Alex and his S2 Motorsport for this opportunity."
How was it switching back to traditional enduro again?
"It was quite tough for me. I thought it would come easier because I train hard and my fitness level is good but my training is focused on resistance for the cross-country races. GPs are shorter but more intense."
What are the main differences for you between GNCC and EnduroGP?
"If we compare them, the big difference is that in GNCC you don't walk the route, you do it by bicycle. The tracks are about 16 or 18 kilometres long, and you're not as tired as here [GPs] before the race. We walked the special tests from Wednesday and for around seven or eight hours a day. Friday afternoon my legs were very tired. On Saturday, after the Friday Super Test, I felt a bit tired.
"Another difference is GNCC runs for three hours full gas like it is a 30-minute motocross race. And we never worry about times since we compete against each other on the track, like in motocross.
"Fighting inside the woods with other riders, we are always seeing each other, catching and trying to make passes. In EnduroGP you run against the clock, alone, and that often misleads you because you feel that you are going fast, but in reality you are going slower than you expected, and vice versa."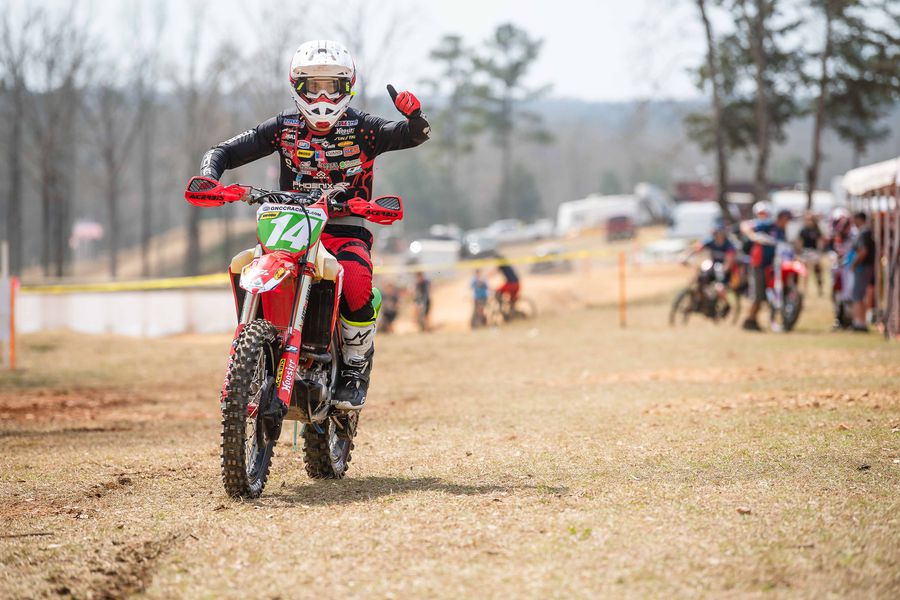 "Coming back to GPs I found it hard to post fast times on the first day in Estonia. I thought it would be easier for me, but then we talked witht the team and we made some small modifications for the Swedish GP on the front of the bike. I preferred that terrain over the one in Estonia [sandy], I was able to attack to finish as high as I could. I managed to be on the podium on the second day."
In Europe, GNCC is less popular. What struck you most going there and how did you adapt?
"GNCC is all about endurance. We always run between three hours and 15-20 minutes. We do longer workouts. Many times, during the week, we only do one hour motocross heats without stopping or a sprint-type training, with several 15-minute full gas heats one after the other. Racing against the clock is different, the type of training that we do in the US is focused on racing each other on the track.
"It's something I wasn't used to before, that's why I did a lot of motocross to know how to overtake or how to feel when you have a rider behind. Those things helped me to adapt to this type of racing. It took me five races to get into the rhythm. Before that I would ride fast for two hours and in the last one the Americans would fly pass me."
You have got better with each GNCC race goes by…
"In the eight and nineth races I have finished second and fourth. I'm always done at the finish, but I still have something in the tank for the last hour. Returning to EnduroGP has been hard because I felt like I was going fast, but times didn't match how it felt. I had to go from riding at a 80% to a 110%, you have to go all out in the special tests in GPs.
"That's why I tried to be more aggressive than normal in the second GP, in Sweden. I was trying to be the Ruy from the previous years, when I was the Youth World Champion in 2018. I tried to push, enjoy and have a good time. If things didn't work out, you had to let it go. I'm a fighter and I gave all that I got these two weekends."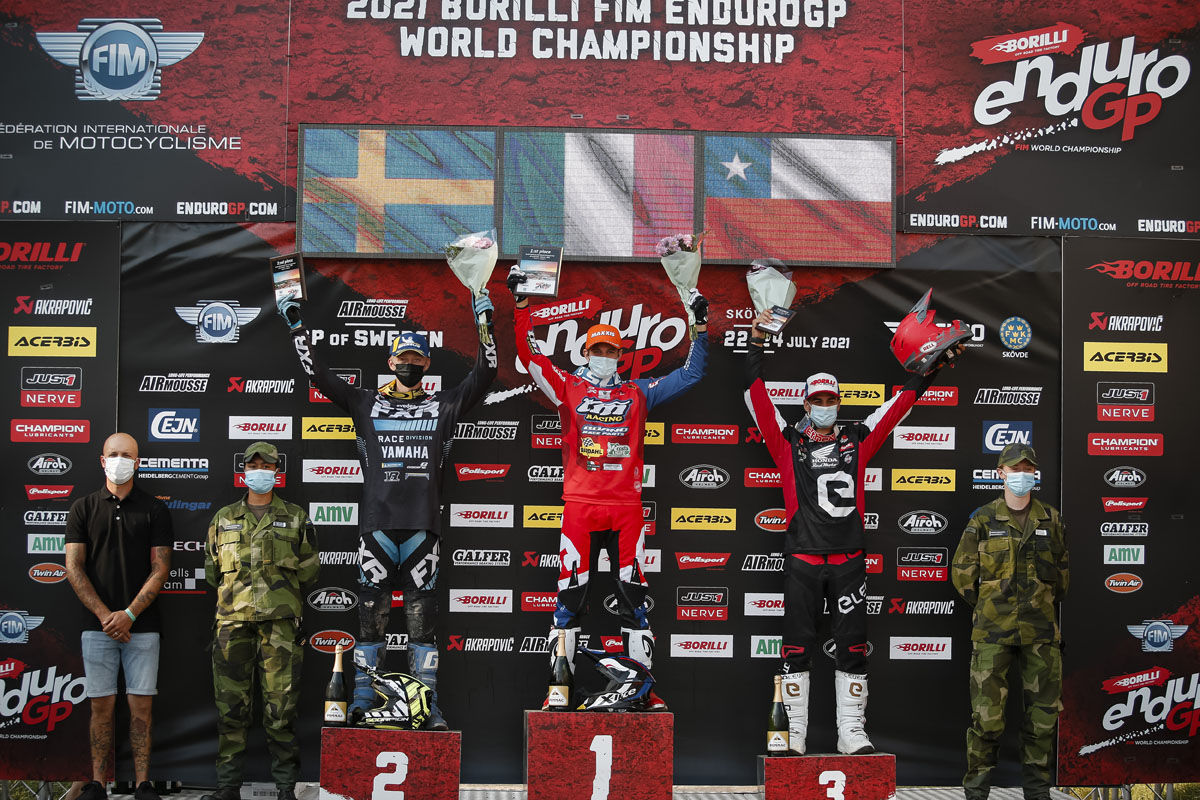 Obvious question, will we see you back in EnduroGP full time?
"The truth is that now I have the GNCC as a priority and my expectations are to win the GNCC in the United States. It is a personal challenge. It is a super competitive series, right now I am sixth, 15 points behind third.
"This year I won't win, but it will be a good experience for next year, when I will stay there to fight for the first place. And then, I would like to return to EnduroGP in 2023 or 2024, to win a senior championship."
And, what about the ISDE?
"The Chilean Federation has not found enough financial support to race the ISDE in Italy, so we will not be there it as a national team. Let's see if we can do it next year…"
We need your support
If you've enjoyed this article, if you've found it informative, interesting, entertaining even, please support us.
We want to continue doing what we do, to the best of our ability, serving the enduro and off-road community.
Please consider a donation, every little helps…
Thank you.
Photo Credit: Andrea Belluschi & Nicki Martínez | Enduro21 + Ruy Barbosa