Quick look: Husqvarna 901 Norden 'hard' and 'touring' adventure bash plates
AXP Racing have developed two new versions of their lightweight, HDPE skid plates for adventure bikes to fit the Husqvarna 901 Norden – a hard off-road version and a touring option compatible with centre stands.
The AXP motorcycle protection range continues to grow, specifically into the area of adventure and dual sport motorcycles. The latest addition is a bash plate for the new Husqvarna 901 Norden adventure bike.
Like all of the AXP skid or bash plates, it has been developed to protect the engine block, lower fuel tank and vulnerable lower areas of the Norden from heavy impacts.
Made of 8mm thick HDPE (High Density Polyethylen plastic) the design concept as tested by Enduro21 on our bikes is to be lightweight and easy to install. The two versions to fit the Norden weigh 3.6kg for the touring and 3.8kg for the hard version.
The bash plates use a specific fixation system at the rear for a maximum of resistance and with no direct link to the engine to avoid any damage to engine cases resulting from heavy impacts.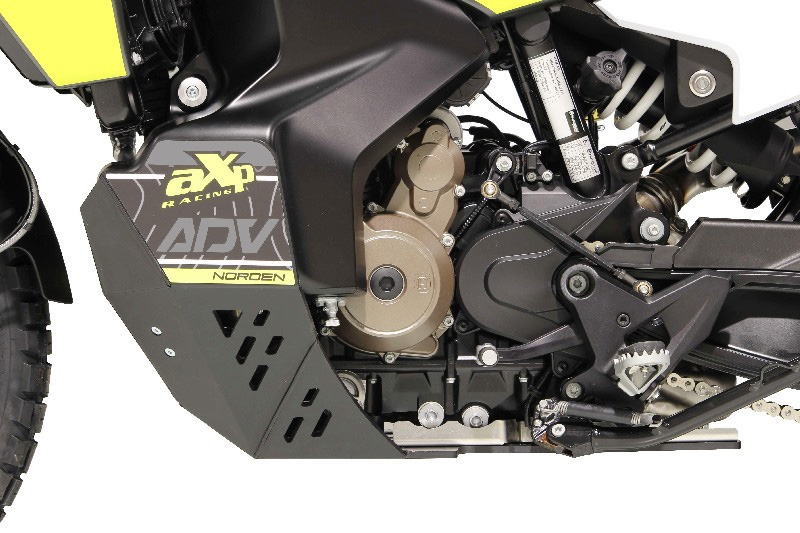 An 8mm thick foam patch is also supplied to stick between the plate and the tank and save it from any friction marking. The AXP graphic sticker is supplied but not stuck on the skid plate if you prefer the simple unbranded look or not.
A mud guard is also included in the package and that is designed to keep more debris out of the bash plate thrown up from the front wheel without impacting the cooling.
The beauty of AXP skid plates is they are lighter, quieter and the plastic construction does not create vibrations and doesn't deform after an impact making it easier to remove and maintain.
The difference between the two options – hard and touring – is their compatibility with a centre stand. The hard version is designed for Norden's with just the side stand while the touring option accommodates the optional centre stand fitment from Husqvarna.
Cost: €300 / $360
More information: www.axp-racing.com