2022 EnduroGP of Hungary: Paddock Spy
Enduro21 snoops around the EnduroGP paddock at round six of the 2022 World Championship looking at the bikes, the parts, and the people in the Zalaergerszeg paddock, Hungary.
Enduro21 doesn't always get the chance or time to snoop around the paddock on a Thursday at a GP. Things tend to get hectic as the weekend ramps up and we normally arrive in the middle of it all, as technical and admin is happening and ahead of the Friday Super Test.
No matter where we are, from ISDE, EnduroGP, Hard Enduro World Championship or national races, the bikes, the parts and the people are just as fascinating as the racing itself.
With the luxury of a little extra time on the back-to-back GPs in Slovakia last weekend and Hungary this weekend, we got the spy camera out to catch the teams hard at work as well as a couple of the riders who were less busy…
Garcia's private area
Admittedly where we get changed in the back of a van can look a bit like a teenager's bedroom sometimes but Josep Garcia has things pretty neat and tidy here. What we'd all do for that amount of space to call our own in the back of the KTM Factory Racing truck!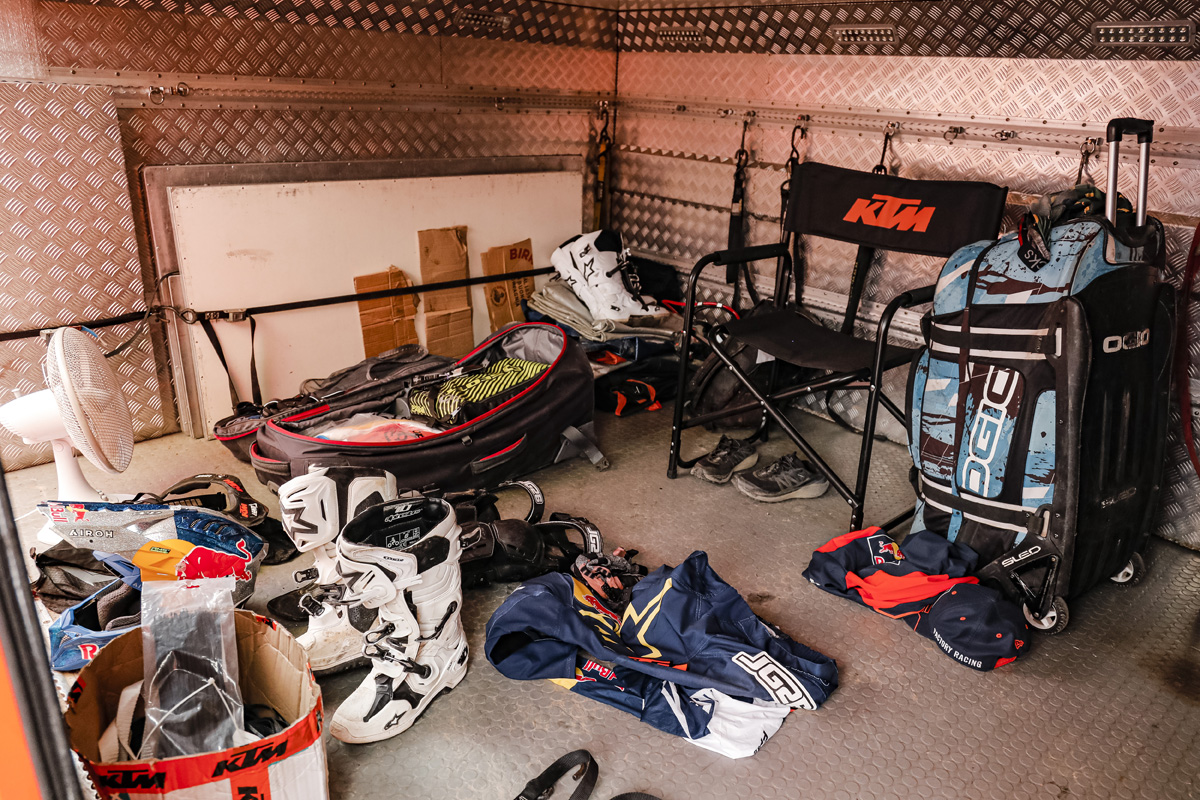 Outside the truck things can be a bit hectic for Pro riders like Josep as fans and media pull in every direction – and that's without the racing to deal with. This private area is where Josep can take a breather from it all, get his head straight and make sure everything is prepped and ready for the long days ahead this weekend in Hungary.
Intake bung improvisation
When you go to any major enduro in France, in fact any sporting event in France in our experience, they sell beer in plastic cups. You pay for it, re-use it (as many times as you see fit…) and often it has the event printed on the outside as memento.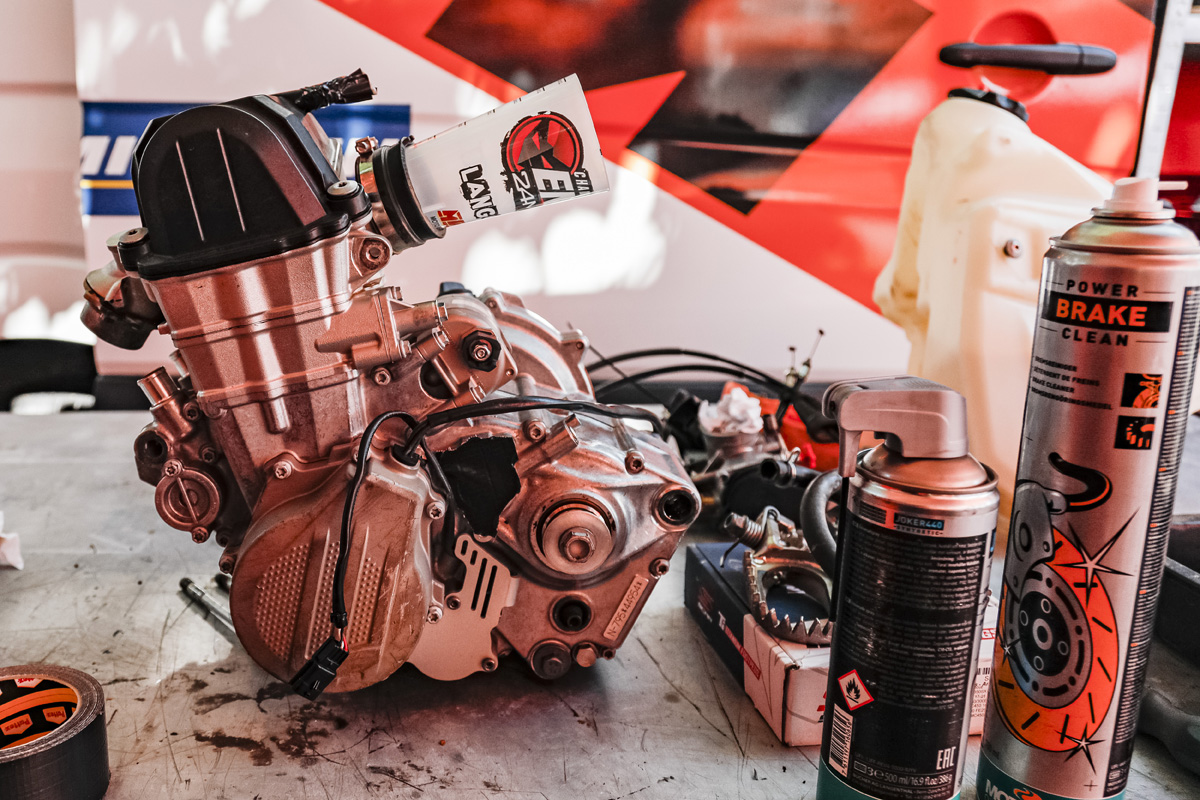 A present for the kids when you get back home? Maybe. Or you could make use of them in more creative way like the Elite Moto team have with Hugo Blanjoue's EXC-F450 engine. It turns out they make a perfect bung for the intake…
Brad Freeman's bike naked…
Factory teams rattle through sets of plastics like the rest of us can't comprehend. With the Slovakian GP only a week ago, plenty of work was happening in the Zalaergerszeg paddock here in Hungary.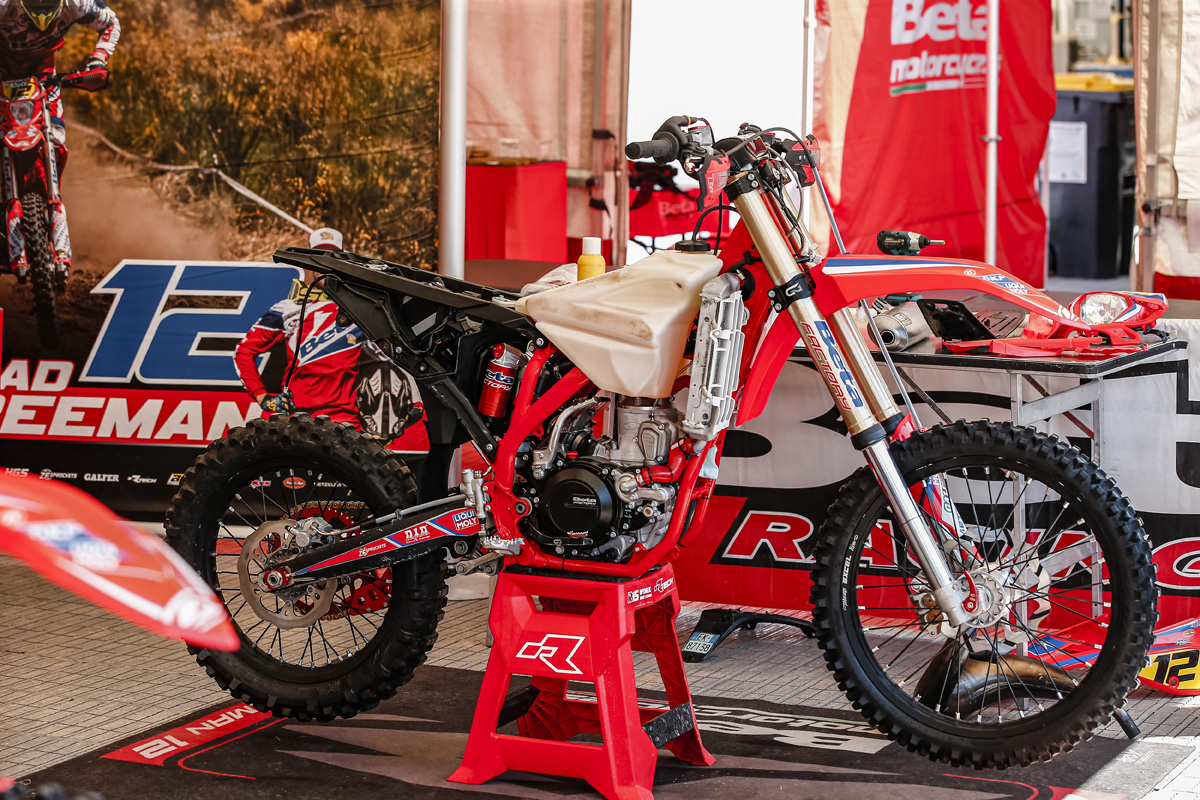 Following shakedown practice sessions on the test track, Brad Freeman's RR 300 two-stroke is almost naked as his mechanic busily rebuilds it "like new" again ahead of the Friday Super Test.
"Tweaked" side panels
Also spotted in the Beta Factory Racing awning, with clothes on this time, was Steve Holcombe's RR390 4T ready to go. It's becoming a thing to see the side panels turned inwards a little at their point, up top and where they extend past the radiators.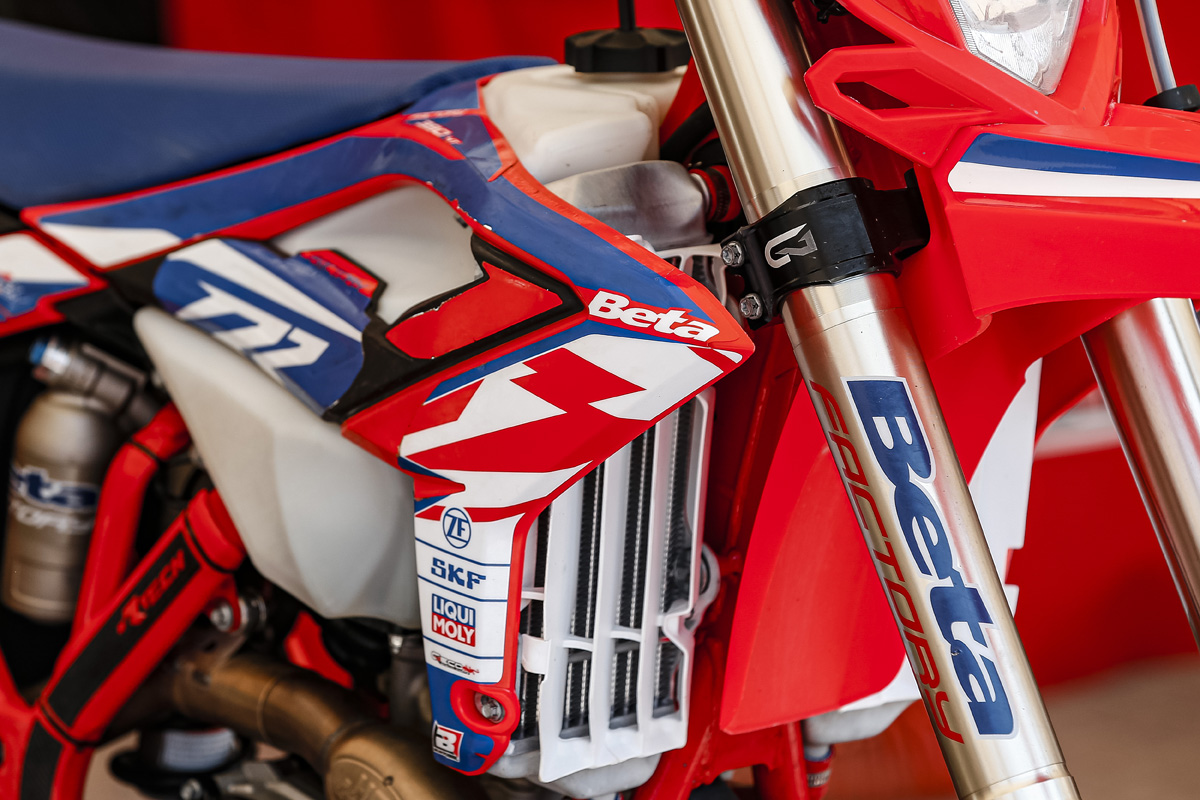 The tweak inwards gives the rider just that little extra space for the leg and boot when cornering. Particularly in rutted turns when the leg is held high and forwards, keeping up, out the way.
Shopping for boots?
Maybe you wouldn't want to pay much for this trolley full of boots and shoes from the TM Racing team. How many weeks has this pile of footwear been on the road this year already? Also, when are you going to return the trolley to the supermarket Jarno?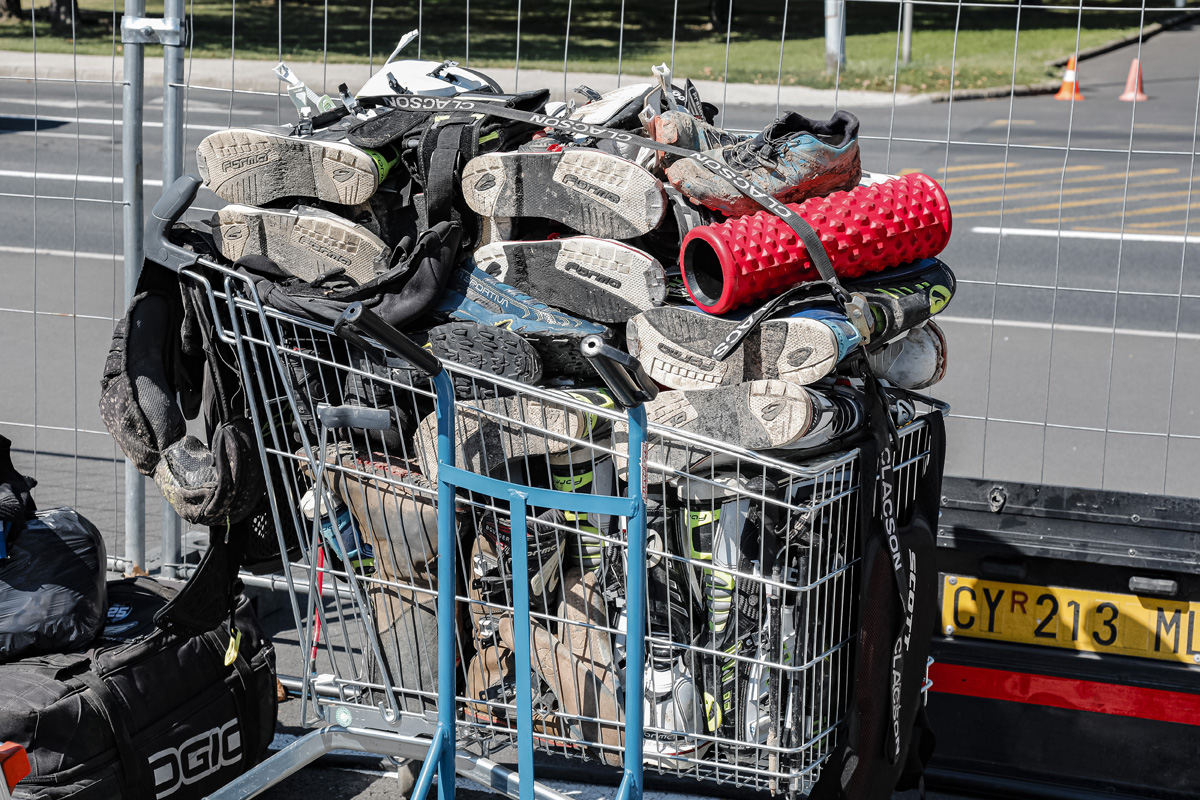 Pools and keeping cool
Summer is supposed to be warm but it has been a particularly hot one in Europe this year. Away from the main paddock area where the team trucks and the bikes hang out, the rider paddocks are where the motorhomes are parked and the riders relax.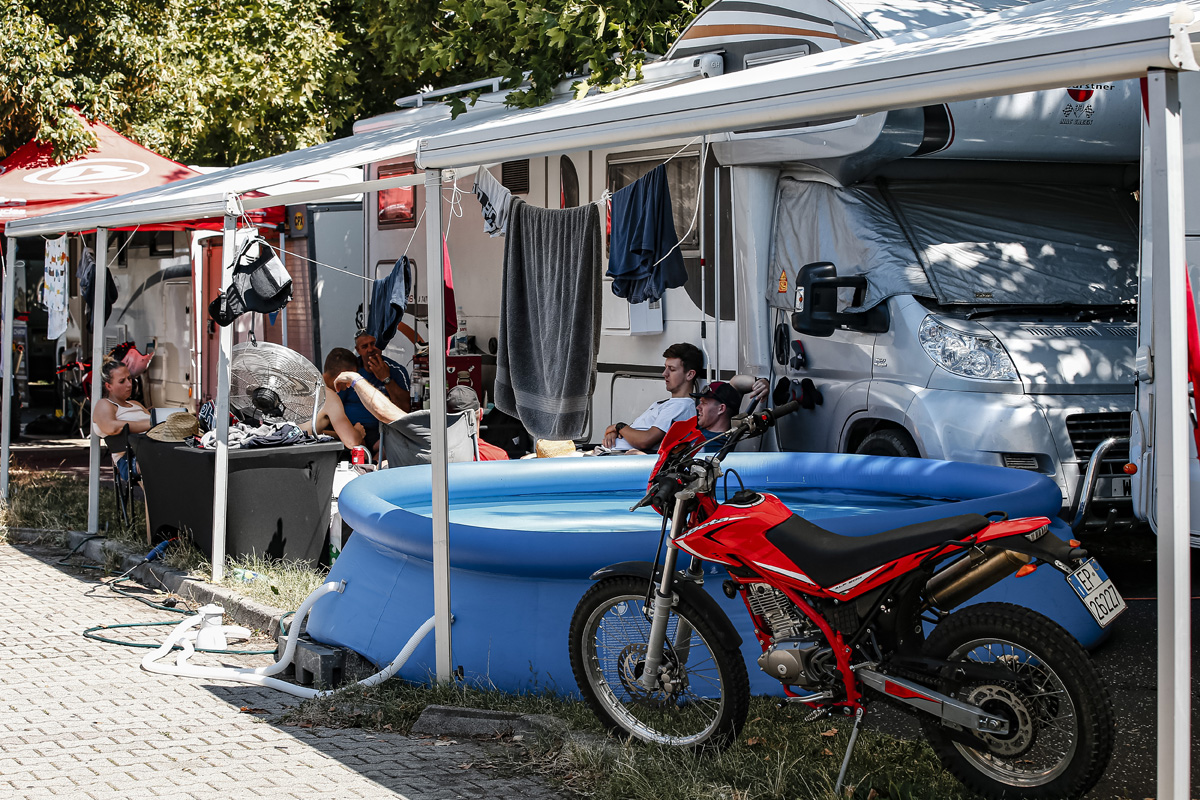 In this weather, they feature a few different ways to chill out and cool off. Aside from the fancy guys with air con fitted to their motorhomes, inflatable pools are a thing.
Best to get in their earlier during the weekend though we reckon. By Sunday night you may need a wash after you've been in one…
Air filter prep
Speaking of washing, with GPs being back-to-back these two weeks, a lot of the bike prep was happening on the road and once teams arrived at the paddock in Hungary.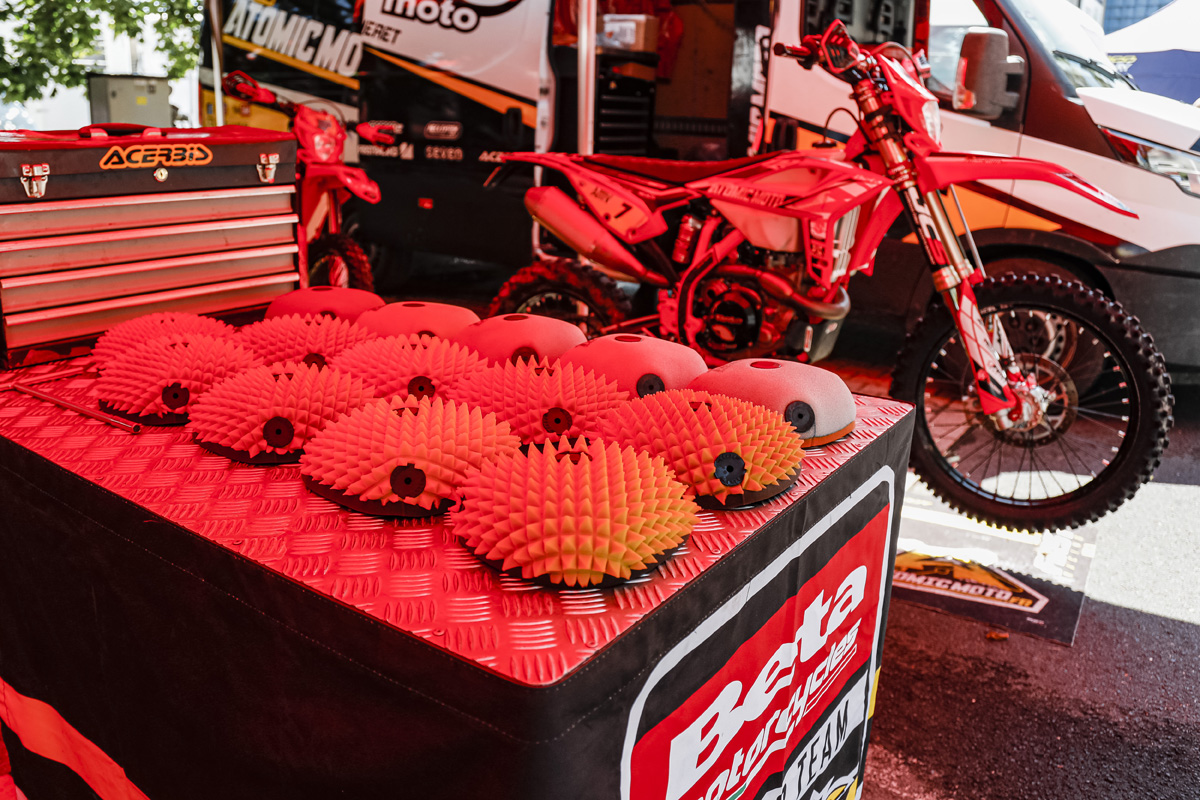 The Atomic Moto team were getting plenty of FunnelWebs washed and oiled ready for this weekend in Zala which looks like being another hot and dusty one after last week's mud in Slovakia.
Have you seen these?
These little pillion footpeg extensions are one of those things in life which if you know about, you know about them, but if not you might wonder what the hell they are.
They're more common in some parts of Europe than others but basically they slot right into the footpeg securely and extend it backwards enough for a pillion to plonk their feet on.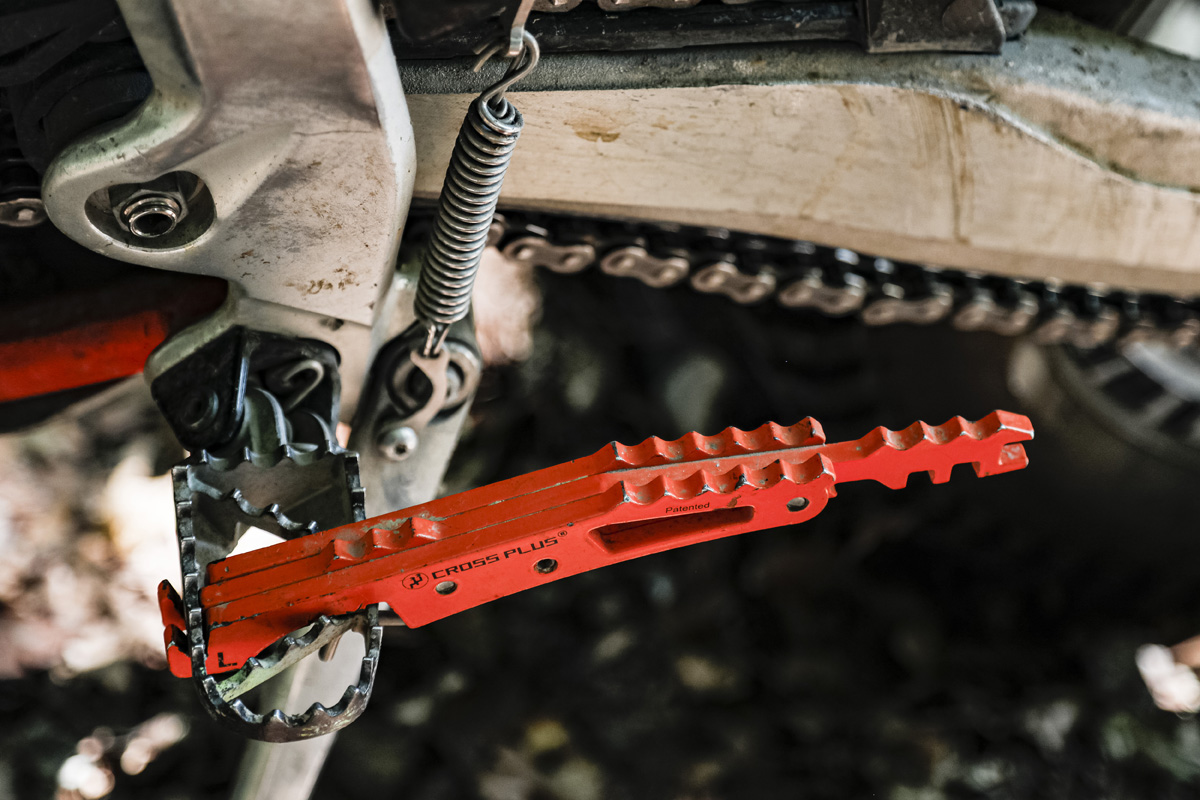 Outside the EnduroGP paddock they're common enough in countries where kids with 50cc and 125cc bikes are giving backies to their mates/girlfriends around town.
The best ones have a beer bottle opener on the back. We need a set, just sayin'…
Suspension service
If you need suspension service, Eric Auge is your man in this paddock at least. The Spanish crew provide race service to many in the EGP paddock as well as running their own team. Their bikes, including Jaume Betriu's big 500 here, are getting forks serviced after the training session in Hungary, ahead of the weekend.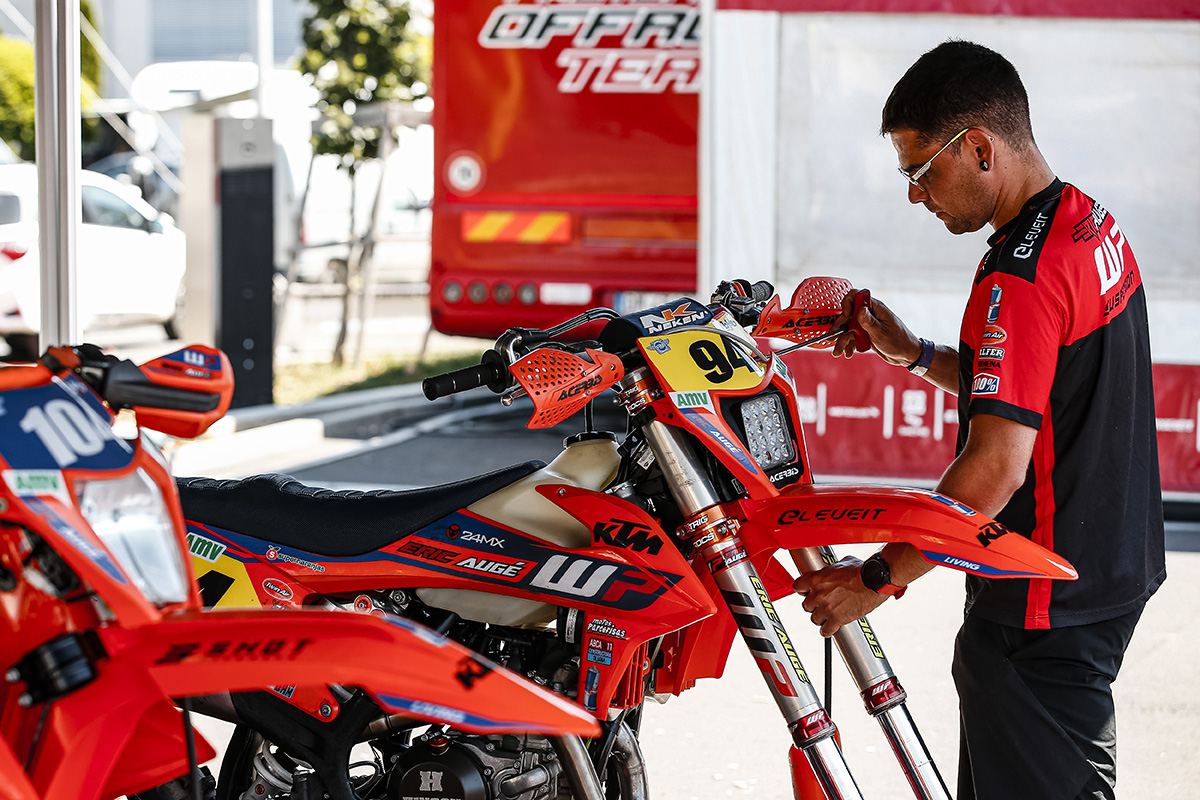 Sherco clutch checking
French rider Leo Le Quere's mechanic is checking over the Sherco Racing SE 300 two-stroke's clutch. Big bikes in the E3 class can rely on their torque and need a less clutch lever use but the Sherco engines don't lack power through the transmission and plates need replacing.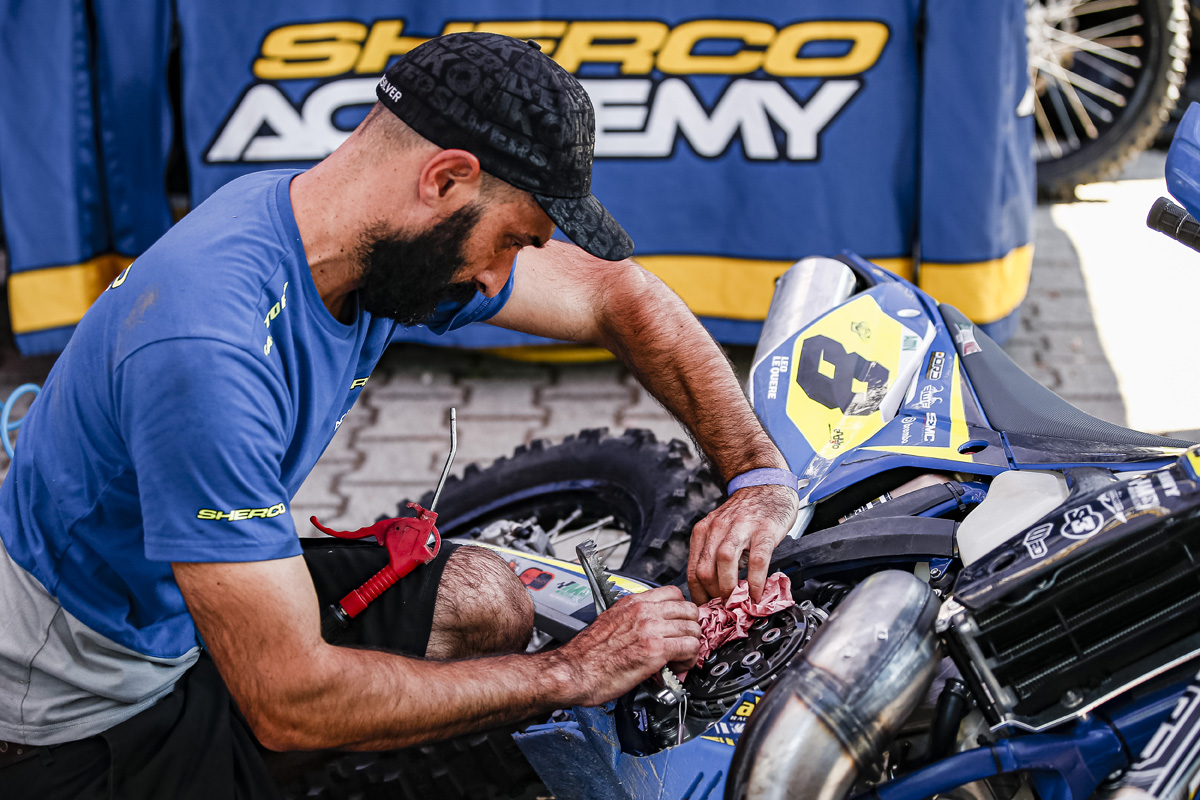 Perfect timing is everything in off-road racing. Steve Holcombe has it nailed…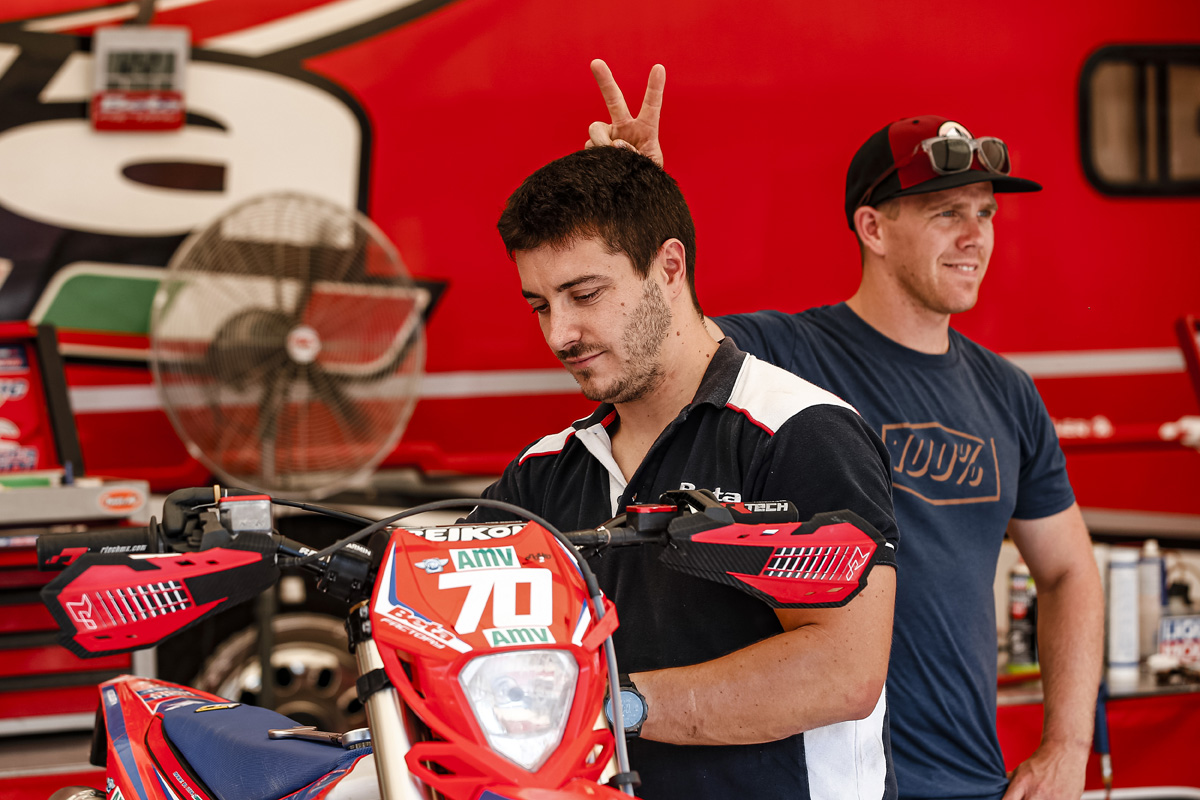 The Hungarian GP, round six of the 2022 season, begins with the Friday Super Test. Enduro21 will bring you all the news, results and video highlights across the weekend. Stay tuned.
Photo Credit: Future7media | Nicki Martinez