German Hard Enduro Series: Gallas wins Weinberg Xtrem Enduro
Kevin Gallas made it two from two as the 2022 Hard Enduro Series in Germany landed in Hamma for the Weinberg Xtrem Enduro.
After three attempts MSC Hamma was glad to finally hold their race after it had been postponed due to the pandemic. With 124 riders, there were also significantly more entries in the race than at the last running in the southern Harz back in 2019.
As reigning champion, Leon Hentschel was the first rider to take to the Hamma track and immediately set the fastest time in the prologue of 1:25,926 which was never bettered.
"Challenging" group races
The group races proved the course was going to be a demanding one with dry conditions and ruts growing deeper with each rider and some bottlenecks forming in harder sections.
The biggest surprise from the heats was Florian Gorner who pushed championship leader Kevin Gallas all the way. The young rider from Scharfenstein took the heat two win and set the fastest lap of 08:07,488 which meant he started the main event in first position ahead of his experienced rivals, including heat one winner Hentschel.
Good lines decides it for Gallas
MSC Hamma had chosen some more difficult sections for the final but the race results was already decided in the first rock garden. A difficult uphill bolder field caused a major traffic jam for all but the early riders who were able to build up an early gap.
Kevin Gallas was one of those taking advantage and he made a good line choice to take a small lead, which he was then able to hold until the finish. Overall, the podium was the same as a week earlier at round one in Crimmitschau with Gallas winning ahead of Hentschel and Marc Wulf.
It is close in the points standings with Gallas ahead by one point from Hentschel whose top places in the prologues add a few extra points to his account.
HESG round 2 results: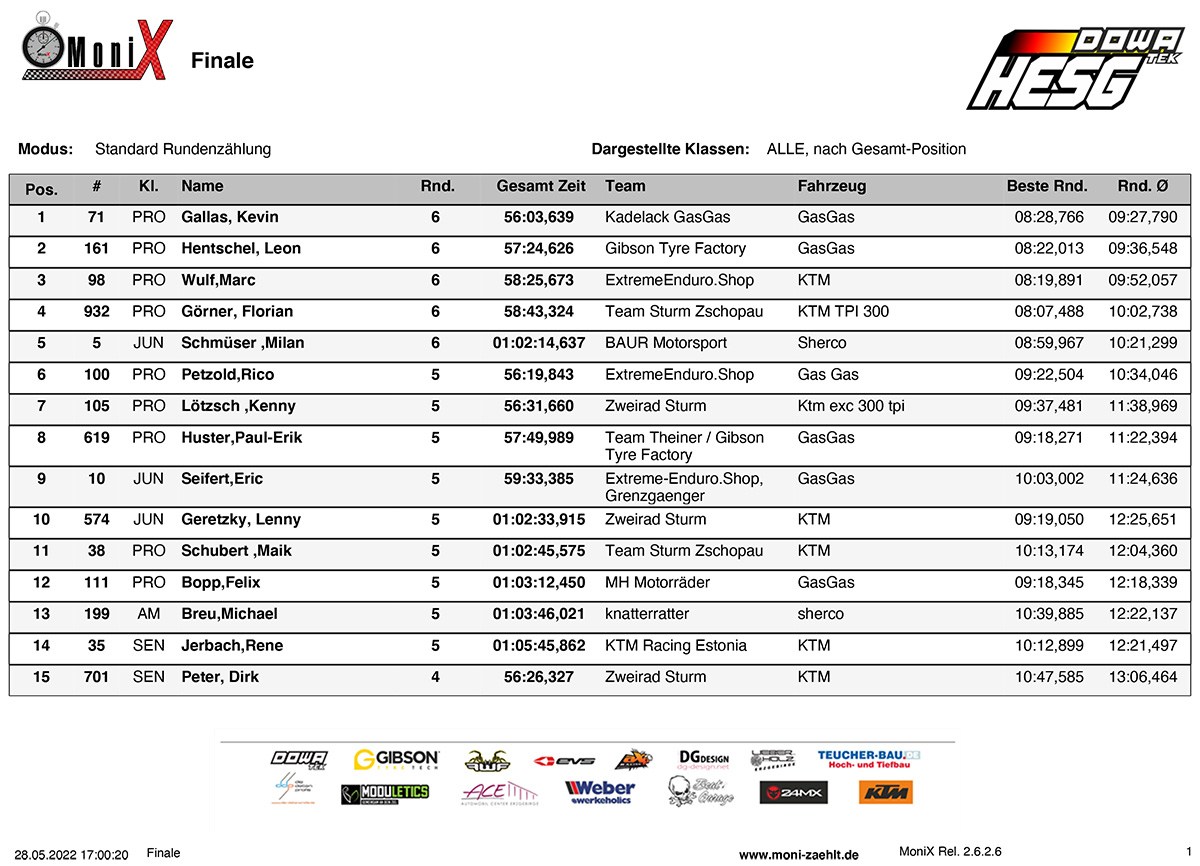 Schmuser wins again in the Juniors ahead of Seifert
Milan Schmuser won the junior classification ahead of Eric Seifert who made up a lot of ground and is now also in second place overall. Third place went to Lenny Geretzky, who was not at the start in Crimmitschau due to a clash of dates and scores his first points of the season.
More information: www.hardenduro-germany.de
Photo Credit: GrenzNic640 + Michel238Pic