Pol Tarres to race Erzbrergrodeo on a Yamaha Tenere 700 – "I want to finish the race"
Extreme Enduro rider turned Adventure bike viral sensation Pol Tarres will race the 2022 Red Bull Erzbergrodeo on a Yamaha Tenere 700.
It seemed almost inevitable that at some point Pol Tarres would take a Tenere to Erzberg. One of the select few riders in recent times to reach the finish line and take hold of a coveted finishers flag, Tarres left behind the lightweight, two-stroke life and turned his attentions to the Yamaha Tenere adventure bike – most of us will have seen the videos by now.
But Tarres has a mammoth task on his hands this June 16-19 if he is to achieve his goal of taking a heavy adventure bike to the end of the hardest single day enduro on the planet.
"I am very well aware of the little chance I have to finish the race, but I do happily accept it." Says the Spaniard. "I am not going to Erzberg to try – I want to finish the race no matter what. But I am a realist: I know that I'll have to fight like I've never fought before. I already did the race a number of times in my head and every time I succeeded..."
You're on your own
The 1000-plus riders who start the Erzbergrodeo get whittled down to 500 for the main Hare Scramble race on Sunday and it is the prologue runs up the mountain which will determine if Pol can make anything like the distance on the big bike.
Plenty of people have tried the prologue on all kinds of bikes but only a few have braved anything bigger in the main event. It seems impossible from the outside that a big, heavy bike could make it through the notorious sections like 'Green Hill' for example (below) – particularly because no external help is allowed anywhere this year.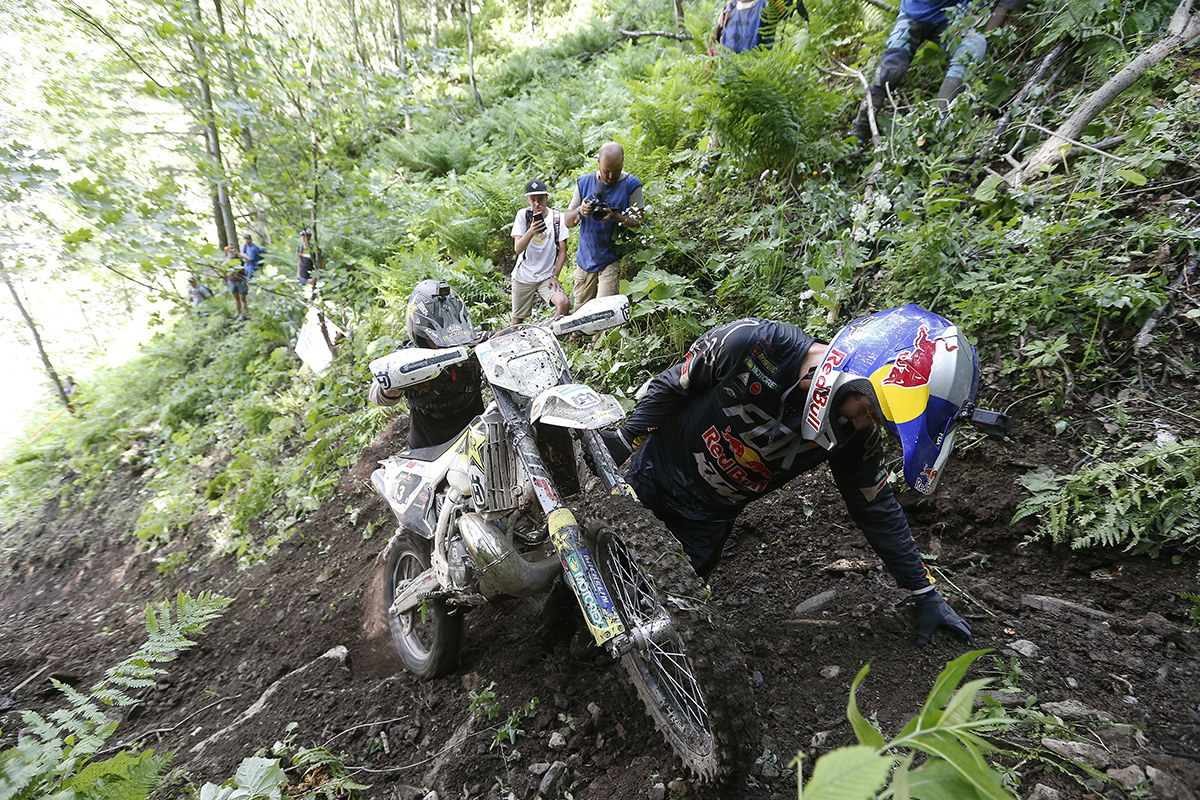 Getting it through the prologue inside the top 50, and therefore away on the front row on Sunday, could be crucial.
"My biggest concern is not the four hours to finish the race." Tarres continues. "I am not afraid of Carl's Dinner, on the contrary, I think it's the section where I can make a difference, but I need to make sure to be there on time. To avoid the traffic jam. I need to do it calmly and to exit with enough energy to finish the damn thing. I will need to start from the first row, there's no other way.
"I've never been stronger physically. I spent the last two months working on strength and put on 5kg of muscles. And even the bike is super ready: after months of a hard work the ex-serial bike with some modifications turned into a real racing prototype with special raid parts.
"I just can't wait to be there. I know what it means to finish Erzbergrodeo, I did it 3 times, so I would logically like some more of that magic. Let's wait and see! I know, if you look for the limit, you might as well one day find it. Maybe Erzberg is the limit, even if I choose to believe that it is not."
The 2022 Erzbergrodeo runs from June 16-19 in Austria.
More information: www.redbullerzbergrodeo.com
Photo Credit: Javi The Who