US Hard Enduro: 4hr duel for Hart and LeBlond at Bad Medicine
Trystan Hart and Ryder LeBlond battled bar-to-bar with for four hours at the 2022 Bad Medicine at Fallen Timbers, round four of the US Hard Enduro series.
The story of the weekend at Bad Medicine 2022 was of hard slog in the woods and on the rocks. The list of DNFs is a long one and no matter where you were in the final pecking order, it was a brutal event.
The Wildwood Lake Raceway in Little Hocking, Ohio received heavy rain the days leading up to the fourth round of the AMA IRC US Hard Enduro Series which made the course extremely slick and difficult for the riders. On top of the muddy conditions, the heat and humidity tested each rider and was a major factor in this very difficult race.
Even by the end of the first lap of hte main race, FMF KTM's Trystan Hart and Delullo Racing Team's Ryder LeBlond were nearly 20 minutes ahead of third placed Colton Haaker.
They extended that lead to nearly an hour by the end of the race, pacing each other through the mossy rock gardens and slippery hills.
The pair were basically all over each other during the entire four laps, trading the first and second positions over 20 times and not letting each other out of sight for long. In the end Hart pulled ahead during the final stretch of the race, winning by just 1:15 seconds.
Behind the runaway leaders, Haaker came home in third completing three laps (one less than Hart and LeBlond) along with Sherco USA's Keith Curtis. Logan Bolopue rode consistently and finished with a solid fifth place overall for his best result in the series. In the Women's Pro Class, Shelby Turner took the win in the Saturday race.
2022 Bad Medicine overall results: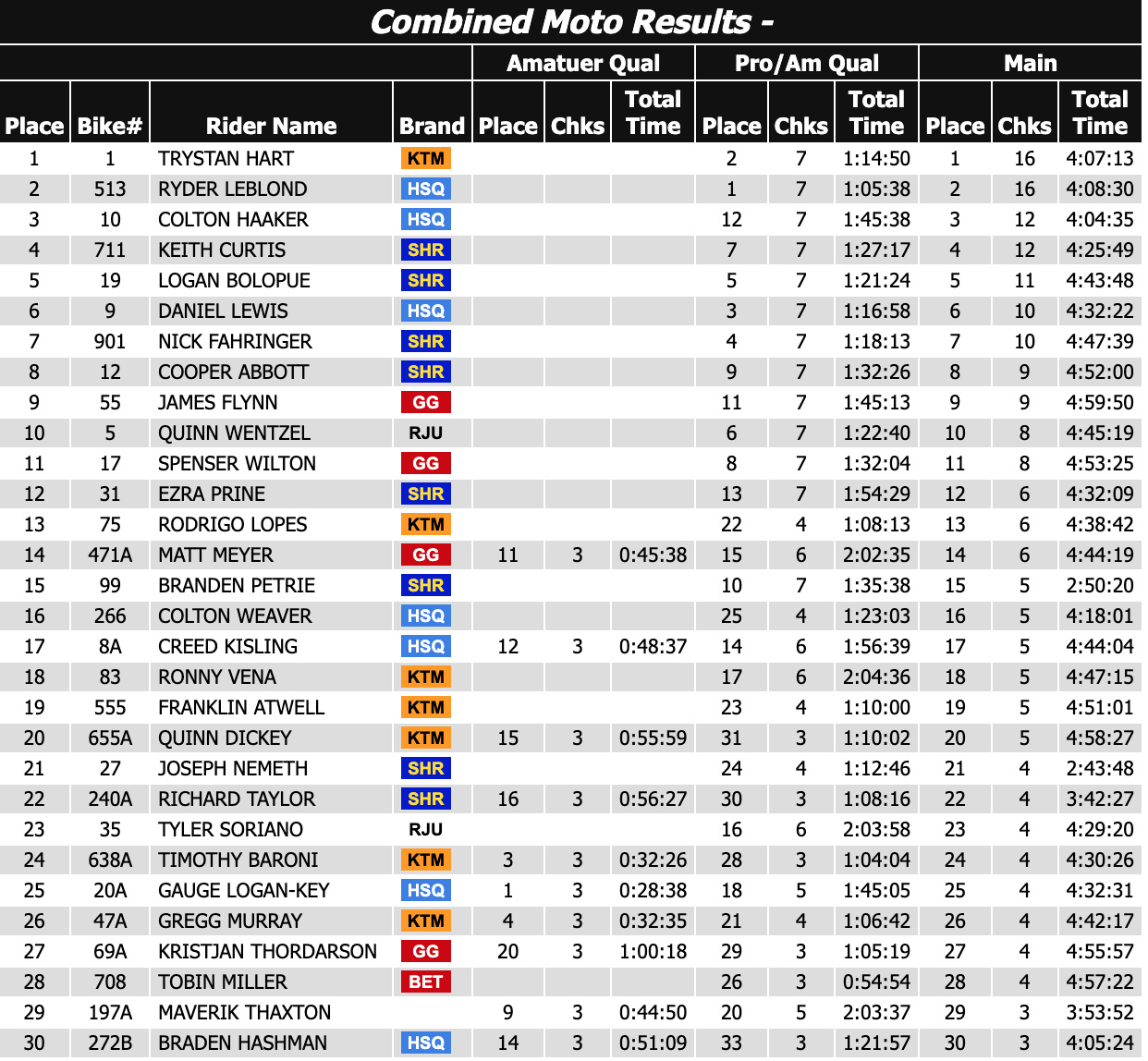 The next round of the AMA USHE will take place at the Donner Hard Enduro on June 11th, where Brian Garrahan will be hosting a hard enduro and AMA D36 hare scramble in the same weekend.
More information: www.ushardenduro.com
Photo Credit: US Hard Enduro | Matt Musgrove