Ben Kelley crowned 2021 Champion at wild Ironman GNCC
On a record-breaking weekend in Crawfordsville, Indiana when 2700 riders competed across all classes, what will go down as one of the wildest mudfest GNCC races of all time saw FMF KTM Factory Racing's Ben Kelley crowned the 2021 Grand National Cross Country champion.
The morning races were epic and decided the Women's national championship results in favour of Becca Sheets in dramatic style. The rain continued however, causing a delayed start for the feature race while course alterations were made – eventually the race was shortened to two hours.
When things finally got underway it took four corners for the championship to effectively be decided. Steward Baylor was the first of many riders to suck water in his bike and cause it to stop running. A few miles later Ben Kelley did the same and was resorting to the age-old techniques for clearing the water out the system – wringing out the air filter, turning the bike upside down and basically hammering the starter button to pump it clear.
When both did eventually get their bikes going they came around to complete lap one in astonishing 88th and 92nd positions.
GNCC organisers issued riders with the warning ahead of the race start to take it easy on the first lap, "the creeks are deep and there are a lot of water holes out there, pay attention…" It proved to be famous last words.
The championship race unfolded with rising creeks, deepening ruts, abandoned bikes, Pro riders walking through the river crossings and a lot of mud-surfing.
Around three-quarter distance, with Kelley making his way approximately 90 places up the leaderboard and into a points scoring position, Baylor had got as far as the top 40 when his Yamaha needed a clutch change. The writing was finally on the wall and, on top of all the water problems the eventual 65th ranked finish meant P2 in the title challenge.
"I wanted to get this race done," explained Kelley considering possible postponement of the final round in the conditions. "It was mayhem though. Stew hit a water hole right off the start , I got up to third but it was hard to know what to do, if you went slow you submerged your bike, if you went fast you risked it also.
"Around mile eight my bike just stopped and would not fire up. I tried everything, I had it upside down, I had the air filter out everything until eventually it fired up but so many people passed me.
"I'm so pleased to get this thing finally wrapped up. Stew won more races than me but in all those races I had a lot to lose and he had nothing to lose and that meant a lot.
"It sucks right now" – Steward Baylor
For Steward Baylor this was a fittingly disappointing end to a season which had its share of bummer moments – this despite clocking the most wins and standing for many fans as a 'people's champion'. This is racing though and Stew remained magnanimous in defeat.
"It sucks right now." Said Steward. "I feel like I lost the championship for a couple of things which were out of my control. Today, I was four corners in and my bike just stopped and wouldn't restart. I was just thinking, yeah, of course this would happen. Like I say, it sucks.
"I take nothing away from Ben, he's my buddy and hats off to him. I'm happy for him, I'm not happy right now but it will be a couple of weeks when I get over it…"
Nine in a row for KTM team
"It's a team effort and it showed, especially at the last round when the environment is tough and demanding." Said FMF KTM Factory Racing manager, Antii Kallonen. "This is a special one. After winning eight championships with Kailub, to be able to continue with the next generation truly speaks volumes about the team, about the riders we have and the entire structure."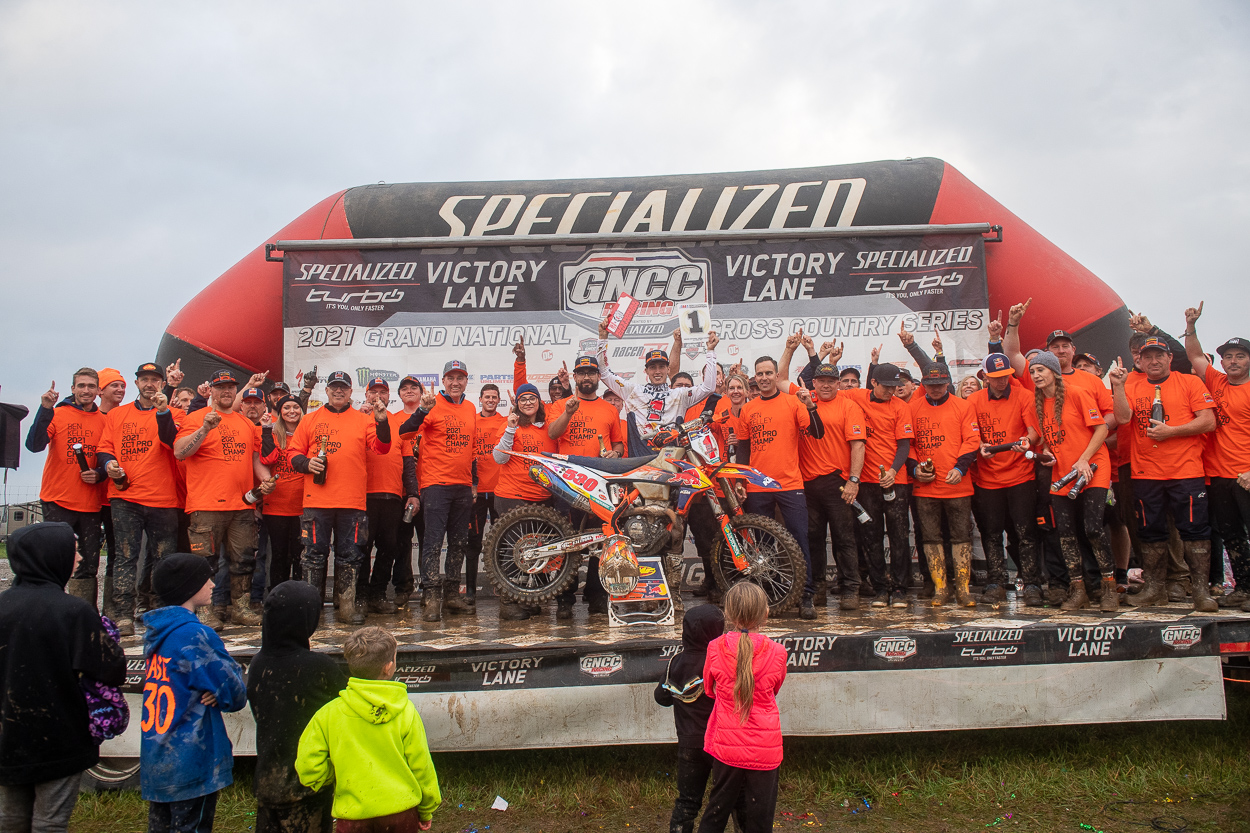 The KTM team is a strong one with former champions Kailub Russell and Charlie Mullins playing roles in bringing Kelley on from junior to XC2 champ to now XC1 Pro national title holder. "Kailub kind of passed the torch to Ben and the team and I just have to say congratulations to everyone involved, this is a great feeling." Adds Antii.
Who won the race? A "hooting and hollering" Thaddy…
Out front at the Ironman GNCC a seemingly whole different drama unfolded. Like a muddy duck to water, Josh Strang flew through the first lap as leader ahead of Thad Duvall and Trevor Bollinger.
Bollinger took the lead but then hit bike problems like so many leaving Strang, Duvall and another flying Australian, Lyndon Snodgrass leading a XC2 flanks.
Strang and Duvall turned the clock back and have both had tough 2021 seasons – serious knee injuries, broken ribs and more for Duvall – and clearly wanted to sign it off with a victory.
The last lap scrap see-sawed as Duvall nipped through while Josh got cleaned up by his crew only to grab it back as Thad stopped for a fresh set of goggles. When Strang had to ditch his gloves part way through the lap it was enough to allow Thad by again and take the race win.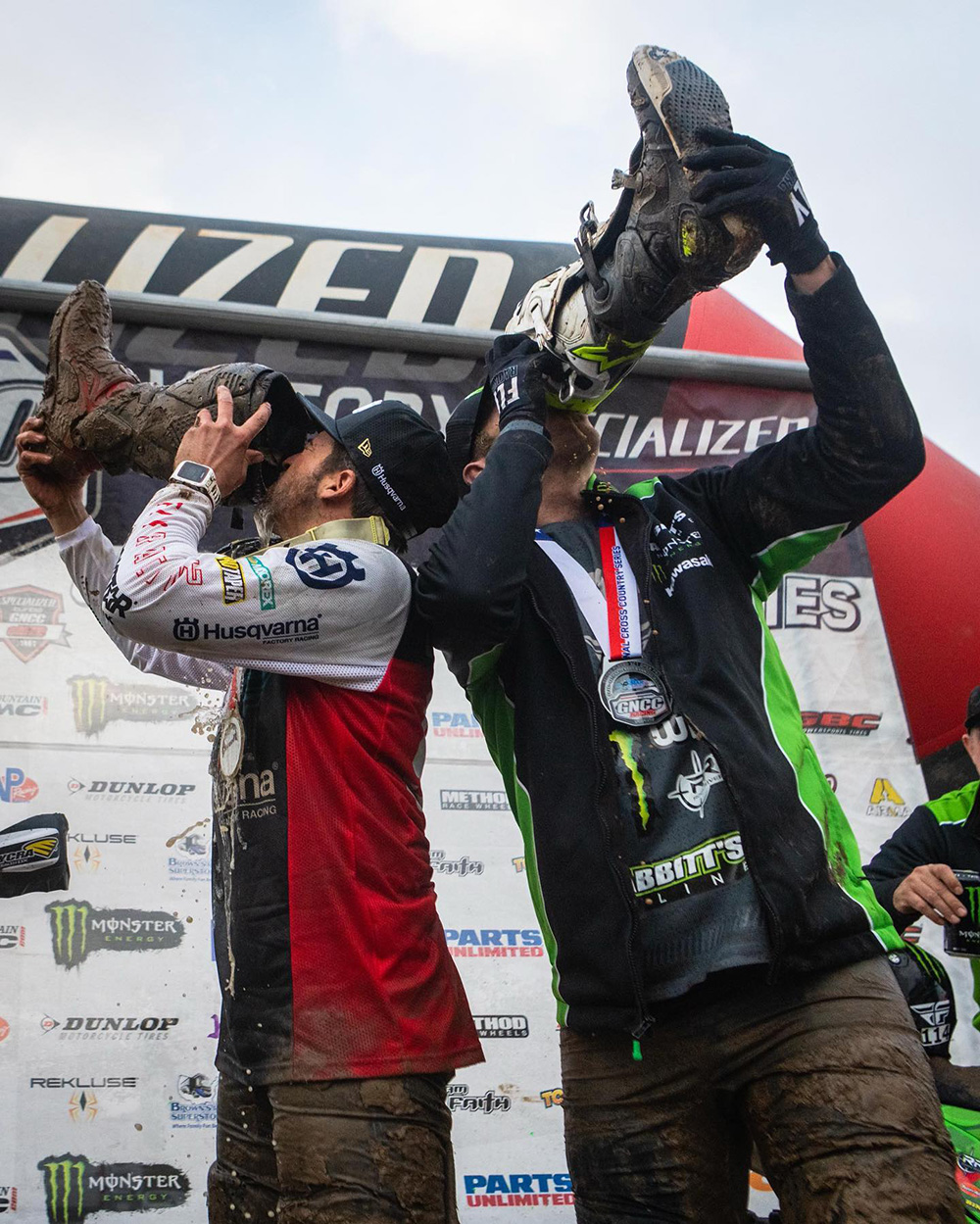 "The old boys put it on the young boys today," said Thad. "To win today is special and to do it battling Strang all day was pretty bad ass. We were hooting and hollering at each other all day and it was fun. I just got lucky on the last lap when he picked a bad line."
Behind Duvall and Strang, Craig Delong switched onto the bigger bikes ahead of his XC1 season in 2022 and promptly took third in class on his debut.
XC250 riders were swarming (or swamping) the results with third overall going to Snodgrass who set himself up nicely as a title challenger in 2022.
The 250 podium was Snodgrass, Cody Barnes and Ryder Lafferty with Ruy Barbosa unlucky on his last lap to drop from P4 scratch to P7 after his own bike problems.
2021 Ironman GNCC result, (scroll down to see some of the Pro riders…):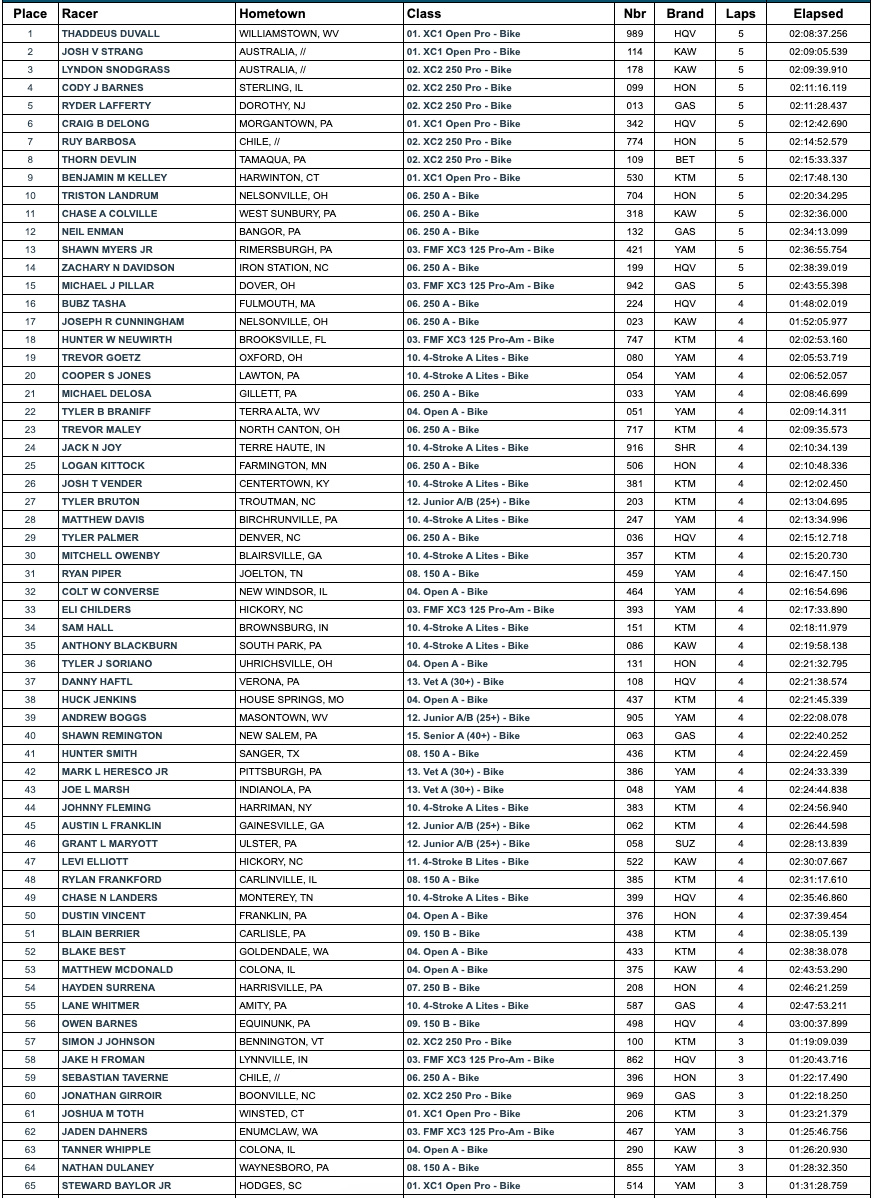 2021 GNCC final championship positions: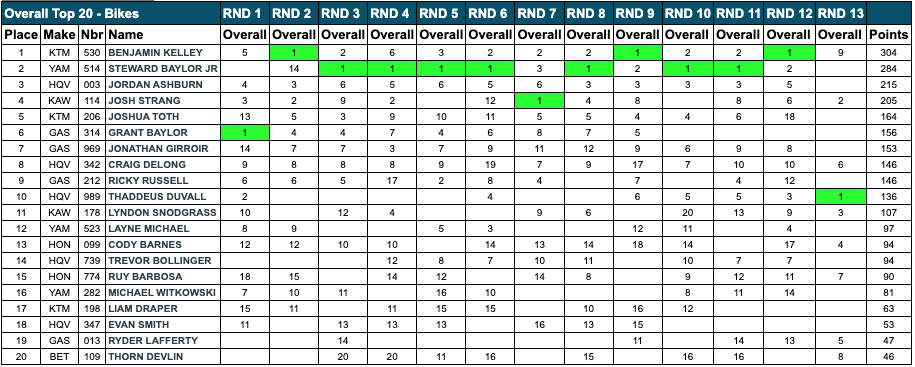 Drama in the WXC decider
The title chase in the Women's class has been equally close all season between the Yamaha pairing of Becca Sheets and Rachel Archer. They've traded race wins and the title came down to the final race much like the Pro XC1 class.
The weather was bad (but not as bad) for the AM race and it caught out Sheets who had to deploy laundry tactics to make the finish. Her Yamaha with the front mounted air intake basically just sucked it up until it was saturated. Becca took the decision to stop, get the air filter out and get back to the pits for a freshie but lost loads of time in the process while her rival Archer was pushing for the overall win.
Rachel Gutish had been leading WXC class but when she retired, and having worked back up the order, Sheets inherited P3 in class and the championship was hers.
"You just have to keep plugging away, there's no other way for it with conditions like this." Said Becca. "I knew fourth wasn't enough but when the conditions are like this you never know what can happen and I just kept at it to the flag."
WXC championship positions: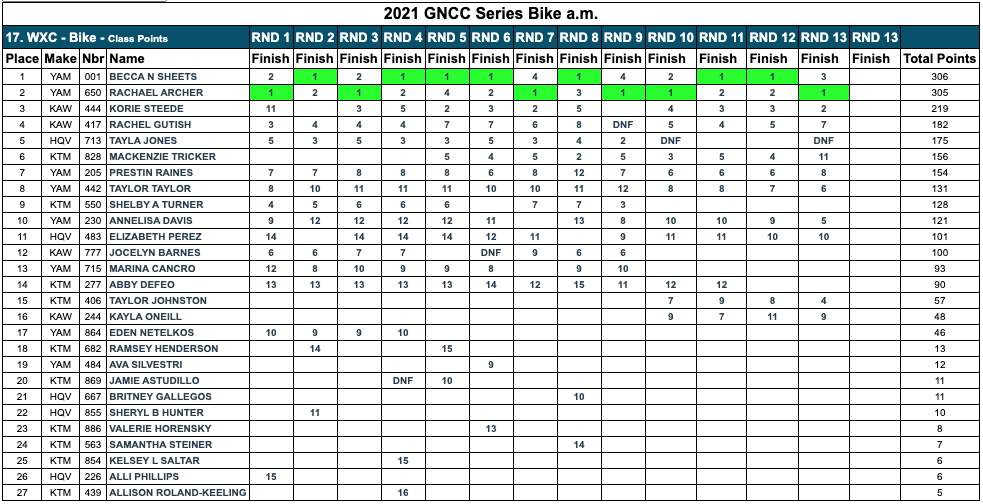 Photo Credit: Shan Moore