HEWC: Abestone Hard Enduro reboots 2021 season
Racing in the 2021 FIM Hard Enduro World Championship has been a long time coming but finally, riders will go face-to-face again this weekend at the Abestone Hard Enduro in the mountains of Tuscany, Italy.
It seems insane that we are in July and have not seen the likes of Jarvis, Bolt, Gomez, Walker, Lettenbichler, Young, Roman, Blazusiak et al zig-zagging their way up impossible climbs and fighting each other on an extreme enduro course.
The actual start to the 2021 HEWC series saw competitors line-up at Extreme Lagares only to end up racing an EnduroCross after the main event was culled by a still baffling local government decision – when we also learned Erzbergrodeo was cancelled it added insult to injury.
July is the rebooted start for this new world championship at the Abestone Hard Enduro this weekend and it promises much, not just because of the delayed start but the location is awesome for hard enduro and we can't wait for this high-calibre list of riders to get back on it.
Three days of action
Friday 10 sees all riders complete a short, natural Extreme Test to determine the starting order for Saturday's Time Trial qualification.
Saturday 11 sees riders placed into three groups and, beginning from 07:00, tackling a fast but technical 10 kilometre course across the two peaks of Val di Luce and l'Ovovia three times throughout the day.
Each rider's best timed run counts and this is also where the wheat gets sifted from the chaff with the top 50 competitors qualify through to Sunday's feature race, while the remaining entry going through to a morning race on Sunday.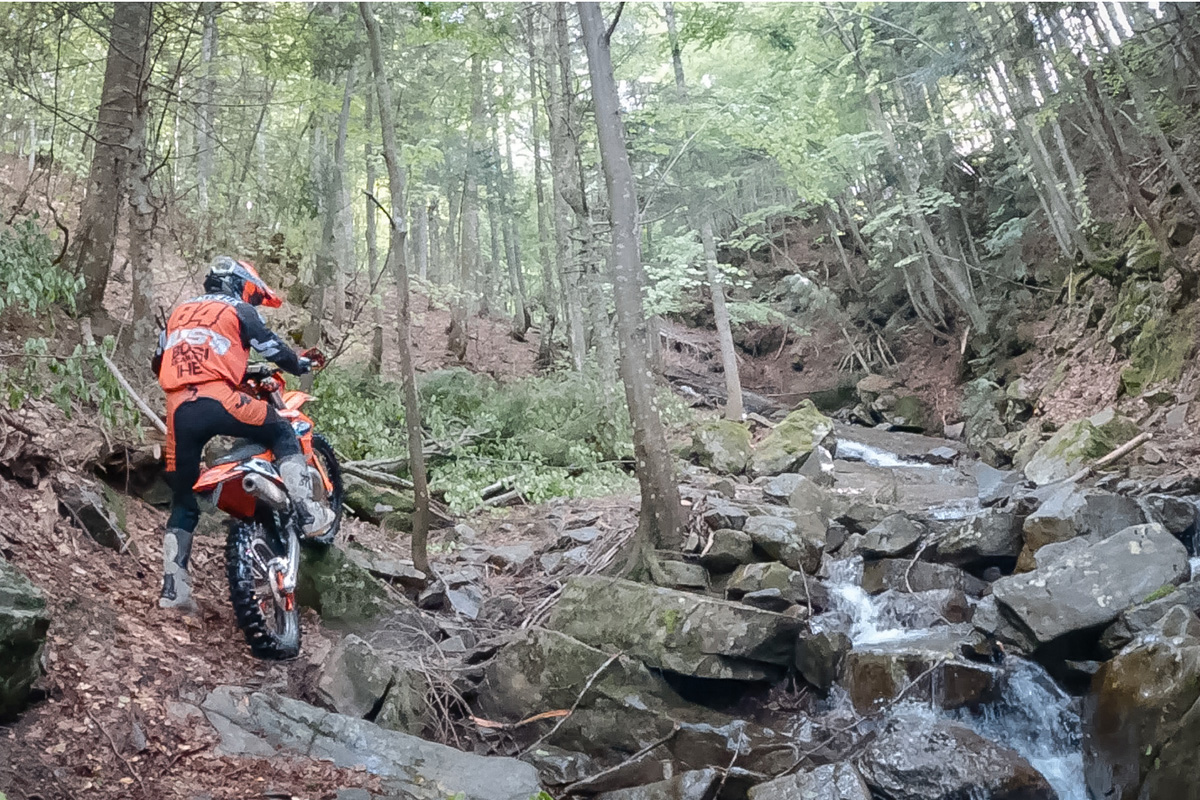 Sunday, July 12
09.00-12.00: MITAS Final
14.00-17.00: LIQUI MOLY Super Final
Things heat up on Sunday when the difficulty ramps up in the forestry sections, the racing will become slower and extreme as riders battle the terrain for two, 20-kilometre laps within a four-hour time limit.
Predict a winner if you dare
The overriding factor here is how much (or little) racing some of the leading riders in the HEWC series have done by this point in 2021. The likes of Billy Bolt, Mario Roman and Manuel Lettenbichler have clocked hours of not just training but in actual competition which makes them hard to look past as potential winners.
Bolt has a list of races and impressive results across the enduro disciplines, while Mario has been rubbing shoulders with the top riders in the AMA Extremes. Mani, like Billy, also raced the Italian EnduroGP and the pair have been training together in Italy since.
Unfortunately most of the Jarvis Husqvarna Racing team – Will Hoare, Jono Richardson and Sam Winterburn – will not be there due to covid restrictions from the UK. Teodor Kabakchiev though has amassed a heap of racing hours this year though and is one to watch heading to Abestone.
Contenders like Walker, Blazusiak, Gomez and Young also have time on the clock – Wade has been busy since getting out of South Africa at European Extreme events and Taddy also took in the Italian EnduroGP two weeks ago – but these guys haven't ticked off as many race hours compared to some their rivals.
The riding machine Graham Jarvis may not have raced much either this year, hardly at all by his usual standards, but always puts in the training hours and cannot be counted out come Sunday.
In this shortened series though, the sharpest tools in the box will be on the front foot heading into this weekend.
This long wait for the Hard Enduro World Championship will finally be over at Abestone Hard Enduro this weekend. Enduro21 will bring you all the results, the best images and videos throughout the weekend.
More information: www.abestone.it