Josep Garcia and Steve Holcombe to race GNCC
Red Bull KTM Factory Racing's Josep Garcia and Beta Factory Racing's Steve Holcombe have announced they will kick off their 2022 seasons by competing in the first three rounds of the AMA Grand National Cross Country Series (GNCC) in North America.
We heard rumors some of the star riders from EnduroGP might be mixing up their 2022 pre-season training by heading stateside but the news is now official. The GP boys are swapping timed tests and tapes for some three-hour XC racing.
ISDE outright champion Josep Garcia says it has been a lifelong dream to race the cross-country series and pit his talents against some of the best off-road riders in North America. He's no stranger to squaring up (and beating) the US Team at the ISDE but three-hour XC races will be a different challenge for the E2 World Champion.
"After many years, I have finally got the chance to go to the United States and race in the GNCC." Josep explains. "It's been a long-standing goal of mine to do some GNCC races and this year, thanks to KTM Factory Racing and KTM USA, I will fulfil my dream.
"At the Six Days last year, a lot of the American riders encouraged me to race the series, and now I'm really looking forward to doing some three-hour cross-countries.
"Winter training for me has gone very well. We have made some improvements to the bike in Italy with the team, and I definitely feel good and ready for a new challenge. There's no pressure, so the plan is to go over there, try my best, and enjoy it."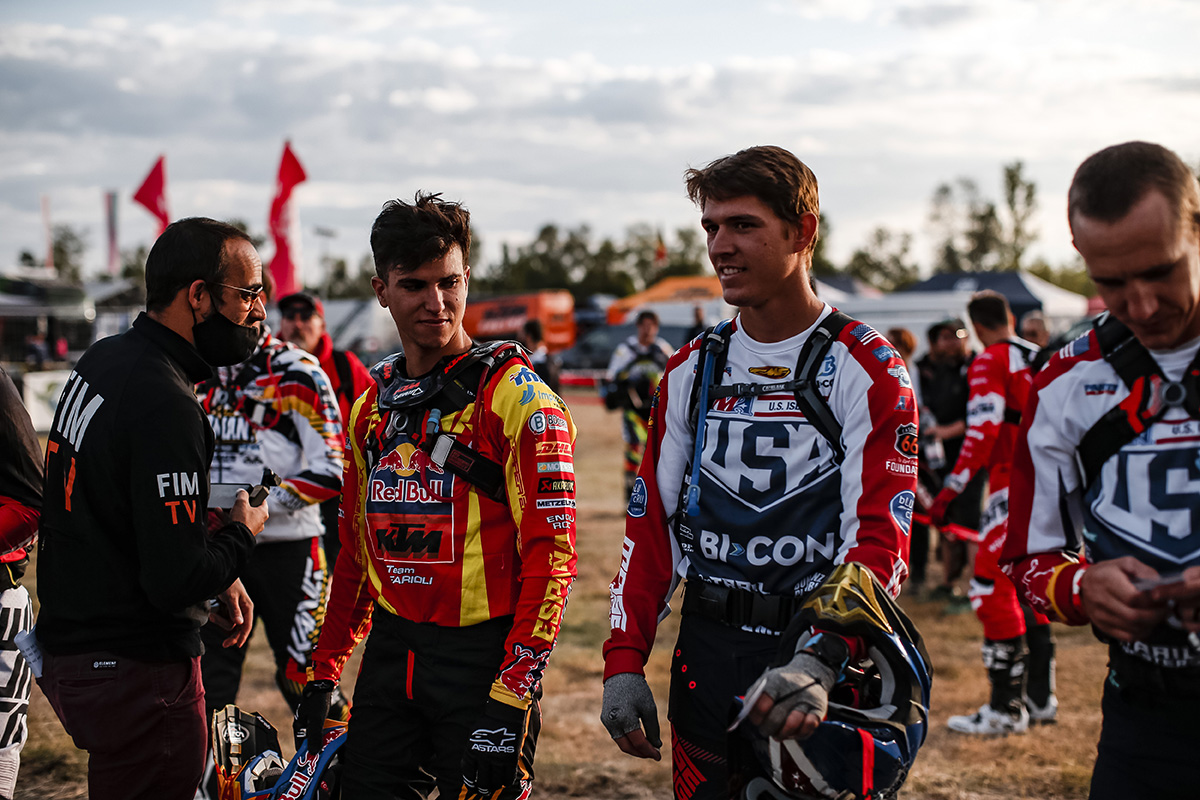 "Can't wait" – Steve Holcombe
Steve Holcombe will also be making a dash across the Atlantic this spring to join the GNCC party. Holcombe remains very much committed to the EnduroGP World Championship and the Beta Factory Racing team but will also take the chance ahead of the late (May) start to the GP season.
"Being able to go to America and experience first-hand what it's like to compete in a few GNCC events is something that I've wanted to do for a number of years." Says Steve. "Until now I've just not been able to make it happen. I'm really looking forward to getting racing.
"Honestly, I know that this will be a big learning curve for me. I've raced some three-hour events in the UK before, but I know that I've signed up for something very different. I can't wait.
"My expectations are pretty mellow – I have a huge amount of respect for the US GNCC regulars, and I have to remember that this is part of my build-up to the EnduroGP World Championship. But if I can, I'll mix it with the boys as best I can. It's really about experiencing something new, doing the best I can, enjoying being a part of a different race series, and getting to race and train with new riders."
The opening three GNCC rounds:
February 19-20 Big Buck, Union, SC
March 5-6 Wild Boar, Palakta, FL
March 12-13 The General, Washington, GA
Both Holcombe and Garcia are no strangers to Cross-Country events. As he says, Holcombe has competed in them in the UK including the Fast Eddy Hawkstone Park XC race last season where he beat Billy Bolt and Jack Edmondson to top of the podium.
Garcia has also raced two seasons in the former WESS World Championship which contained XC rounds (also at Hawkstone Park) where he was dominant alongside his then teammate Nathan Watson.
Training with the USA teams
Both Garcia and Holcombe say they will take the opportunity to train with their respective American counterparts and race teams. Holcombe will train with Beta USA's rider Evan Smith and contests the opening three GNCC races with the help of the team manager, Carlen Gardner.
Garcia will slot in with the North American KTM Factory Racing team riders at Kailub Russell's ranch before returning back to Europe for May and the first GP in Spain.
"We're really happy to have Josep come over and train together with our factory riders at the exclusive Ranch Russell training facility." Says KTM Group North America's Antii Kallonen. "Our riders are busy preparing for their season here and it will be good to help Garcia prepare for his season over in Europe. Also the timing is lining up nicely for him to race the first three rounds of the GNCC and showcase his speed and his ability to race cross-country in the premier U.S. series. I'm looking forward to spending a few weeks with Josep and helping him, as well as him helping us, prepare for the season."
Garcia and Holcombe will join Jack Edmondson and Ruy Barbosa, both former EnduroGP youth champions, who are racing full time in GNCC this season (Barbosa is in his second season).
Photo Credit: Future7Media