2022 AMA National Enduro: Grant Baylor Wins Loose Moose NEPG Rnd 7
Baylor brothers at the double as Grant beats Steward by eight seconds to claim the 2022 Loose Moose National Enduro victory, round seven of the Kenda AMA National Enduro Series in Marquette, Michigan.
REV Motorsports GASGAS' Grant Baylor has claimed his second win on the bounce and third of the season in Michigan this weekend. As the first fingers of Fall began to work their way through the woods at Marquette, conditions were prime for the seventh stop of 10.
Despite only winning two tests on the day (two and three), his 3-2-3 finishes in the final three tests was just consistent enough to keep his older brother from stealing away the "W": "I started out a little slow," admitted Grant. "I went down maybe 10 turns into the first test; just hit a root. I wasn't expecting it and just washed my wheels out from under me and it bent the bike up a little bit, but I was able to minimize the damage (he was fifth in test one).
"After that, I just put my head down and put in a solid run. I knew if I just kept it on two wheels, I would be okay, so the rest of the day I just tried to keep it upright."
Roots, sand and troughs...
Most of the riders thought the sandy trail was a bit tricky, and Grant was no exception: "The trail itself was pretty narrow," said Grant. "It was like you were riding in a trough the whole time, basically, and your front tyre is catching the edge of that trough. You come out of a corner and there might be a root hanging out of the rut or something, and it just catches you. So, it was a little sketchy."
With the win, Grant extended his lead in the championship to 22 points ahead of Coastal Racing GASGAS' Ryder Lafferty with three rounds remaining on the schedule.
"I have almost a full race lead in the points, so I just need to keep it going and not do anything stupid these last couple rounds, and hopefully we can come out on top," said Grant.
"The day was pretty bumpy"
As he usually does, Steward came on strong at the finish, winning the final two tests to secure second overall, but his day wasn't helped by some big crashes...
"The day was pretty bumpy," admitted Steward. "We got off to a slow start in the first test. I was riding really well, but right towards the end of it, I had a really big crash and gashed my arm open pretty bad.
"Then, midway through the day, I just felt like my bike was out of balance for how rough the track was, so we made some changes. We changed our fork and our shock there in the middle of the day, and that put us in a position to start riding a little bit better in the last three tests, and just barely missed out on the win."
Podium pie for Russell
Ricky Russell continues to come on strong in the enduro series and grabbed his second podium of the season with a third.
The Coastal Racing GasGas rider went into the final test tied for second, just 15 seconds off Grant, but a couple of mistakes in that test forced him to settle for third.
"I felt good all day, just little mistakes here and there," said Russell. "I just needed to put in a good last test, hoping for a win. Unfortunately, Stew got me by seven seconds, so I ended up third. I just ended up on the ground too many times. I felt like I had the speed all day, just on the ground too much."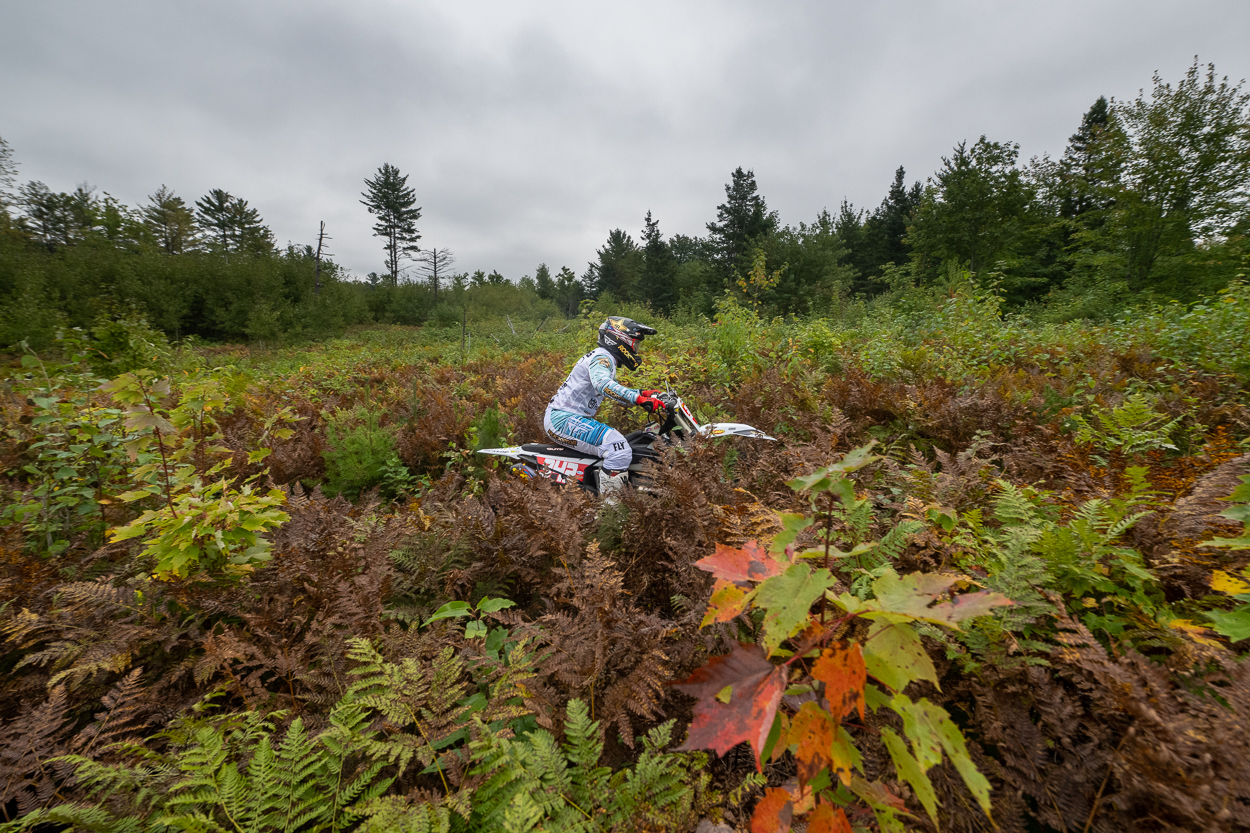 Rockstar Energy Husqvarna's Craig Delong was in the hunt early too, sitting second after the first few tests. "I started off pretty strong," said DeLong. "I made a change to the bike this week, just trying something that I've been wanting to try and I feel like it paid off.
"I was in the mix up until the fifth test, but then I struggled and just missed my marks and I got beat straight up. That's where I lost all my time. It's frustrating when you're there and you're in the mix, and then you kind of just fall off the pace a little bit."
Josh Toth rounded out the top five although he was disappointed his result. The FMF KTM rider won the opening test of the day, and backed it up with a third in test two, but caught his foot on a stump buried in the narrow trail, which caused him to slow his pace in the final few sections.
"I'm pretty disappointed with fifth place, but overall, the conditions were good," said Toth. "The trails were fun. A little sketchy at times with the brush and stuff, but I didn't ride bad. Just a little cautious on cutting the corners and straight-lining some of the stuff with all the stumps."
2022 Loose Moose results:


Shoulder injury keeps Lafferty back
Having led the series midway into the season, Coastal Racing GASGAS' Ryder Lafferty came into the race a little banged up and ended up having an off day to finish sixth.
"A couple weeks ago, I had a crash and did something to my shoulder and it's kind of been lingering," said Lafferty. "Then last weekend, I had a good crash at the GNCC and did it again and I busted my fingers up. It feels like I'm riding with one arm. I had this gash on my finger, and then Friday night I woke up and it was throbbing real bad. It got infected and it's kind of swollen up pretty big and it's tough to hold on. That was my biggest thing today."
Beta USA's Jonathon Johnson rode a steady, mistake-free race to top the NE Pro2 division with a seventh overall.
"I was able to stay off the ground pretty much all day and just had a pretty good day," said Jonathon.
Steel City Honda-rider Ben Nelko was eighth overall and second in the NE Pro 2 division, despite riding with an injured leg.
"I came into it with a torn PCL, meniscus, and a possibly fractured tibia, so I wasn't really expecting too much," said Nelko. "I struggled a little bit in tests one through three, but I picked it up in the final three tests."
Beta USA's Evan Smith scored consistently inside the top 10 to finish ninth overall and seventh NE Pro 1 rider.
Magna1 Husqvarna's Brody Johnson rounded out the top 10 overall and was third in the NE Pro2 class.
Rachel's on a roll
AmPro Yamaha's Rachel Archer won four of the five tests to win the Women's Elite class, finishing one minute, 39 seconds ahead of Enduro Engineering, Fly Racing KTM's Mackenzie Tricker.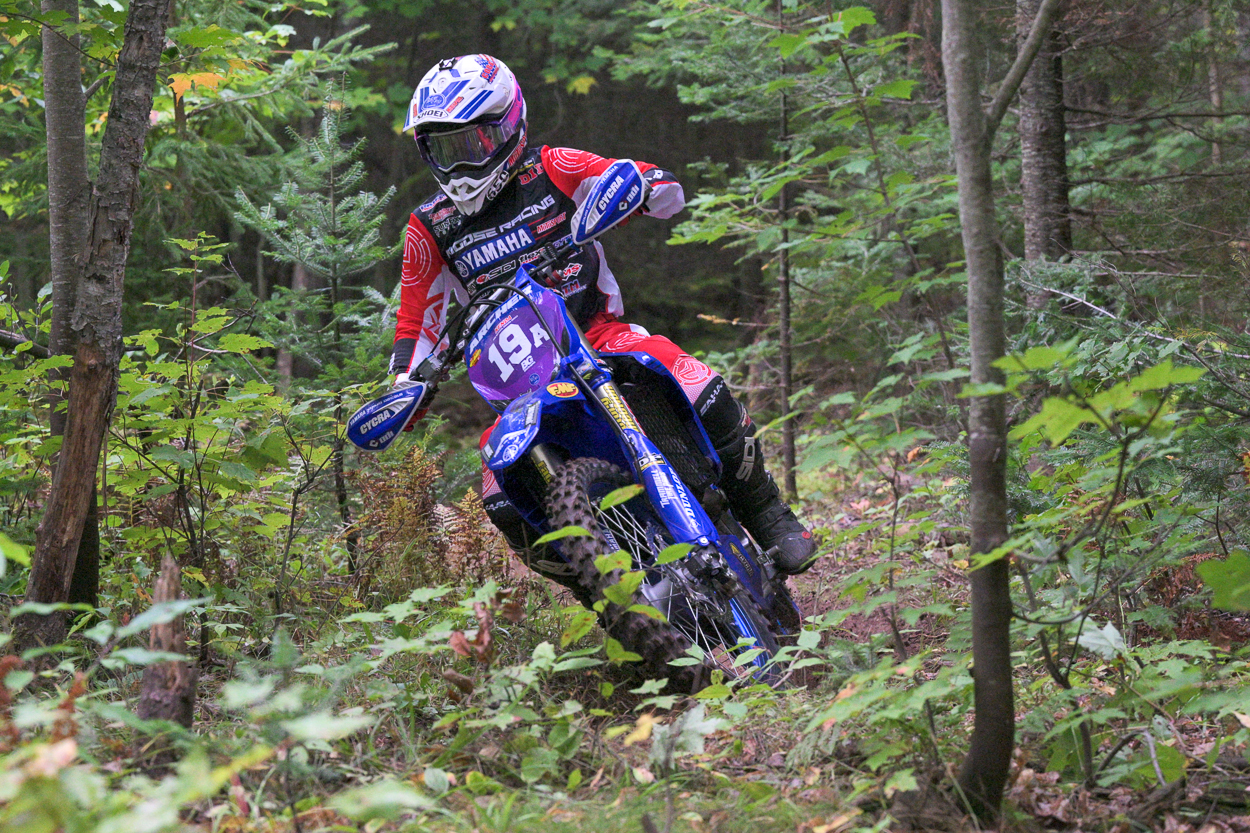 "I knew I just had to make up points today, so I rode pretty conservative at the start, but I still won the first test," said Archer. "The fifth test was my favorite. Really flowy and that rock section at the end was pretty cool. Overall, it was a good day."
Tricker leads the Women's Elite points chase with 186 points, compared to 170 to Archer. With three rounds remaining this one is going to the wire.
Brooke Cosner finished third in class, while Valerie Horensky on a KTM was fourth.
In the 250 A division, Chase Landers (Hsq) took the win ahead of KTM riders Zack Toth and Ryan Piper.
Honda-mounted Colby Davis won the Open A division, with Ben Bragenzer (Yam) and Zac DuBois (Hon) in second and third.
The Kenda AMA National Enduro Series is back on October 2 for the Muddobbers National Enduro, round eight of the series in Matthews, Indiana.
More information: www.nationalenduro.com


Words and Photo Credit: Shan Moore