2023 US Sprint: Johnny Girroir tops Zach Osborne at round one
The 2023 US Sprint Enduro Series sparked into life at the South of the Border Enduro our first chance to see a whole host of riders in fresh colours and teams – Johnny girroir makes his mark winning ahead of new enduro boy Zach Osbourne.
FMF KTM's Johnny Girroir dominated the first day of competition at the opening round of the 2023 US Sprint Enduro Series held at the South of the Border MX facility in Hamer, South Carolina.
It was a sizzling start to the season for Girroir in his first competitive outing for KTM as he topped FXR GasGas' Layne Michael by nine seconds for the win. Another freshie, both to the series and his new team, was AmPro Yamaha's Zach Osborne, who came out of motocross retirement after hanging it up at the end of the 2021 due to a back injury, to win Sunday's event by a mere .005 seconds over Girroir.
After the times from the two days were combined, Girroir claimed the overall win, beating out Osborne by 11 seconds, thanks to his strong performance on Saturday. Enduro Engineering GasGas' Josh Toth, yet another new signing from a tumultuous off-season in North American off-road, took third on each day to claim third overall.
Johnny G looking good in orange
After taking the comfortable win on the Hamer tests on Saturday, Girroir looked in control of Sunday's event until a slight hiccup in the final cross test allowed Osborne to close in.
"I can't believe how tight it was on Sunday," said Girroir. "It was just 500ths of a second separating us going into that last test. I knew Zach had a problem there on Saturday and got stuck in the mud. But overall, he was flying. He won a woods test and then he took all three cross test wins in the Pro 1 class (Angus Riordan actually had the fastest time in the first cross test from the Pro 2 division). So, I knew Zach was going to be tough today.
"I just put my head down and got that first cross test win and then clicked off the first woods test win. Then the battle was on. We were kind of yoyo-ing back and forth all day. We went into the last test (on Sunday) 500ths of a second apart and were 5000ths apart at the finish. I think I got him by 15 seconds for the weekend, but it was fun, close racing. That's what sprint racing is all about."
Girroir might have won Sunday's event, as well, but a slipup in the third cross test cost him valuable time.
"I just got sideways a couple times and was over-riding the bike," said Girroir. "Just trying to get on the gas too soon. I guess it's just a personal error or mistake and I need to learn from it and do better next time."
Osbourne's strong debut
Zach Osborne arrived with a bang in off-road this weekend. Starting out with fourth place (after getting stuck in the mud) on saturday, Osbourne won Sunday's event with little experience in Sprint Enduro (although he did compete in the ISDE previously – Enduro21 note!).
"I'm learning the format, learning how to do everything," said Osborne. "The start procedure, the time in-between, just the whole gamut of what sprint enduro is here in the USA. To have the weekend that I had, I feel like I was pretty successful. I won five of the six cross tests, was second in one of the enduro tests, plus won another one, which wasn't even on my radar for this weekend against guys like Jonny and Layne and Josh. So, that was huge for me."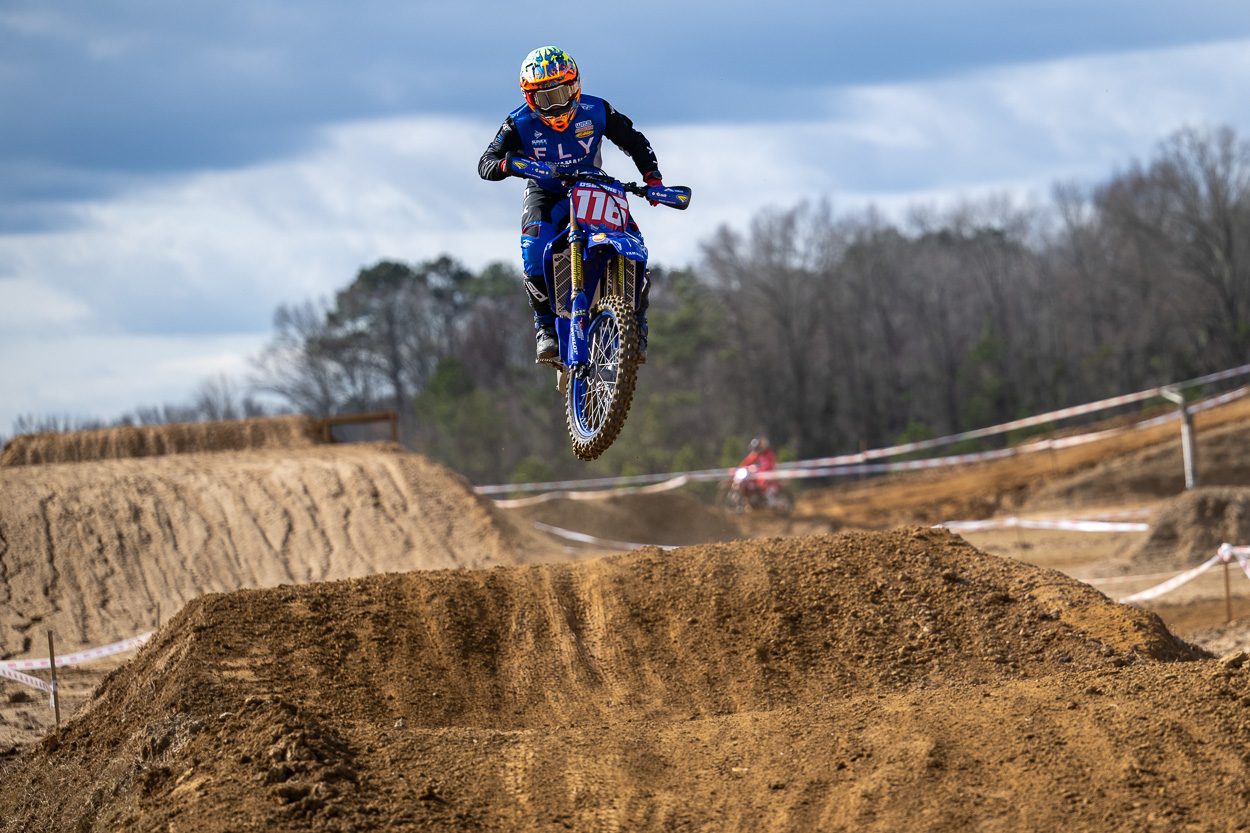 Osborne hadn't raced professionally since the Thunder Valley Motocross in Colorado in 2021.
Defending champ Toth bags third
Josh Toth is the defending US Sprint Enduro Champion and came into the opening event of 2023 with strong hopes, despite being on a new team and a new bike.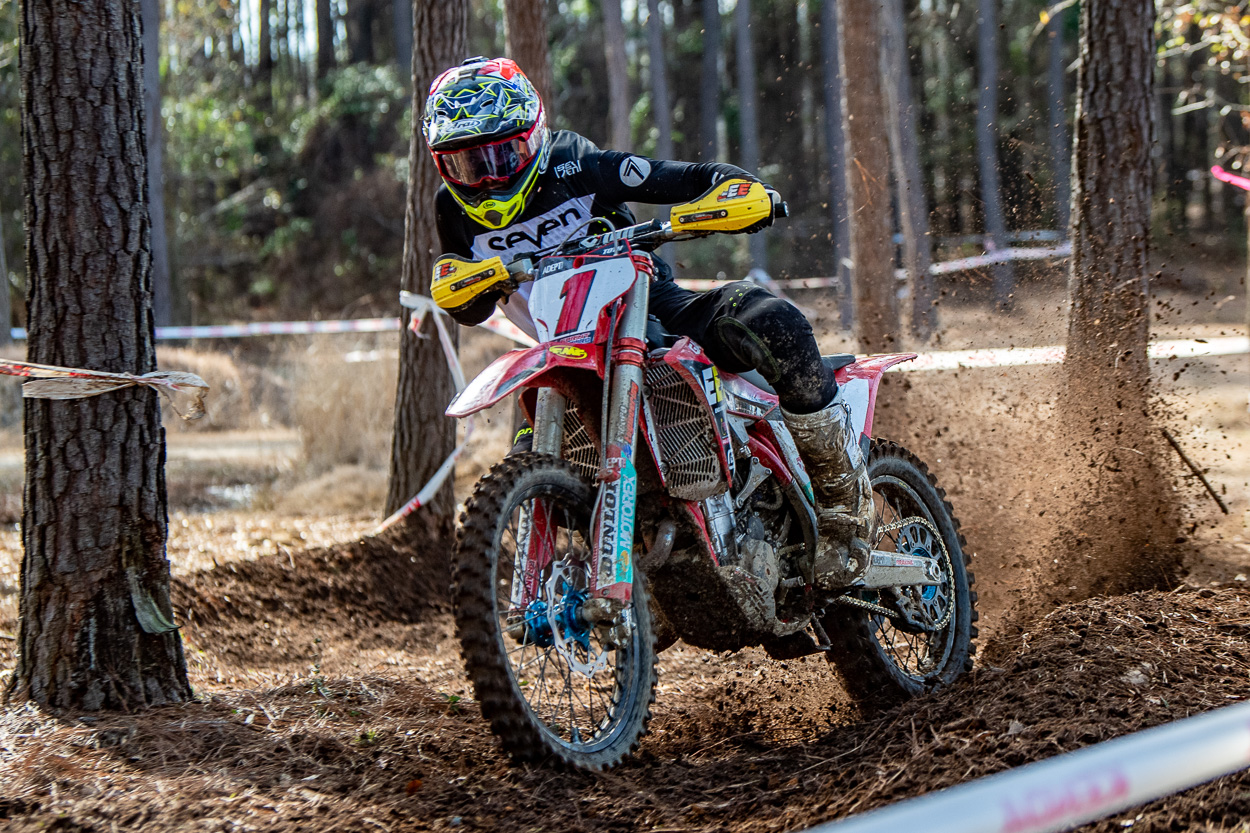 "It was a pretty stacked pro class this week," said Toth. "The course had very moto-like tests, although the enduro test got gnarly, rooty, rough and it was pretty one-lined and fast so there was nothing to separate all of us.
"I had some decent crashes just trying to make up time in the last two enduro tests on day one, but usually enduro tests are my strong point. Those boys were laying it down, even Zacho. So, props to him. I just tried to keep him honest. It was cool trying to defend off Zacho on the full-blown moto track for just a wide-open sprint. Overall, it was a pretty solid weekend."
P4 for Michael on the Coastal GasGas
Layne Michael, who was the 2021 US Sprint Enduro Champion, was fourth overall after making some impressive rides on his debut in red after so many years in blue. Michael looked strong on Saturday and was in contention most of the weekend, but one of the early tests on Sunday did him in.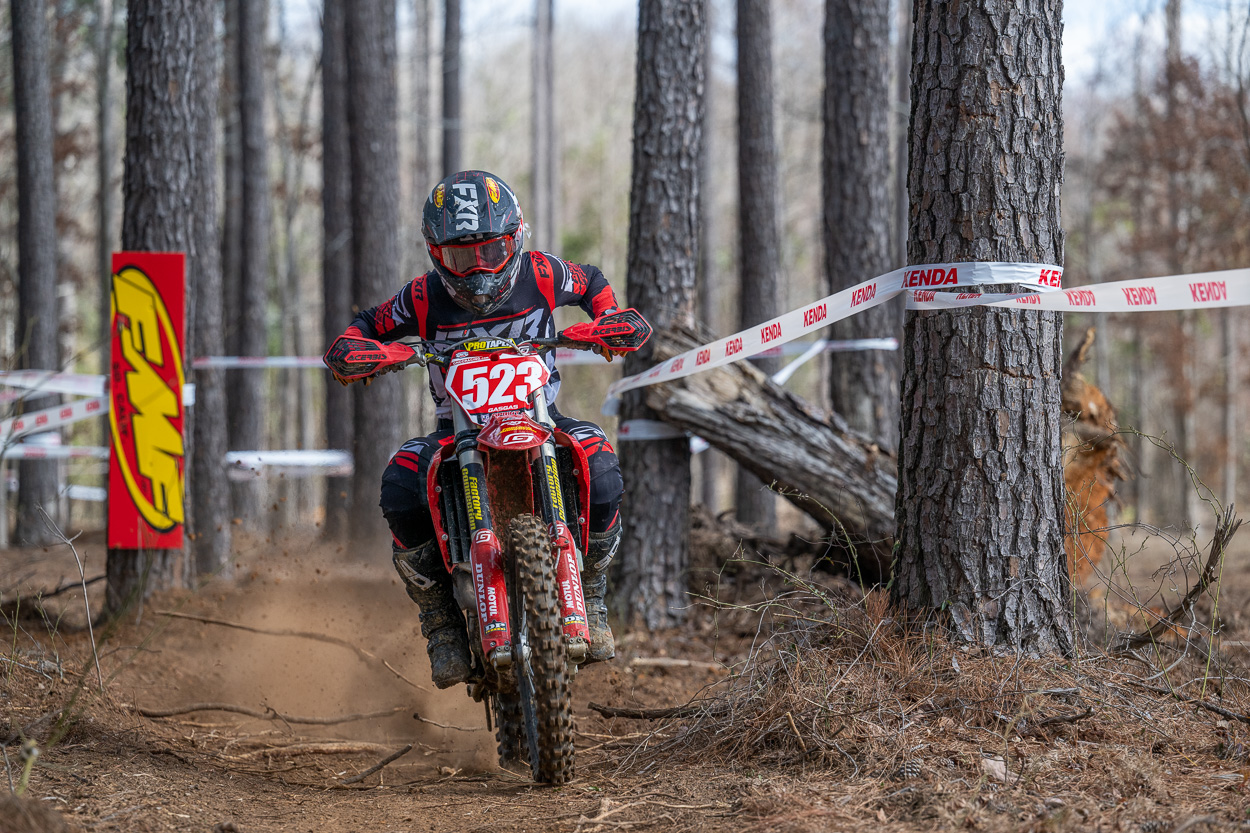 "That first enduro test really stings right now," said Michael after the event. "A little mistake and I kind of went into the trees and got hung up. It just took me too long to get out. I lost probably 15, 20 seconds. So, I knew it was kind over there. I kind of had a faint shot there heading into the last test to snag a podium and I was close but came up probably a second and a half, two seconds shy. So, it sucks."
Familiar Pheonix Honda on top in Pro 2
Phoenix Honda Racing's Cody Barnes was the first of the Pro guys up on the podiums in the same colours as last season after winning the Pro 2 class with a fifth overall finish, despite getting off to a slow start.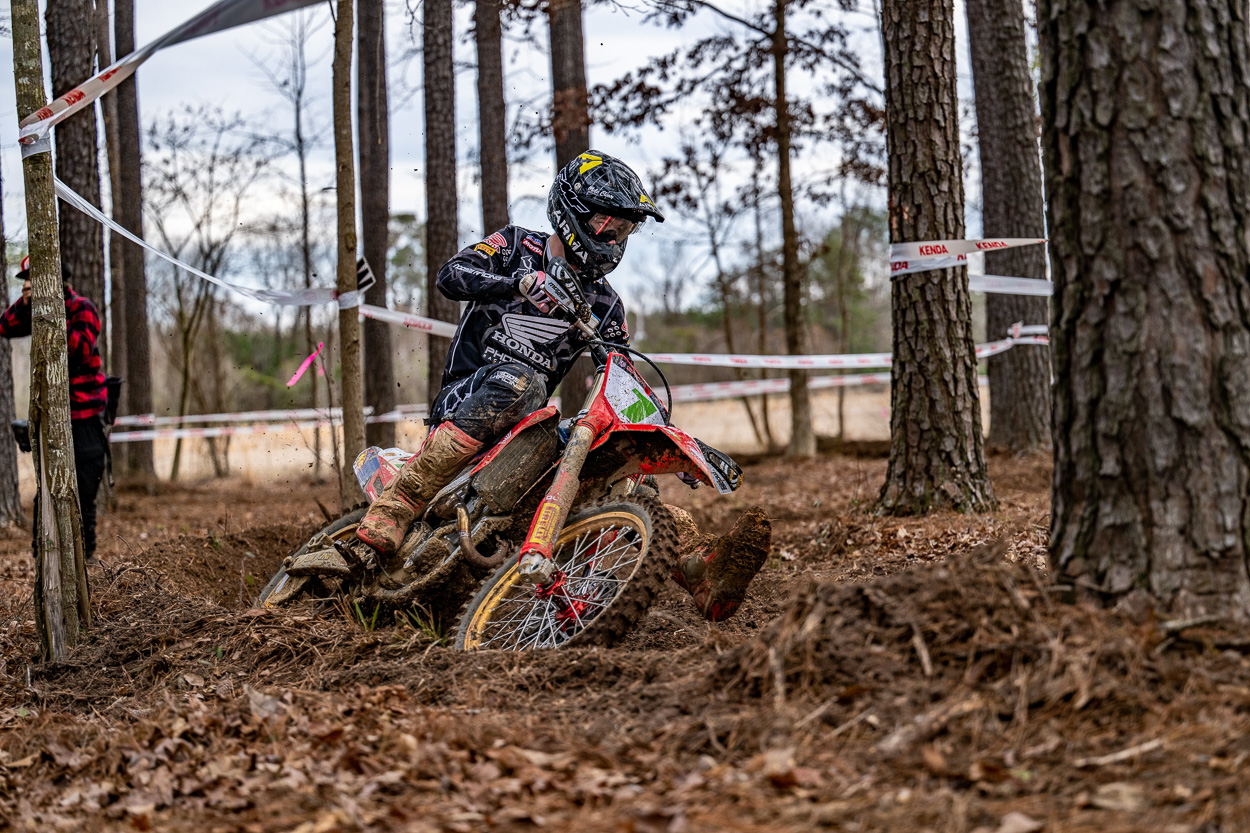 "Day one started off pretty rough," said Barnes. "In the cross test, I came into it a little bit too cold and I just made a couple mistakes. The same thing happened in the enduro test. I managed to turn things around by the end of the day, but I was digging myself out of a hole, which is never good. Finally, I had some good test scores and was right there with the Pro one guys for the second half of Saturday's event.
"Then I started slow again today (Sunday) and I lost some time to Angus (Riordan). He was riding really good. I made it up in the enduro test, but the guys were really on it in the Pro one class, and I was hoping to be right up there with them."
Sixth overall and second in the Pro 2 class was RPM KTM's Angus Riordan, who surprised everyone by turning in the fastest time of all classes on the cross test to kick off the weekend.
"Me and Cody (Barnes) were on a roll the first couple of tests on Saturday and then the big boys didn't like that and they showed us how it's done," said Riordan.
Duvall kicks off his season with GasGas
Coastal Racing GasGas' Thad DuVall, who is still feeling the effects of a hip injury, claimed seventh overall.
"I was just pretty far off on some of the tests," admitted DuVall. "I'm just kind of getting that sprint mentality back. I had some really good tests, I just need to get better on Saturdays and just kind of learn that sprint speed a little bit. I still favor my hip a little bit in the ruts, so I haven't really ridden ruts since the big injury, especially ruts like on the moto track today. Once I get comfortable on the ruts with my leg I can go from there."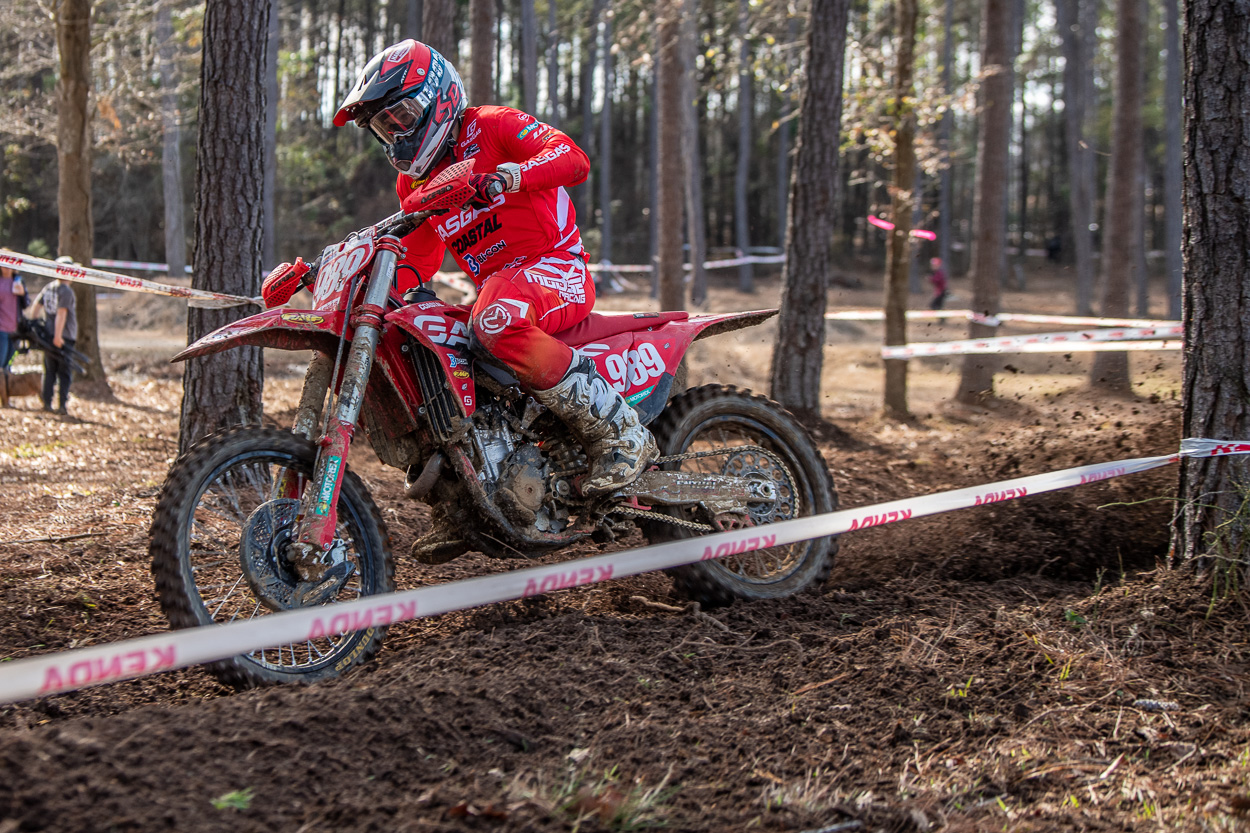 P3 in Pro 2 for Ruy
Phoenix Honda Racing's Ruy Barbosa was eighth and third place in the Pro 2 division.
"Today was difficult for me," admitted Barbosa. "The race was in perfect conditions. The woods and the cross test were really nice. But I was really struggling. I was really slow in the whoops. I need to get better. It's my first race in the season and I had a small problem with my wrist, so I didn't ride too much these last three months. But I will get better."
Bubz Tasha (KTM) finished ninth overall and fourth in Pro 2, while Dominik Morse (Hsq) won the Pro-Am division in 10th overall.
Archer and Steed trade Women's day wins
The Women's Elite class, Trail Jesters Racing KTM's Kori Steede split day wins with
AmPro Yamaha's Rachel Archer, with Steede taking the overall win by 11 seconds over Archer at the end of the two-day event after a 1-2 performance.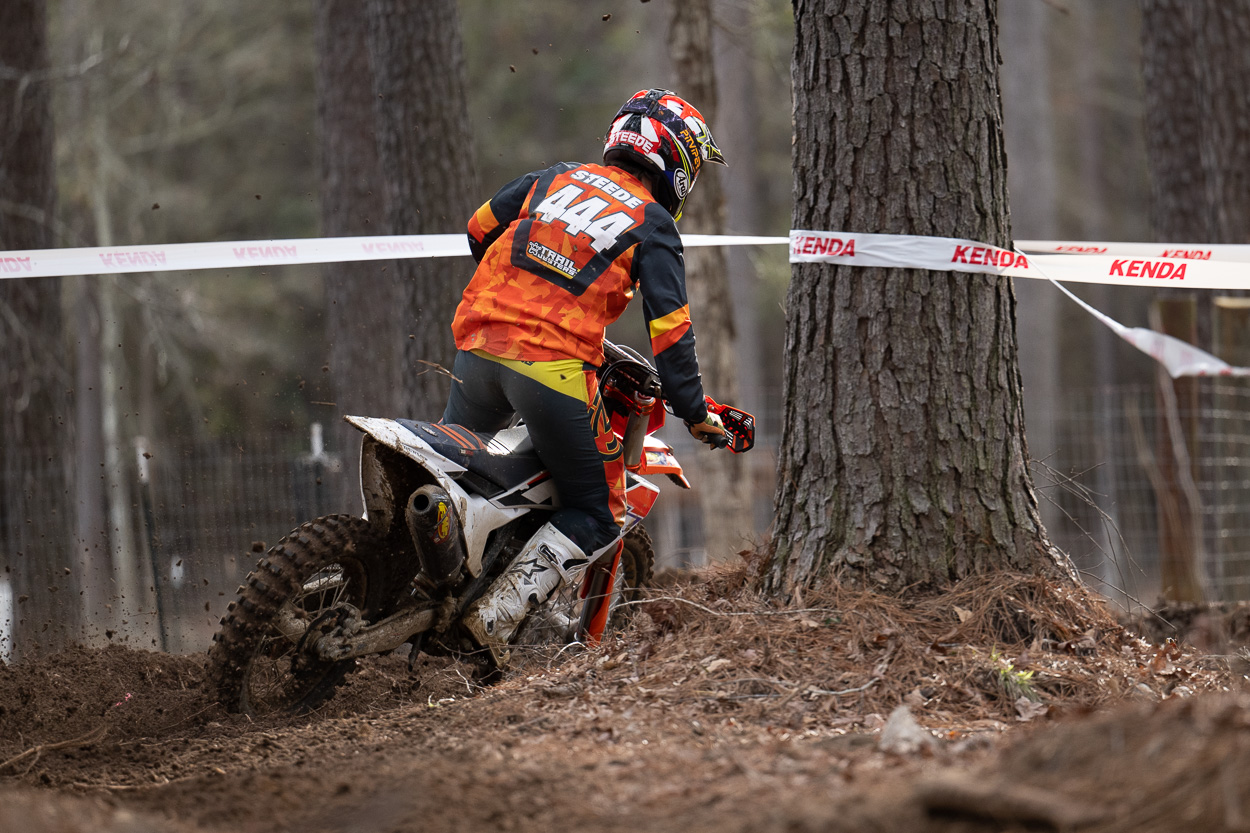 "Saturday, I had a really solid day," said Steede. "I ended up winning the day by 25 seconds. But then the track started to get a little rough on Sunday. I made a few adjustments to my suspension during the day and I ended up winning the last cross test. Then in the enduro test, I was feeling really good but I made a couple mistakes and Rachel ended up grabbing it. But I'm pretty pumped to start the season like this."
Engineering Fly Racing KTM's Mackenzie Tricker finished third, with Rachel Gutish and FLY Racing KTM's Shelby Turner rounding out the top five.
US Sprint rnd1, day 1 results (top 35):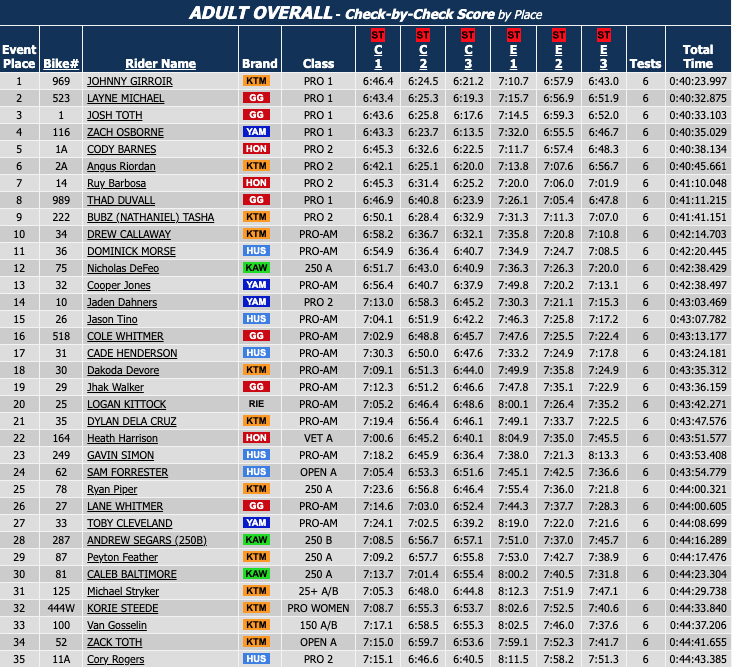 US Sprint rnd1, day 2 results (top 35):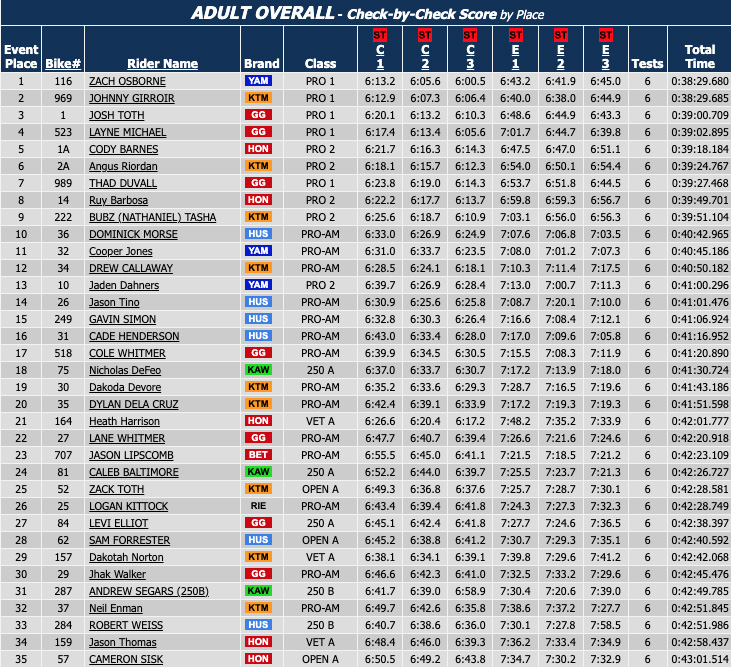 The US Sprint Enduro Series resumes action on February 11-12 in Hephzibah, Georgia, for round two of the series. For more information on the series go to
More information: www.ussprintenduro.com
Words and Photo Credit: Shan Moore