First look: 2021 TM Racing Enduro models
TM Racing have announced their full 2021 Enduro and Off-Road model line-up of two and four-strokes with a focus on engine changes across the range and a fresh, new look.
The "handcrafted" nature behind TM Racing remains something the Pesaro-based manufacturer trades on. In these times of increasing homogenised "platforms" upon which motor manufacturers develop different models, TM's more hands-on approach to manufacturing, the philosophy of ''we build it how we want it to be built, not working to a 'budget'", has a realism to it many enjoy.
It's a philosophy that extends from their origins and is still very prominent in their kart racing department through enduro and off-road, motocross and as of last year a Moto3 road racing machines and even an official rally bike.
For 2021 the TM Racing range sees changes throughout the two and four-stroke line-up with the biggest news being the official "abandonment" of the carburetted engines to focus on the fuel-injected models. It's inevitable for two-stroke manufacturers wanting to comply with emissions laws it seems, however, the carbed models are still available for 2021 model range and you will find them in dealers.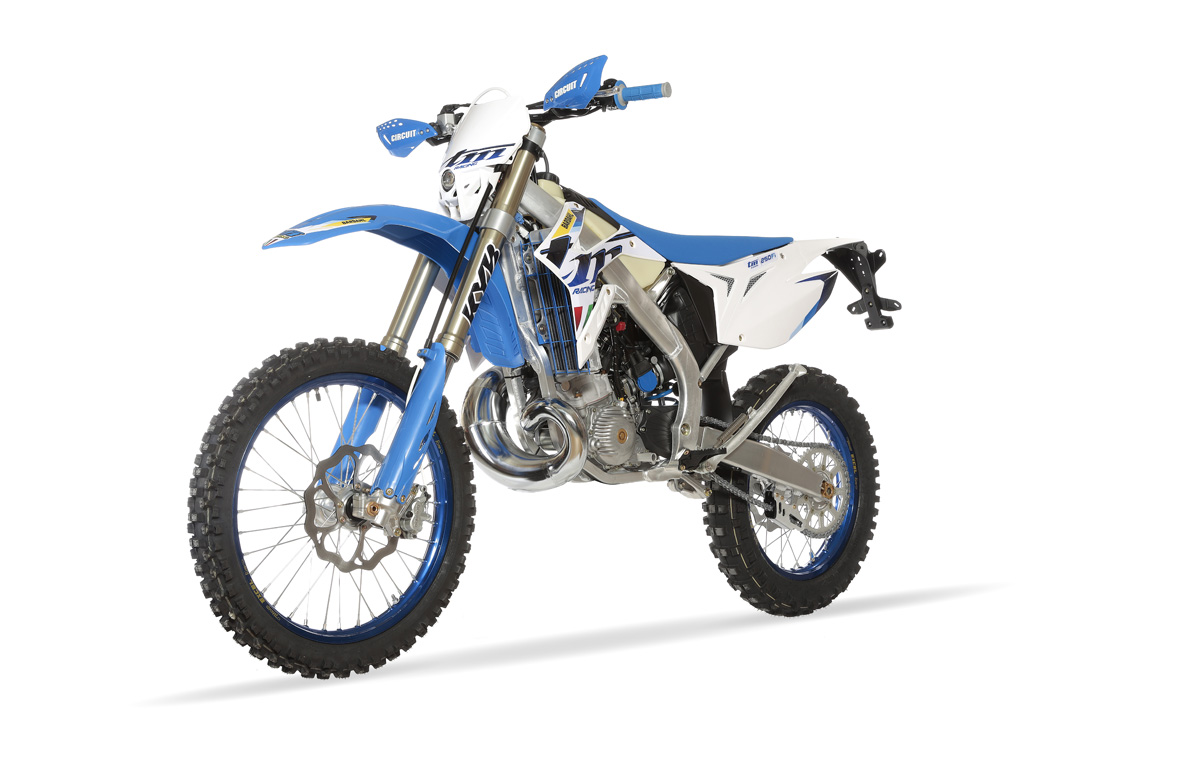 The updates for 2021 focuses on the engines and gearboxes on most models with some component changes, electrical system updates and chassis set-up revisions, plus new graphics of course.
2021 TM Racing enduro model change highlights:
125cc/144cc EN ES two-strokes (Carb and fuel-injected models): New cylinder port timing/new exhaust system/new ECU mapping/ new lighter frame/new decals/new handlebars/new white front light mask.
250cc/300cc EN ES two-strokes (Carb and fuel-injected models): New crankshaft tolerances – bearings/new ECU mapping/new six-speed gearbox option/new lighter frame/new decals/new handlebars/new white front light mask.
250Fi/300Fi EN ES 'Twin' four-stroke: New ECU mapping/new lighter frame/new decals/new handlebars/new white front light mask.
450Fi/530Fi EN ES four-stroke: New fuel injector/new ecu mapping/new lighter frame/new decals/new handlebars/new white front light mask.
TM Racing's 2021 changes in detail: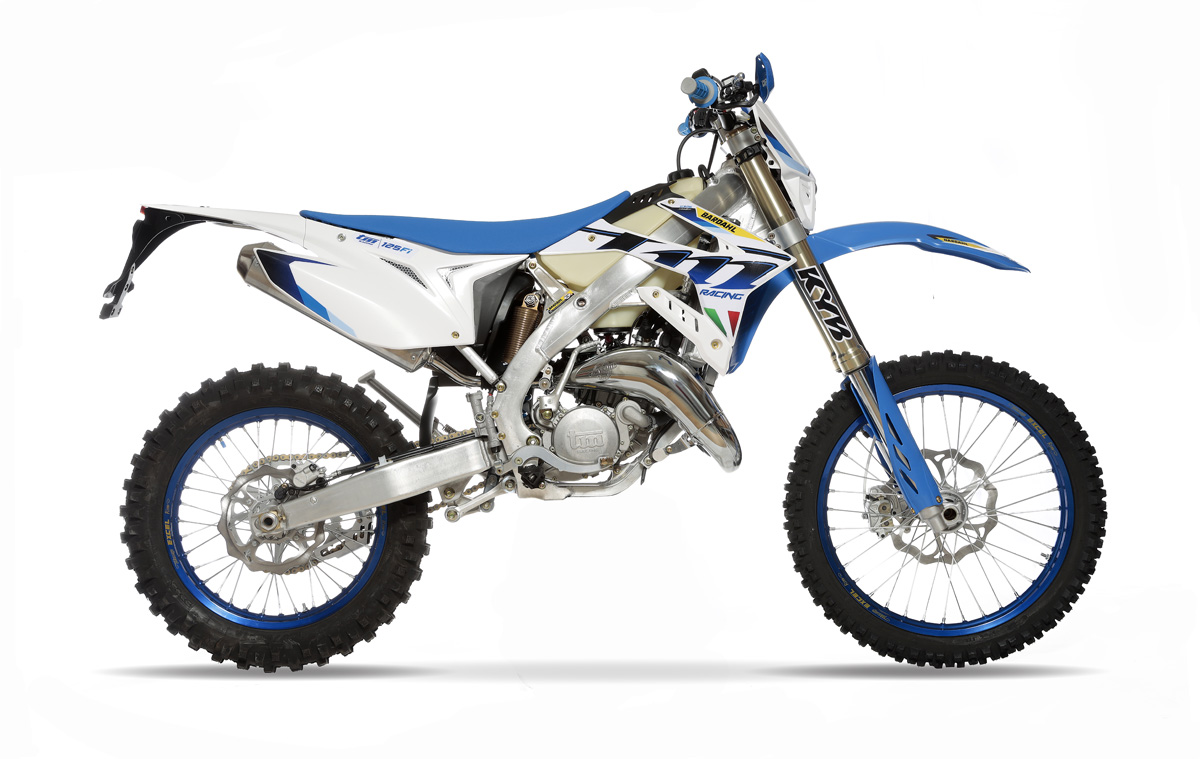 125cc and 144cc two-strokes
The two-stroke models from TM Racing remain available in carburetted or fuel injected versions (it can seem slightly complicated as the model names are different in different countries but EN 2S is the carbed version, EN TSi ES is the injected version). Both the 125cc and 144cc water-cooled engines receive "small, but significant engine set-up" changes, notably a new cylinder port timing arrangement and a new exhaust system.
The baby EN models also feature a new crankshaft and a whole new electrical system dedicated to the TSi injection system and new ECU programming for the 2021 model year.
TM say 2021 changes work alongside updated electronic programming to maximise the performance and efficiency of the engine. The 'new for 2020' TMEES electronic exhaust valve with a direct drive system puts them closer in performance with their bigger capacity models with gains in power and torque at the lower rev-range whilst strengthening the middle and top-end performance of the engine.
The TMEES system electronics work with the engine electronics to ensure perfect performance for each off-road discipline, TM says.
250cc and 300cc two-strokes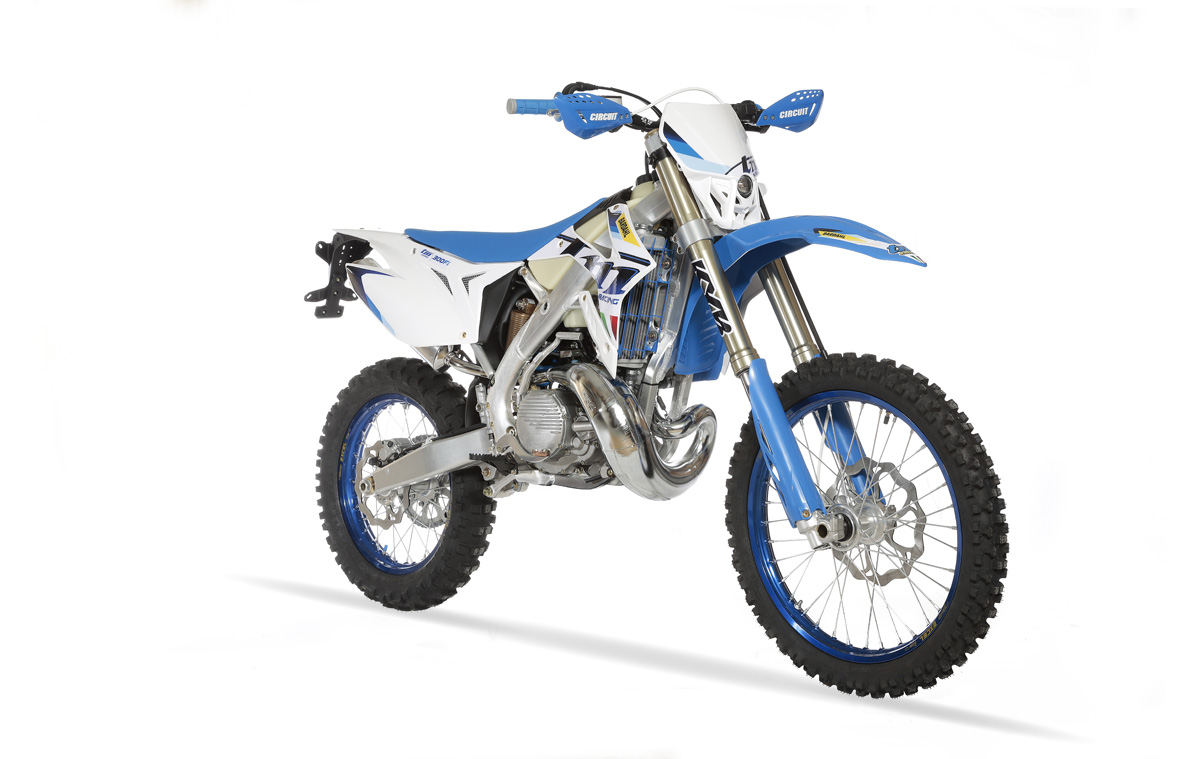 In 2019 the 250 and 300 2T engines had a total re-design which increased performance and ease of use for the rider. The fuel-injected model arrived a year later TM increased the model range and options.
For 2021 TM has updated with an all-new six-speed gearbox for all Enduro based models, new crankshaft mounting tolerances and new roller bearings on all models. There are also updates to the ignition ECU's on the fuel-injected bikes.
The revised gearbox assembly features friction reduction coated and treated parts for smoother and more precise shifting for the Enduro models which have six individual ratios.
Counter balanced engines
The latest engines also feature a balancer shaft to reduce engine vibration, giving a smoother performance, better 'feel' and a reduction in rider fatigue. The gear position sensitive ignition works alongside the TMEES exhaust valve control system, which also features a new control system, that will see the servo mounted to a new cylinder and working directly to a new pulley system, TM says.
Revised electronic control programming, plus the handlebar-mounted ignition map switch, allows the power delivery for each of the 250cc and 300cc engines to be tailored by the rider on track depending on gear selection, valve position, rpm (and communication to the fuel injection system where applicable), ensuring the best power delivery and traction at all times. It's a system that TM says is proving to be great for the hole-shot and slippery rock sections because it allows the rider to control and tailor power and torque in all conditions.
For 2021 the EN models also retain the larger capacity radiators and an improved cooling circuit alongside a revised oil distribution system for the lubrication of the engine.
250Fi 'Twin'/300Fi 'Twin'/450Fi/450Fi 'Twin'/530Fi four-strokes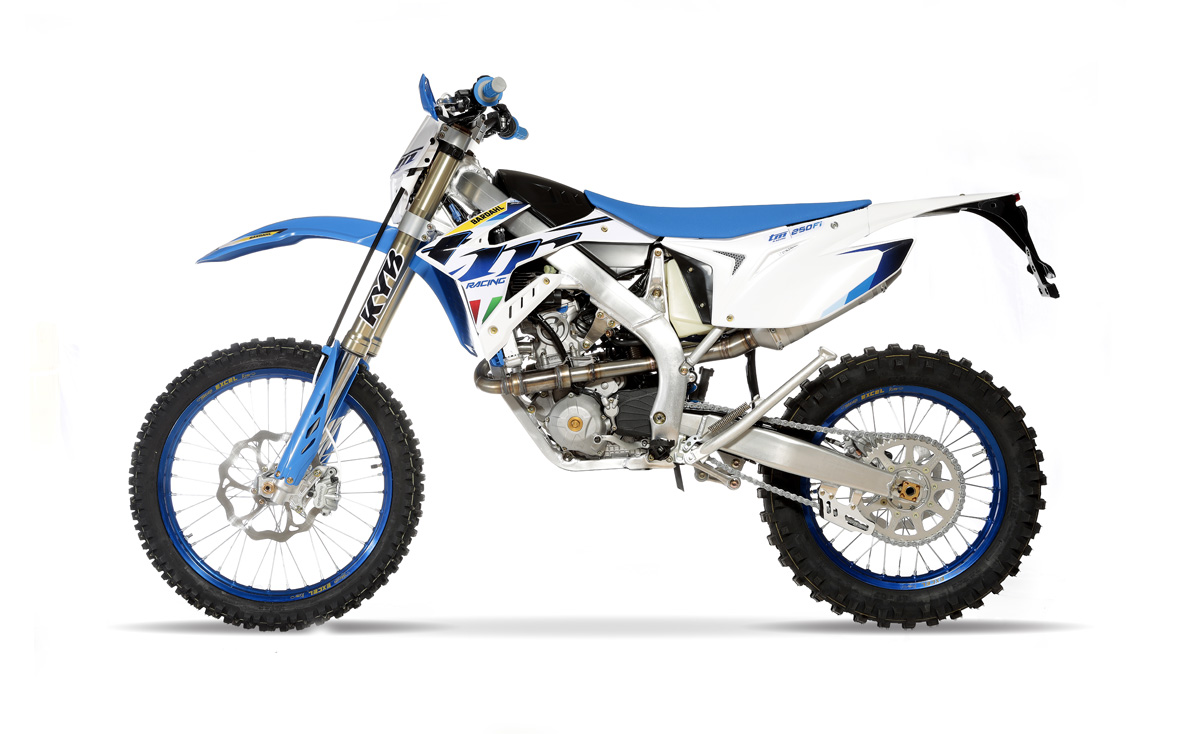 TM Racing's four-stroke motorcycle range has seen great success over the past seasons, with multiple Supermoto titles, a 450Fi Enduro model developed into a TM Racing Rallye bike, the 450 DKR / Rallye. The 250Fi and 300Fi variants are no strangers to the World Enduro Championship notably under the wings of 2019 World Champions Loic Larrieu and Andrea Verona.
The 2021 four-stroke range retains the 'reverse' chassis configuration with fuel tank under the seat and the air intake above the engine. This layout saw big changes to the handling characteristics of all the four-stroke models and has been gradually improved year on year by TM to focus on centralised mass, better outright balance as well as revisions to the geometry and suspension which have allowed TM to create bikes with stability and agility.
All 250Fi and 300Fi 2021 models feature the 'twin port' cylinder head configuration as the 'standard' engine configuration of the smaller capacity four-stroke line-up. The 250Fi and 300Fi ES-4S engines have a new ECU programmes, designed to work alongside the revised intake manifold, to improve responsiveness and engine performance.
All TM 4T Enduro model engines also have internal differences to the camshaft, piston, crankshaft, con-rod and electronic settings to tailor the performance to the Enduro market.
The 450Fi engine sees minor updates to some ancillary components and settings for the MX and Road variants but not for the EN model.
All models are available now and have optional upgrades including fan kits, 12-litre fuel tanks, Ohlins TTX shock absorbers, CNC triple clamps and factory racing Reikon handlebars – check with your nearest dealer for more details.
Full specifications and more information including pricing in your country: TMRacing.it/enduro or TMRacing-usa.com