First look: 2023 Yamaha off-road range
Yamaha announce their 2023 off-road model range with the YZ450F getting all the attention including less weight, higher RPM, a clutch diaphragm spring (meaning a lighter lever) and redesigned airbox to help keep dirt and water out – Enduro21 takes a look, with an eye on what we might find on the 2024 WR450F…
The YZ450F is Yamaha big hitter and the 2023 model is the major change to the entire range. The engine has "undergone a total redesign", making it "the most significant change to the powerplant since the original reversed-head layout was introduced in 2010." Add to that chassis, bopdywork and what sound like meaningful riding position changes and the new, blue flagship off-road model is worth taking a closer look at.
The aim they say is to deliver more linear characteristics for better pulling power with improved rideability, making the 2023 model easier to ride. These are the changes we'd expect to see on the WR450F model in the near future, ideally for 2024. With that in mind we've taken a look at the details…
2023 YZ450F engine highlights:
The reversed-head engine has a new piston, lighter cylinder, combustion chamber and redesigned crank assembly to implement that improved power delivery.
A 500rpm rev limit increase means the crank assembly and con road are redesigned, and a lighter plain bearing replaces the previous needle roller design.
A new single balancer weight also has a new, hollow balancer shaft which is lighter and reduces vibration.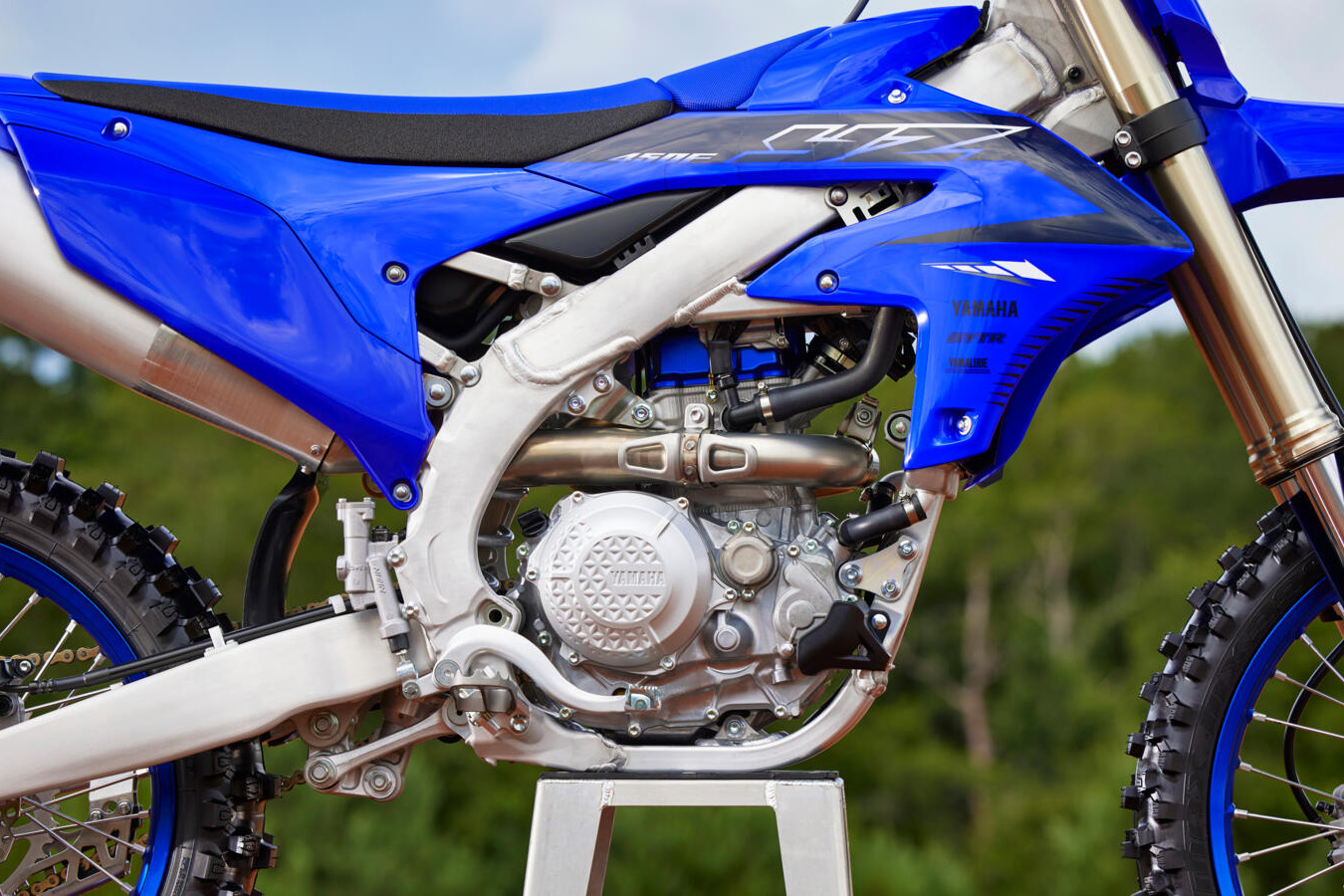 The front facing intake design is improved by a reshaped intake port with a straighter passage to the cylinder head and larger, 39mm diameter, titanium intake valves that increase air intake volume by 9% at maximum valve lift. The exhaust port shape is also revised to give a smoother connection to the exhaust.
The "completely new air intake path" see fresh air channelled through the space between the fuel tank, frame, seat and sidepanels. Yamaha say this re-routed airflow helps to (further) prevent water, dust and mud from entering the airbox, and makes the bike fractionally lighter and slimmer bodywork.
That redesign also "creates a vortex so that dust is separated from the incoming air by centrifugal forces before it enters the new round three-dimensional filter."
Newly designed transmission and lighter clutch
To match the 5% increase in overall power, Yamaha have redesigned the transmission with a greater distance between the drive shafts and the diameter of each gear increased to reduce weight and enhance the strength of the five-speed gearbox.
The previous model's two-piece steel/aluminium clutch is replaced by a durable and lightweight one-piece steel design with disc springs instead of conventional coil springs. This new clutch is significantly lighter and slimmer, weighing 0.75kg less – and there's a more direct feel and lighter pull at the lever. It's no hydraulic clutch but if it's lighter, that's a bonus.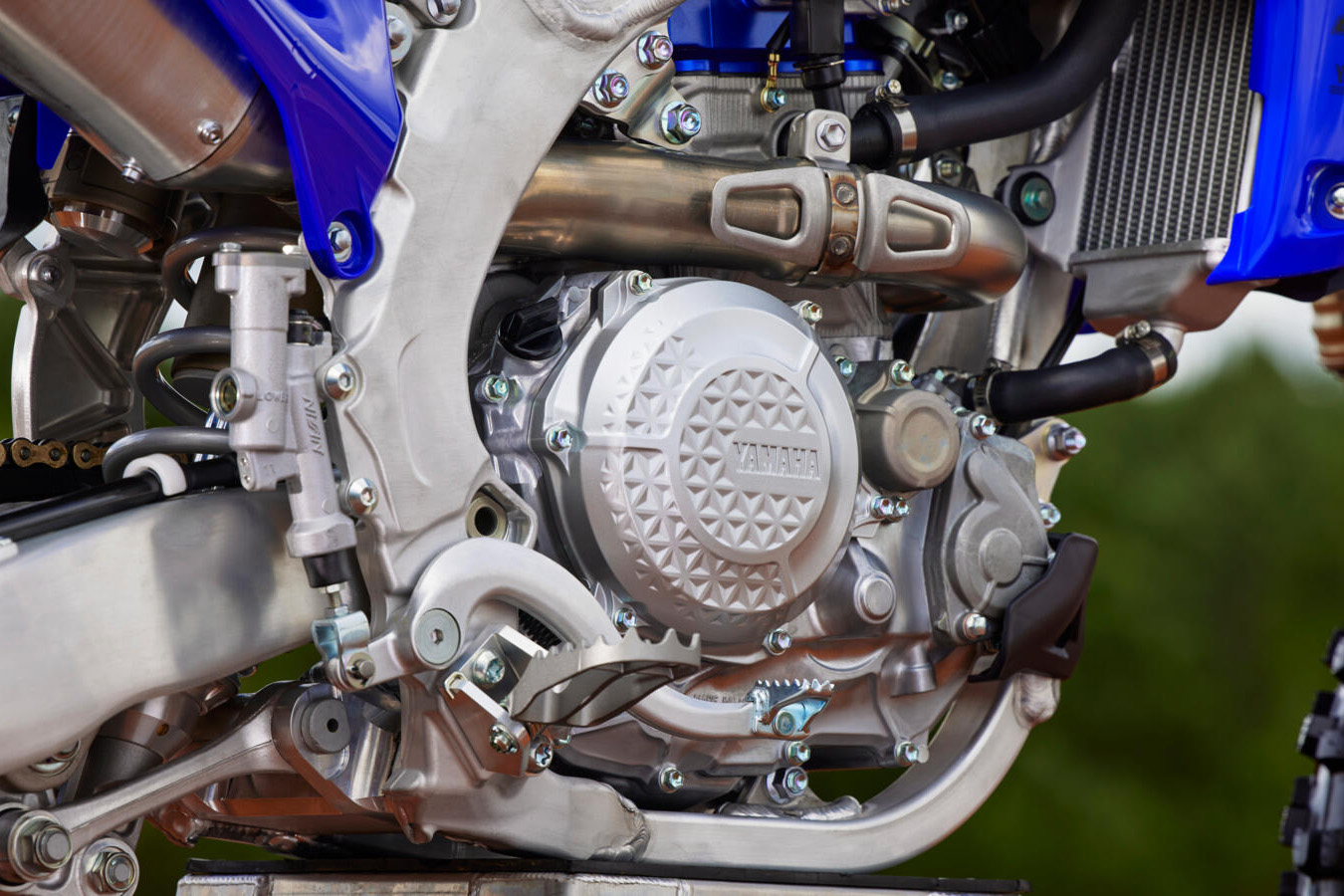 Yamaha also say the more powerful engine's wider rpm range means an updated cooling system as well as a new dry sump lubrication system – and there's also a new timing chain and tensioner, and a newly designed con rod.
Revised rider triangle should help for enduro
Yamaha say their engineers focused on a lighter feeling, more agile and stable aluminium bilateral beam frame for 2023.
Focusing on "the way the components interact with each other", they claim a significant change for 2023 is the relocation of the joint between the tank rails and head pipe – now 15mm lower – and the joint between the frame tubing that connects the tank rails to the downtube which has also been lowered by 15mm.
They've made the downtube, cross tube and swingarm pivot area are all more rigid now with 4mm thick steel front engine mount with three through bolts (previously it was 8mm thick aluminium engine mount with one bolt).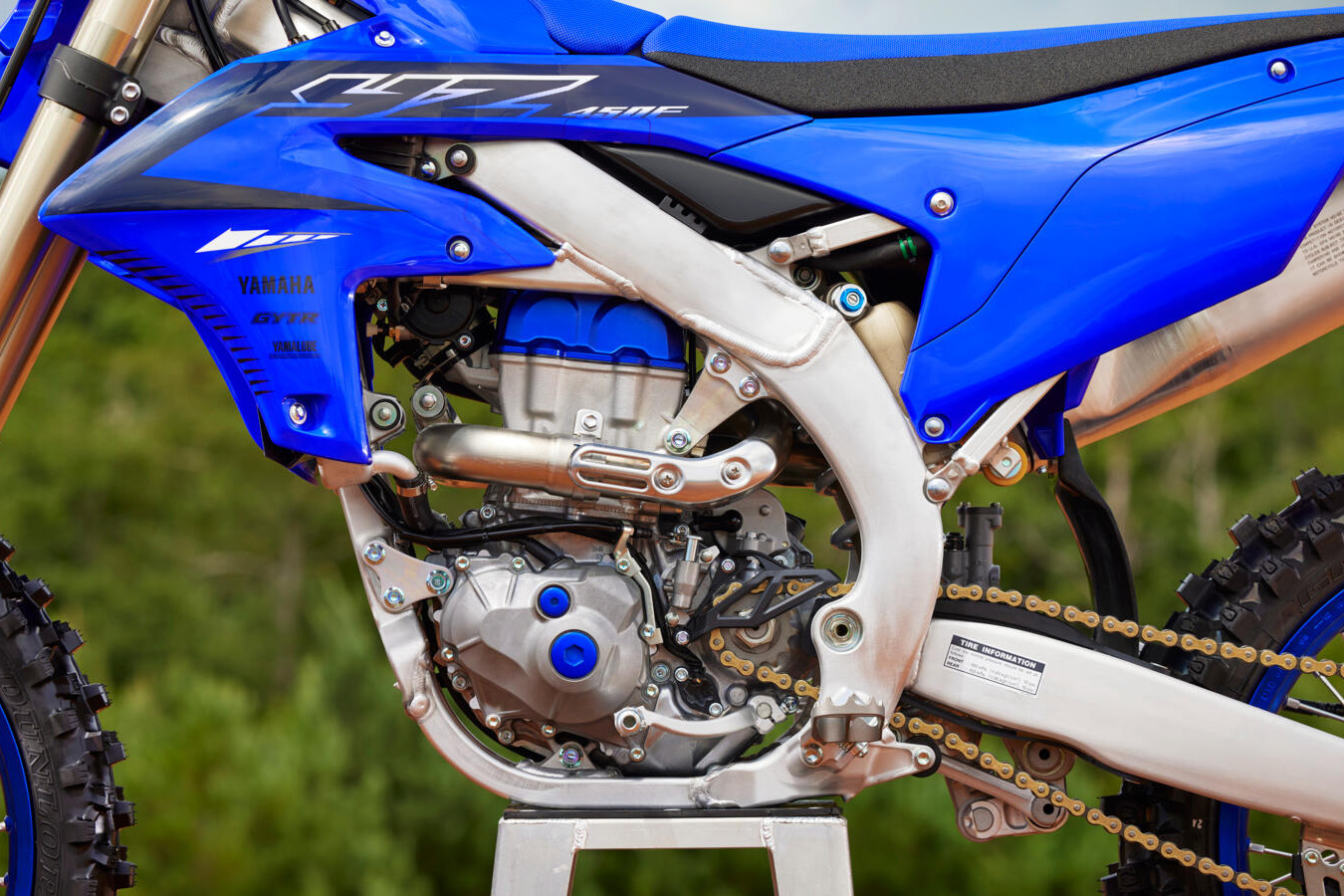 The chassis and bodywork changes mean all three elements of the rider triangle – the seat, handlebars and footrests – have changed the riding position. The seat height is increased by 5mm but features a flatter surface plus it has a more rounded profile, making body movement easier and more comfortable Yamaha claims.
Footrests are now positioned 5mm lower too, giving a total increase of 10mm in legroom to accommodate larger riders, and the four-position adjustable handlebars are moved to give a more natural riding position – while the rubber handlebar mounts aid riding comfort. They have also improved the feel of the rear brake with a less rigid braided hose.
If it is true to say the WR models are heavily based on the YZ then the above changes making a more comfortable riding position are all good from an enduro perspective.
Updated KYB front and rear suspension valving
New suspension valving improves bump absorption Yamaha say too, helping with traction. Set-up is easier as well with the KYB forks now equipped with hand-adjustable compression damping adjuster. Updated information and recommendations on suspension settings are available via the Power Tuner app on your smartphone too.
2.3kg less weight
A new fuel pump, airbox and chain guide make "significant contributions to the lower weight" Yamaha says. Small parts like the throttle cable, handlebar switches and water pump impeller have been redesigned to bring weight down to 109kg wet – a reduction of 2.3kg.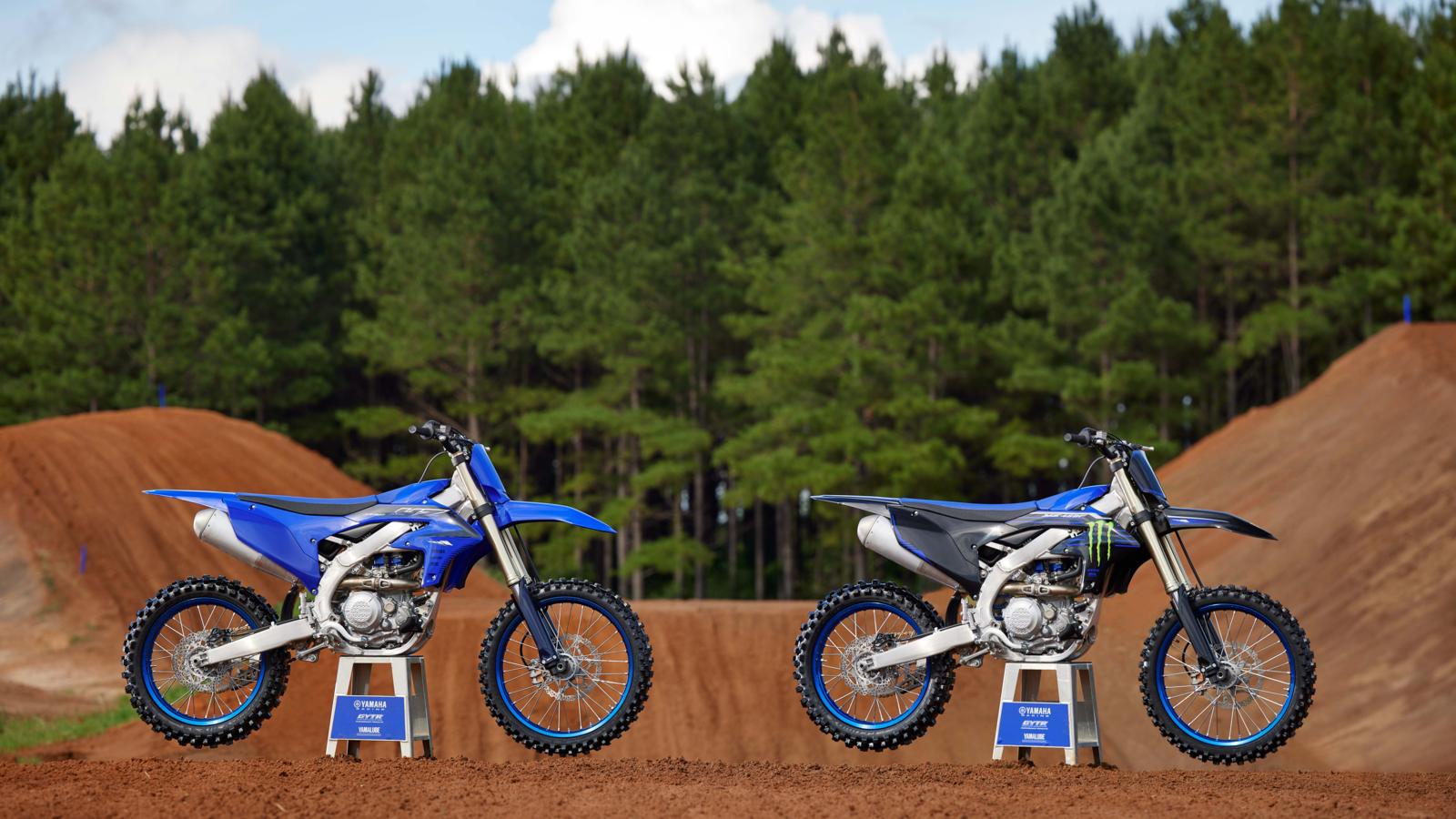 New generation bodywork
The completely new 'Horizontal Movement' bodywork gives a new look to the '23 YZ450F. "Every single exterior panel is redesigned" they say to make it slimmer and more compact with more of a seamless finish to increase body shifting while riding.
That new fresh air supply route to the intake mentioned earlier eliminates the front air ducts, which means more compact rad shrouds with a reduced width of 50mm, as well as a narrower new fuel tank – giving a much slimmer centre section to the bike.
With a new shorter rear fender and new seat, air filter cover and fuel tank, the YZ450F has a flatter horizontal profile they say with a much shorter front-to-rear body length. New sidepanels and fork guards complete the new look plus there's a new clutch cover design.
Updated electronics
Changes to the complete and ever-increasing electronic package on this dirt bike includes updates to the usability of the Power Tuner app, new launch control settings and new adjustable Traction Control System.
Their TCS system offers two levels of assistance as well as an off function controlled via the Power Tuner app, letting you select preferred degree of intervention to match track conditions, changing weather and skill level.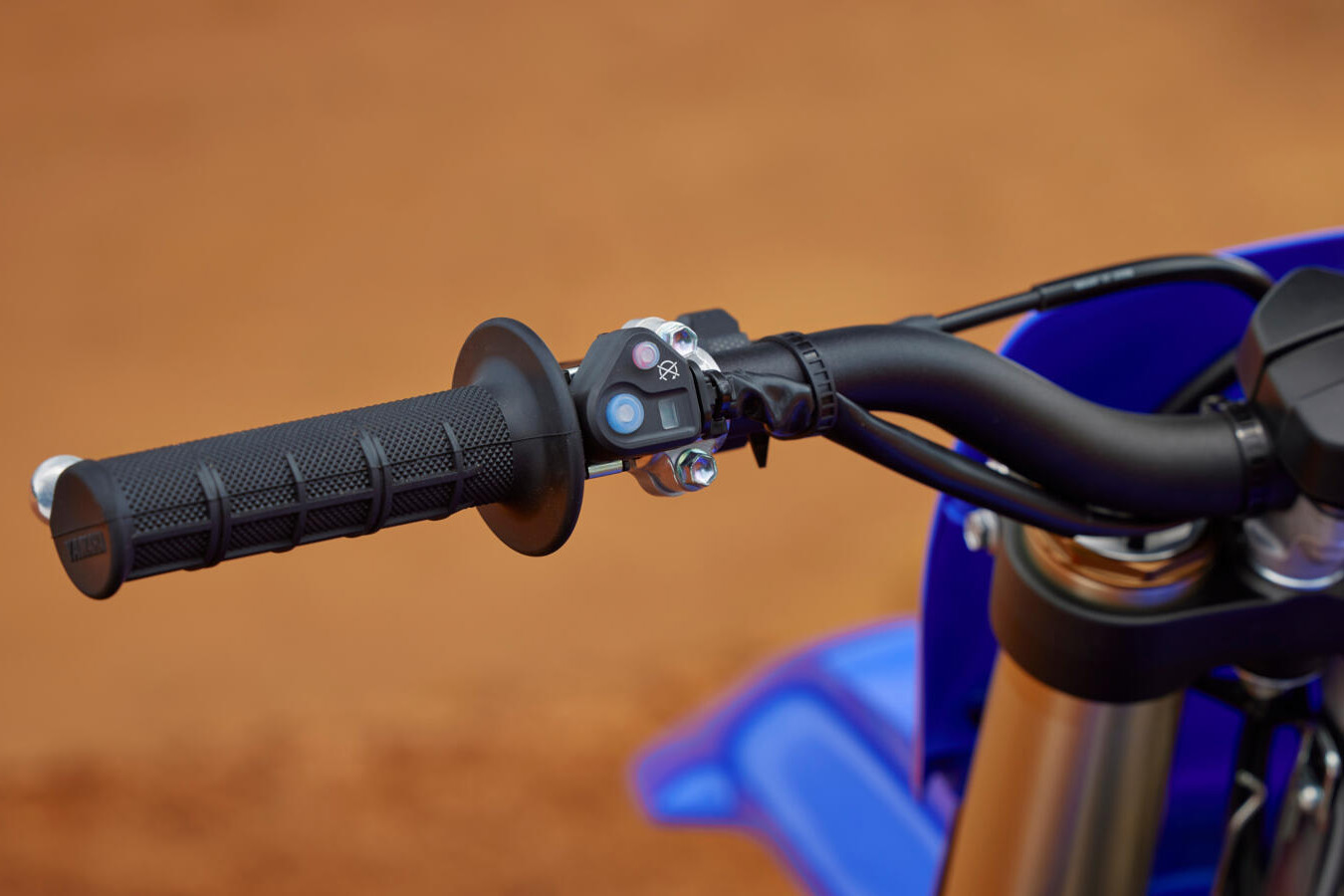 2023 YZ450F Technical Highlights
All-new lighter, slimmer and more compact 450cc engine
Increased linear power at all engine speeds, and 500rpm higher rev limit
Increased air intake capacity with 39mm intake valves
Revised 5-speed transmission and new lightweight clutch
New dry sump lubrication system
2.3 kg overall bike weight reduction to 109 kg wet with full tank of fuel
Redesigned bilateral aluminium beam frame with revised rigidity balance
Updated front fork and rear shock internal valving
New hand adjustable front fork compression damping adjuster
Slimmer and more compact bodywork for increased rider agility
Flatter and narrower seat for greater freedom of movement
New 3-mode adjustable Traction Control System
Updated Launch Control System
New more intuitive Power Tuner app with Quick Tuning, new lap timer feature and FAQ-style suspension set up guide
Availability, colour options and prices
What about the rest of the off-road line-up? Yep, it remains the same for the '23 season including two-stroke YZ X models and the WR range (plus the TT-R and PW) all sticking with updated graphics this time around.
The 2023 bikes are available now in some countries – check your dealer for this – with the new YZ450F available from November 2022 in Icon Blue and Monster Black colour options. Price may vary per country.
More information:
Photo Credit: Yamaha