First look: 2024 Sherco Enduro models – new looks and a 300 4T power boost
Sherco has announced their 2024 enduro model range with updates across all SE two-stroke and SEF four-strokes and all-new, more powerful 250/300 4T engines the headline acts.
Enduro21 has been itching for information about Sherco's new enduro models since their factory EnduroGP riders started dropping hints about how good their new bikes are. "Big improvements", was the hook that got us but details were precious few except there was an all-new smaller capacity four-stroke engine.
Finally the French manufacturer, which continues to stand on World Championship podiums in EnduroGP and Hard Enduro, has bust the 2024 model range out the box.
Key model updates
The headline act is a new 250 and 300 SEF four-stroke engine platform and on the face of it, literally, the new grey colours and front fender are marking a real change for model year 2024. It is a model range which remains seven-strong with 125, 250 and 300 two-strokes plus 250, 300, 450 and 500 four-strokes.
Behind that new grey look the chassis' include new more robust paint on the frames, aluminium rear sprockets, stronger wheels and still those prized KYB suspension units among the details.
2024 Sherco Enduro racing highlights:
New 2024 graphics kit
New led headlight
New front fender
New clutch cover
New swingarm
New frame paint
New wheels, spokes and hubs
New rear sprocket
New top engine mounts on 125/250/300 2T models
New counterbalancer shaft on 4T (250/300)
New look 4T cylinderheads
New oil sight glass and filler cap (250/300 4T)
New throttle body diameter (38.5mm to 42mm), ports and valves on the SEF 300 improve top-end power and increase revs to 13,700rpm
New gear position sensors (4T)
As ever with the standard Sherco Racing models the chassis includes KYB closed cartridge front suspension and KYB rear shock, Brembo brake system and Selle Dalla Valle seat cover.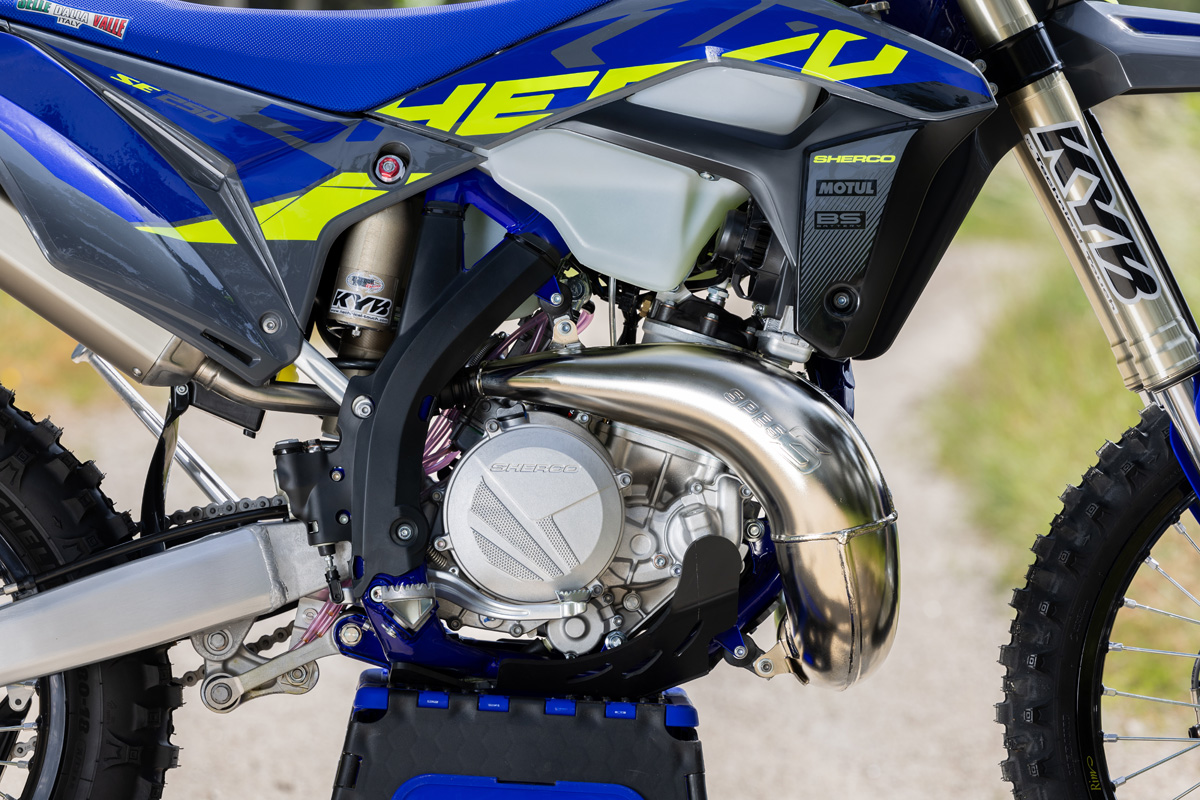 Looking at the details the new front wheel design is a decent an upgrade for the MY24 models. Stronger rims, spokes and hubs, they are also lighter and have better defence against mud ingress to the bearings with a new spacer design.
The new swingarm is 200grams lighter and Sherco claim improves traction and riding comfort. New bearings and seals are matched by new two-position chain tensioner.
Sticking with the chassis, before we move onto the new engines, the two-stroke engine top mounts have been redesigned to reduce vibration and make it easier to work on the motor Sherco say.
New 250 and 300 engines
It's not uncommon for Sherco to be tweaking the engine components to improve oil and water coolant, we have seen it in previous years. New crankcases for MY24 on the smaller engine platform are doing exactly that, improving engine cooling to the front of the crankshaft they claim with two new lower piston oil jets also helping engine running temperatures.
Visually the engine looks different on both sides with the new magnesium clutch and ignitions covers, said to reduce weight. The clutch side engine case has a repositioned oil sight glass and oil filler cap to make servicing easier too.
A new engine balancer shaft integrated in the cam drive gear is lighter on the inside while they too have a slightly different design on the outside, a design change to make them quieter Sherco say.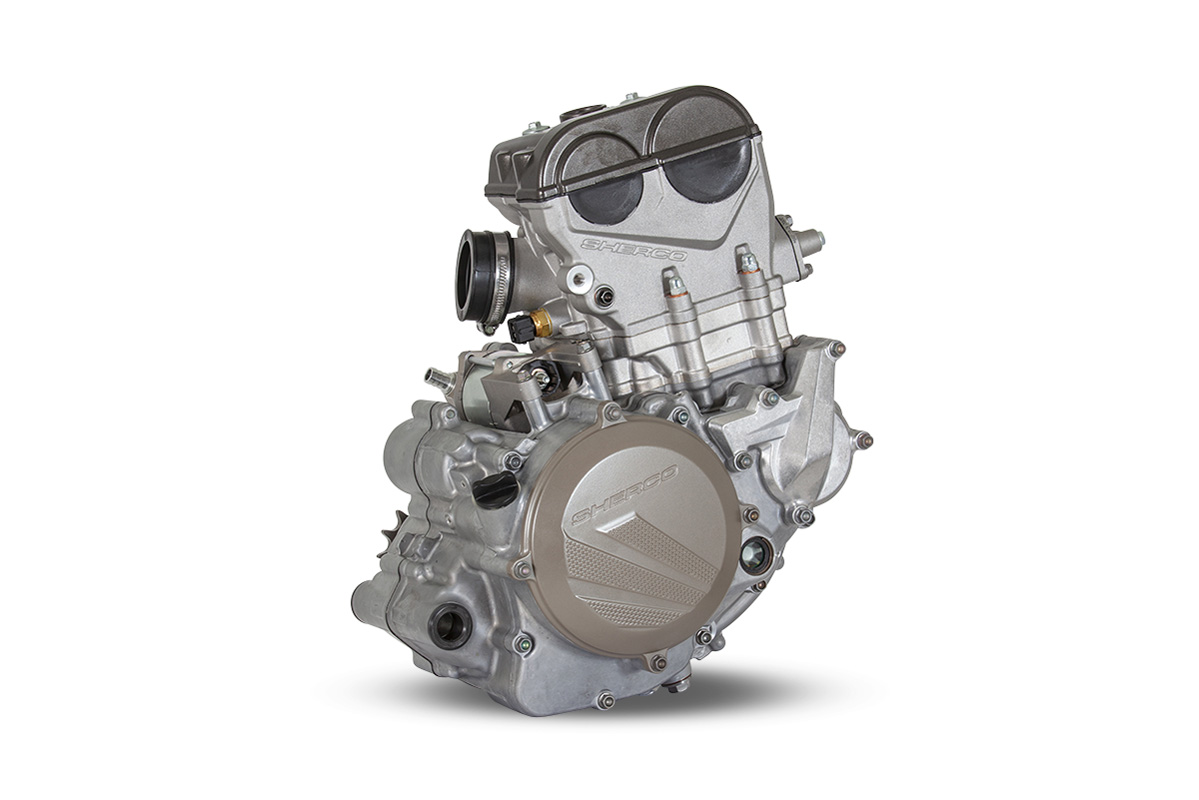 300 SEF getting all the love
The 300 is the bike which riders like Hamish Macdonald are talking up as being a big improvement and helping him bag his first GP podium in Slovakia this month. Chief among those factors must be the 300's new intake and exhaust ports to improve low-rev efficiency and top-end power. The titanium intake valves and valve springs are also new and helping it rev to 13,700rpm while there's a "significant reduction" in engine braking Sherco add.
Another detail standing out is a new gear position sensor which they explain allows a different engine map for every gear to perfect engine response in each.
Add in a new throttle body diameter (increased from 38.5mm to 42mm) and you can see the boost top-end power and overall sharper 300 4T model. We can't wait to give this one a rip.
The bigger bikes get all the external updates and just the new clutch cover withno major changes to their motors. Check them all out in Sherco's model launch video...
2024 Sherco Enduro model technical secifications: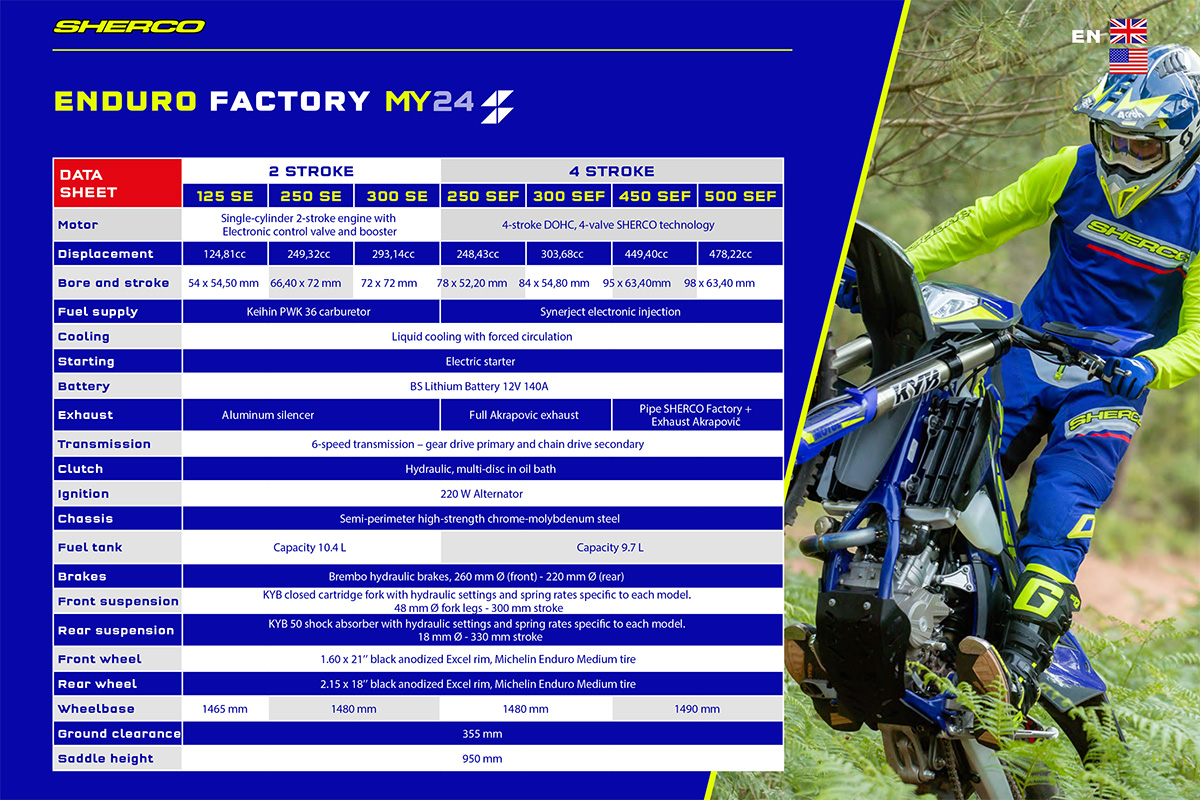 More information: www.sherco.com