Hard Enduro vs SuperEnduro bikes, what's the difference? Billy Bolt explains
Two-stroke or four-stroke, different capacities…an enduro bike is an enduro bike, right? Billy Bolt walks Enduro21 through the set-up differences between his Hard Enduro World Championship-winning Husqvarna TE 300i and SuperEnduro FE 350 four-stroke to explain it's not that simple...
Factory riders have much at their disposal but chief among the privileges perhaps is having any bike to choose from depending on where they are racing – it's a fact not lost on Billy Bolt who has the choice of Husqvarna's off-road range at his disposal.
The trend for riders like Bolt, Manuel Lettenbichler and Taddy Blazusiak is to switch between four-stroke for SuperEnduro racing while the 300 two-stroke remains favourite for extreme and hard enduro.
But back-to-back what are the real differences in bike set-up for a Pro rider switching between these different bikes? Enduro21 asked Billy Bolt that very question…
SuperEnduro bike "not pleasant at all"
Obviously the big difference is one's 300 two-stroke and one's a 350 four-stroke but "there's nothing crazy, nothing secret or special" Billy begins, "really just a few bits from the different Husqvarna models and the range of off-road bikes to suit the different championships. Literally it is just parts which anyone can fit themselves."
Apart from the different engine characters, the biggest difference between Billy's two factory Huskys is the suspension set-up and how it actually feels to ride. Essentiually it is soft for more feel and grip for extreme enduro and hard as hell for SuperEnduro. "It is a very unique set-up for SuperEnduro. The tracks require so much and it is so specialised, the suspension is quite different." Says Bolt.
"SuperEnduro tracks can be so different so it can be impossible to have a perfect set-up. In a big rock garden you want it soft, you want it gripping and the wheels to stay on the ground.
"But then the next moment you're hitting a two-foot-high log as hard as you can in third gear and you need the suspension to be almost like a Supercross set-up, you want it stiff and not moving anywhere. It's compromise always."
"A SuperEnduro bike really doesn't handle very well at all anywhere else. I ride my SuperEnduro practice bike on a motocross track in Spain or wherever because it is the only 350 I have got to go training on, but it's not pleasant at all."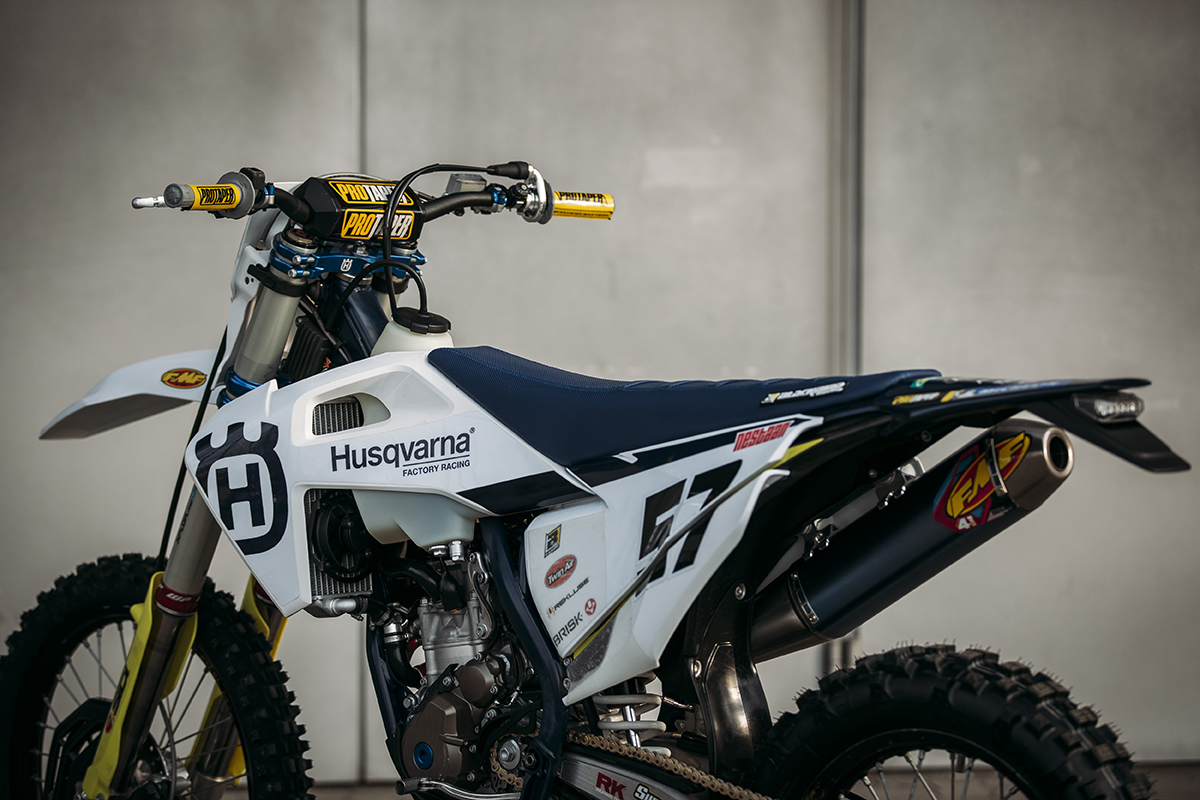 "As far as my bike goes, in SuperEnduro I err on the side of a stiffer set-up because it is safer and then rely more on my body to make the bike work. Some riders go the other way and that can reflect how we have our bikes set-up generally for personal preference, whatever we're riding.
"Mani for example has quite a different set-up to me but it is all about what works for you. It's nothing secret by the way, most of us are in the same family here and no-one's got anything that is hush-hush.
"Geometry, in terms of the frame, is no different to standard FE 350 for me, although I think Colton and Taddy use a different frame."
Soft for extreme, hard for indoors
The key set-up change is to go from soft, with plenty of feel for extreme enduro to super-hard and high front-end with weight very far back. "You need the maximum travel of the fork because it is very easy to come up short on a jump or over the logs." Billy explains. "When it goes wrong it usually goes wrong quite fast, so the suspension is stiffer and weighted towards the back."
"I run a different linkage on the rear suspension, the standard motocross linkage which I believe is a little bit longer and basically that makes it sit a little bit lower again. The Extreme bike is stock geometry, stock enduro linkage."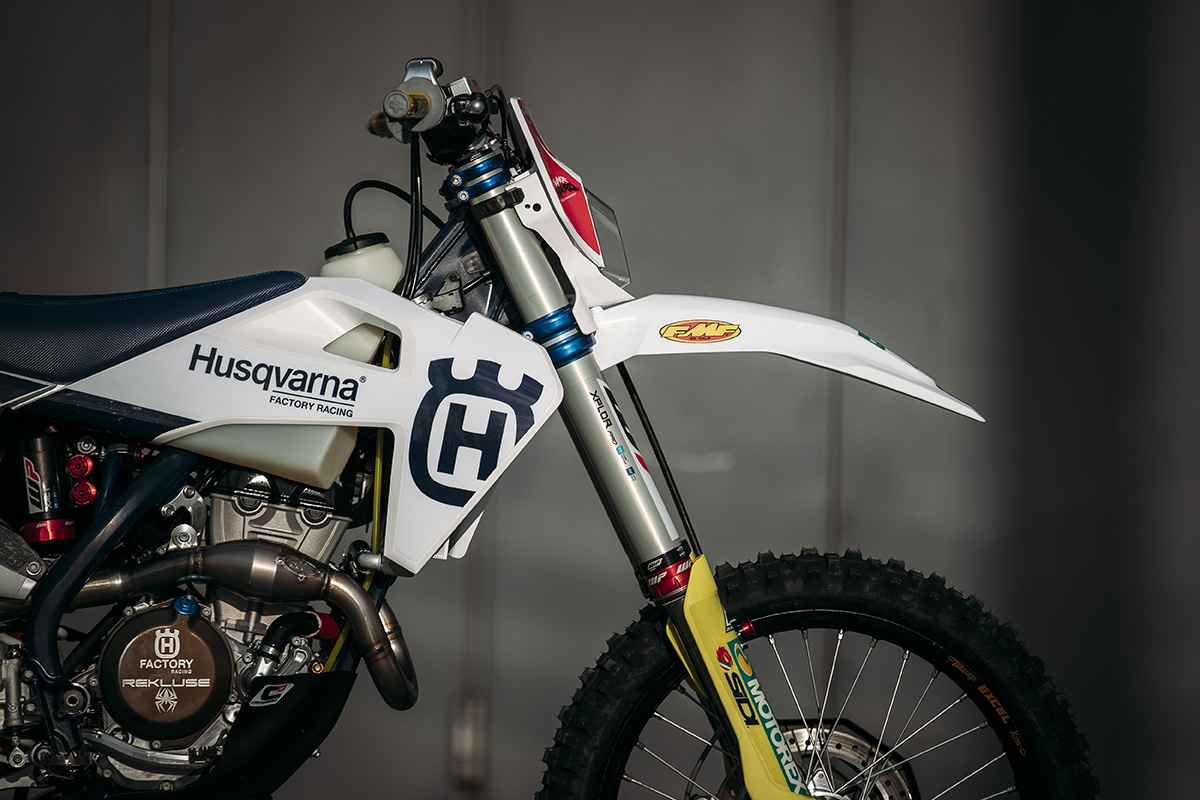 Not a factory special
"The engines aren't anything special" explains Billy, mindful of the fact some other riders have raced factory specials in SuperEnduro in the past. Enduro21 has looked at factory bikes from the KTM Group and noted the 350 four-stroke engine "more tuned to motocross than enduro" for indoors.
"Really I run the same spec engine that, say, Josep Garcia would be using in EnduroGP." Explains Billy. "That means a bit higher compression, more power but there's nothing greatly 'factory' about it."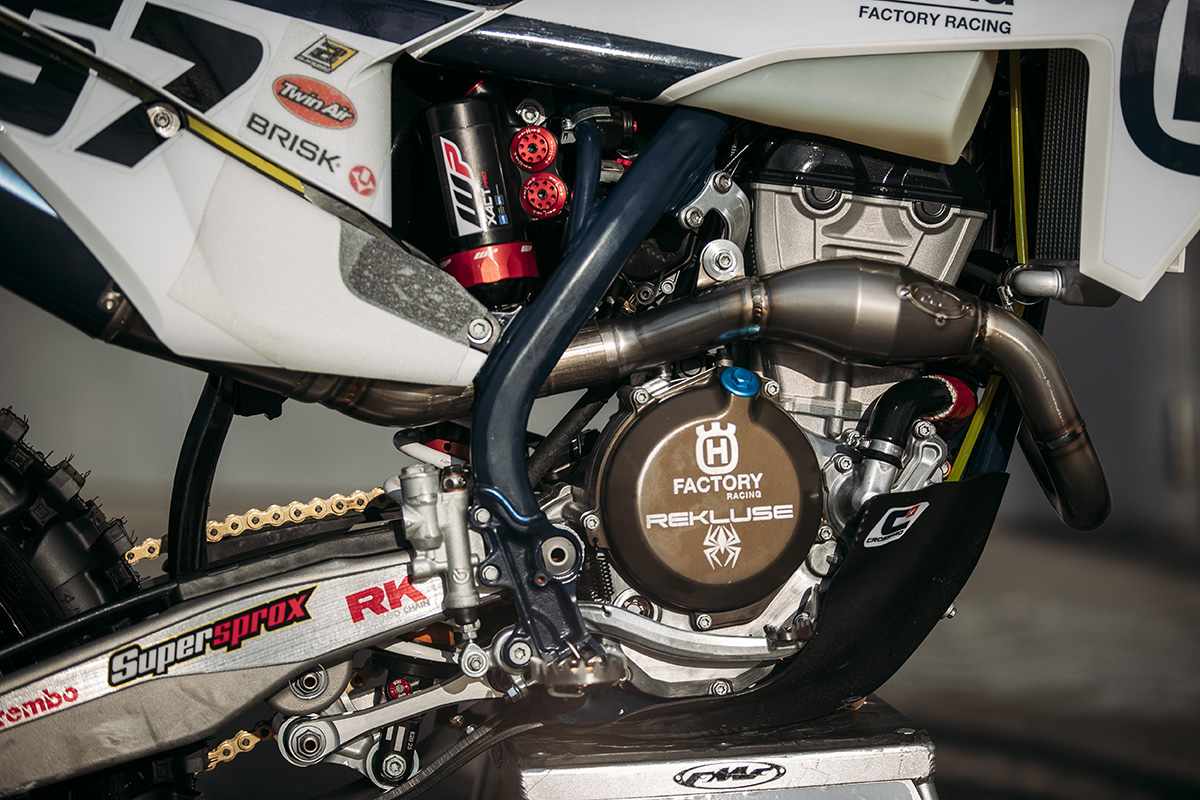 One difference is the gearing, "I run 12-51 Supersprox sprockets," Billy tells us "that is very, very short by comparison and that's basically to have that punch of power quickly accessible. First gear is oin there but we hardly ever use it."
Another part affecting the amount of fire in the belly of this beast is the flywheel."I use the enduro flywheel on my SuperEnduro bike where-as if I was doing normal enduro on the FE 450 four-troke I would use the motocross flywheel. So, a motocross-like engine here with enduro flywheel versus an enduro engine with an MX flywheel.
"The enduro flywheel gives you a little bit more engine braking on these tighter tracks, it means you don't have to be on and off the brakes as much and you can use the engine more.
"It helps a little more with stalling too, the full motocross set-up in SuperEnduro would stall too much so this bike is a bit of a hybrid but, again, it is nothing anyone couldn't build themselves."
Bars and levers
Enduro21 has written about Billy's slightly quirky handlebar set-up before in one of our Pro Bike features. The Pro Taper bars themselves aren't unusual but his preference for a longer left grip stands out from the norm.
Basically, his mechanic Lee Edmondson has to stretch the grip on longer to around 140mm in total. Some Pro Taper grip glue and lockwire and it's set in place.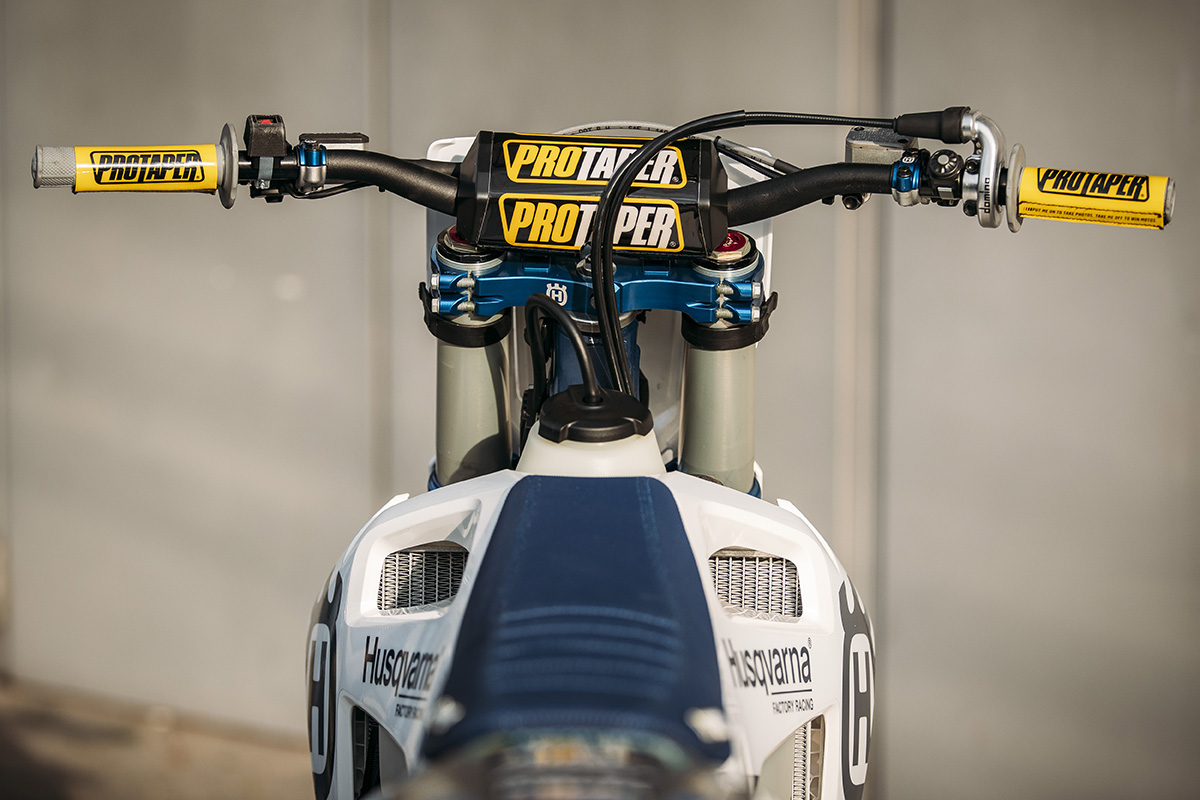 Billy also likes the clutch lever bent upwards a touch but does that the old-fashioned way with a ring spanner. One further unseen detail is the SuperEnduro bike has its wiring paired right down to a minimum, much like motocross-spec because they don't need lights to work indoors (ironically).
Clutch pump bores
"I run the same handlebars for extreme and SuperEnduro but I use a 10mm clutch pump for extreme because it is softer where-as I use a 9mm indoors. There's less chance of it fading with the stiffer pump. The Hard Enduro bike has a softer clutch because it is nicer for a longer day riding."
For the same reason of preventing fading they also swap the outer diaphragm clutch spring for the heavier motocross part indoors (although sometimes, when the course is super-tight and technical, some riders swap back to the lighter one to ease arm pump).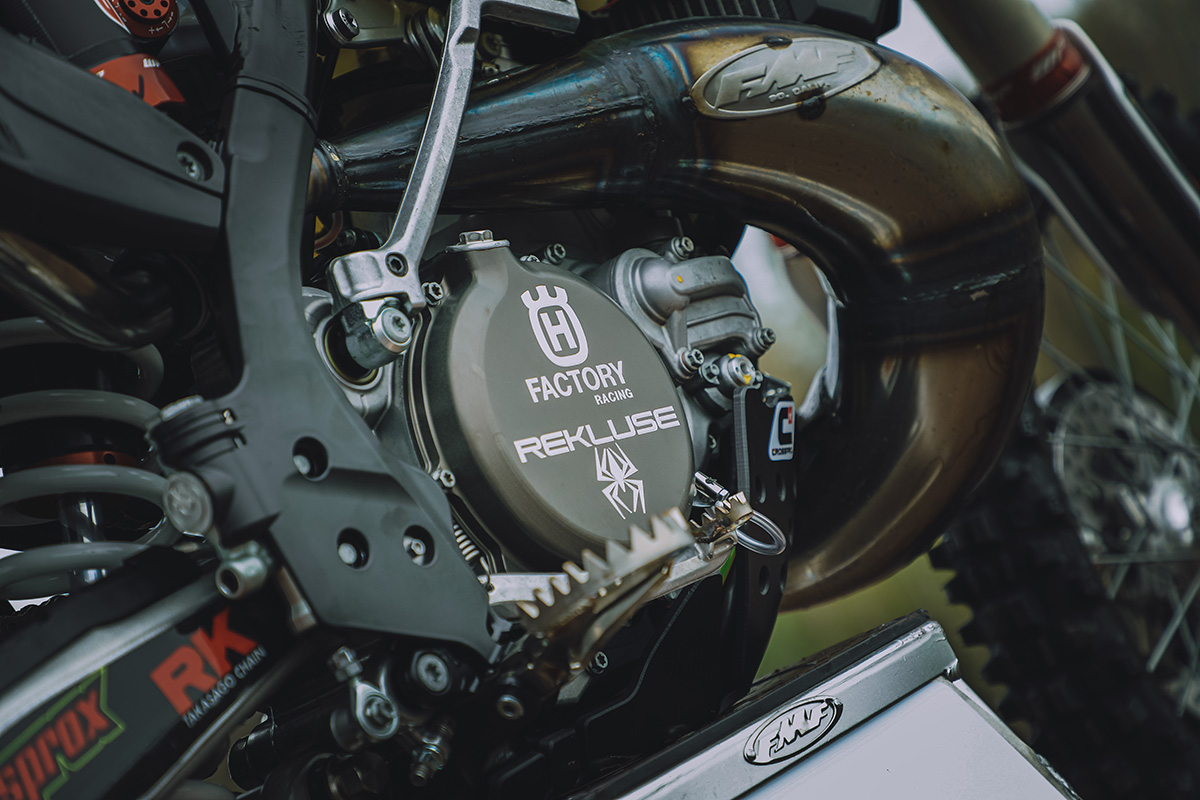 They run a Rekluse clutch cover on both extreme and SuperEnduro bikes because it is tougher and increases oil capacity. The front brake is also the higher performance Brembo caliper from the Husky parts catalogue.
Standing firm
As far as footpegs go, Billy says this year he's actually made a change by not changing anything. "Last year I used the lower footpegs on my indoor bike but I tried them when we jumped back on it after the Hard Enduro World Championship season and I couldn't get on with them. So I just stuck with the same Raptor pegs as the extreme bike which are 5mm lower and 5mm back from stock."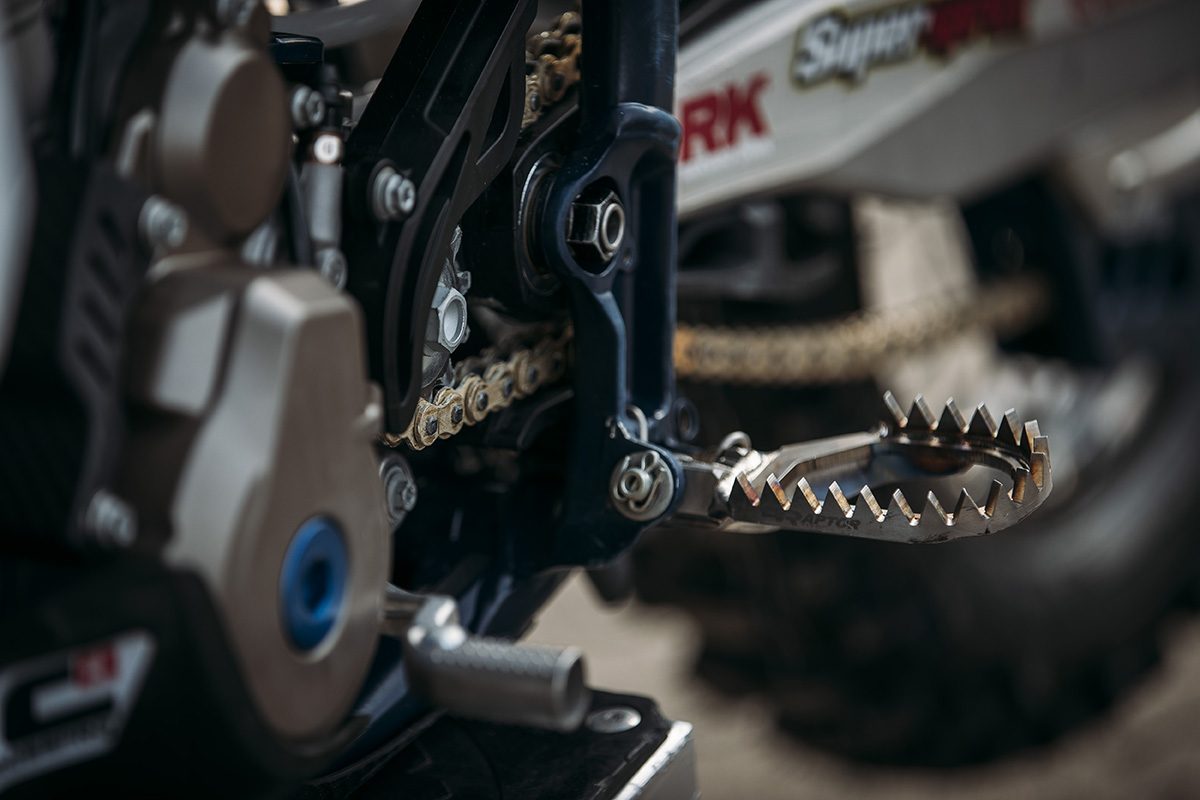 Sitting pretty
"The only other personal preference is I use a slightly higher seat in SuperEnduro." Explains Billy. Husqvarna Racing use Blackbird seats and he has options from their catalogue which boils down to three: stock seat height, +20mm and +35mm. "I use stock one on the extreme bike but for SuperEnduro I use the middle one, plus 20mm.
"I find it just gets me a little bit more on top of the bike for cornering and from a handling point of view it puts me a little further forward to counter that tall front fork set-up.
Overall, the bike is lower at the back because of the suspension but when you're sat down this seat puts me in a similar position. There's less travel from standing to sitting and I find it a little bit easier."
What is the reason for getting further over the front in SuperEnduro? "Often the corners will be tight but also flat without a rut," says Billy, "so you have to load the front up quite a lot which is quite difficult when you've got a bike set-up so biased towards the back."
Tyres and mousses?
The range of tyres and mousses available in enduro seems to grow each year and the softer end of the spectrum is where Billy is most comfortable. "I use pretty much the same front set-up – a 90-100 big front enduro medium tyre with a 90-100 mousse. I usually try and bed the mousse in a bit but there's nothing special about it, I just like it not too hard and not too soft."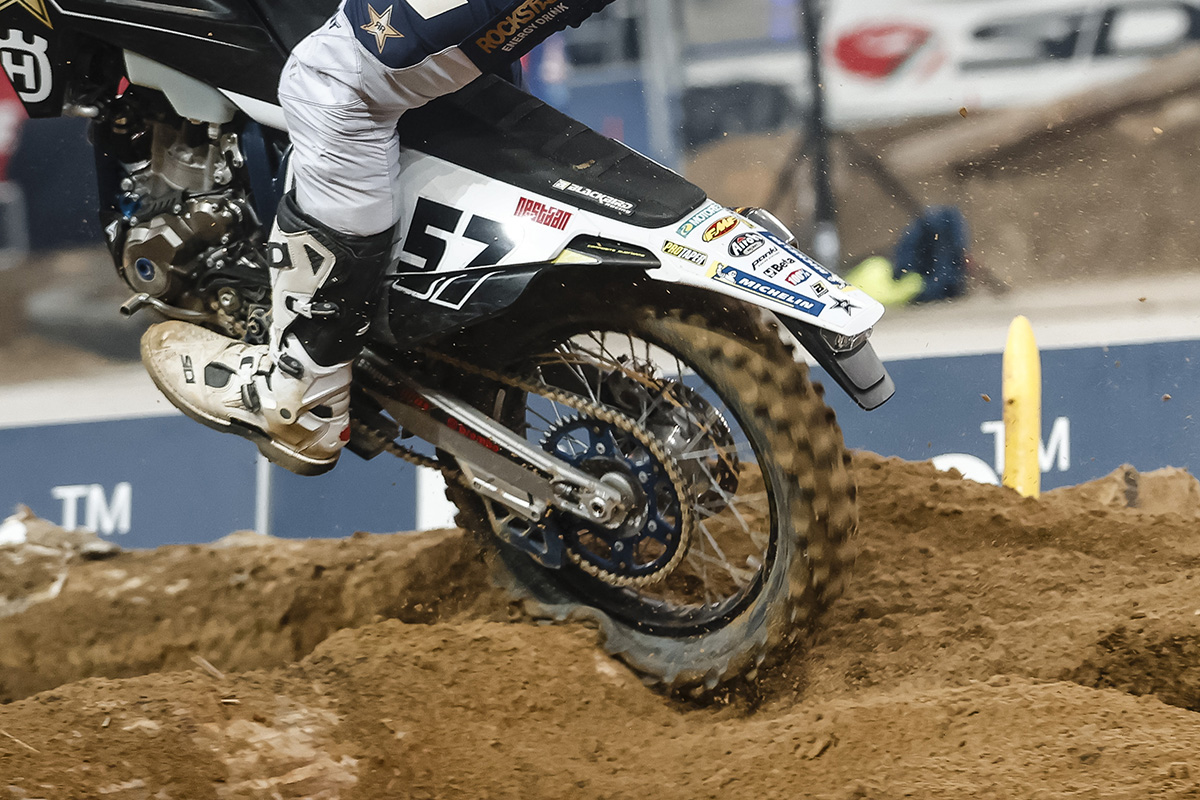 "I tend to use a Michelin super-soft rear tyre but with a harder mousse than you'd run for extreme. The soft tyre in SuperEnduro lets you get away with a lot more but having a harder mousse counteracts that and stops the tyre roll or deflection when you're taking off logs and what not.
"If the dirt is softer or it has a water section anywhere I might go slightly softer with the mousse but nowhere near as soft as the extreme mousses we use. I just rely more on the flex of the tyre for grip."
One additional tweak to standard which could easily go unseen is an extra security bolt in rear rim. It doesn't take too much watching of Billy riding SuperEnduro to figure out the back tyre is taking a hell of a beating. Drilling out another hole in the rear rim and fitting a second security bolt prevents the tyre spinning under the severe loads he throws at it.
"Put us all on standard bikes"
"It's nice to be in a position where I can fine-tune everything like this" Billy adds finally, "but I think you could ride the Hard Enduro bike in SuperEnduro if you needed to. We have plenty of races outdoors where there's that element – a prologue or whatever – so it could work.
"Ultimately it comes down to the rider and I think if you put the top boys on the same standard bikes, the results would be the same. I'm not sure the manufacturers would be too happy, but I'd love to try it!"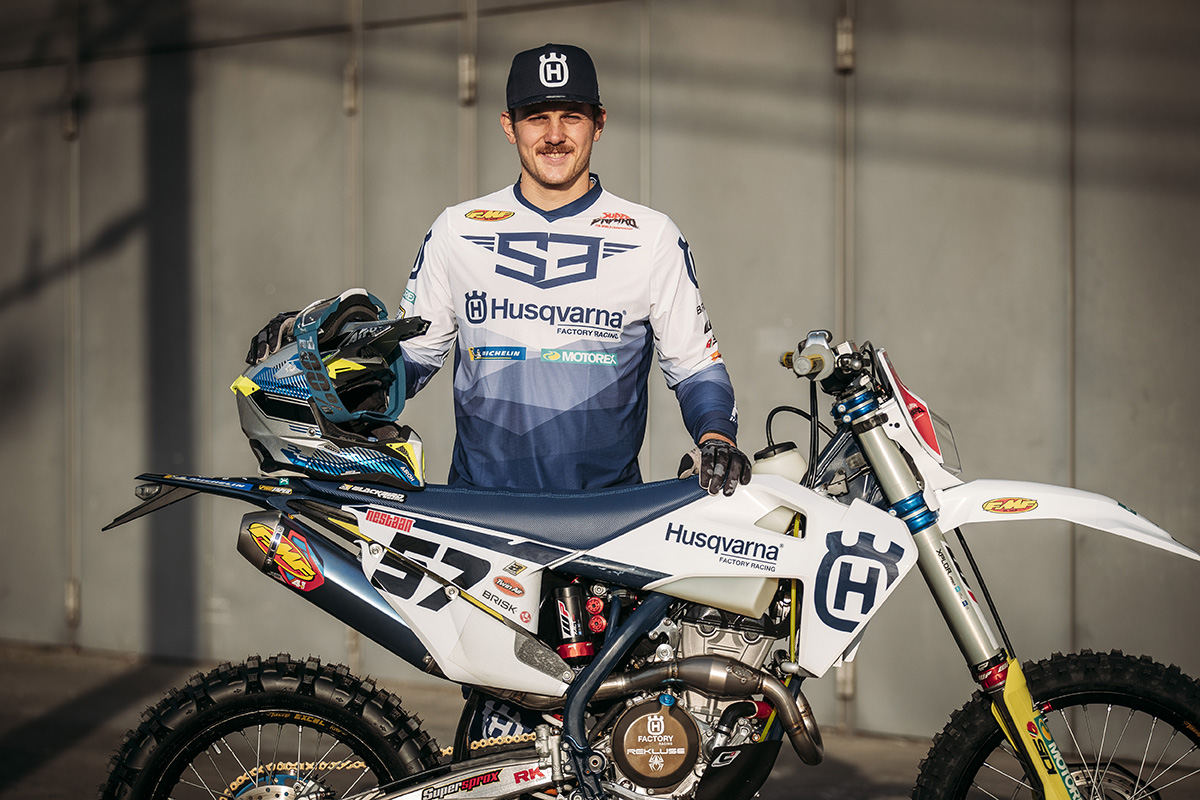 Photo Credit: Future7Media | Andrea Belluschi