KTM 300 EXC TPI Test Mule - Night racing rocks!
Nearly a month into running the Enduro21 KTM 300 EXC TPI test mule now and we're bonding big time after two races and some quality workshop time together.
Though still in its early days under the Enduro21 wing, this KTM 300 EXC TPI is making its mark already – a confessed four stroke lover and after a year on a 250 two-stroke last year, I had mixed feelings about taking on the 300 but we're bonding big-time.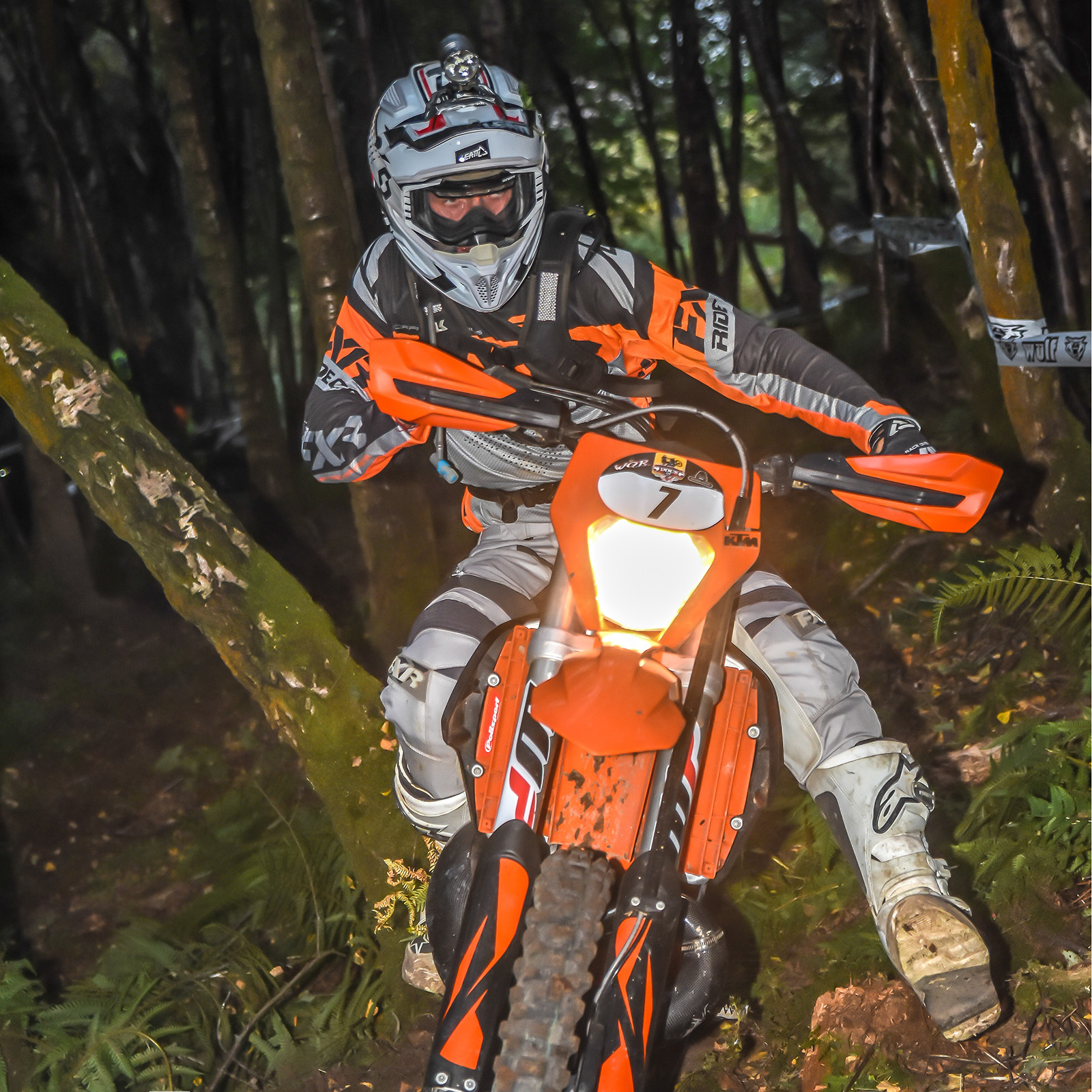 Is a 300 harder work?
I'm not short of hours riding a 300 2T but would it be too much? A more tiring to ride? Already with two races under my belt I've turned my own ideas on their head. The 300 is actually proving to be easier to ride so far than the 250 TPI last year. Somehow I'm more relaxed on it and for certain it is getting up and over the technical stuff easier.
It's obvious to say, it should be better some ways and there's a reason why so many people opt for the 300 in extreme races at the very least – a bit more punch where you need it in the revs. But I'd always been wary of having too much power higher up the revs and a bike which would run away with me as I got knackered two hours into a hard race.
Boiled oil
Our bike had seen a little bit of work before we picked it up – we're up to 17hours on the clock now but only half of those were me. The bike felt and looked like new but a couple of little clues made us think it had seen some road action in its short life – the front brake pads were a little worn, looked like they'd been hot and the darkened front brake fluid was clearly 'used'. It needs replacing.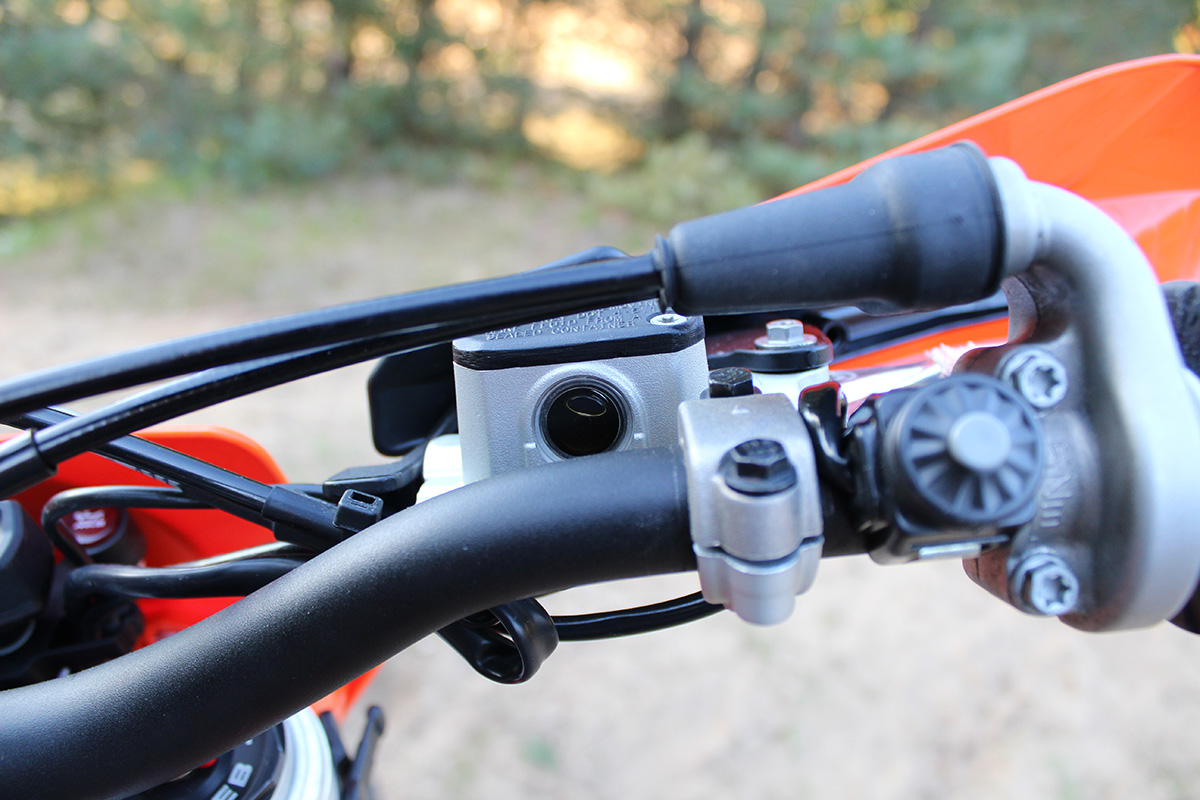 Night racing rocks!
The second outing for the 300 TPI was a sweet night race, the 'Dogs of WOR' event run by the same people who run 'The Tough One', extreme enduro. The 'Dogs of WOR' wasn't nearly as fierce (thank god) and the 15 minute lap (for me at least) of farm tracks, fields and woods riding was brilliant. Mainly because as darkness fell the lights went on it was a whole new world of racing. I loved it.
Wazzing round a course which whooped its way up a hillside to open moorland and then back down for some steep climbs up and down in the trees was a real buzz from behind the head lights.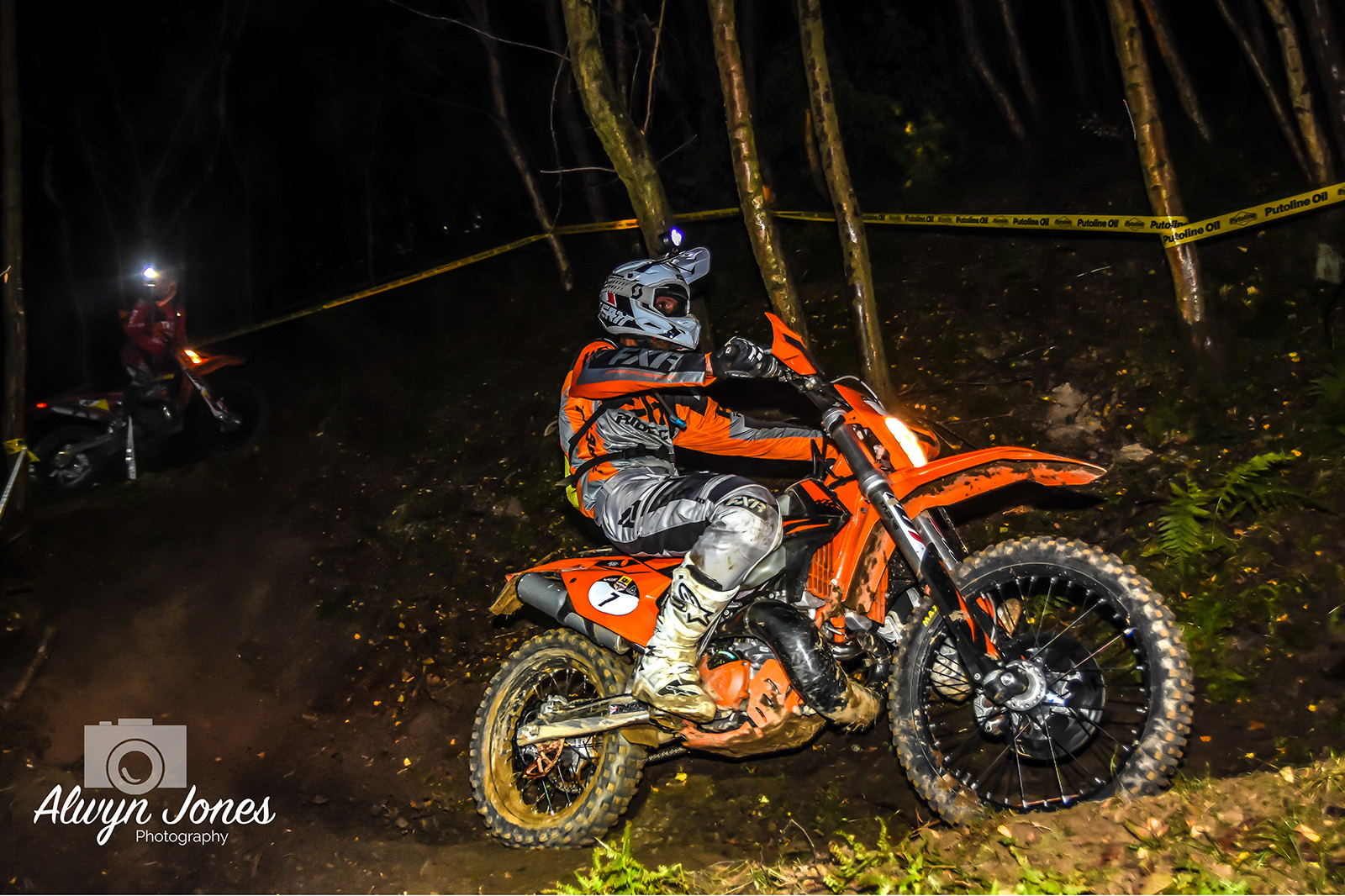 Lights set-up
Setting the lights up for the Dogs of WOR wasn't rocket science. I didn't go for the cheapest battery powered torch on Amazon but it was a long way from buying the most expensive and looking round the paddock some people had gone to way more effort than me.
One strong helmet light worked fine for me during the race (I must have eaten plenty of carrots) and all I did was zip tie the torch mount to my helmet (through the vent holes without damaging anything) and then stick some tape on too. The torch attached to the mount via rubber strap and trailed the lead to the battery pack in my drink pouch – securing the wire to the bag straps with some duck tape in a couple of places.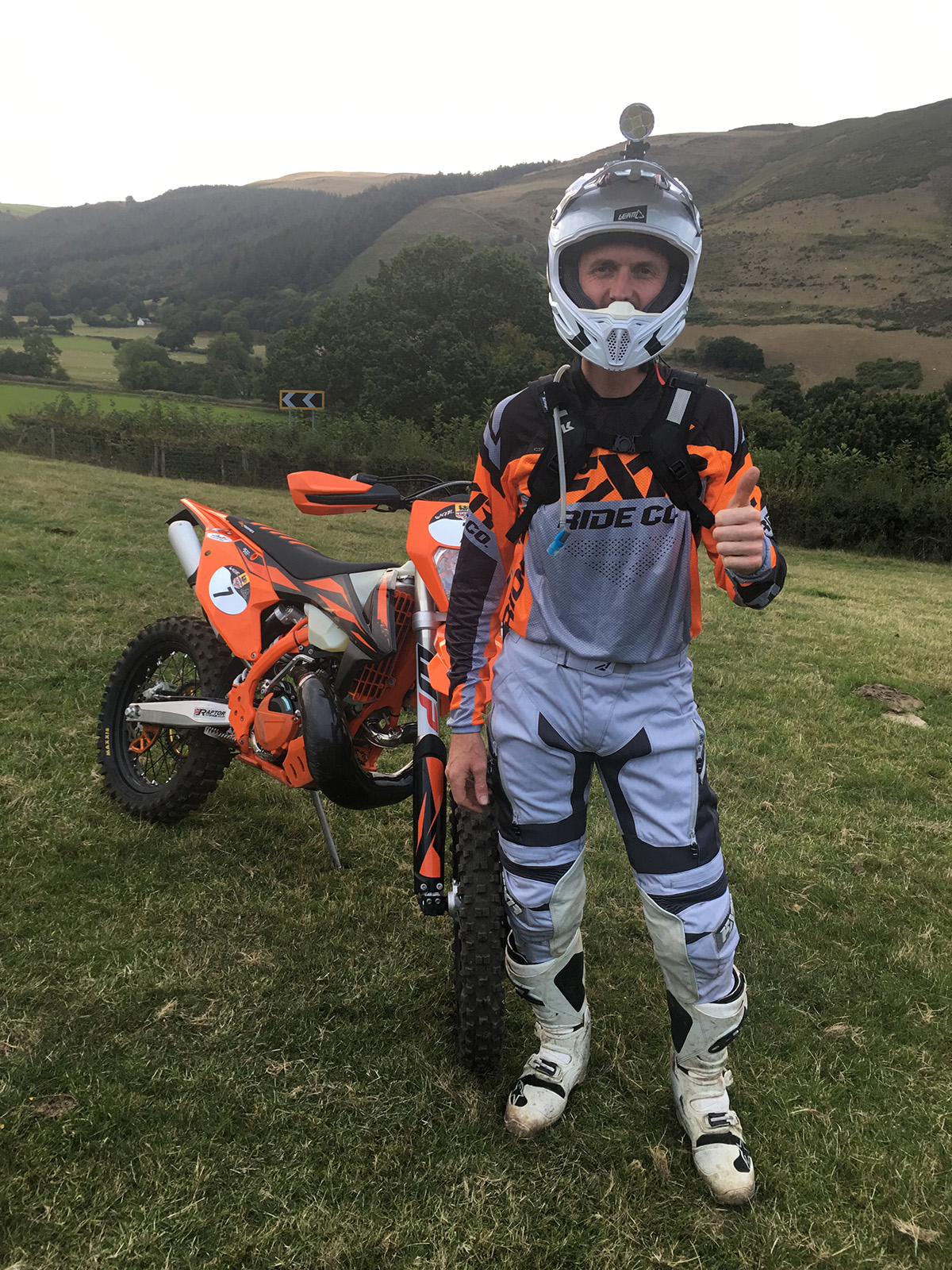 What have I fitted to the 300 TPI so far?
The KTM Power Parts Factory seat proved a good bolt-on at the night enduro. It's pretty grippy, with a slightly firmer back half and on the longest uphill technical section in the night race I was sitting and legging my way through each lap. Having a grippier seat was a bonus and it looks good too.
I've fitted some KTM Power Parts brake disc (rotor) protection front and rear as well. Not that either event so far have been particularly tough on the bike – the opposite in fact – but discs guards are a no-brainer for me in any event.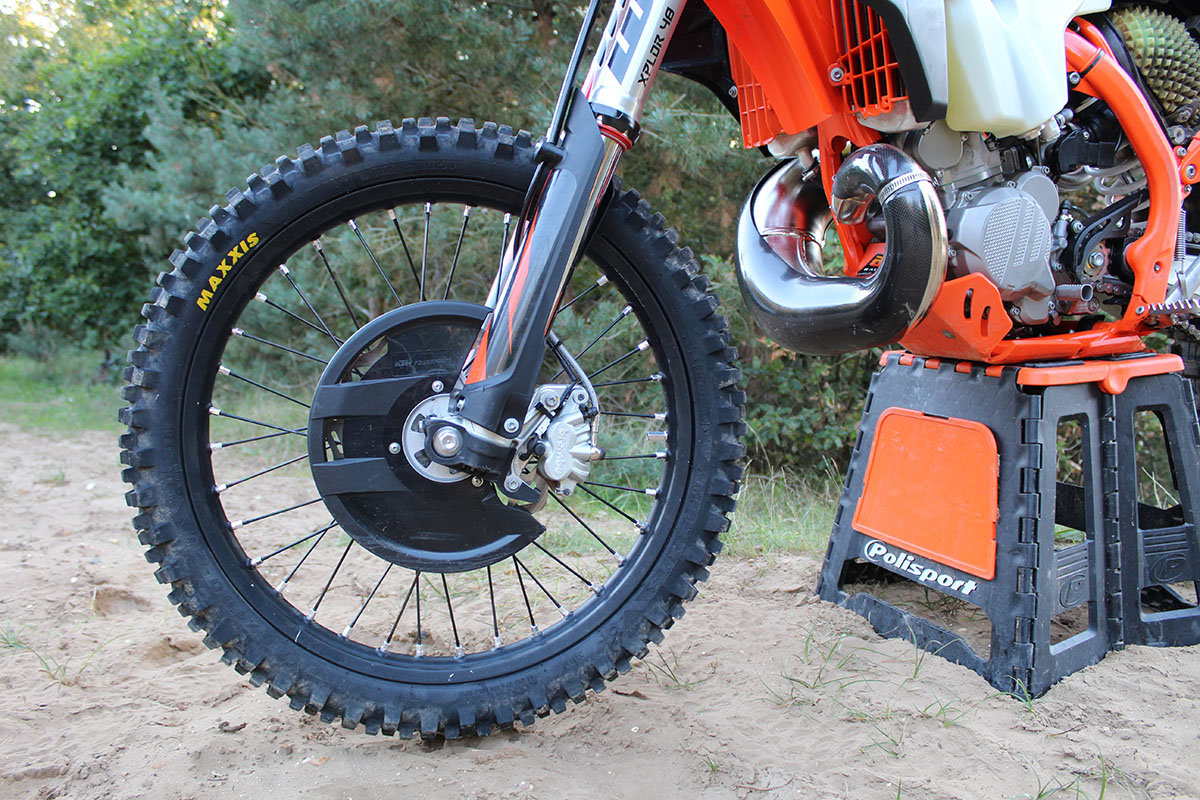 Taking the hits
The KTM Power Parts front brake disc guard is, as KTM will tell you, practical. The fitting 'system' has a central adapter which replaces the standard spacer on the axle which means it sits in place in the wheel and allows the to be removed, tyre to be changed or brake to be serviced without removing the guard.
I transferred a well-used AXP sump guard. I used this part last year on the 250 TPI and it fits straight on, obviously with both TPI models having the same chassis it fits exactly the same with two bolts at the front into the standard bolt holes.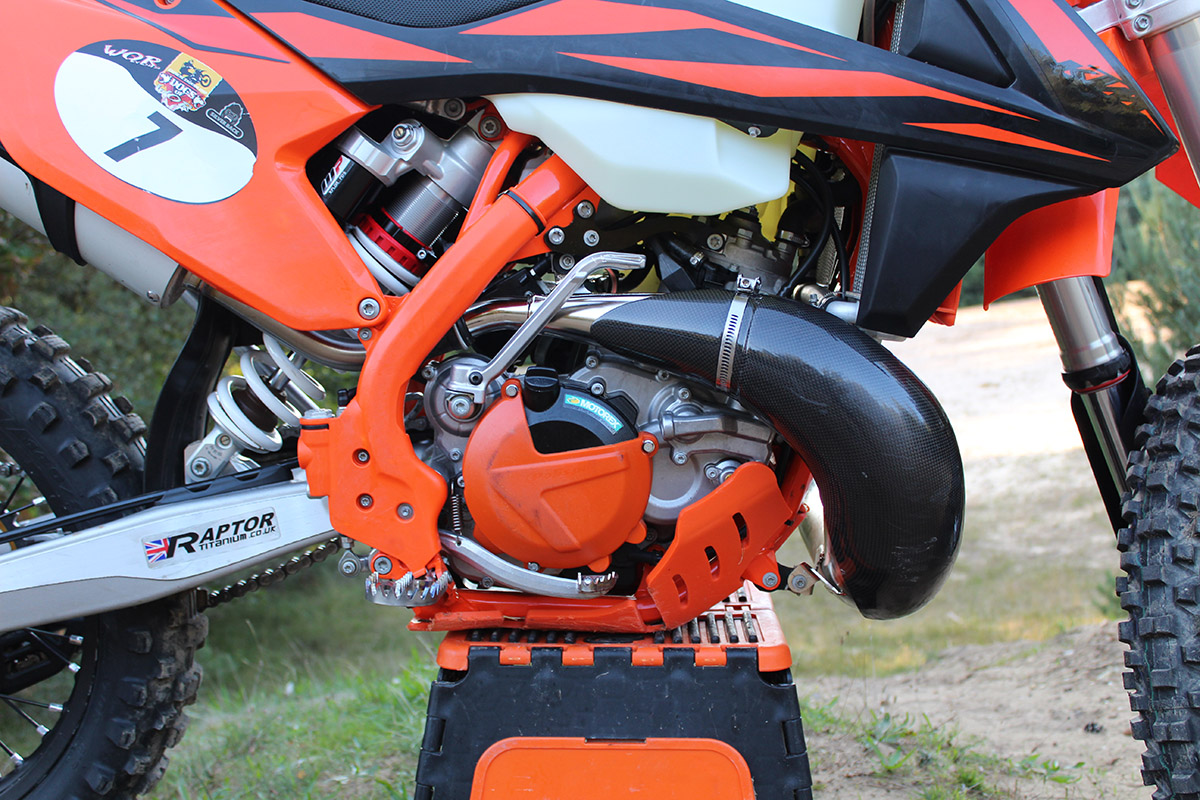 She's seen better days I must admit but it is light, does offer protection of the engine cases and still does the job which is all I needed for some big rock steps and logs at the British Extreme event. I have some other parts to test including KTM's aluminium skid plate/sump guard so don't plan on keeping this one on for long.
It is the same story with another well-used part, the Polisport engine cover. It is scuffed but again, it was a hasty fit before the first race to protect the engine case in the rocks. You'll have spotted the exhaust guard too, it's also the KTM Power Part and fits snug around the admittedly pretty bulky TPI header pipe and expansion chamber. You can see from the marks on all these protective covers they are doing their job.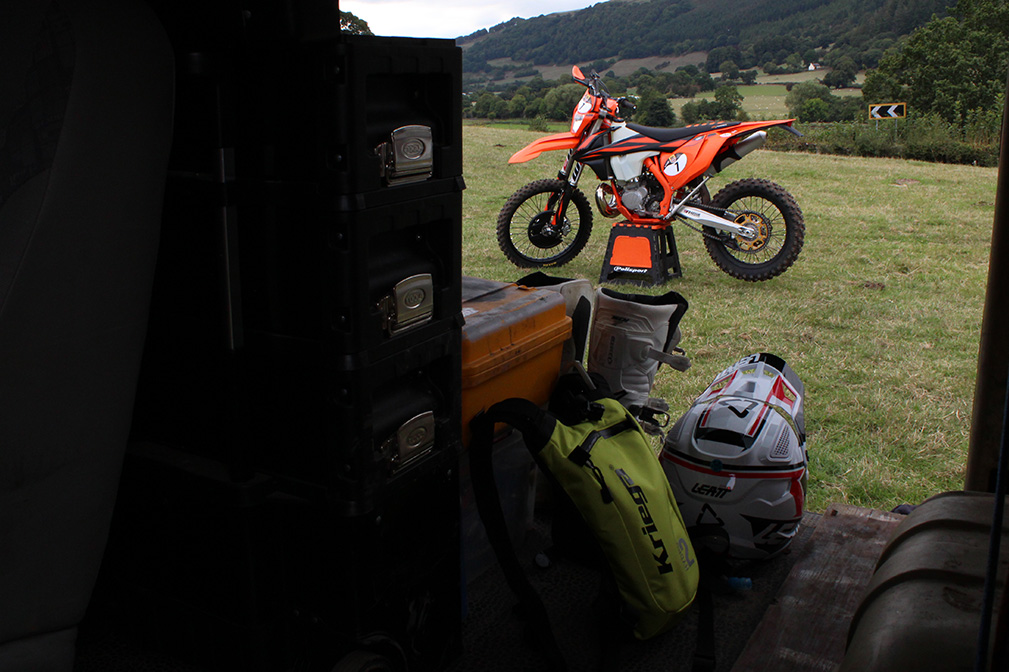 The ongoing plan with the 300 EXC TPI is to treat it as a rolling test bed for parts (not all KTM Power Parts) and, as ever, treat it like my normal bike and not a pampered show pony.
One thing on the list is to try some different suspension. The Course at the Dogs of WOR had a hellish amount of whooped-out tracks which felt like they went on for half the lap and in the dark they were a proper rodeo as I could only partially see them.
I'm a long way from being James Stewart across the whoops I must admit but still the suspension took a hell of a beating and made life harder. I'd finished the race, had a drink and a chat with my dad before I noticed the shock was still red hot from all the hard work.
Next up? The small matter of round six of the World Enduro Super Series at Hawkstone Park. Gulp. They say it's for everyone, the World Enduro Super Series is where you can race shoulder-to-shoulder with the best in the world. The 300 EXC TPI and I about to find out…
Photo Credit: Enduro21 + Alwyn Jones