Project 250 TPI Enduro21 test mule – hard parts and holly bushes
Enduro21's Husqvarna TE250 TPI second-hand project bike and test mule makes progress in the workshop with a list of new (and used) parts fitted as we take it to a hard enduro for a shakedown and get caught in a holly bush…
Project 250 TPI is making some strides forward, despite this being a busy as heck time of year for Enduro21 – you gotta get out and play, right?
There's nothing like the deadline of an actual event to get you out in the workshop for few nights, prepping and fettling. Why? We'd done a day's testing on the 2019 Husqvarna TE 250 and basically got to know it better. But signing up for a pretty widely regarded British Extreme event called "Edgeberg" would be the next step, a real test of its mettle if you like, not knowing if it would make the finish or not.
Lots of hill climbs and no rocks sounded good and it was one we hadn't ridden before (eventually won by 2023 Junior SuperEnduro World Champion Mitch Brightmore). We did finish by the way...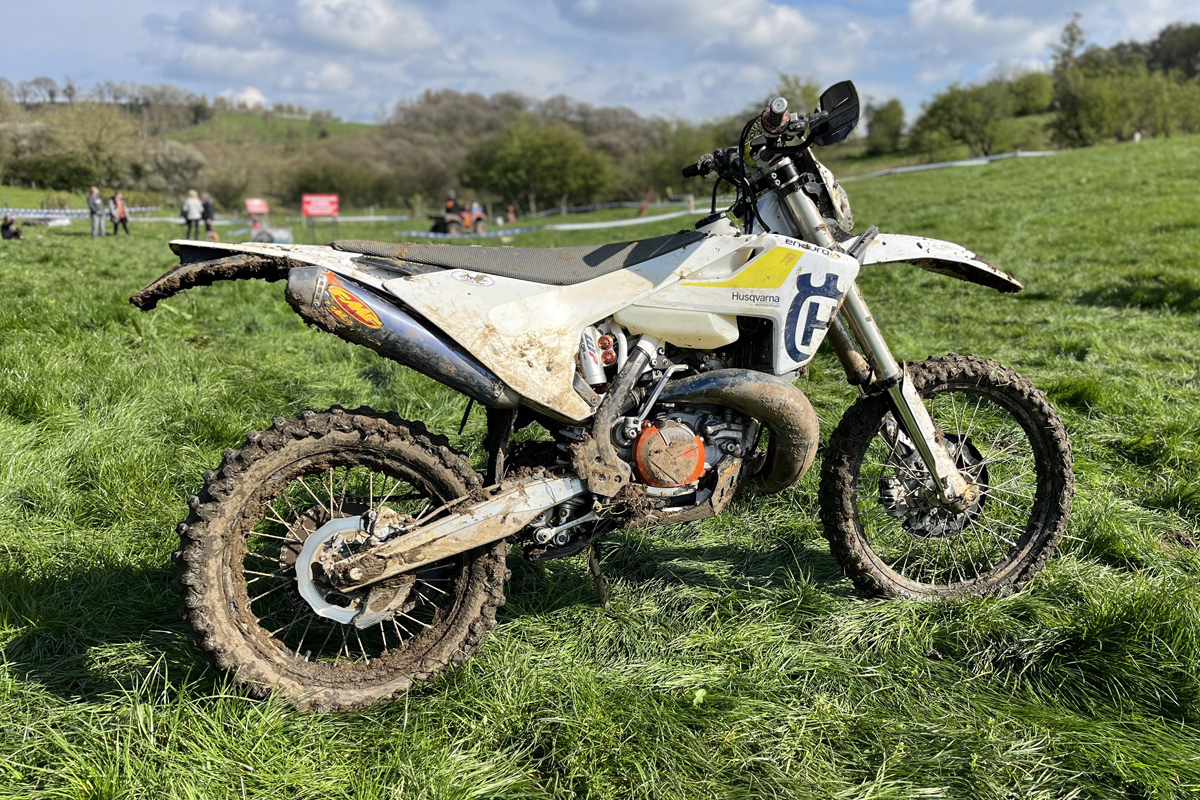 Project 250 TPI bike build for its maiden race:
AXP Xtreme plastic sump guard
Enduro engineering radiator braces
Raptor Titanium 5mm lower, 5mm further back footpegs
One Gripper seat cover
Galfer brake discs (solid, thicker rear)
Polisport clutch case cover (used, off a KTM)
FMF 2.1 Power Core silencer and Factory Fatty expansion chamber (used, off a KTM)
Astra Off Road Apollo handlebars 35mm
Enduro Engineering bar ends
Polisport Hammer handguards
AXP rear disc guard
Apico front grab strap
KTM Power parts front disc and fork leg bottom protectors
Dunlop AT81 EX tyres and Dunlop soft mousses
WP XPLOR PRO 6500 fork cartridge kit
WP XPLOR Pro rear shock
Did it work ok? (ignoring holly bushes and getting wedged)
Apart from hanging about a bit too long in a holly bush and getting properly stuck in a deep rut (as in engine, footpegs, axles all wedged big time and needing several sets of hands to get it out), aside from that, yes, it stood up to its first race just about as we expected.
The event was all about hills, slippery climbs and descents so the Apico grab strap at the front got used a few times (thanks to all the spectators who hauled us when needed).
The wrong gearing
Having the wrong gearing was the main thing we could have affected but without knowing the bike better, we kinda guessed gearing and got it a bit wrong.
A 14-52 final gearing ratio wasn't low enough and first gear was a bit too tall. There was a lot clutch work at this event with a heap of full gassing it to get up the hills and rutted climbs. Despite 80+ hours on the clock, the clutch was flawless but a lower first gear, and a more usable second gear, would definitely be better next time this bike does anything extreme.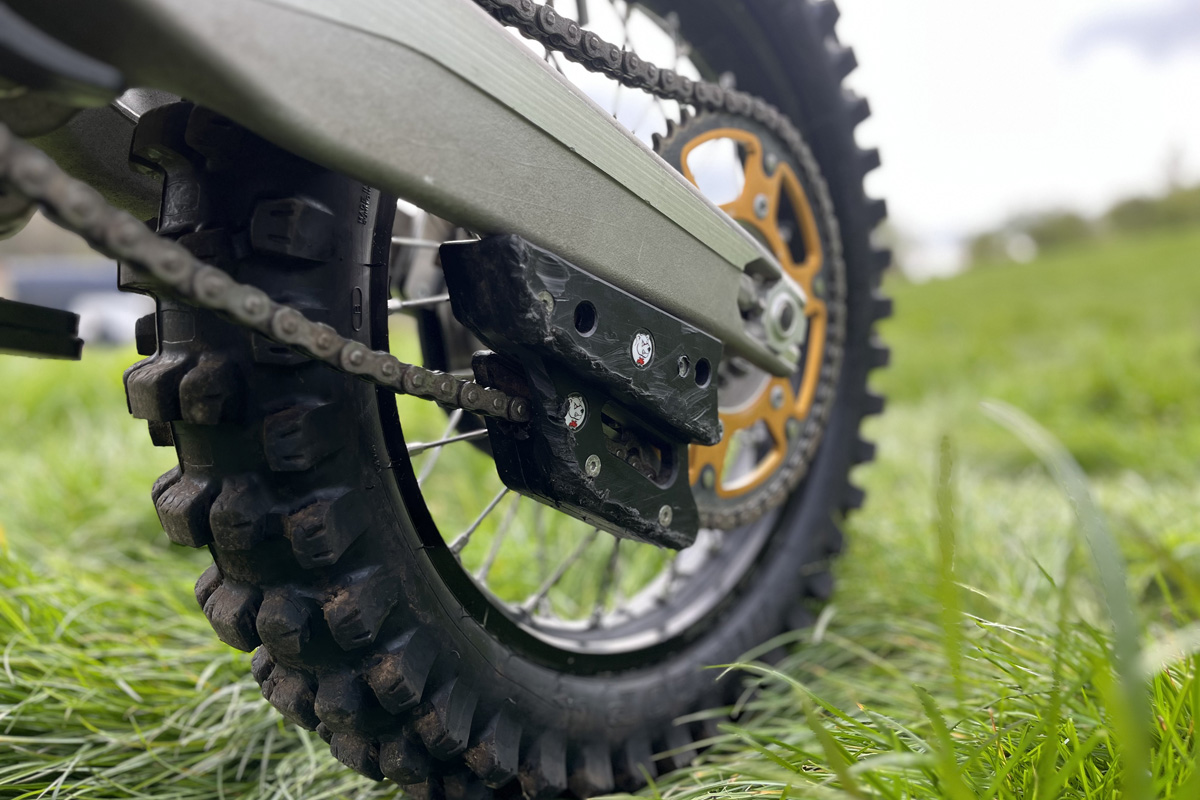 A couple of times during high-revving sections of the track (nailing it up a hill or long rut) it faltered and wasn't clean like a carbed bike would be. There's a school of thought which says the TPI engines don't like this constant high-rev treatment, and we know from previous earlier lean-running TPI bikes on test they can have minor cut out when you ride flat out for a sustained period – though have always almost instantly recovered and picked up again.
It's doing that ding-ding-ding thing on the over-run too. Down steep hills it would have been better to be able to use the engine braking more but at the moment this one is too eager to keep chuntering away and engine brakign isn't an option.
Bar ends, wrap-around guards or what?
What else? There are plenty of people running the metal bar end and open handguards at hard enduros these days, so we thought we'd give it a test with the Enduro Engineering set.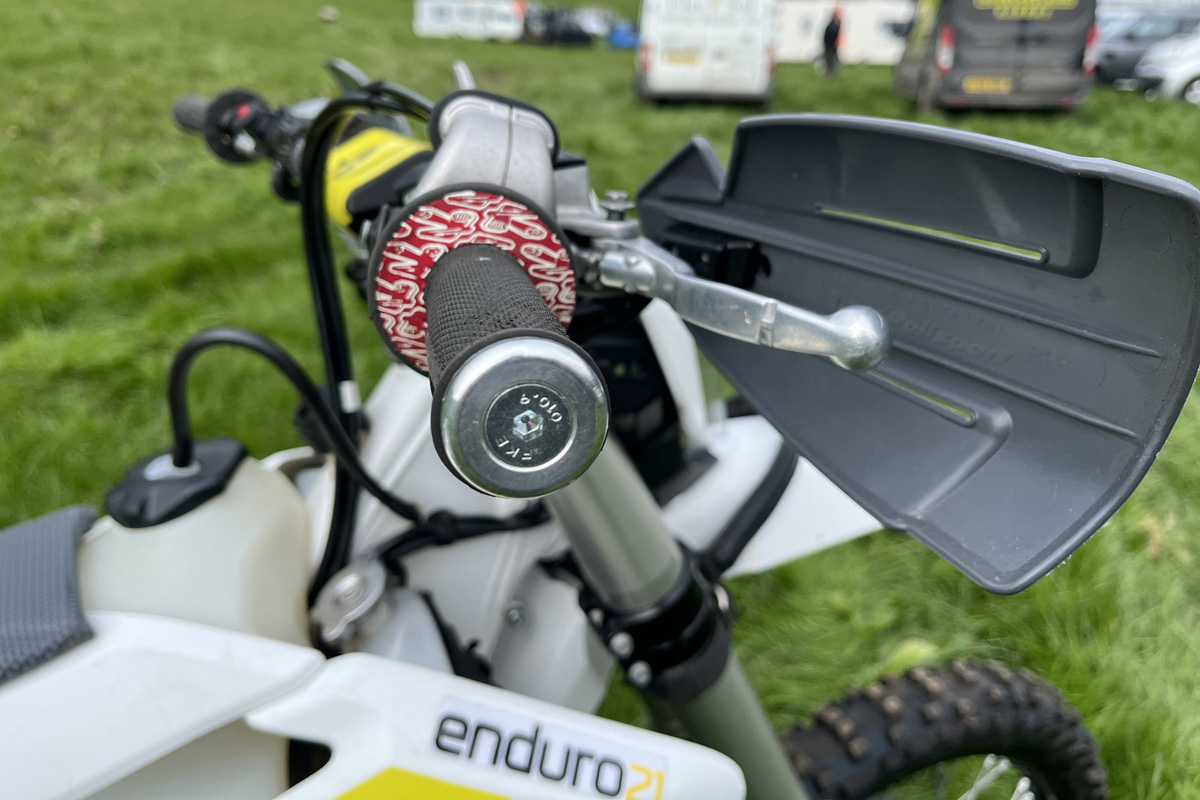 They're not as protective as the wrap around handguards obviously but they do let you put the bike down on its side without braking or splitting grips. Plus, you have more freedom of movement and enough people will tell you, wraparound type guards can cause other issues.
The Polisport Hammer handguards worked great by the way. They're flexible and though the bike got dropped a few times, they simply bent out the way and sprung back every time.
The jury's still out on the bar ends though. They worked a treat at protecting the grips and giving the freedom to drop the bike but the open end of the grips means dirt gets into the throttle twist grip really easily and we're not so keen on that. Don't crash? Maybe that's the answer...
What is next?
The brief for this test mule is to be a place to test some parts for Enduro21 but mainly be a real world enduro bike. One we can do what we want to, fits parts to and treat as a project aiming to become the best bike it can be, at a fraction of the price of a new bike.
That means some parts fitted are new, and will get written about, but some are from boxes in the back of the garage, borrowed and bought to fit the bike and make it better for low costs.
Take a look at this picture TPI fans and see if you can guess the next move? It won't take a genius to spot the ECU has been removed and posted away to…Two Stroke Performance. TSP are going to reflash the ECU and while we are there fit a different compression cylinderhead and their injector relocation kit.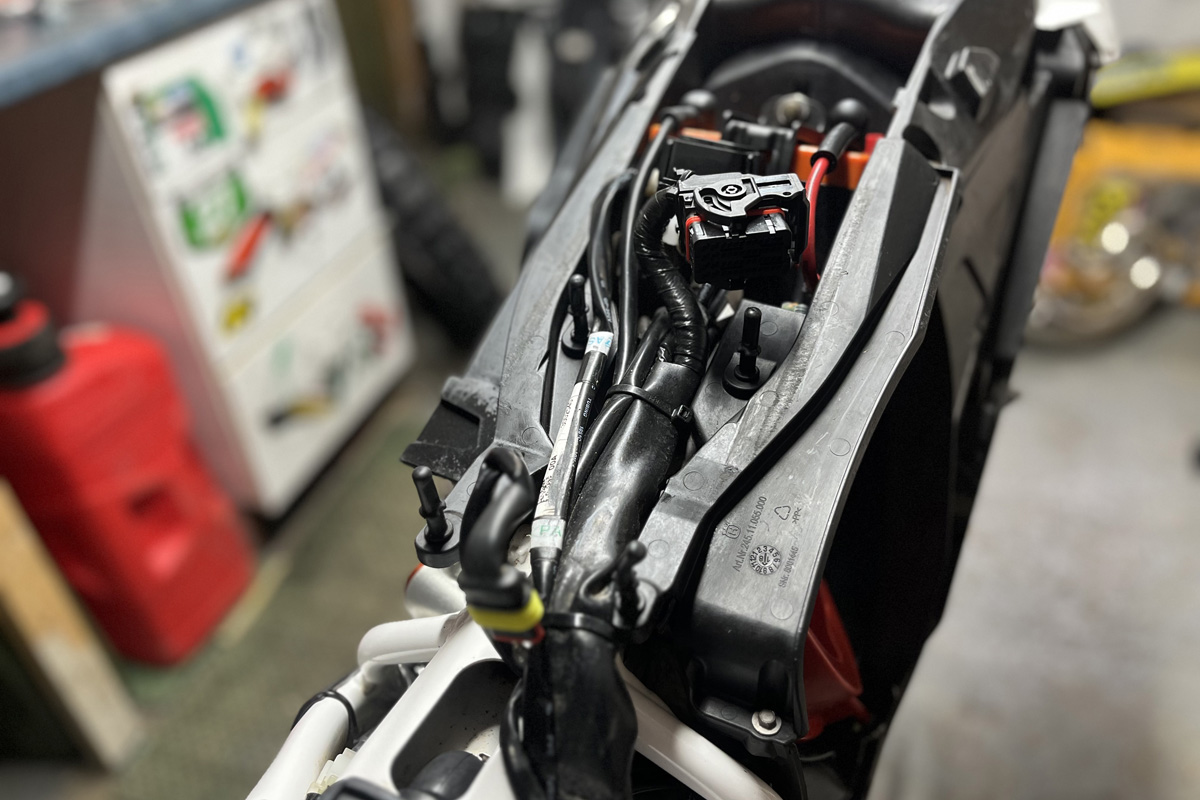 Along with a good, hard look at the installation process of the TSP parts incoming, tested reviews of the Dunlop AT81 Extreme tyres and mousses, Astra handlebars, AXP chain guard and more will be in our "tested" section asap.
Read the first instalment on the Project 250 test mule here: Project 250: Husqvarna TE250 TPI test mule
Photo Credit: Enduro21