5 minutes: Mani Lettenbichler – "I had to learn walking again"
Ahead of Hard Enduro World Championship round two this week in Serbia, Mani Lettenbichler talks through his six month-long recovery process from a serious knee injury and what he expects ahead of the Xross Hard Enduro Rally.
After racing in the opening SuperEnduro World Championship round late in 2021 (and finishing second to Billy Bolt), Manuel Lettenbichler was facing a tough call. A long-standing knee injury was getting worse – "it locked up and we had to turn my knee around 10 minutes to get it unlocked".
Then in December 2021 his knee basically locked up and the job was up. An operation and six months of rehab later, including at the Red Bull sports clinic in Austria, and Mani is back at the races.
Ahead Hard Enduro World Championship round two this week in Serbia, the Xross Hard Enduro Rally, Lettenbichler explains the injury, recovery process and how he expects this first race back might pan out.
Hi Mani, where have you been, are you fit to ride this week in Serbia?
Mani Lettenbichler: "I'm feeling alright let's say! I just wanted to give Xross a try see what I can do, you know. I think it's going to be tough but also pretty good training as well, especially because it's three days of racing.
"Maybe I'm jumping into the cold water because it's such a long race, and I hope that my knee is gonna hold up, but I'm definitely excited to be back at the races.
"I hope I can just have a solid race but I don't expect too much or to fight for the podium. We'll see during the race how it pans out. Everything can change but right now, I'm looking forward to going to Serbia."
So, what actually happened, what was the injury and how was the recovery process?
"I broke my meniscus a while back, not fully, but enough to have a problem. We decided to go with a recovery without an operation because it wasn't too bad. It was just a little rupture. Then in the last couple of years my knee has locked a couple of times and I was having to straighten up my leg to get it unlocked again.
"In November we were testing for SuperEnduro and it locked up once and we had to turn my knee around for like 10 minutes to get it back in. Then in December it just locked completely and it didn't come back.
"So I knew in November I should get it checked in January and see where we were at but then it just happened naturally and it needed fixing right there and then.
"I was pretty happy too to get it fixed at the beginning. Before the operation the doctors said, 'yeah, no worries we'll just cut the piece out then after two weeks it will be fine'. But it was almost 95% broken off so they had to clean it out, cut some cartilage out and it was a bigger job.
"That's why the recovery process was so long. I was in the hospital room and three doctors told me, 'it was a little bit of a mess in your knee but we got everything fixed' but they calculated now it was up to six months off. I was like faaaack!
"In the first six weeks I almost couldn't do anything because with the meniscus you must keep your leg without any pressure to make it heal.
"Then I started my rehab at the Red Bull training centre and that was really good, with good progress thanks to my physio and trainer. They did a really good job. I've been there 12 weeks almost straight every week, six days a week.
"We have been working hard to get it back and the goal was to be back for Israel but then in March I knew I'm still not there because at the beginning I was even having to learn to walk again and trying to get the knee just strong enough to use like normal. I never expected it to be such a big process but now I'm definitely happy but still not 100%...just almost."
So, what about Xross in Serbia, what do you expect from the race?
"For sure I'm not 100% ready. The knee is actually alright when I'm riding but I'm missing quite a lot of bike time of course.
"I definitely decided to be there just to see the race as training as well an extra practice ahead of Erzberg which we definitely want to be 100% ready for. Let's say it is 80% where I should be and hopefully, hopefully it's enough to play with the boys a little bit.
"I'm actually really excited. I think it's going to be a really good race. The landscape and the scenery looks pretty mega so it should be some good riding. I've never been to Serbia so I'm excited to see the country as well.
"I think it's probably gonna be a bit like Romaniacs, just not as long with a little bit shorter days. But from what I have seen I imagine pretty similar riding like Romaniacs."
What's your goal there?
"Just to finish the race would be pretty mega. You know, if I'm riding for three days now everyday for four to five hours, it is a big challenge for the knee so I hope everything goes well.
"We will see when we are there how much I can push but I can't really expect too much. I don't want to put any pressure on myself, just enjoy the race and feel excited to be back. I'm really looking forward to it, it's gonna be a lot of fun and be great just to see all the boys again."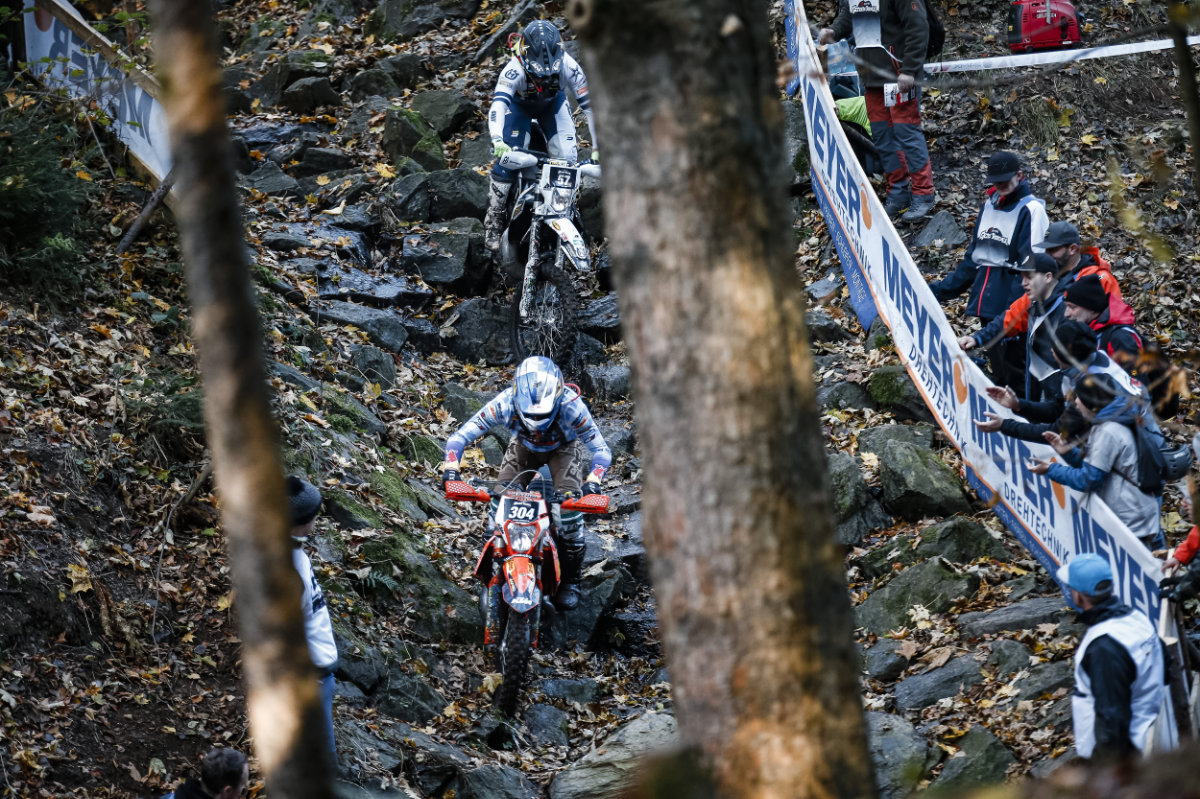 You were runner-up last year in the HEWC, how do you see this year panning out now?
"I definitely want to give everything at ever race now and see where we end up. I think it's really difficult because we don't have too many races, so it's hard to collect some points and the boys are riding pretty good.
"This year I will go to every race and just try to have some solid results and put in some solid races. It is going to be difficult but we will see, you never know what the other guys are doing and anything can happen in our sport. I'm just excited to get it started this week."
The Xross Challenge, round two of the 2022 Hard Enduro World Championship, begins on Wednesday with a Straight Rhythm shoot-out race before three full days of action in the Zlatibor, Tara, and Mokra Gora Mountains in Serbia.
Stay tuned to Enduro21 for all the results, rider interviews, best images, video and more.
Photo Credit: Future7Media