I Survived: Epic round the world trip on a KTM 500 EXC-F
140,000 kilometers and three years travelling around the world on a KTM 500 EXC-F – Aaron Steinmann tells us about his remarkable dirt bike journey…
Most people who decide to make a round the world trip have many decisions to figure out. Things like how long, which routes, where to visit, what riding kit...this kind of thing. One big question is also which bike?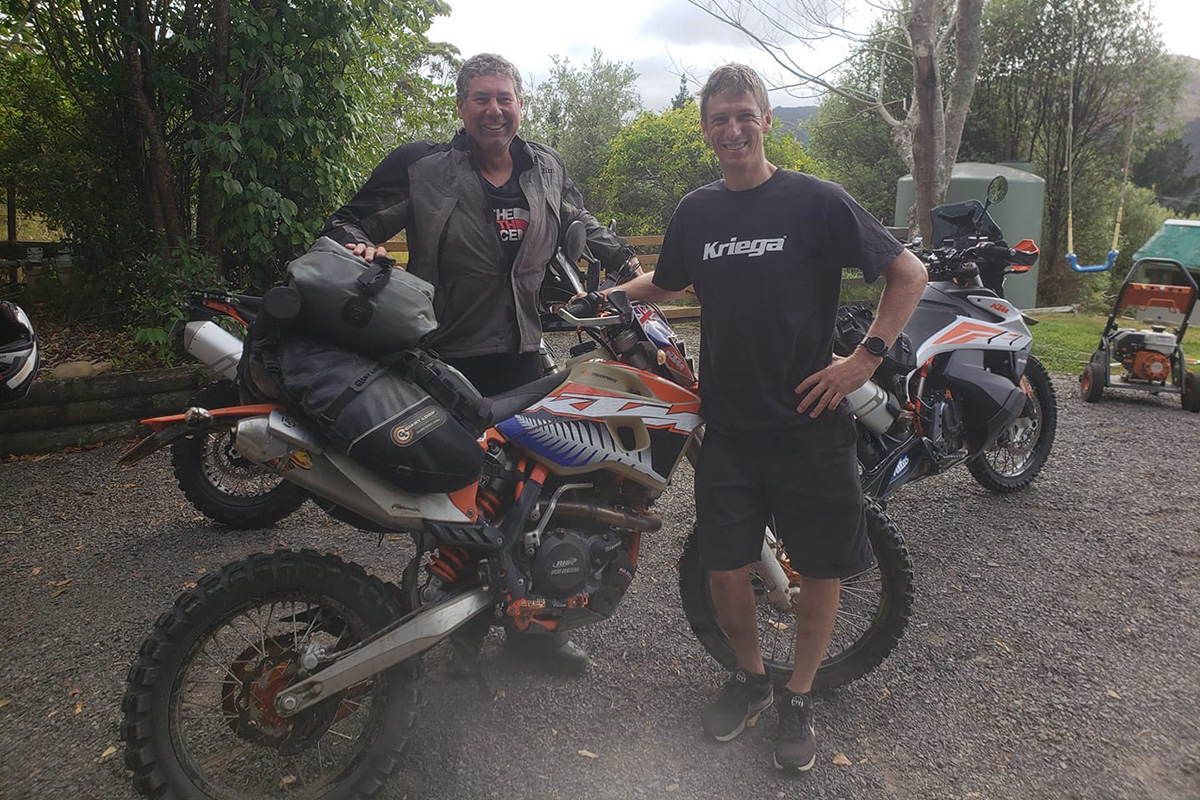 For Aaron Steinmann, aka Braaping Kiwi, that choice was not the multitude of popular Adventure motorcycles out there, neither did he opt for a classic big trail bike. No, Aaron went with a KTM 500 EXC-F enduro bike.
Now back from his epic ride, Aaron tells Enduro21 about some of the pleasures and pains of his incredible trip, how many sets of undies he packed and how he managed to go that far on a dirt bike seat?
I chose the KTM 500 EXC-F for a few reasons…
I have a dirt bike background and have ridden hare scrambles and motocross, so knew I wanted a more dirt-orientated bike. I did a trip in Laos and Thailand on a rented Honda CRF250, so I knew I wanted a lighter bike but wanted something with a bit more power for the grin factor, the 500 ticked that box.
I also wanted something without a bunch of electronics, something simple to work on.
The lowest point was the first day I rode into Mexico from Guatemala... I finally found a place to stay (crappy room) that luckily had Wi-Fi. I turned on my phone and the first message was to tell me my father had passed away.
Aaron Steinmann
The sales rep pointed me towards the KTM 690 in the showroom after hearing my plans, and probably rightfully so, but I knew the 500 was the bike I had walked in to buy.
It certainly isn't the most comfortable on the road, not for long distances, but the Seat Concepts seat helped and then it was just a case of 'man-up, buttercup.'
I guess my main concern was reliability and having so many people tell me they aren't made to do long distances on the road and that it wouldn't last. But it did.
A big adventure bike wouldn't have been as much fun…
When I hear a rider banging on about how extreme the road or terrain was and I see he's on a big Adventure bike with 70/30 tires, multiple GPS units on his dash, loaded up like he's moving house, I just roll my eyes, look at my little ol' 5hundy and know I made the right choice.
It's nice to prove you don't need to buy a massively expensive big adventure bike to do a world trip and the 5hundy will go a lot more places than an overloaded bike.
KTM should concentrate on showing us that little bikes can do big things…
I think the bike is a big part of the journey and if I was going to do it again, I would think about a different bike for a different experience. The bike would need to have the same traits as the EXC-F but there aren't a heap of options out there.
KTM are starting to come around hence the 790 and 390, along with Yamaha bringing out the T7, but I don't think they have hit the mark yet.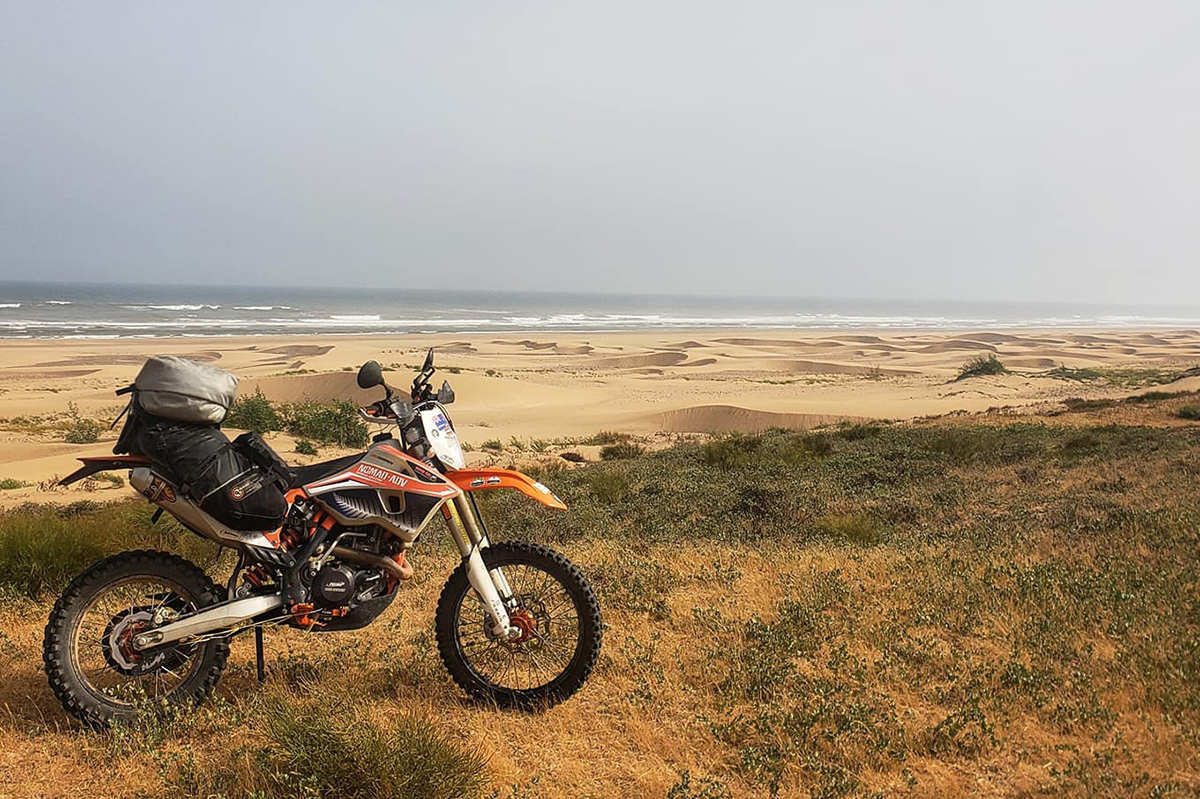 In my mind it would be a modern day XR600. A bike between the 500 and 690 that has a Dakar-style look to it. The AJP PR7 is close to getting it right but could still go on a diet.
Until then how about doing it on an old school early 90's street legal KX or CR 500, now that would be a laugh! Or a 300tpi and go super light? (No spare socks and undies). Whatever, it wouldn't be big and start with a B end in a W.
I admit I babied it some days but there were times I had her fully pinned as well…
I started out doing oil changes around every 1500k but stretched that out to 3000k depending on what type of riding I had done.
I did 870hrs/67000k before I had to do the first top-end rebuild. That was from the bottom of New Zealand to the top of Alaska (Prudhoe bay) and back down to Oregon.
https://www.instagram.com/p/BtTe9DGnwG8/
The second major rebuild was at 1325hrs. The bike was still running great, but I kept wondering how the bottom end was and the next leg of the journey was through the 'Stan' countries, Mongolia and Siberia.
I knew there was going to be a heap of riding in remote places alone so wanted the peace of mind and shipped it back to the States to get the job done.
My only "breakdown" was when the rear wheel bearings blew out in Canada…
The only issues I had with the bike were wear and tear, things like chain and sprockets, fork oil, wheel bearings and clutch.
I got a set of Haan wheels when I was going through the Netherlands as their factory is there. I got a cush-drive rear which has three bearings, one size up over the (two) stock ones. I haven't had an issue since then.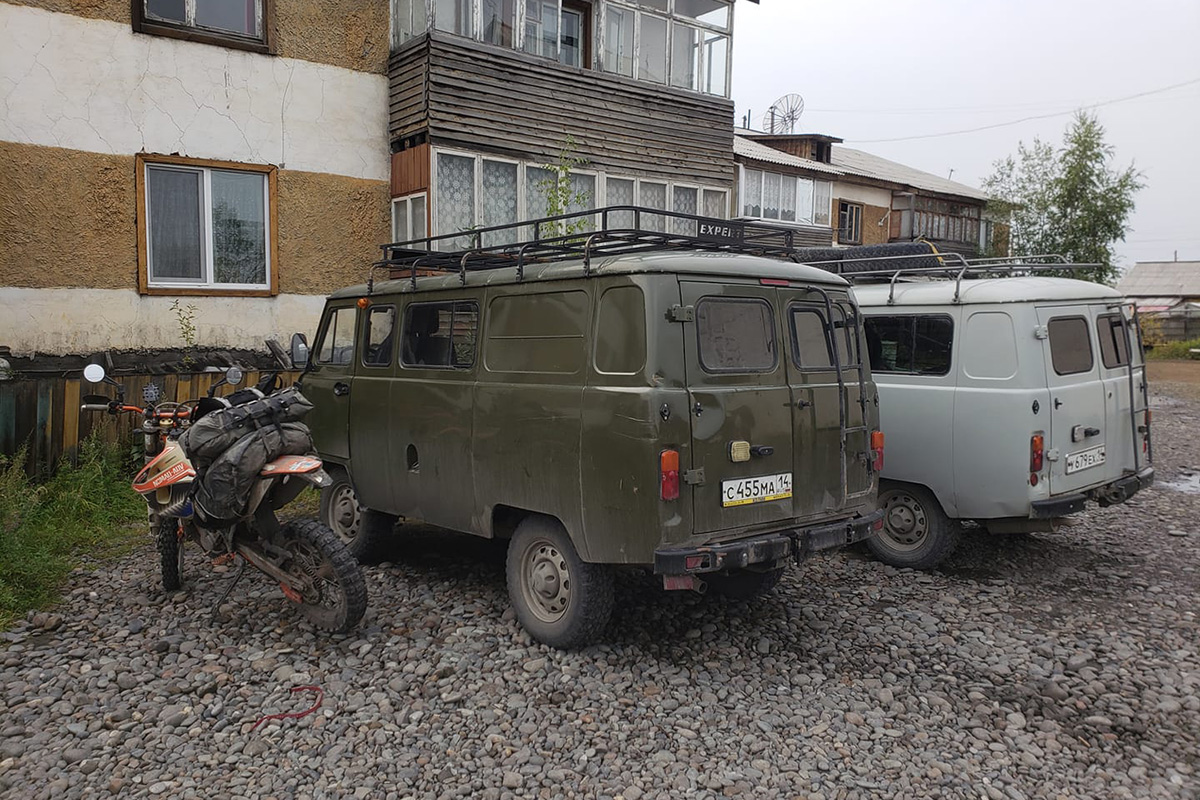 I was concerned about the clutch before I went to Morocco, knowing there was going to be quite a bit of sand riding. I'm not a mechanic by any means but the nice thing about the 500 is the simplicity of it. I replaced the clutch next to my tent in the campground without a worry.
I think anyone setting off around the world should at least be able to do the basics like an oil change, fix a flat, change brake pads etc.
Pack light and keep it narrow to get through doorways…
Doing a trip like this on a smaller bike means you have to think a bit more about the gear you are going to carry.
I didn't want to be too heavy or be wider than my bars so I could fit through doorways. That opened up a lot more options for safe parking and accommodation when I could easily bring the bike inside. It also helps with lane splitting in bigger cites, which I normally try to avoid but often ended up in.
https://www.instagram.com/p/BhunYxCgztE/
I think most people overpack and over-think what to take on a journey like this and I was guilty. I started out with two pairs of jeans along with a decent shirt and two pairs of shoes. I'm not sure what I was thinking but it didn't take long before they got ditched. From then on in I looked like the scumbag dirt biker I am!
If I've been carrying something for a while and haven't used it then it's going to get ditched unless it's a spark plug or chain link.
I had three pairs of socks, undies and T-shirts. Never more and sometimes less…
I used the Giant Loop Coyote soft bag to carry my gear in and one Tillamook top bag. The Coyote bag has three dry bags inside. One had my tools, tubes, filters etc. Another had my cooking equipment and the third my minimal amount of clothing. In the top bag I had my tent, sleeping bag, sleeping pad, shoes and a few other things.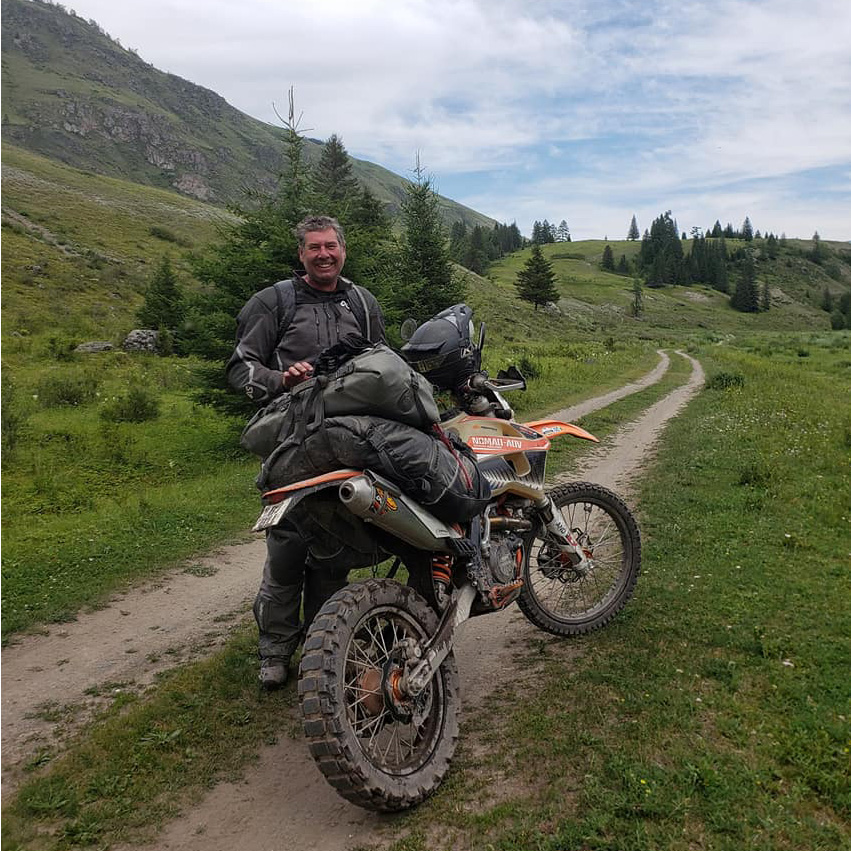 I have two pouches also made by Giant Loop attached to the Coyote bag and they are a perfect size to fit the Motorex one-liter oil bottles. I also kept a few tools in there so I could tighten my chain or the odd bolt if it came loose without having to dig into my main bag.
I like to layer so I went with a lighter Klim Traverse jacket and Badlands pants. Both are Goretex, which is great and meant I didn't have to stop and pull over to put rain gear on when there was a light shower. I had the Klim rain shell top and bottom too, which I used if it was pouring down. Luckily, I had time on my side so often if it was raining hard I would just stay another day wherever that was.
It is easier traveling with others for the peace of mind if you crash or have a breakdown but for that reason I also like travelling alone…
On your own it is entirely up to you to work out the situation if something goes wrong. I feel a little more on edge when in very remote places, traveling solo, and I liked that feeling.
I like being able to pack up and leave when I want and also pull the pin at the end of the day when I want. It is total freedom. The fact that it's harder to travel alone makes it more rewarding to me.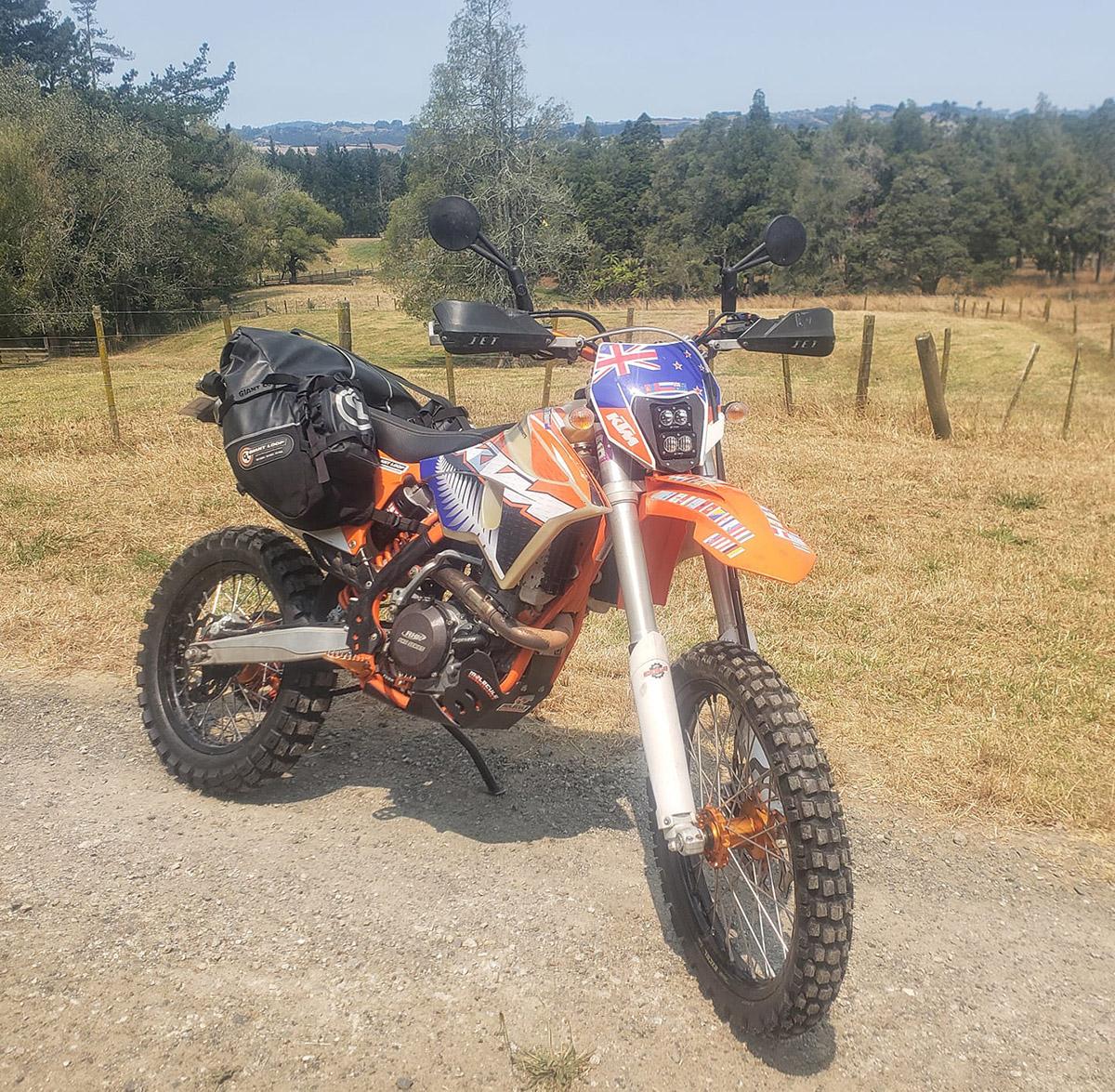 The lowest point was the first day I rode into Mexico from Guatemala. It was a long day on the road and when I finally found a place to stay (crappy room) that luckily had Wi-Fi I turned on my phone and the first message was to tell me my father had passed away. Home felt a long way away that night.
The second lowest was waking up to find my bike stolen from outside my tent in Australia.
I really can't pick a favorite country. Some have great riding but the basics like finding a normal loo is near impossible…
Countries like Switzerland or Austria are stunningly beautiful but have no real off-road trails. I would have liked to spend more time in Colombia. I had to leave to catch the one last sailing for that year to get to Panama. If I didn't catch it, I was going to have to fly my bike over the Darien Gap.
https://www.instagram.com/p/BnoMJkrlccb/
There were a few times I travelled with other people throughout my journey. I really enjoyed it from Kyrgyzstan towards Mongolia where not many people spoke English and we were camping, often remotely. It was great to have company in the evenings and not feel so guilty for drinking alone (who am I kidding, I never feel guilty doing that!).
Fast facts
How many tires? I didn't always have a choice on tires and would take whatever I could get in the country but over the course of the 35-40 tires I chewed through I used TKC80's (not a big fan), Pirelli M21, Mitas E09/E10, Golden Tire GT723, MotoZ RallZ, Desert HT, and a few other random ones. I averaged about 5k for the rear and 10k on the front.
Original plan? My first plan was to ride from New Zealand to Portland Oregon, where I had previously lived for many years. I planned around four months for this journey, and that's roughly what it took. Little did I know I would still be going more than three years later covering 140,000km through 51 countries on six continents.
Which tent? I went with the MSR Hubba Hubba NX two-man tent that has a bit of room to feel comfortable and be able to sit up. I couldn't imagine been stuck in a swag or a small coffin style tent for a couple days and a hammock for long term travel isn't practical.
Definitely take with you? I recommend is a Steripen. It's a little ultraviolet light that sterilizes water if you are unsure how safe tap water is or when out camping by a stream.
Favorite road or trail? Backcountry discovery routes and some sections of the Trans Euro Trail through the Balkan countries. Oh, throw in there the Road of Bones just because of the area and history behind it.
Best bike mod? Scotts steering stabilizer.
Favorite food? A home cooked meal from someone that's taken me in for the night.
Most unforgettable moment(s)? The milestones like reaching the top of Alaska, making it to the Sahara or reaching Magadan. But mostly meeting all the people along the way that have shown me so much kindness by taking me in for a night or just coming up to me in a campground saying, 'I bet you can't carry cold beer on that bike and handing me one'. People helping me in any way to complete my journey. To all those people thank you!
More information and a huge range of images from Aaron's journey can be found on his Instagram feed: braaping_kiwi