First look: 2021 HONDA CRF450RX/R AXP Racing skid plates
AXP Racing have released a new addition to the extensive range of tough and lightweight skid plates with Xtrem and MX versions to fit the 2021 Honda CRF450RX and R models.
French company AXP continually update their range of skid plates for enduro, off-road and motocross (and Adventure these days as well). The different skid plate options in the catalogue include the Xtrem model which is generally the better application for enduro and off-road having greater protection – the MX skid plates are shorter options for riders who aren't hitting the rocks and logs.
2021 CRF450RX Xtrem skid plate
Like all of AXP's Xtrem models (available for a wide range of enduro motorcycles), the new plate for CRF450s is made from high density, 8mm thick polyethylene plastic and weighs just 1.550kg.
The big difference between the Xtrem and MX/SX plates is obvious, the linkage protection which doubles up to 16mm of thickness under the linkage.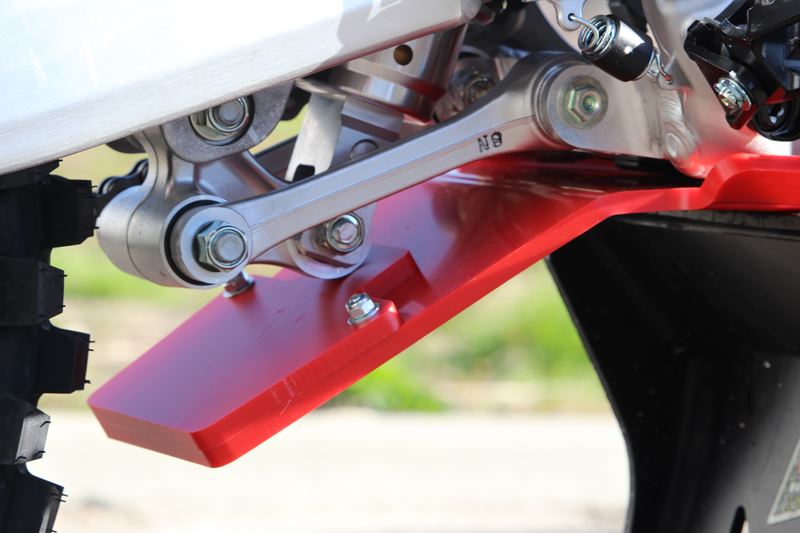 Designed to provide full protection of the lower frame (from the front of the frame around to the bottom of the footpegs), plus water pump and engine cases are protected from damage. The design also allows you to drain oil and change your oil filter without removing the plate.
Apart from using a lightweight material, the AXP plate does not create vibrations as aluminium can. The plastic design also absorbs impact where aluminium can get deformed or crack like a carbon plate can.
Price: €132.50/$159 Available in black and red.
How to video for the 2021 CRF450RX model:
MX/SX Skid Plate
The main advantage of the MX version for CRF models is the additional weight saving, if you are not into hitting logs and rocks this is potentially an option.
Constructed from 6mm thick, high density polyethylene plastic, this plate is a claimed 0.875kg.
Like the Xtrem plate it protects the lower frame rails, engine cases and water pump from damage and also allows you to drain oil without removing the plate. Again, the plastic design absorbs impact, does not generate vibrations, is a claimed 40% lighter than aluminium and more AXP say is resistant than carbon fibre (plus a lot less money).
Price: €99.17/$120
More information including global distributors: www.axp-racing.com