Quick look: FXR electric heated goggles
Enduro21 takes a look at the FXR Maverick cordless, electric heated goggles – an answer the perennial problem of lens fog with battery powered goggle set from the off-road and outdoor sports specialists.
When you've got feet in both winter sports and off-road camps like FXR, the cross-over for products can be surprising. Whichever camp you're in, looking across the fence and asking the question 'can that work for me?' can reap rewards.
These cordless electric heated goggles are exactly that and caught our eye as an answer to the endless problem faced by those of us who spend time riding enduro in cold, wet or icy conditions (or all of the above).
The Maverick electric goggles concept is a simple one: an element runs around the edge of the interior of the goggle lens and, powered by a rechargeable battery which sits in a small pouch on the strap, a push of a button warms the lens to cut out the fog.
FXR cordless electric heated goggles highlights:
Electric heated lens
Four power modes
Impact resistant, vented, double-glazed, pre-curved lens
Anti-scratch, anti-fog and UV coated lens
Soft battery pack
Triple density, moisture-wicking face foam on goggles
Triple silicone banding on strap
Removable nose piece
Soft pouch for storage
Includes all wiring and battery charger
Comes with cushioned, zip-up goggle pack
How do they work?
Operating the goggles is as simple as you'd expect. The battery is charged separately and sits snug inside its own little neoprene pouch which in turn fits to the goggle strap.
The pouch has a grippy rubber area on the inside which grips the helmet side in the same way your goggle strap does. The pouch has an easy to find on/off button (while you ride) which you press and hold to turn on, and then continue to press to scroll through settings.
There are four settings: Power Shot for a continuous two-minute burst of heat which automatically turns off. Three further settings are contiguously 'on': high, medium and low which have different levels of heat or are better for battery life.
An LED on the outside of the battery pouch displays a different colour depending on which setting you're on.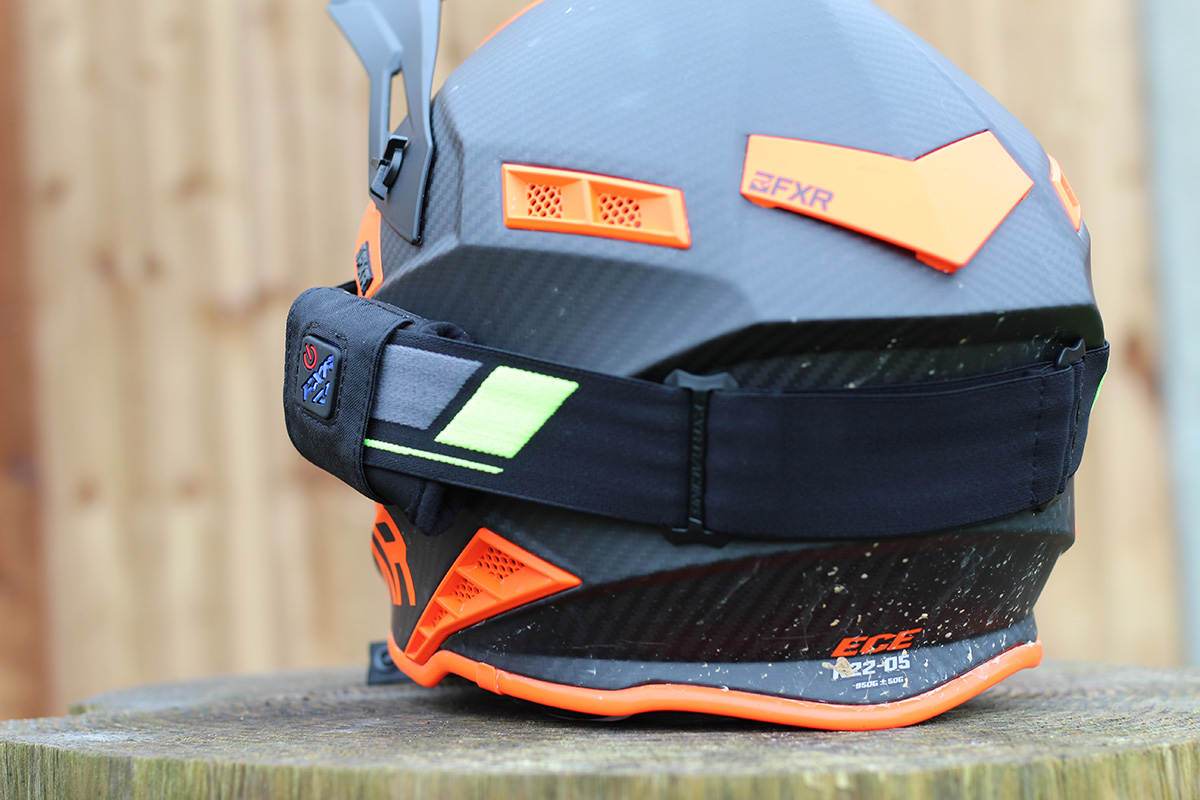 On the face and on a helmet, the Maverick goggles are like any other double-glazed, anti-fog goggle lens in terms of what you see while you ride. The face foam is comfortable and everything feels pretty normal except, obviously, the battery pack sits a little proud on teh left side of your helmet.
We figured people might wonder about the additional weight of the battery so got the scales out. The battery adds 75gr to the overall weight of the goggles which measured at a total of 264gr. For comparison the lightest standard set of goggles we had in-house weighed 136gr while a set of roll-offs weighed-in at 290gr.
Enduro21 will get this set out of the trail asap to give them a test.
Cost: €159.99 / $215
More information: www.fxrracing.com or www.fxrracing.eu