HEWC results: Hero Challenge win for Wade Young – Bolt takes championship lead
Wade Young has injected some venom into the 2021 FIM Hard Enduro World Championship with victory ahead of Billy Bolt and Mani Lettenbichler at round six, the Hero Challenge "Extreme EnduroCross" race in Poland.
2021 Hero Challenge race in a nutshell:
Race day at the Hero Challenge round of the Hard Enduro World Championship began with a two-hour morning race for Experts, Hobby and Women riders ahead of the main three-hour showdown, billed as an "Extreme EnduroCross"race.
With so many riders taking part, the extreme element proved to be the roughness of the sandy track. It proved a different kind of physical challenge for HEWC riders – less Hard Enduro, more plane hard work and kinda like someone forgot to tell the organisers this is a hard enduro not cross-country world championship.
A fast getaway from the championship points leaders Manuel Lettenbichler set the tone for a three-way fight between Wade Young, Mani and Billy Bolt who all pulled clear of the Pro class field – although Dominik Olszowy and Mario Roman kept the hammer down not far behind.
In the first half of the race there was little in it between the top three but with one less pitstop for the Sherco Factory team, some decisive riding through the traffic plus some smooth and fast speed around the track, Wade Young took his first win of the 2021 season.
"I can't quite believe I am first." Said Young after the race. "I took a bit of a gamble with my fuelling so I was a bit back at the start but I knew it would come good. I managed to pull a bit of a gap and in the second half of the race and I couldn't have felt any more comfortable, the bike was amazing. I'm actually pretty surprised with my speed but I'm so happy, I had an awesome day."
Finishing in second gives Billy Bolt the championship points lead with two round remaining, just one point ahead of Lettenbichler. "It was a super-physical three hours, there's not much left in the tank that's for sure." Said Bolt. "Nobody really came with the right bike for this race, it got pretty rough and the sketchy. I was still battling with Wade until about half way through the race but I had to do one more pitstop than him and although I managed to do my second stop and stay in front of him, lap four was make-or-break in terms of how the race was going to go. I think I made too many mistakes with lapped riders, ended up having a crash and lost touch with Wade there. After that I just had to try and think of the championship and stay ahead of Mani to be honest. It was difficult with so many lapped riders out there and I am a bit disappointed but in the end I wasn't the fastest rider out there today, Wade was riding well and deserved it."
"I was so stoked about my holeshot." Said Lettenbichler following his third place finish. "I was feeling pretty good until about the fifth lap and then you could definitely feel it. It was super intense for the body. I caught up to Billy a little at the end but I couldn't get him and then decided to slow down and make sure I didn't crash. I'm stoked with third though, I'm only one point behind in the championship and one point is nothing. I was tired and he was tired but I knew we had been probably the same speed all race and I knew if I couldn't push more then he was the same. Like I say, I'm stoked, that's a podium at every round which is pretty cool and I'm trying to show that consistency is key at these races."
Poland's newest hero, Dominik Olszowy had to deal with a broken clutch master cylinder but still came home in fourth to truly cement his recent run of form (he was 15th overall at the ISDE in Italy).
Mario Roman completed the top five with Jonny Walker sixth, last night's SuperEnduro qualification races winner Alfredo Gomez seventh and Travis Teasdale, Michael Walkner and Will Hoare completing the top 10.
Hero Challenge main race top 30 results: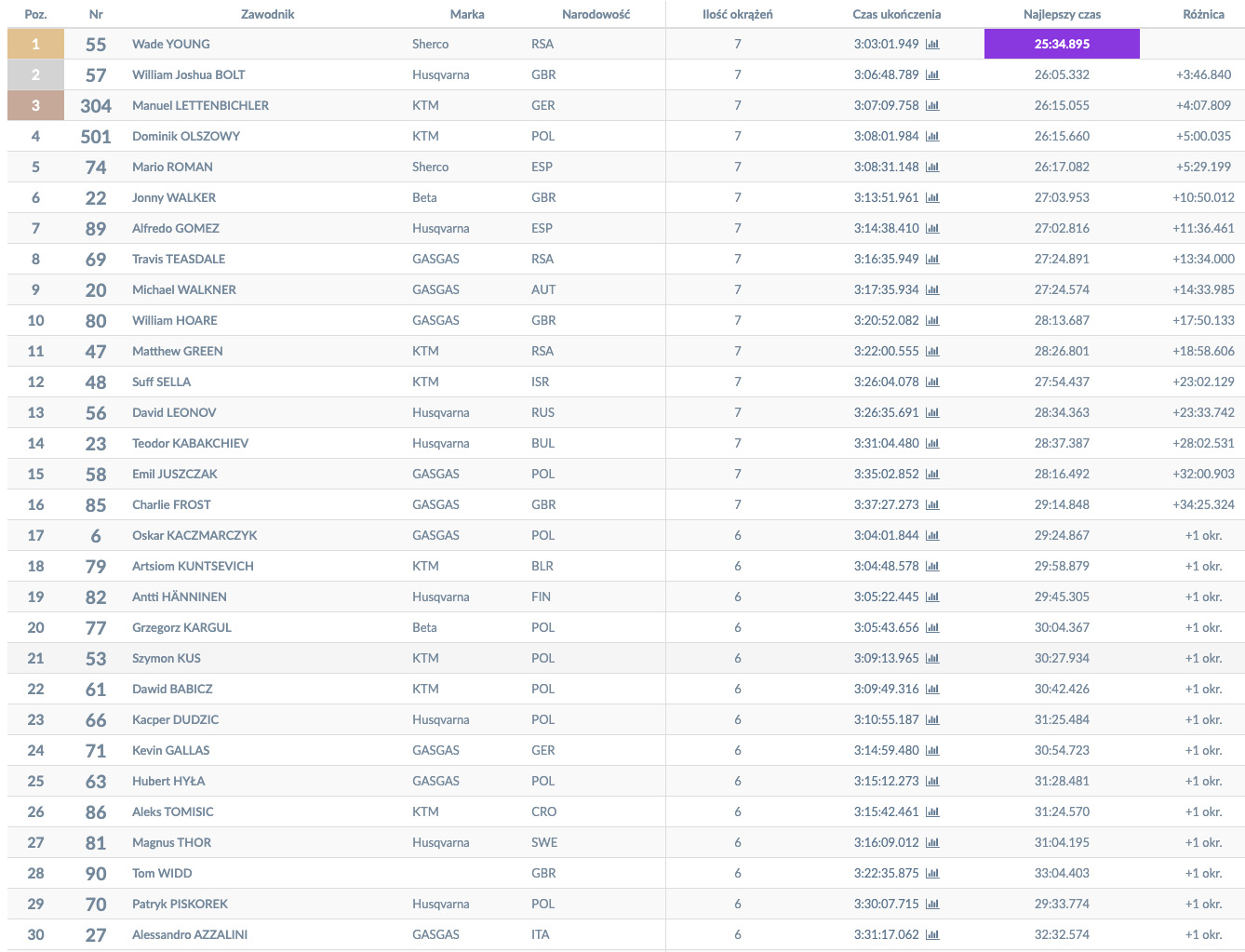 Photo Credit: Future7media | Andrea Belluschi