First look: 2024 Beta RR Racing models – New 300cc two-stroke with twin spark cylinder head
Beta announce big updates to the race ready, RR Racing production bikes, developed by new EnduroGP World Champions Steve Holcombe and Brad Freeman including new frames and a unique 300cc two-stroke engine with a twin spark plug cylinder head.
When you've got Steve Holcombe and Brad Freeman as part of the development team, the bikes coming out the other side of the factory should be pretty good shouldn't they?
Manufacturers often claim the link between the factory race bikes and riders ot the production models but that link is laid bare as Beta's 2024 Racing models feature some pretty major updates coming straight from those EnduroGP World Championship winning riders.
That includes the flagship RR Racing 300cc two-stroke which has a new engine featuring twin spark plugs in the cylinder head. All models except the 125 and 200 also have new frames, new Nissin rear brake calipers and the sweet, little 125cc two-stroke gets a redesigned engine for more power and faster "spin-up".
In case you didn't know, the RR Racing model range from Beta is the "race-ready" version and differs from the standard the Enduro RR models with upgrades first to the engine and frame as detailed but also with higher specification suspension and standard components.
Those models include: 125cc, 200cc, 250cc and 300cc two-strokes plus 350cc, 390cc, 430cc and 480cc four-strokes.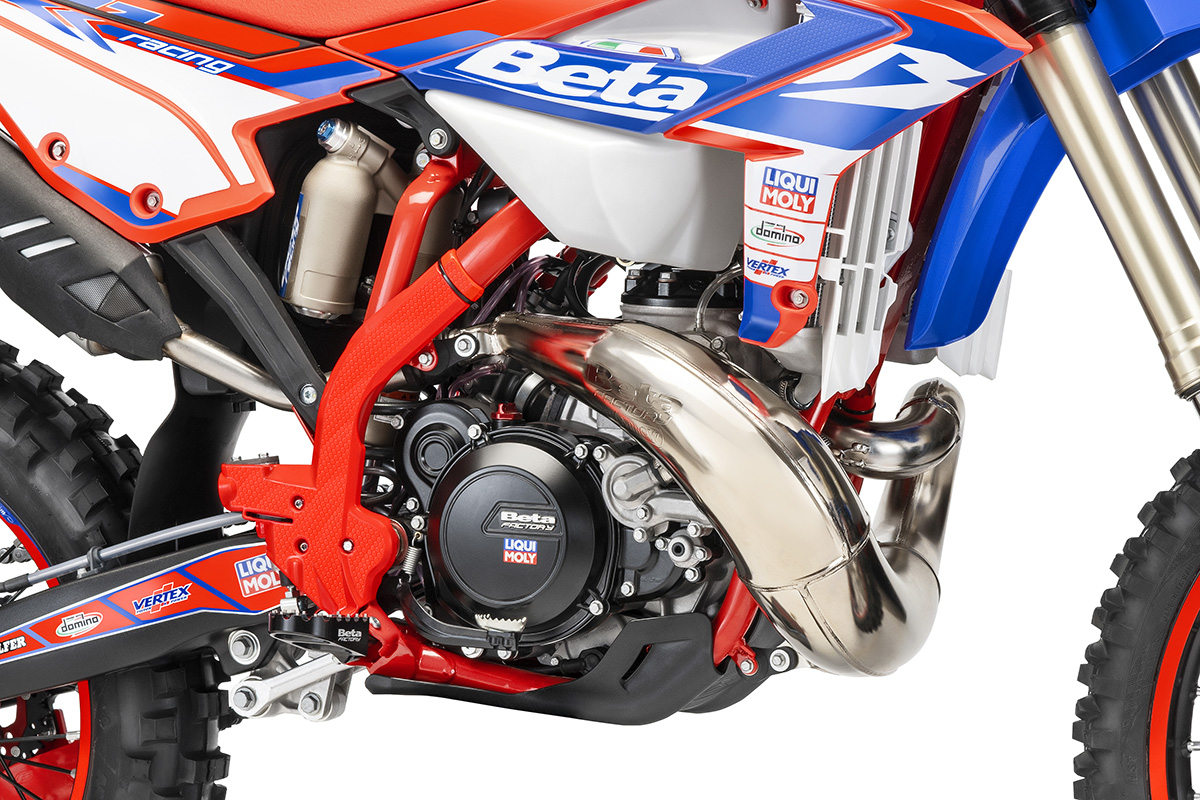 MY24 Features – 300cc two-stroke engine details
This strikes us a pretty big news in a world turning away from carburettors and blue smoke. Plenty of people who will tell you a carb can be just as efficient as fuel injection and that's exactly where Beta are at with this new big 300 2T motor.
Improved torque delivery, more efficient for fuel and heat, yet still with a carburettor and with higher top-end power, this engine is directly the one Brad Freeman developed and raced to the E3 world championship last year (NB. he has now reverted back to one spark plug on his factory bike in 2023).
However Brad prefers it these days, using two spark plugs in the cylinder head firing at the same time means the new big 300 2T model has "dramatically improved" overall torque while still providing top-end power in an engine which they claim has increased both torque and overall horsepower.
The old bike could be a thirsty one under certain (high-revving) riding conditions but the new engine solves that with the twin-spark motor plus the system improve thermal efficiency.
Improved distribution of the fuel ignition points in the combustion chamber improves fuel consumption because "significantly lower residue levels" and "greater carburation stability at all engine speeds". This translates to a smoother and more linear power delivery too, yet a more docile motor overall despite the increase in overall power and torque.
The Beta RR Racing uses a Keihin carburettor which they claim is "similar to that of an EFI model" but naturally has that power delivery only a carb provides.
An added bonus to the twin spark ignition is that a fouled or faulty spark plug doesn't stop the engine from running.
New 125 engine
Small capacity two-strokes have always been an important part of Beta's DNA and the RR Racing 125 model is perhaps the pinnacle of that as a small, light, race-ready platform for riders to learn the craft of enduro.
For 2024, Beta's 125cc engine has been redesigned with a new cylinder, power valve, porting and exhaust.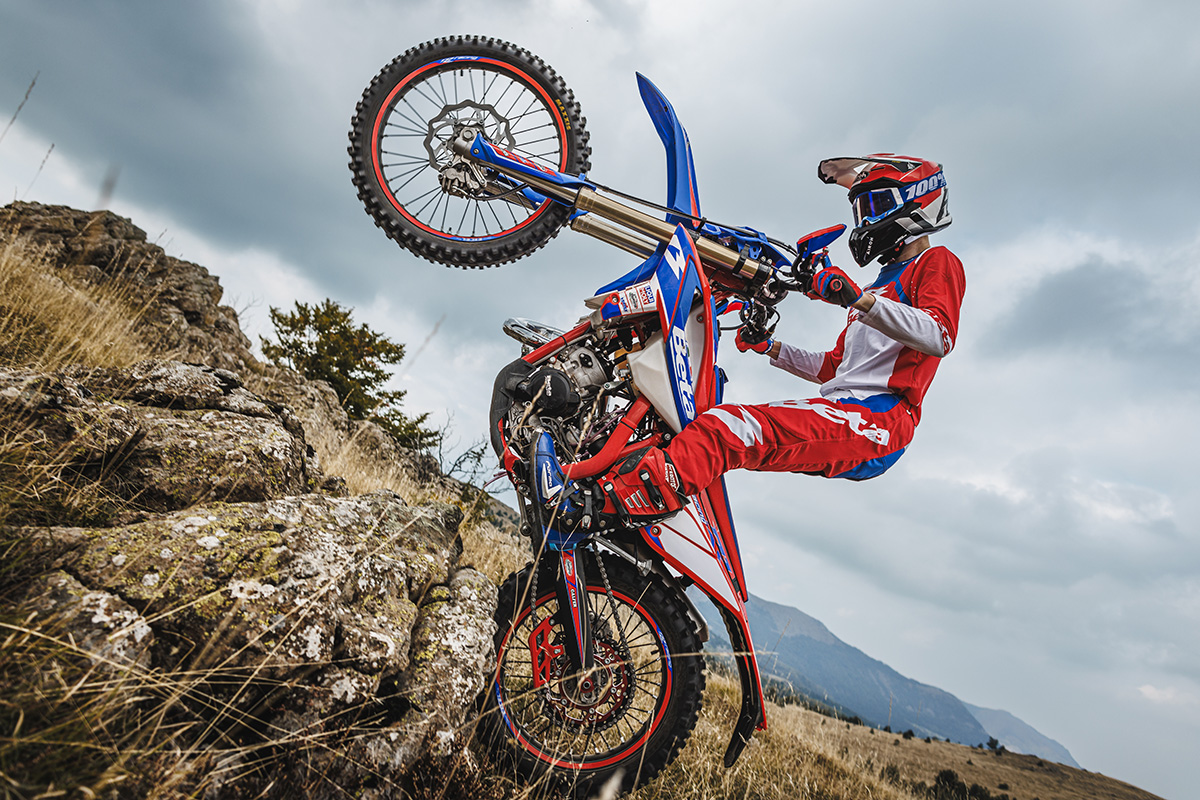 Beta say the aim was to increase the power along the entire curve, "intensifying" the maximum peak horsepower. This result has been made possible by a totally new cylinder, The power valve control has a new spring and valve opening timing, to increase the "spin-up" and reaction of the motor. Power gains at high speeds without losing low-end torque sounds good to us.
Improved frame rigidity
All models excluding the 125 and 200 now run a new frame which Beta say has been developed by Holcombe and Freeman to increase overall rigidity to improve turning stability of the chassis.
10mm larger tubes in the steering head area reduce the flex under heavy load without reducing the overall feel and rideability of the chassis they say and this is a feature handed down directly from the EnduroGP bikes being used by Holcombe and Freeman in the 2023 season.
This update means a series of changesa cross the frame including supports, engine mounts and so on to work with the new frame characteristics. In addition to the above modifications, the footpeg mounts and the rear brake cylinder mount have also been modified. Specifically, the footpeg mounts are now narrower at the bottom, to reduce the likelihood of contact in deep ruts.
The new frame houses a new Nissin brake cylinder down the end of the swingarm. An upgrade on the previous model bringing greater braking power combined with improved modulation and feel Beta say (excluding the 125 and 200).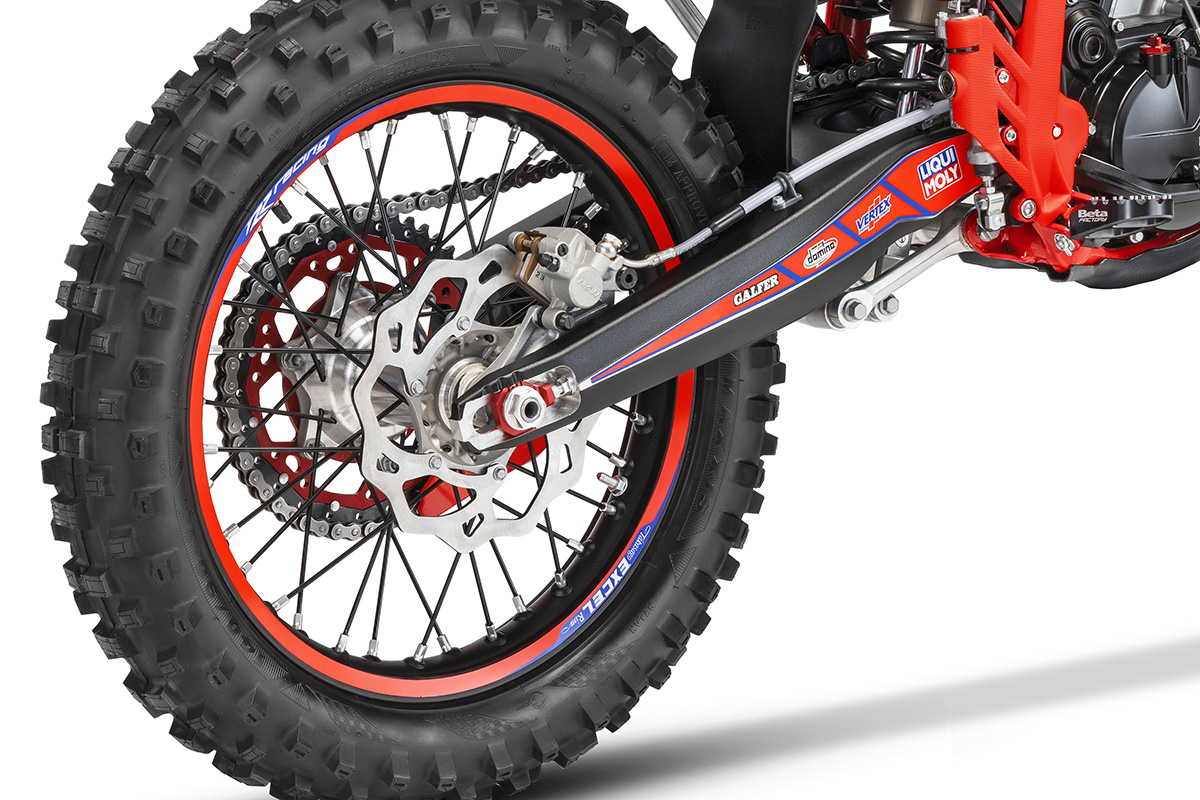 Racing Components (common across entire range):
• Quick release front axle: immediately recognisable by the red anodised alloy release lever, this component is crucial for saving precious seconds in a race when you need to change a tyre.
• New reinforced handguards, designed and manufactured in-house by Beta, feature a two-component "hard wearing" material mould in red and blue colours
• Black ergal racing footpegs with steel pins and a larger contact surface area
• ZF SPROCKETS anodised aluminium core and steel tooth rear sprocket for lightness and strength
• Dedicated red and blue racing seat: with a non-slip top cover and document holder pocket for unparalleled grip, comfort and practicality.
• Anodised black shift lever and rear brake pedal.
• Gearbox oil filler cap, engine oil filler cap and oil filter cap anodised red aluminium.
• Chain tensioners in red ergal alloy.
• New Racing graphics and red and blue wheel decals.
Traction Control – 4T Range
The Traction Control, which can be disabled at a push of the control button, has become a feature of the larger engine four-strokes and is fitted on all Beta 4T models for 2024.
Management of this system is via the button on the control panel between the steering tube and the fuel tank. It allows you to adjust traction control and engine map selection via two control buttons and separate indicator LEDs to distinguish them.
Oil mix – Two-Stroke Range
Models in the RR Racing 2T MY 2024 will continue to come without an automatic fuel/oil mixer as standard. It means the Racing bikes cane be lighter and more agile but of course need pre-mix fuel – a characteristic Beta say "accentuates the thoroughbred racing nature" of the RR Racing models, although to most of us it is just normal unless you're a TBI/TPI engine bike owner.
These models can still be fitted with an aftermarket oil mixer, available as an accessory from the Beta Factory Parts catalogue.
2024 Beta RR Racing Technical Specifications: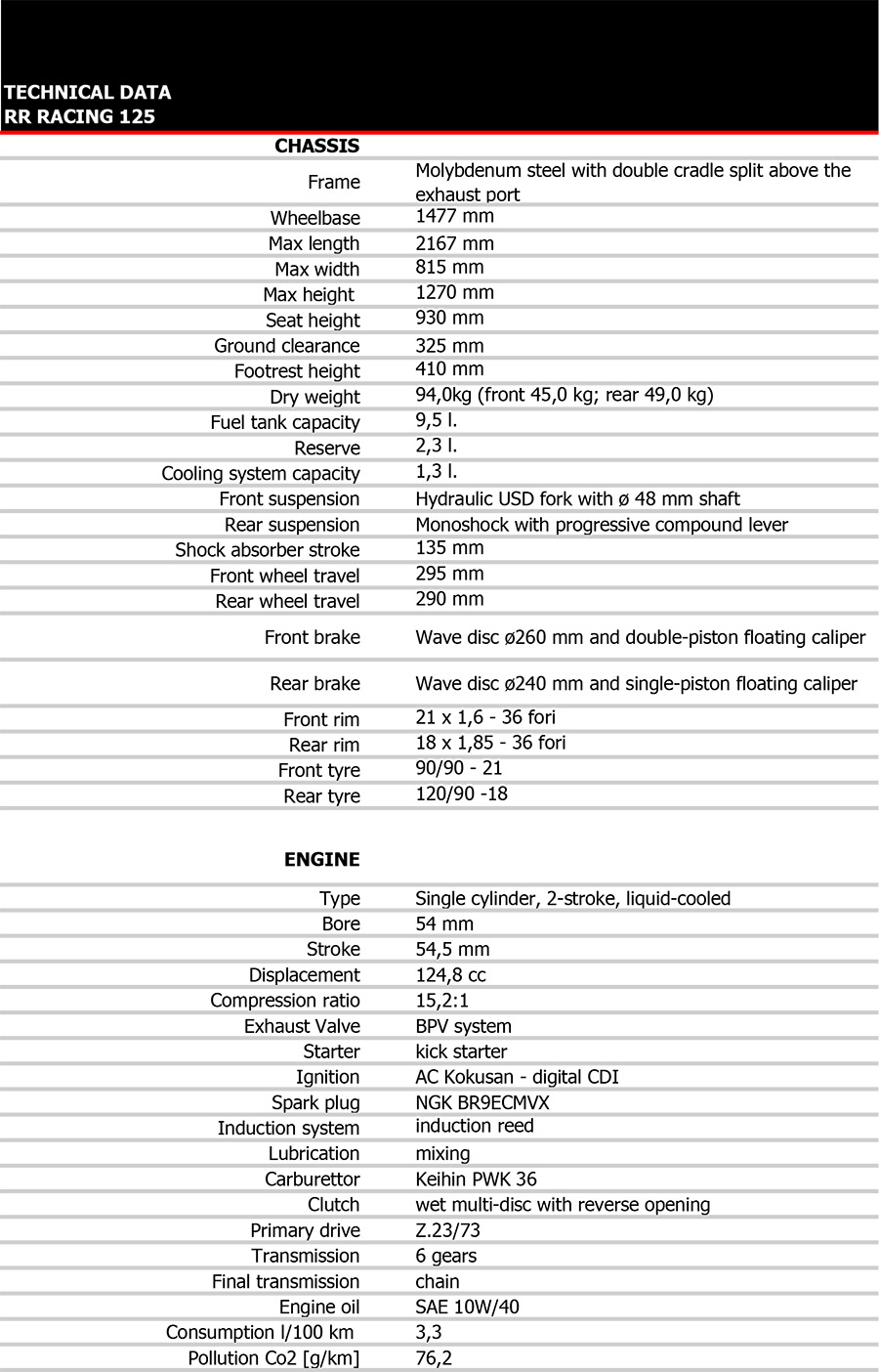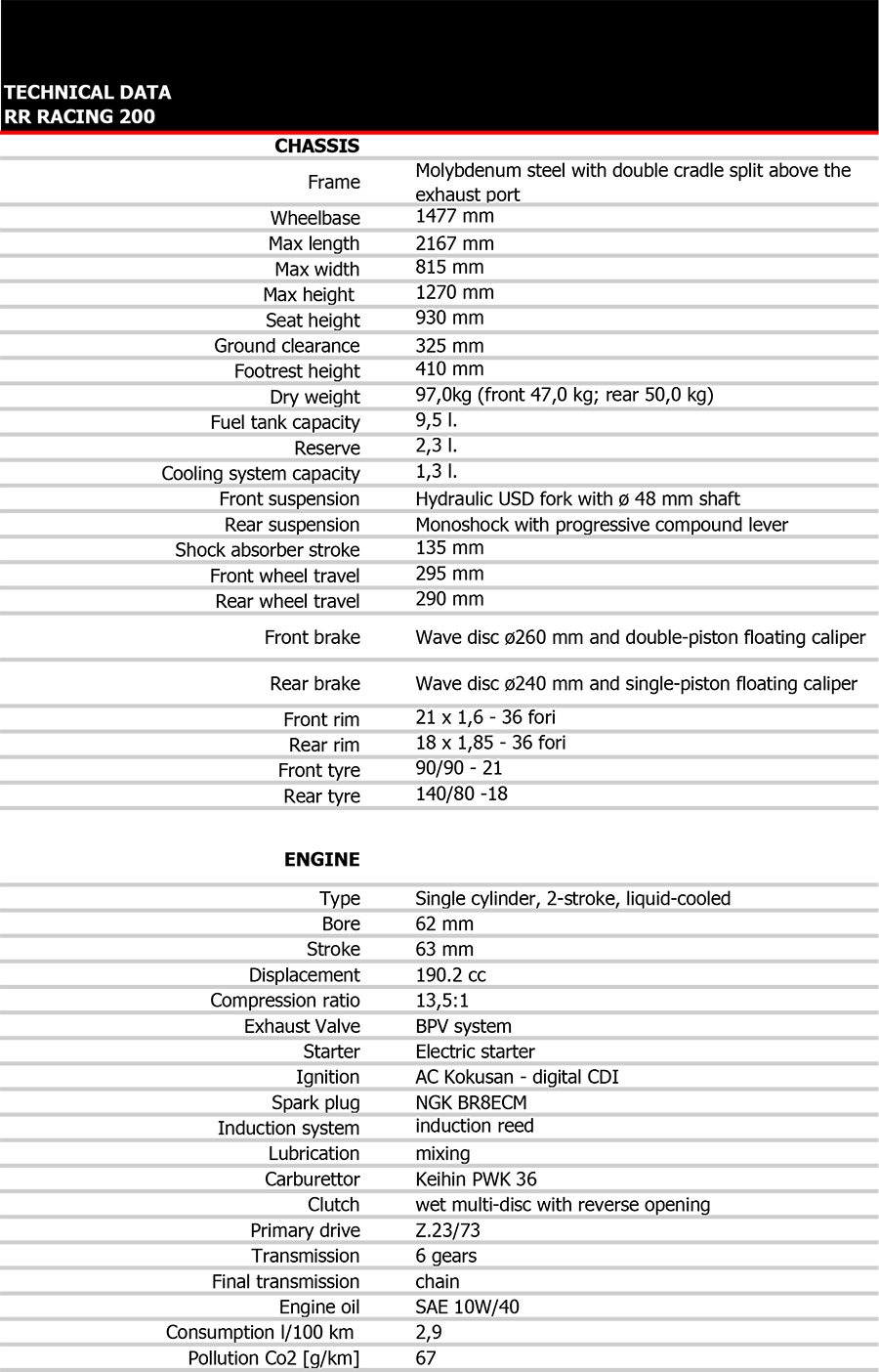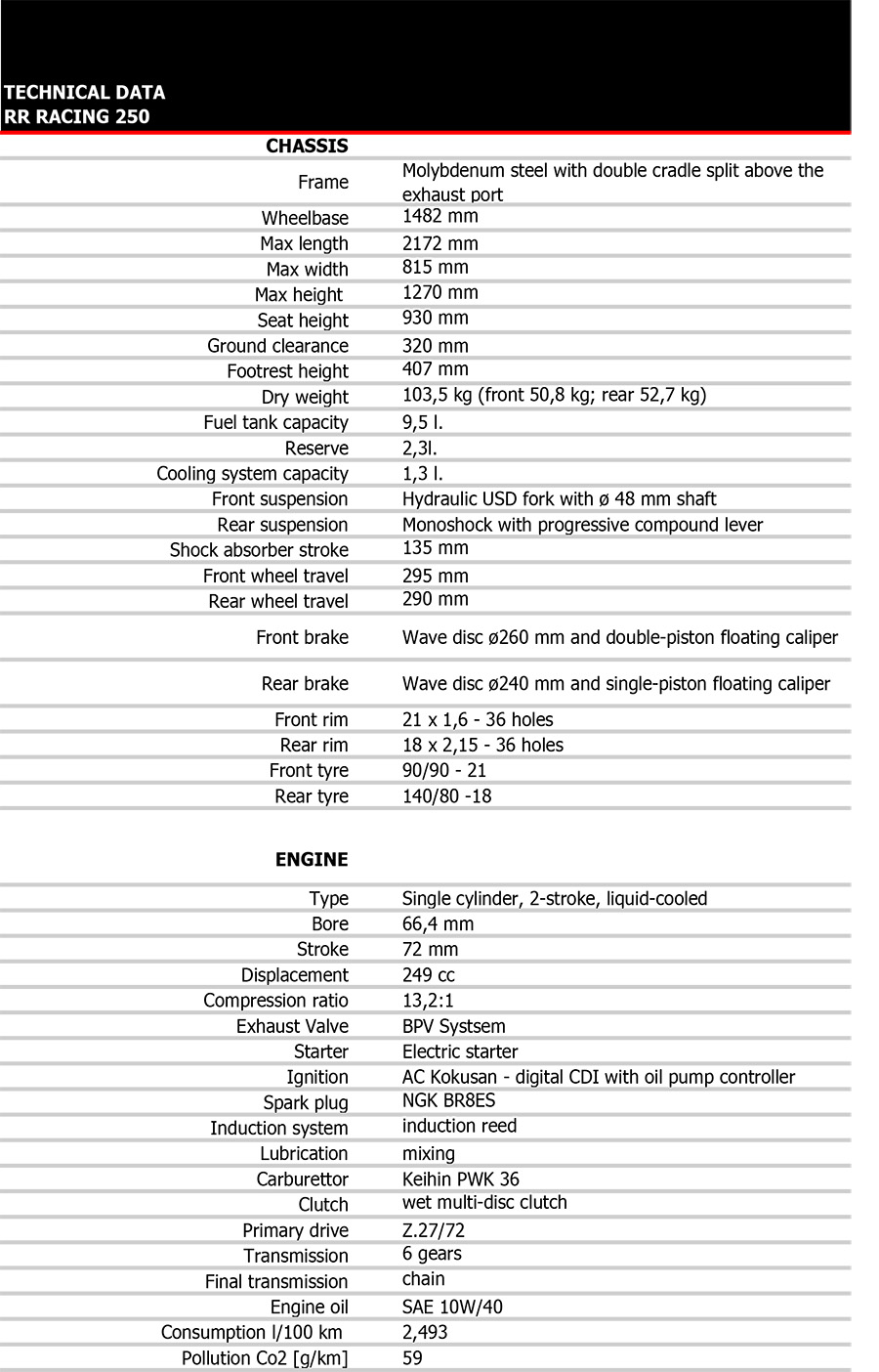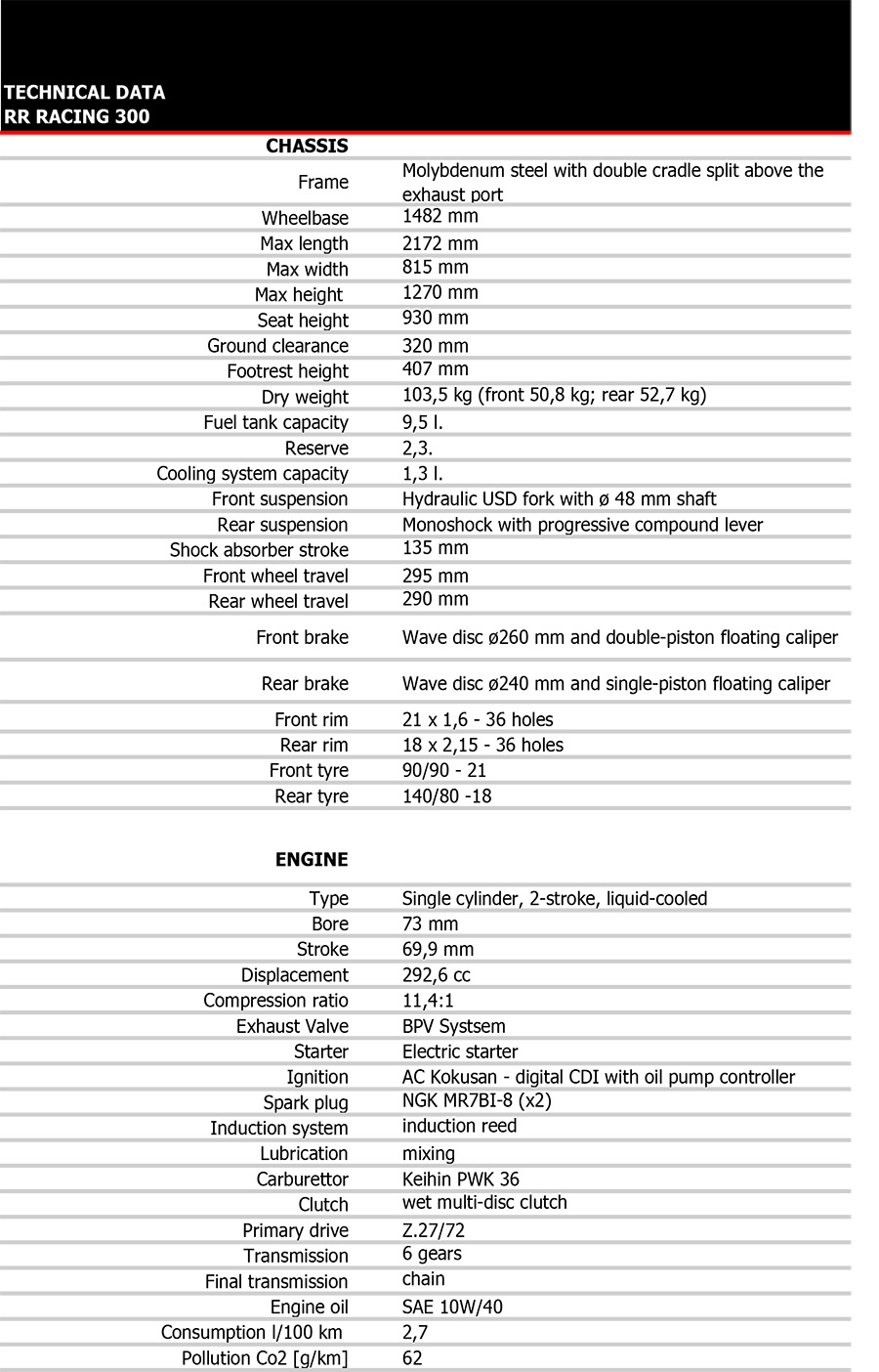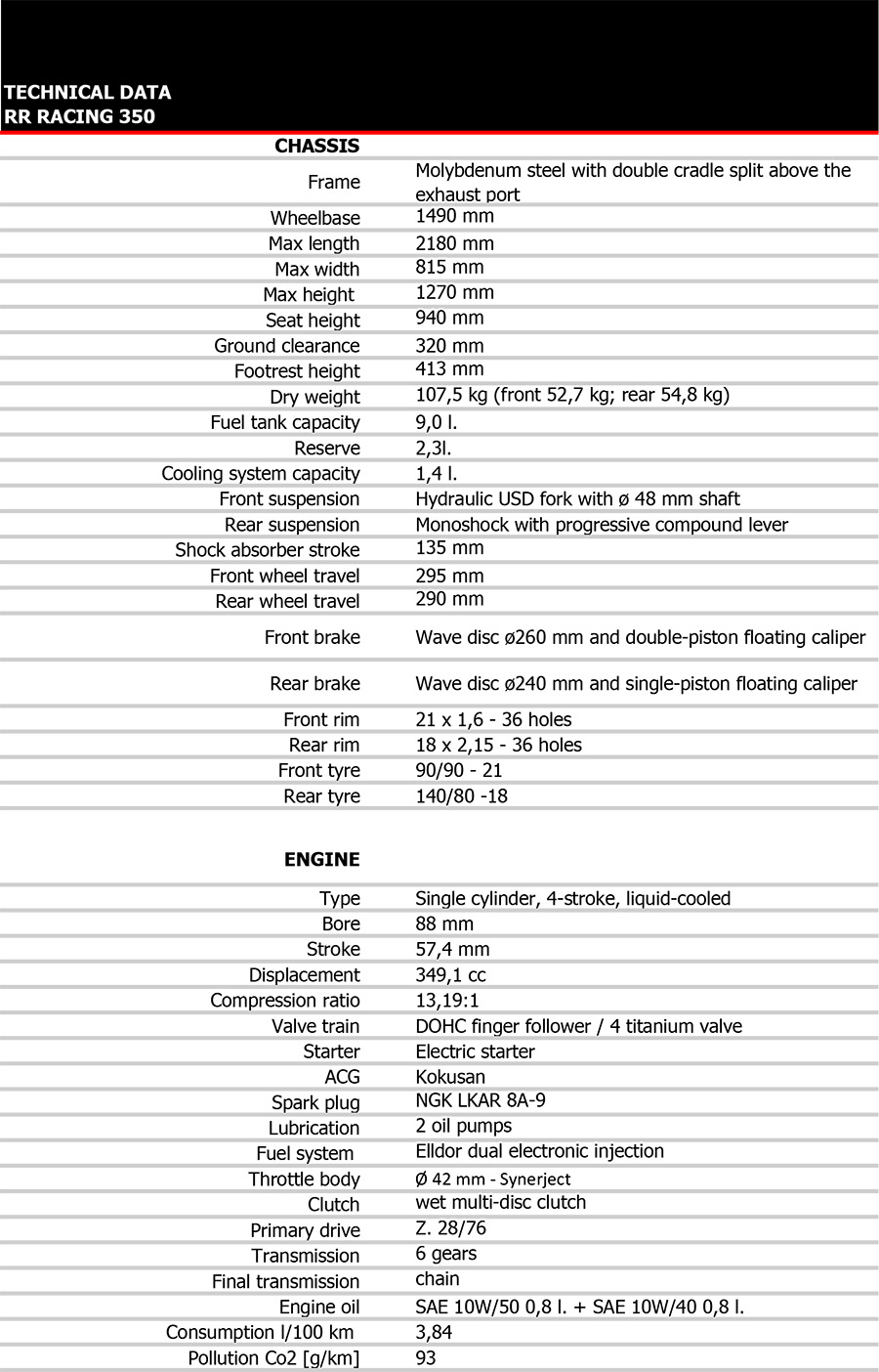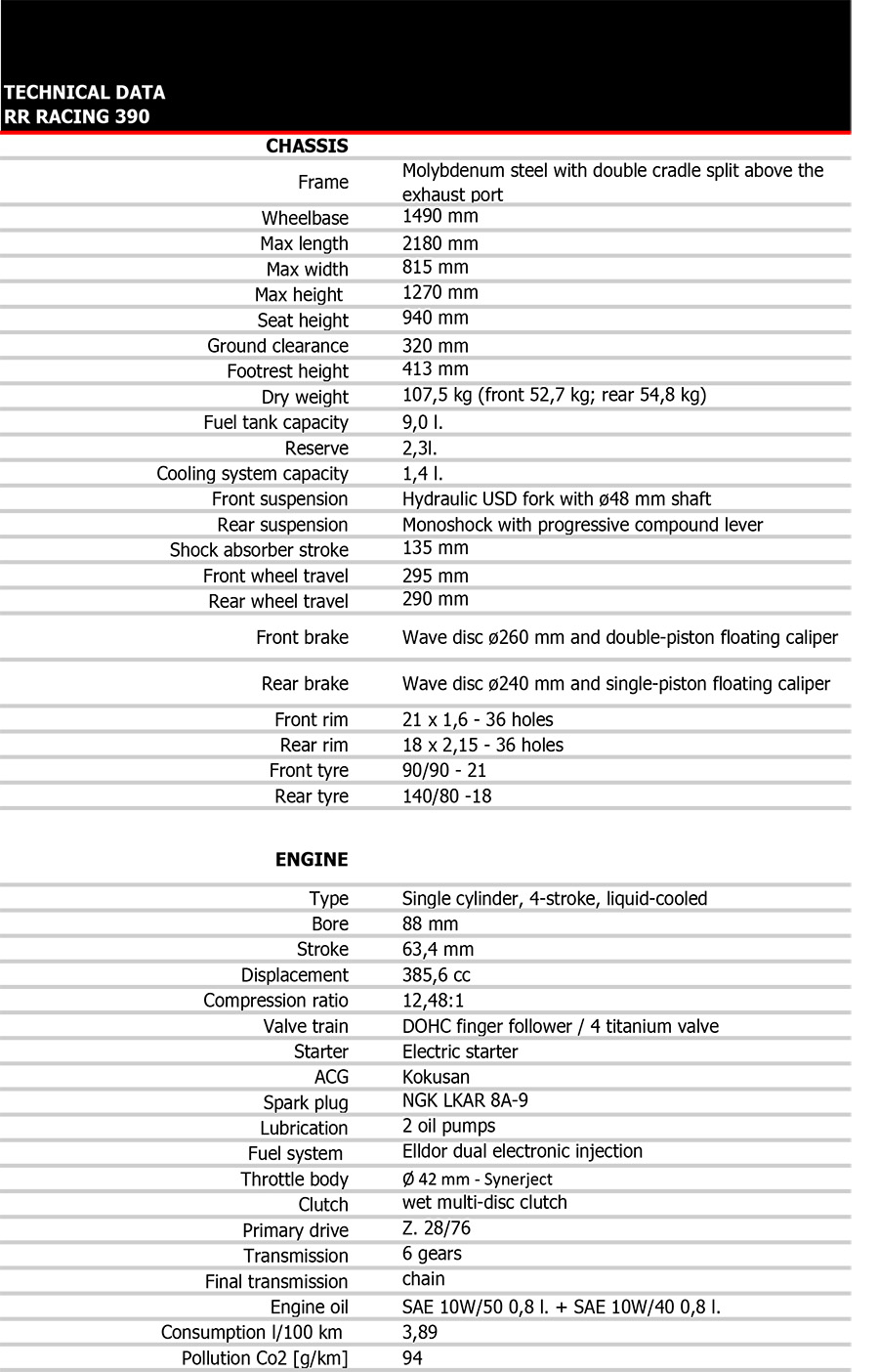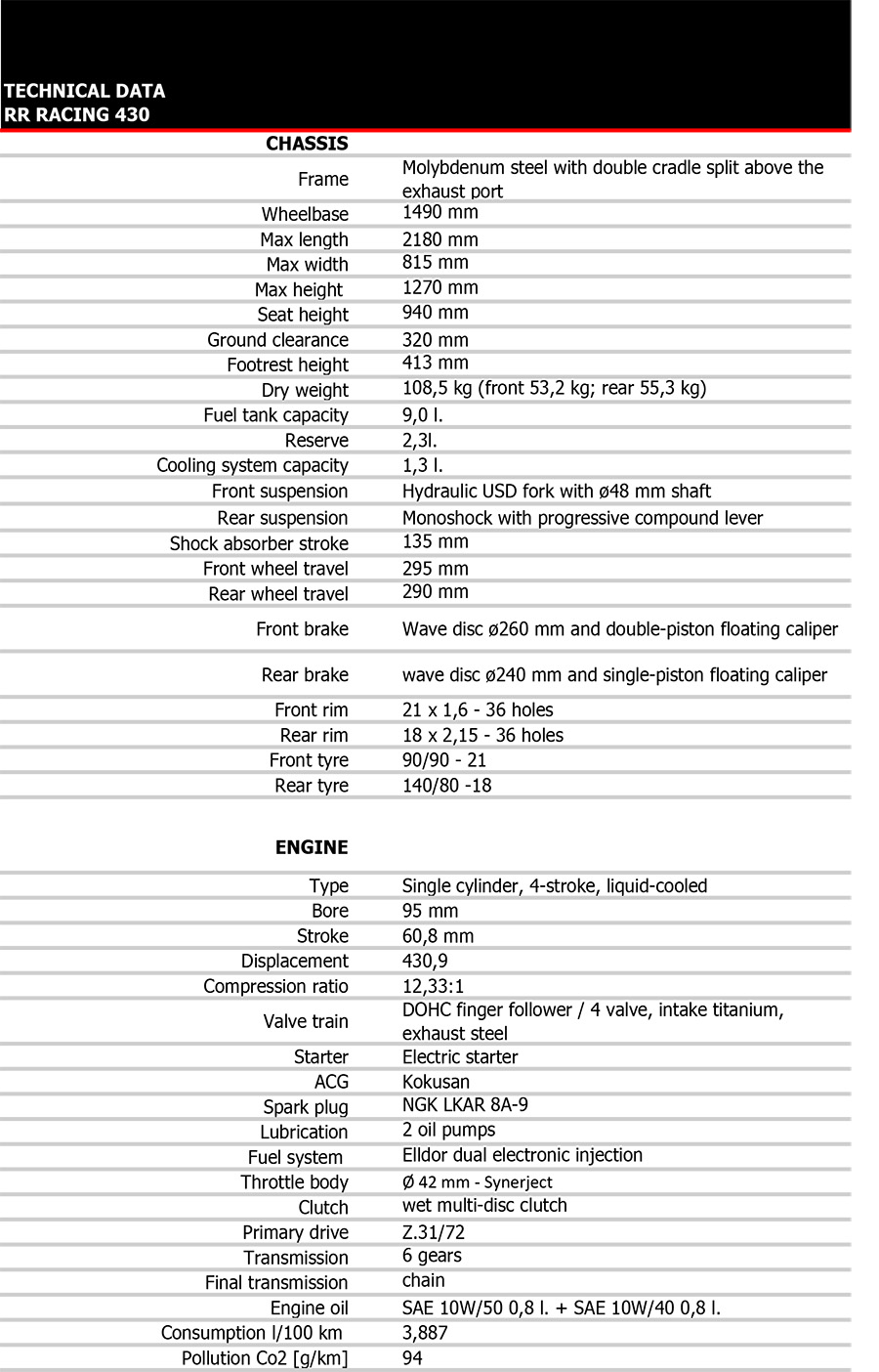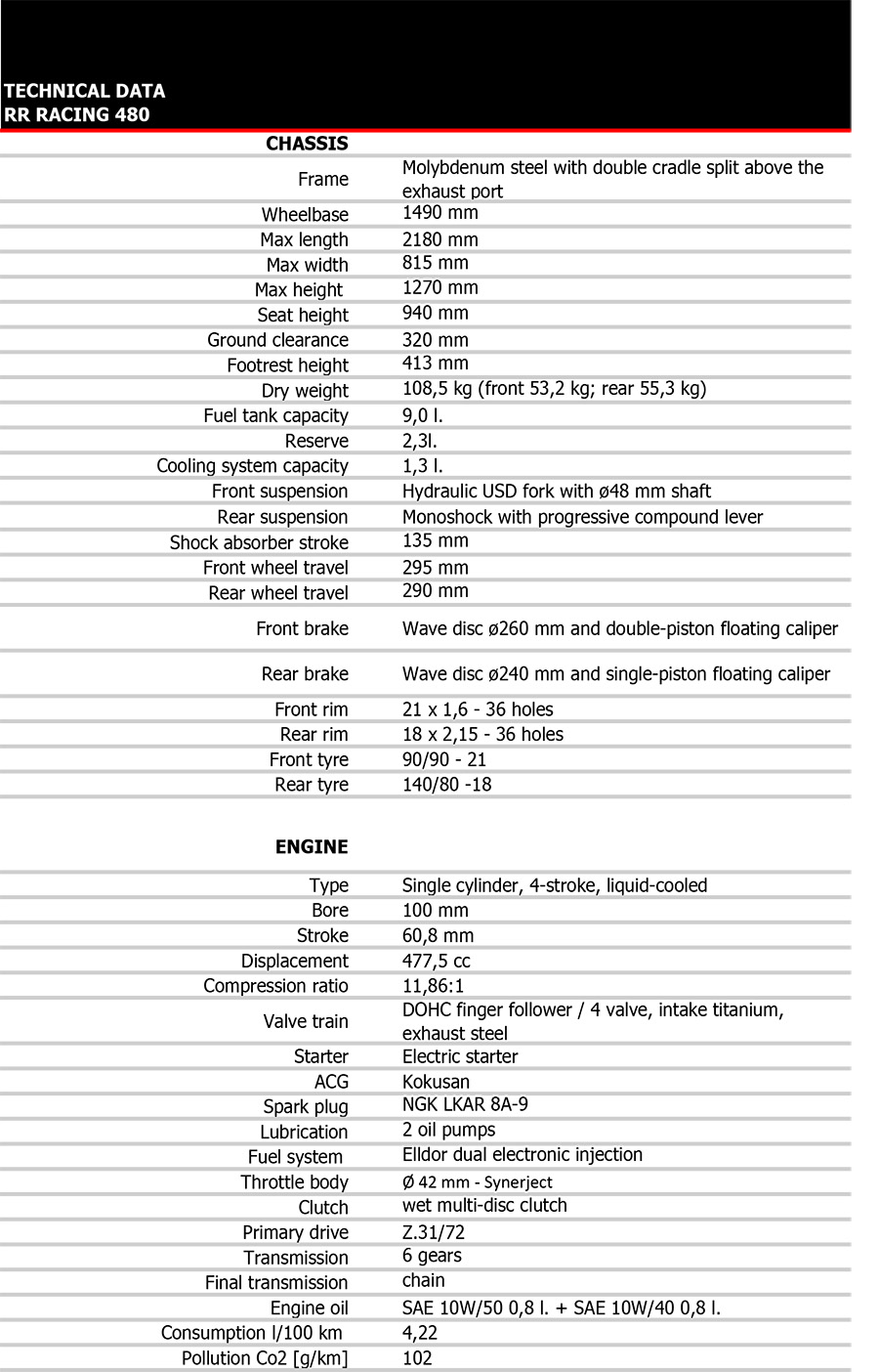 Availability from October 2023 in Europe, expected November in other regions including North America.
More information: www.betamotor.com